MINERAL WELLS — Jack Houghton and Dana Price were standing on South Oak Avenue Saturday morning, watching as some 60 civilians gathered across the street to honor heroes at a downtown 9/11 ceremony.
"Police and fire and everything — especially the fire department, who go into buildings (for strangers) and save their lives from it," Houghton said, as the crowd and some 30 uniformed first responders prepared to commemorate the 20th anniversary of the terrorist attack on American soil. "They did it that morning (in 2001), for sure. … Yeah, 20 years ago, but it was our first responders. We've got to support our first responders."
Indeed, if Desert Storm awakened Americans in 1991 to respect their military, the attacks 10 years later revealed another layer of America's protective armor — the fire, police and ambulance crews who rushed toward the devastation of the falling the World Trade Center towers.
The burning and falling Twin Towers claimed the lives of 414 first responders, whose heroics helped many to safety and kept that site's death toll to a ghastly 2,753 including themselves.
"We need to know our history and have gratitude for everybody that had a hand in this," Margie Holmes said, after steering her 6-year-old grandson, Cayden's, attention to the flag unfurled on a ladder truck and waving above the crowd.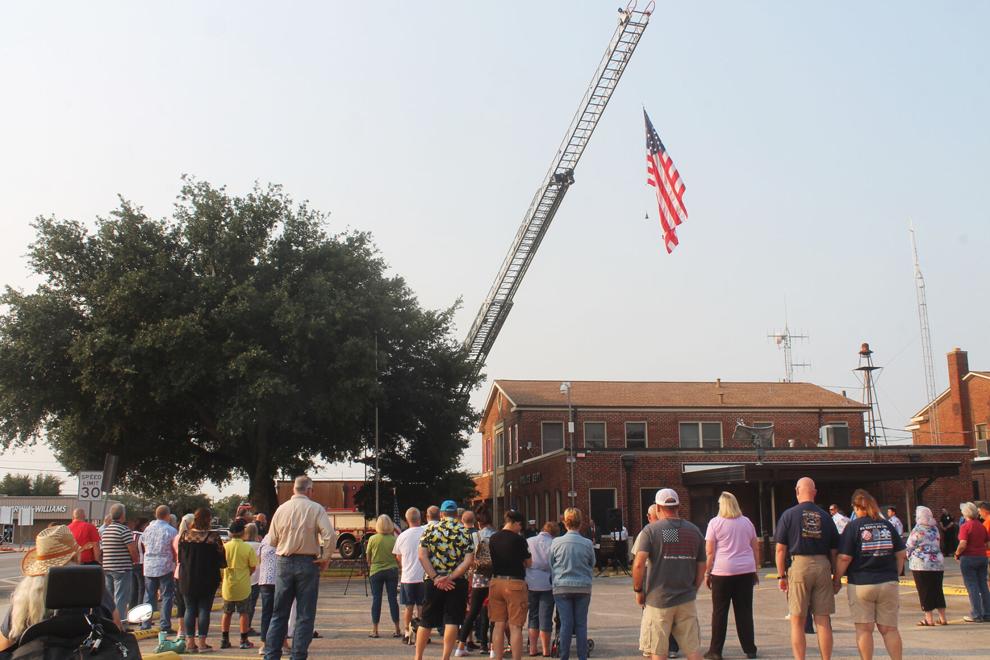 Soon, the Mineral Wells Fire Department Honor Guard would post the colors to start a ceremony that was synchronized with the timeline of that morning.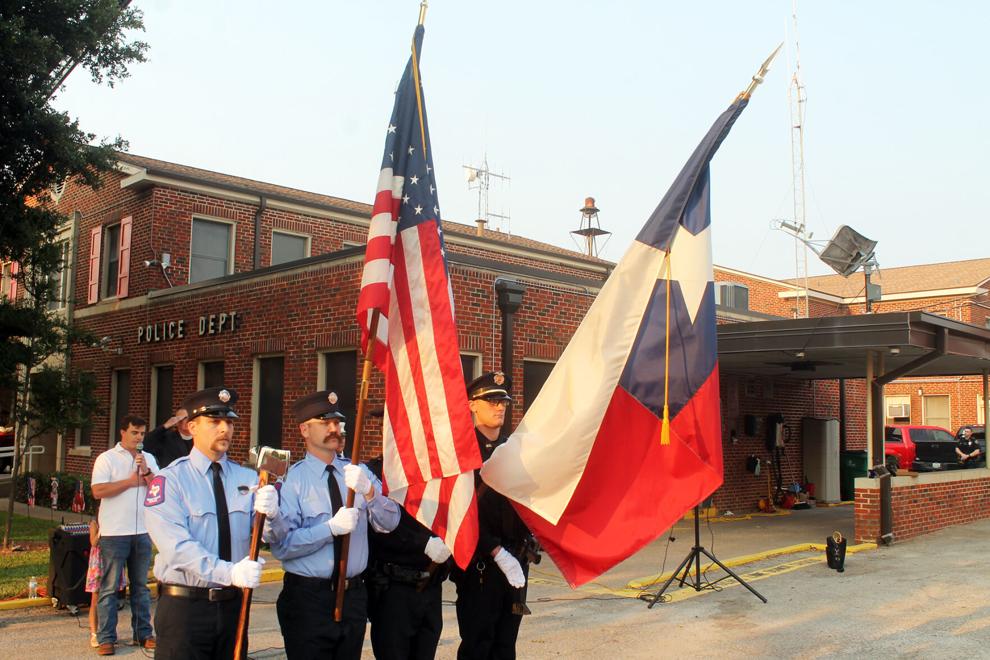 "It's what made me join (the department)," Honor Guard member Colby Fields said after opening the observance, which included an 8:46 a.m. moment of silence for the minute the first hijacked airliner plowed into the North Tower.
Fire Chief Ryan Dunn then confessed to the crowd that he'd been playing an ironic game of hooky on Sept. 11, 2001, missing class to explore the newly built Mineral Wells High School. The sophomore Ram was surprised to come upon "Mrs. Ford" crying in her classroom.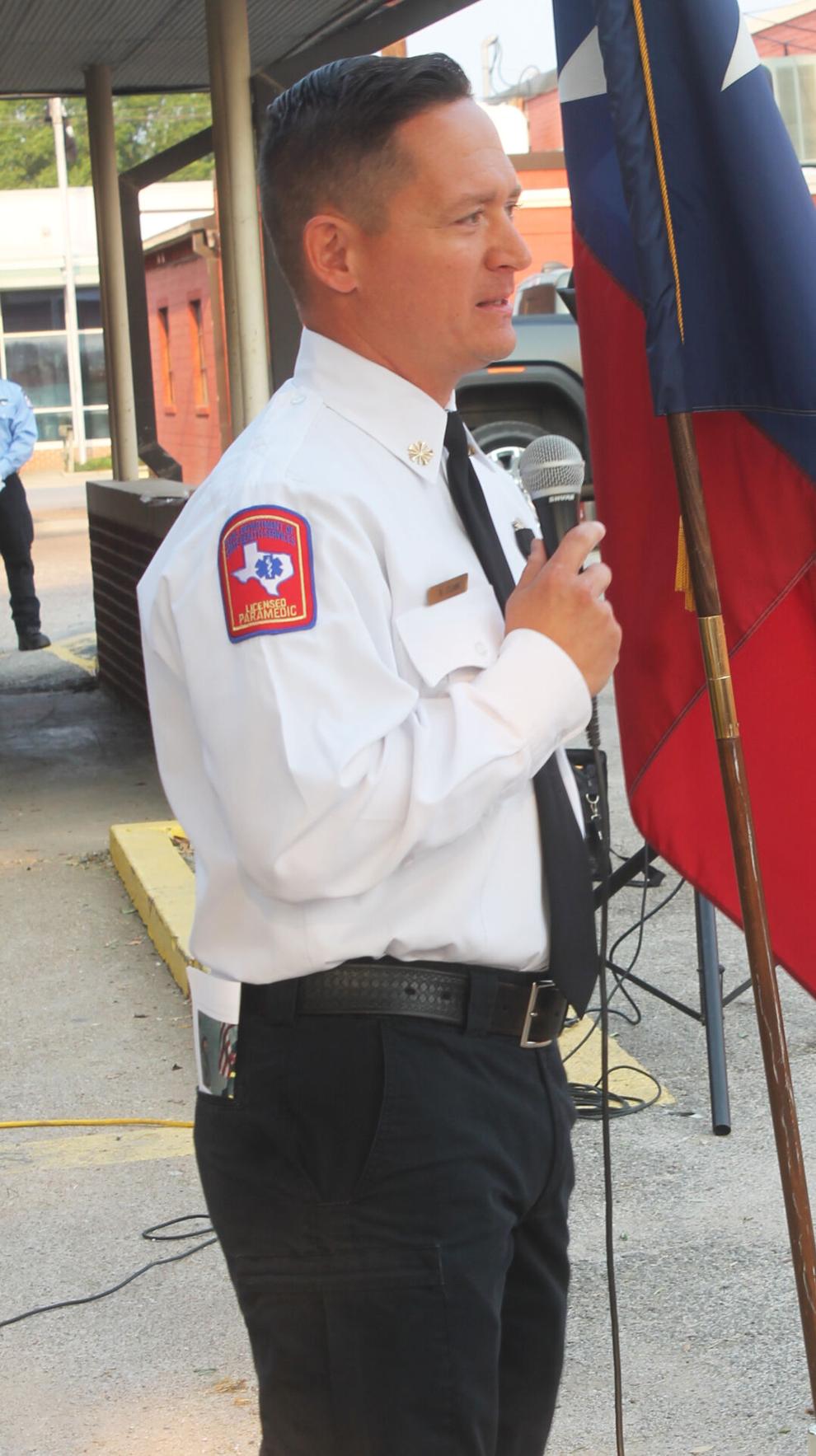 "She told me to come sit by her and gave me a hug," the chief recalled.
He described the national unity that blossomed after the attacks and lamented divisions that now attack the nation.
"I hope this 20-year anniversary will bring us closer together," he said.
Police Chief Dean Sullivan urged listeners to never forget the first responders " …who bravely gave their lives."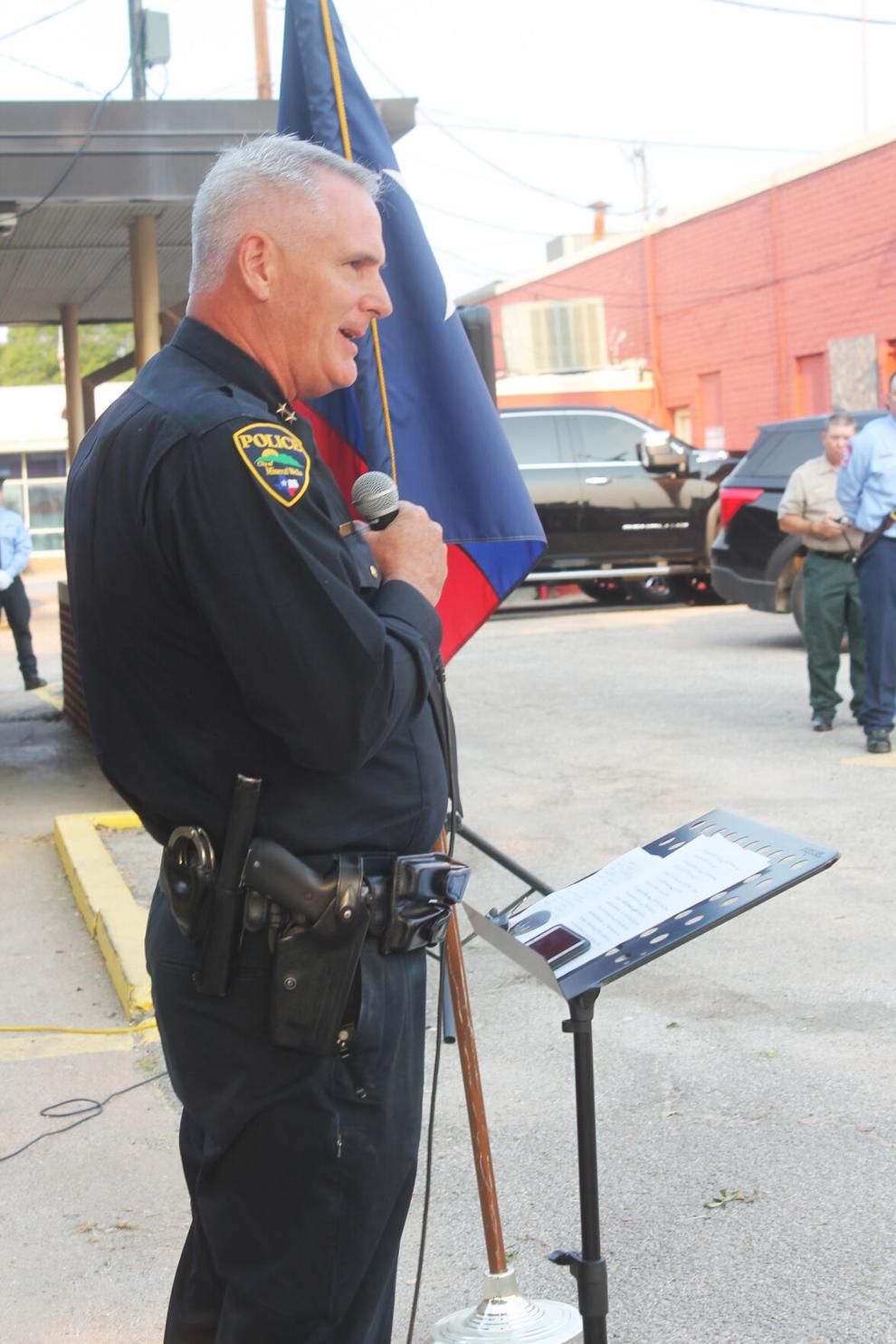 "It was through their faith that they served," he said, holding up the responders who kept hoping to find one more survivor in the rubble. "America's still hurting from the events of that day. But it is our faith, and as first responders we represent a symbol of hope. And it is our love."
He was not the only speaker to note Jesus Christ's foreshadowing comment that,"no greater love can one have than to lay down his life for a friend."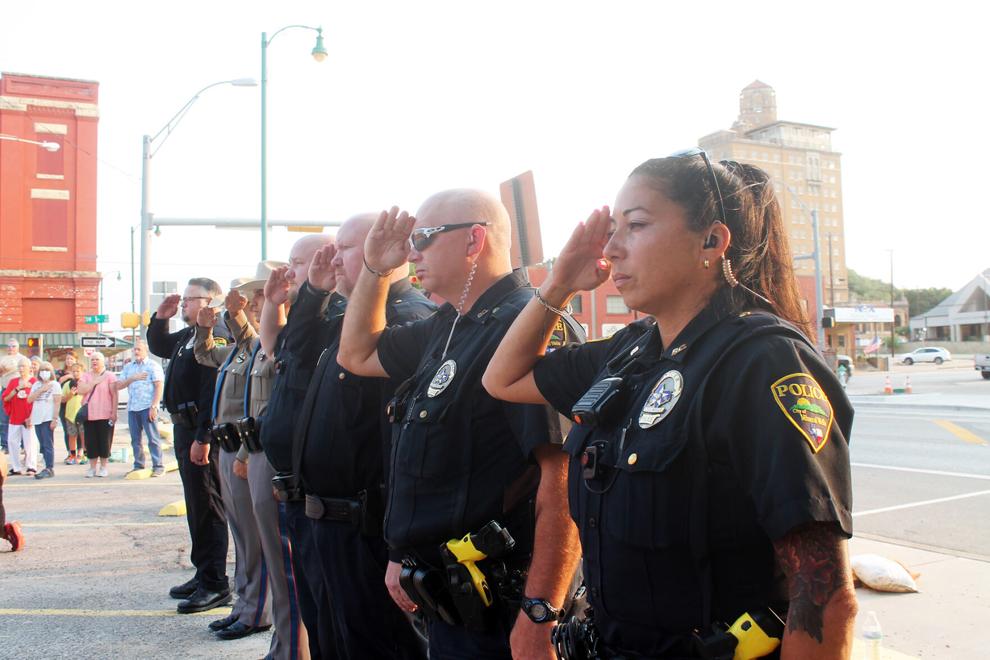 Fire Chaplain Cliff Spain, who had been on duty with the Fort Worth Fire Department on that day, recalled that uniformed responders were not the only heroes of 9/11. The passengers of Flight 93, who overpowered the terrorists guiding their plane toward the Capitol, are in that number, he said.
That flight crashed into a Pennsylvania field at wood's edge, killing 40.
"Civilians took it on themselves to become first responders," he said. "I think the statement was, 'Let's roll.' And they took the plane."
Spain also remembered the eerie skies the day left behind.
"The first time I looked up into the sky and didn't see an airplane was that afternoon," he said, before bringing the reverence for 9/11's heroes to the present day. "Look at the uniforms (here). They're all heroes."