Several areas teams scrimmaged for the first time in the pandemic era — the Mineral Wells Rams took on the Breckenridge Bucks, Peaster Greyhounds hosted the Chico Dargons and the Brock Eagles battled Midlothian Heritage this week, all at half-empty stadiums — half-empty by design. The University Interscholastic League's COVID-19 risk mitigation guidelines call for 50% seating capacity with social distancing. Other changes include requiring coaches and athletes to wear masks in certain situations and delaying practices, scrimmages and games.
The Eagles were rusty after a spring and summer layoff, said head Coach Chad Worrell. Brock has made it to the state semifinals the past two years and is ranked atop the 3A Division 1 by Dave Campbell's guide and the Associated Press.
"We came out injury free, so that's the main thing," the coach said.
Something that went well? Following the pandemic-related guidelines, Worrell said.
"Coaches wore masks on the field," he said. "The kids on the sideline, if they took their helmet off, they pulled up their mask and tried to distance as much as possible."
The stadium was kept at 50 percent capacity and things "went pretty smooth," Worrell said.
At Peaster, fans and spectators lined only one side of the field, as the home side bleachers are brand new and not cleared to have people in them.
Hollering out instructions from the sidelines while wearing a mask can be tough, but rules allow coaches to pull down their masks while six feet from anyone else.
"You can pull your mask down and yell — they are out there on the field — and pull it back up when you're through," Worrell said. "It's manageable. You just have to manage it."
The locker room is being kept squeaky clean, he said.
"We have hand sanitizers everywhere," he said. "We have our locker rooms disinfected and sprayed and wiped down every day after the kids leave."
Aledo head Coach Tim Buchanan felt a sense of deja vu after the UIL began issuing guidelines to mitigate the transmission of the coronavirus. Masks and safe distancing are new ways of dealing with an old problem.
"When they first started talking about this, I thought, dadgum, we've been doing this a long time," Buchanan said. "It's very similar to the way we have talked to our kids during the cold and flu season. We spent a lot of time with our kids during October, November and December — especially around playoff time — on proper hygiene and things of that nature, trying to prevent the flu."
The guidelines remind him of a decade ago when a state law was passed requiring concussion protocols for student athletes. Many coaches had established similar protocols years earlier, he said.
"We had a concussion protocol back in the 1990s when I first became a head coach," Buchanan said. "We didn't wait for somebody to tell us we needed a concussion protocol. The same thing with this. We didn't wait for somebody to tell us we needed a protocol on how to prevent our kids from getting sick. This goes a step further. Now we're worried about parents and family members getting sick and things of that nature."
Football practices at Springtown High School start at 7 in the morning, well before the August sun has time to reach full boil. On a recent Friday, however, an in-service training for teachers and coaches forced practice to be rescheduled for that afternoon. By then the sun was blazing, and the humidity lay thick as a wool blanket with the temperature hovering around 106.
Brian Hulett, head coach of the Springtown Porcupines, moved practice inside a covered field house. At 100-plus degrees, the sun heats Porcupine Stadium's outdoor artificial turf to a point that it creates blisters on players' feet. The field house shade provided relief for tender tootsies, but the humidity and dead air combined with 40 warm bodies in constant motion created a steam room effect that had everyone — players, coaches, trainers and observers — drenched in sweat.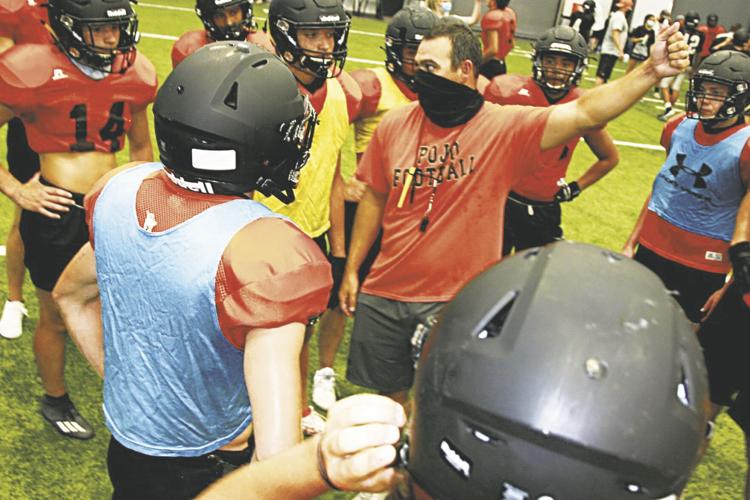 The oppressive swelter made wearing a heavy cloth mask uncomfortable, but every Springtown coach persevered. The cloth masks muffled their voices and made them difficult to be heard above the hip hop music being played in the cavernous room. Still, the coaches kept on their masks and made sure others followed the rules.
"Rivera! Put your mask on!" yelled Tye Adams, defensive coach.
A kid kneeling on the sidelines and watching practice put on his mask quickly. He was squatting beside six other youngsters, all of them wearing face coverings. Athletes must don face coverings once they remove their helmets.
Adams' cloth mask, like his shirt, was soaked with sweat. The face covering was hot and bothersome, Adams said, but he doesn't think about it much once practice begins.
"You forget about it when you're wearing it sometimes," he said. "You forget when you're not wearing it sometimes, too."
During the half-speed scrimmage, a few players showed signs of lethargy amid the dogged heat. Hulett upped the ante, calling for a series of full-speed plays with contact.
"Let's go!" Adams yells at his defensive players, who responded with enthusiastic yells of their own.
After practice, the sweaty players removed their helmets, put on their face coverings and headed toward the locker room. Senior wide receiver Andy Behle said the mask was no bother.
"It doesn't matter to me," he said.
The biggest problem, Behle said, is that coaches can be difficult to understand when barking orders through masks.
"You just nod your head sometimes," he said with a smile. (Behle wore a mask, but it was obvious he smiled by the way his eyes crinkled.)
Masks, distancing, indoor practices and pretending to hear muffled instructions from screaming coaches are part of the game in 2020. The most worrisome part is whether UIL decision makers make a last-minute call to pull the plug on the season, Behle said.
"No one knows how any of this is going to pan out," he said.
Senior defensive end Logan Fabrizius said his teammates shouldn't worry about things they can't control.
"It's life," he said.
The biggest inconvenience for the players is the controlled dispersal of water bottles, Fabrizius said. In the past, players grabbed a water bottle when needed, drank and passed it to others when finished. Now designated trainers hold on to the bottles and squirt water into the players' mouths without them touching anything.
"Other than that, it's pretty normal," Fabrizius said.
UIL officials issued COVID-19 mitigation guidelines that took effect on August 1.
"Our goal in releasing this plan is to provide a path forward for Texas students and schools," Charles Breithaupt, UIL executive director, said in a statement. "While understanding situations change and there will likely be interruptions that will require flexibility and patience, we are hopeful this plan allows students to participate in the education-based activities they love in a way that prioritizes safety and mitigates risk of COVID-19 spread."
UIL officials are working with state officials to determine whether more modifications may become necessary, Breithaupt said.
Under the new guidelines, schools that are class 4A or smaller, such as Brock and Springtown, began practices this month and start their seasons on Friday, Aug. 28. Larger schools such as Aledo start a month later.
At Weatherford High School, the head football coach is rebuilding a program that hasn't won a playoff game in years. In 2017, Billy Mathis was named athletic director and football coach and led the Kangaroos to a dismal 0-10 season. The next year, the team went 4-7 and made the playoffs. In 2019, the Roos went 7-4 and made the playoffs.
Mathis had put his team on a steady improvement track but is having to jigger plans now to make allowances for altered rules and delayed seasons. Off-season training and summer two-a-day sessions are crucial elements, Mathis said. UIL rules allow only for short stints of strength and conditioning drills and no pads until shortly before the season begins.
For the Roos, the season begins Friday, Sept. 25 against the 5A state champion Aledo Bearcats.
"Not having two-a-days, we're making the most out of what UIL is allowing us to do with our summer strength conditioning and sports specific skills training," Mathis said. "There's a difference between going out and practicing each day in pads and not. Football is a physical game."
The new rules won't be accepted as excuses, the coach said.
"Even with all the craziness that's gone on with COVID and all the unknowns, once we get out there and play Friday night, at the end of the game there is going to be a winner and a loser," he said. "We can't have any excuses. Our opponent has gone through the exact same stuff we have. We've got to prepare mentally and physically for this football season."
Two of Parker County's private high schools — Trinity Christian and Weatherford Christian — play in the Texas Association of Private and Parochial Schools (TAPPS) league. TAPPS is mirroring large-school schedules and starting its seasons in late September.
Practices with helmets and pads don't begin for awhile, leaving time in August for conditioning drills, chalkboard training and walkthroughs.
"We are getting a lot of mental work so when the season finally ends up getting rolling, we will be ready to go," TCA's Joe Hamstra said.
The delayed season required shortening the team schedule to seven games with only one scrimmage, but "we'll make do," the coach said.
"I would love to have our kids play 10 games, but I'm glad we are playing," he said. "You look across the landscape of the country and college football, there are teams canceling seasons."
At Weatherford Christian, the team is switching from six-man to 11-man football this year and can use the additional time to school its players on the new game and rules, said head Coach Stephen Cox. That advantage might be offset by another change. The shortened season meant altering schedules, and the Lions and other Division IV teams were merged with larger Division III schools, meaning stiffer competition to reach the playoffs.
"To win the district championship, you have to beat all of them," Cox said.