WEATHERFORD — Steve Ruse would not be alive but for the survival instincts of his grandfather.
Carl Ruse was serving in the Philippines at Nichols Field as an aircraft mechanic for the Army Air Corps when the Japanese attacked hours after the bombing of Pearl Harbor in December of 1941.
"They were in the process of putting airplanes together before [the Japanese] bombed all the planes on the runway," Steve Ruse said. "They gave him a rifle and sent him into the jungle."
For months, American and Filipino soldiers fought to defend the Bataan Peninsula before Ruse and others were captured. He was one of the 70,000 soldiers surrendered who began the more than 60-mile march, known as the Bataan Death March, toward the prison camps of Camp O'Donnell.
"They marched them [65] or so miles with no food, no water," Steve Ruse said.
While the exact number of casualties is unknown, historians have estimated the figure to be in the thousands, with many dying because of the brutality of their captors and even more later in the prisoner-of-war camps due to disease, mistreatment and starvation.
Carl Ruse spent close to three years in a prison camp in the Philippines before he and other "healthier" prisoners were taken to a camp in Japan, where he spent another year.
Ruse's emaciated image during that time, weighing 80 pounds at 6-feet tall, is one of several artfully depicted on one wall of the Weatherford building his grandson owns.
Coming to life
Burleson artist Brad Smith has been doing murals for over 45 years, and was commissioned by Steve Ruse to do the piece on the south wall of the building located in the 200 block of Santa Fe Drive in Weatherford.
Ruse had originally intended the piece to be an Americana mural, but once Smith heard Carl Ruse's story and read "We Volunteered," a biography put together by Steve's brother Timothy Ruse from recorded interviews, he knew he had his inspiration.
"It was such an easy process coming up with that idea because the story tells itself," Smith said.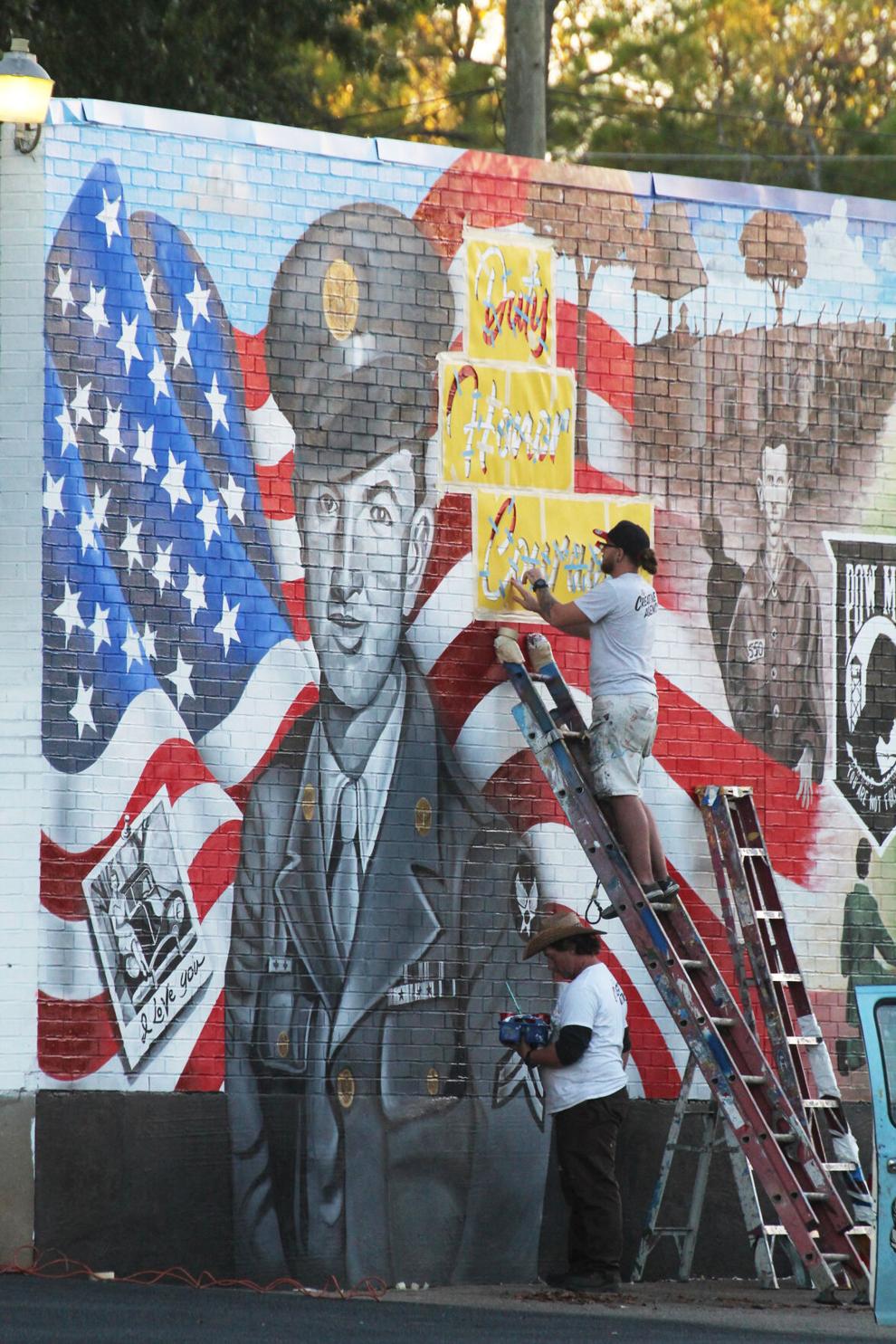 Smith and several other artists, all specializing in different methods from spray paint to realism, came up with the rendering and got to work.
"I've been training Dustin [Kearns] and this was his first rendering he did with me," Smith said. "We just came up with, 'How can we tell a story?' It's almost like music notes on a wall, it just has a rhythm."
A month-long effort yielded a colorful yet emotional story of Carl Ruse's life — a young soldier, a prisoner of war, a soldier coming home to his family and, finally, a grandfather looking back over the life he built.
"He was in Japan when we dropped the atomic bombs and he always felt that's what got him home," Steve Ruse said. "One of the last five conversations with him, I remember him tearing up and saying, 'The real heroes never came home.' That still bothered him — the guys that didn't come home."
Carl Ruse was 93 years old when he died in October of 2003. He and his wife, Sara, had four children and 11 grandchildren.
"He made it home, with pretty poor odds, and had a family and held a job," Steve Ruse said. "If it wasn't for him, none of us would be here."
Kearns, who worked on the project alongside artists Travis Avila and Lori Moon, served in the military himself, including an 18-month deployment in Iraq.
"There are people willing to sacrifice, to give it all they have in order to have the world we all get to live in — it doesn't just happen, this country, the way it's ran," he said. "This mural, I feel, shows so many sacrifices that soldiers have made."
The scenes of a young Ruse kneeling in front of his children after coming home struck a chord for Kearns, who has two children himself.
"I put a lot of emotion into the coming home, because I've felt that before," he said. "I also wanted to try and express the seriousness of the mural and what he went through.
"It's been amazing to work with a team and see all the different styles come together. I'm grateful to Brad for this opportunity to work on such a special mural."
More stories to tell
One wall can only hold so much, and Ruse's stories are vast, as detailed in his biography.
One such story involves a teenager in Japan who would sneak food to Ruse while he was in the Yokkaichi-Ishihara Sangyo prison camp.
"When the bombs were dropped, all the guards disappeared, and Red Cross and others started dropping crates of food," Steve Ruse said. "[Carl] loaded this boy up with food to give to his family, and the boy gave him a picture of himself."
Eleven years ago, the Ruse family took a trip back to Japan in an effort to find the boy, who would've been in his 70s. News stations caught wind of the effort, publicizing the story and the boy's photo. A day later, they were contacted by someone who set up a meeting with the boy's brother.
Finally, a name to pair with the photo long-carried in Ruse's wallet — Fumio Nishiwaki.
The family met with Takeo Nishiwaki, and found out his brother had died at the age of 30. 
In a story published by the Washington Post on the reunion, Takeo Nishiwaki told the Ruse family upon their departure that he would be going to the cemetery to tell his brother they met.
Other stories aren't as heartfelt.
Carl Ruse witnessed many killed, a family buried alive and other equally brutal acts, and described the ship he and other soldiers were on during their move to Japan.
"They put him in a ship, on top of rock salt," Steve Ruse said. "The ship was packed so tight that they couldn't even lay down. Hugging their knees to their chest was the only way they could sit."
Those stories can be found in the biography, along with photos the family was able to find of the prison camp he was in. The family also kept letters Ruse wrote to his father — neither of his parents knew if he was dead or alive for several years.
"His life was dramatically different than ours, especially when he was in his 20s," Steve Ruse said. "There's a lot that he went through. It makes you wish you could talk to him again."
The biography "We Volunteered" can be found on Amazon at www.amazon.com/We-Volunteered-Biography-Survivor-1942-1945/dp/0615393632.
For more information about the artists and their projects, visit www.tiltvision.art/