Firefighters with Mineral Wells and surrounding departments battled a major fire at the old Mineral Wells High School.
Crews responded to the area, in the 600 block of W. Hubbard Street, around 6:30 p.m. Sunday night, with heavy fire reported throughout the building. Mineral Wells Police Chief Dean Sullivan said a driver on Hubbard Street reported seeing fire in the upper floors on the east side of the building.
"Our units were on scene in about three minutes," he said. "We were fully mobilized in seven to 12 minutes. About a quarter of the building was fully involved. It took off then."
As of 11 p.m., tankers were still trucking in more water as firefighters continued to work the fire. Westbound traffic on U.S. 180 was restricted to one lane but continued to flow.
The building finally quit smoking around 5 a.m. Monday, but crews remained on scene as of Monday afternoon to keep a perimeter around the area in case of a collapse.
Mineral Wells Fire Chief Ryan Dunn said the structure is "a complete loss," adding that the southeast corner was showing heavy fire and flames shooting through the roof by the time crews arrived on scene. Brick walls were also bowing out from the heat and crews worked to try to hit the southeast corner from the outside with a master stream before turning to nearby buildings, including the Senior Center and Rock Museum. 
"Defensive posture was taken," he said, and "all exposures were protected by master streams."
Both of those buildings are closed until further notice, as they are in the collapse zone, Dunn said.
No injuries were reported, and Sullivan said determining a cause could prove elusive. 
 "Anybody that guesses right now is just guessing," he said, adding there was no electricity to the old school but that it remained hazardous to enter and investigate. "We can't rule anything out at this point."
The school and its property is owned and insured by Mineral Wells ISD. Superintendent John Kuhn said the building was not in use and was kept locked up. He added that they have contacted the insurance company while the investigation continues.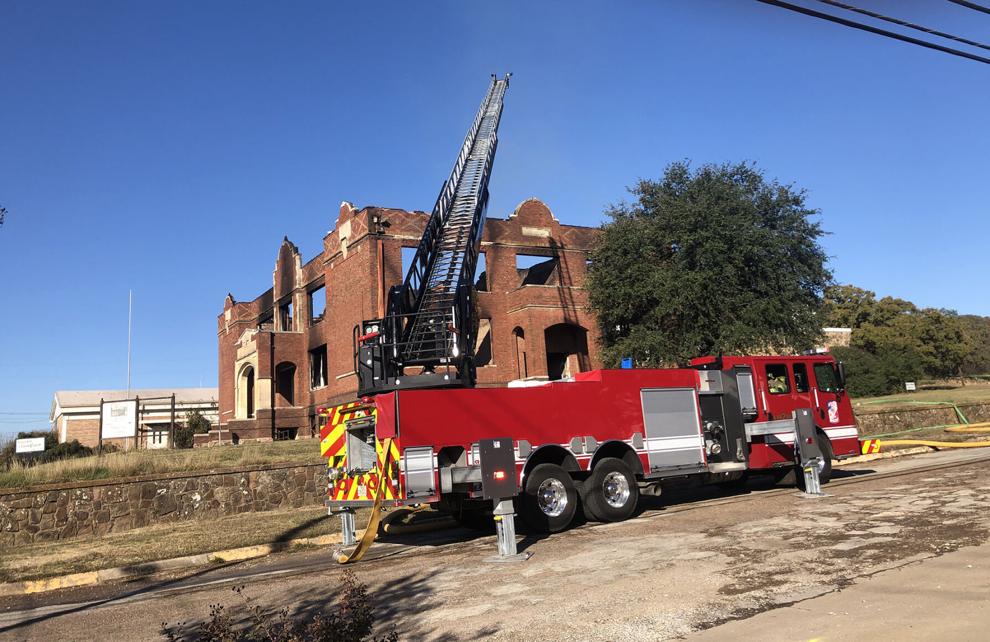 According to the school's history, the structure was built using using funds from a bond in 1913. It was completed in 1914, and the first class graduated in 1915.
The last high school graduating class was 1953, though the school remained in use as a junior high and then as an elementary school until 1973.
In 2001, renovations began to transform the space for use as a community center for the Texas Historical Commission for preservation. The building was leased for a time to the 50 Year Club, but had fallen into a state of disrepair.
"Per one conversation I had, [it] would've required $10 to $15 million to be brought up to code and returned to a useable space," Kuhn said. "We worked with the chamber four to five years ago and obtained a grant for $14,000 to repair the roof, which was completed and helped keep rain out of the building."
He said there was a conversation last week about the possibility of selling the property to either the city or investors to convert it.
"I had always hoped we could find a way to make it into a community theater building because the auditorium was beautiful, with an amazing balcony and metal ceiling tiles," he said. "Those dreams were pretty far-fetched to begin with, but I hate that I can't even dream them anymore.
"This is a tragedy. Mineral Wells lost one of its most beautiful historical structures."
Kuhn said if the fire is determined to have been set intentionally, the district will push for appropriate charges to be filed.
Crews from Parker County ESD 7, Weatherford Fire Department, Santo Volunteer Fire Department, Lake Palo Pinto VFD, Sacred Cross and Careflite joined the Mineral Wells Fire Department to provide mutual aid.
"I just want to thank everyone who responded to give us aid, and to all of our staff that came in," Dunn said. "We couldn't have done it without their help."
In Garner, Parker County Sheriff's Deputy Heather Hanscher reported a home in the 11000 block of Old Mineral Wells Highway had drawn the Cool-Garner volunteers from the Mineral Wells fire Sunday night. 
The Garner ISD school resource officer said no major injuries were reported.