Excitement filled the room when an announcement was made at the Weatherford Rotary Club meeting Thursday that an Australian-based precision planting manufacturer will be opening a facility in Weatherford.
Norseman Machinery Imports is a family owned and operated company that specializes in the manufacturing of row crop and broadacre precision planting solutions and will be opening an assembly facility for one of its newest products, the Techni-Plant FL, which is a high-speed precision planter with an integrated film layer. The facility will be opened in an existing building at 112 W. Scenic Trail in Weatherford.
"We've been manufacturing planting equipment in Australia since the late '70s, my dad before me. We went out and found the best technology in the world and took it home, and now here I am some 40 years later bringing some really cool technology from Australia to the U.S.," Norseman Toowoomba Office General Manager Michael Freeman said. "What Norseman has developed is a planter for cotton, corn and hemp that lays a biodegradable film over top of the plants and we see significantly better growth, higher yield. Film is not a new thing in agriculture, it's been used in agriculture forever and horticulture particularly, but we turned [the process] into a 40-foot wide, seven mile per hour, one-man operation."
Freeman went over the benefits of planting under film, which includes an increase in soil temperature by 7 to 12 degrees, an increase in the accumulation of heat units, more vigorous growth, a prolonged period of flowering, conservation of soil moisture and a 47 percent increase in yield.
"In a nutshell what we're doing with this technology is taking the greenhouse to the field," Freeman said.
Norseman Machinery Imports has already sold several of the machines in the U.S. from Arkansas up to North Dakota, Freeman said.
"All of these machines we've imported from Australia and assembled on the farm and now, I guess what we're announcing, is that we're going to be setting up an assembling facility off Interstate 20 in Parker County," Freeman said. "So we can manufacture our machines here stateside and ship them from a central location."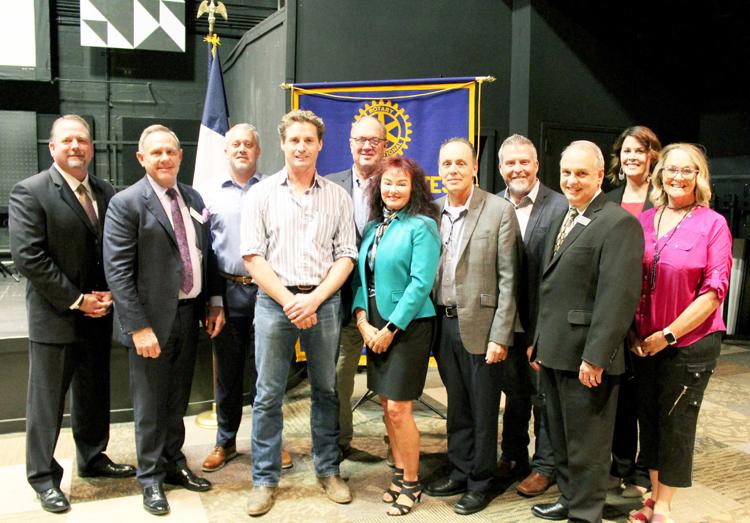 In fall 2018, a group of Parker County Economic Development Council representatives and other officials from the county made a trip to Toowoomba, Australia, where they visited several places, including Norseman Machinery Imports.
"Our delegation trip to Toowoomba and all of the EDC's efforts, we've been able to land a tremendous opportunity with Norseman and are extremely excited to welcome them to our community," EDC Chief Business Development Officer Allison Baker said. "I think this is just the beginning of a lot of opportunities and I'm just proud of all the community members that worked to make this happen."
Parker County Judge Pat Deen said bringing high-wage jobs to the county is important and something that continues to be his focus.
"It's exciting to see the results of the trip to Toowoomba and working with the EDC together as a team is exactly what we intended for it to be, and this is only the beginning of a lot of things that will be coming," Deen said. "Bringing high-wage job growth to Parker County has always been my focus and that's what we're going to continue to do. If we can change the dynamics of economic development by putting value on the ground, that's when you start getting taxes off people's back."
For more information about Norseman Machinery Imports visit nmi.net.au.