WEATHERFORD — Supporters of Donald Trump Jr. outnumbered his detractors by about 10 to one at a book signing Friday at Film Alley.
About 100 supporters were lined up on on the right side of the entrance, enduring full sun and no shade for more than an hour while waiting for the doors to open. On the left side of the entrance, a dozen protesters stood behind a barricade and waved signs and bantered with the Trump crowd.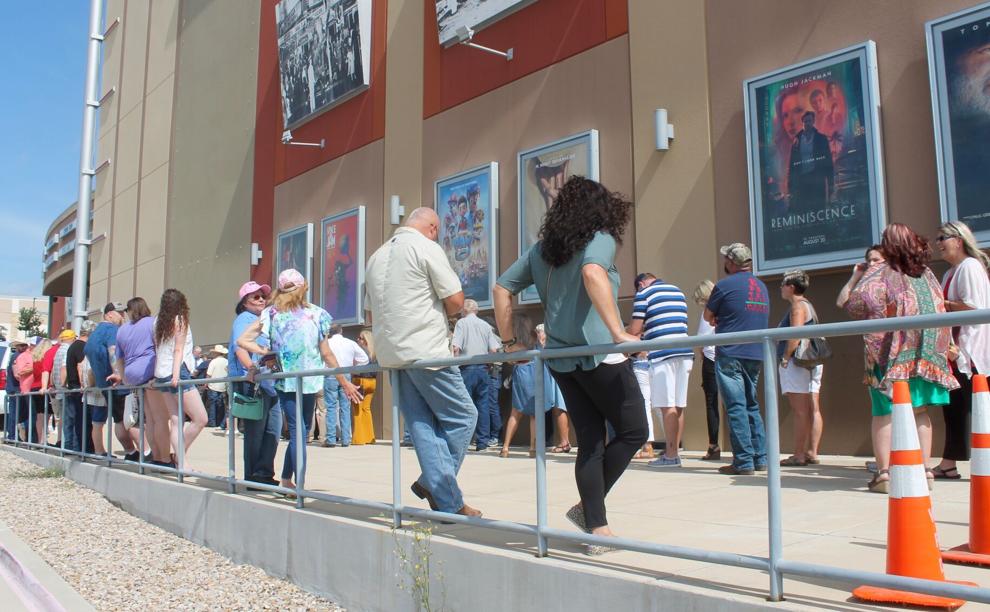 J Scott Utley, the Parker County Republican chairperson, praised the "good turnout," nothing that by the end of the two-hour event, volunteers had greeted over 400 attendees.
Joe Wilkinson, precinct chairperson, said Trump's appearance would raise money for the political party and put "Weatherford and Parker County on the map from a Republican standpoint."
The signing was set to begin at 11, and Trump showed up on time with girlfriend Kimberly Guilfoyle. They spent a few minutes greeting and posing for photos with Republican Party volunteers before the paying guests were allowed inside.
Trump wore dress slacks, a white buttoned shirt and a suit jacket but no tie. His footwear — green camouflaged sneakers — stood out against the dark suit. Guilfoyle, the former FOX News personality turned elder Trump's campaign finance chairperson, wore a tight-fitting knee-length gray dress.
"Everyone say MAGA," someone said while taking photos of Trump and the volunteers.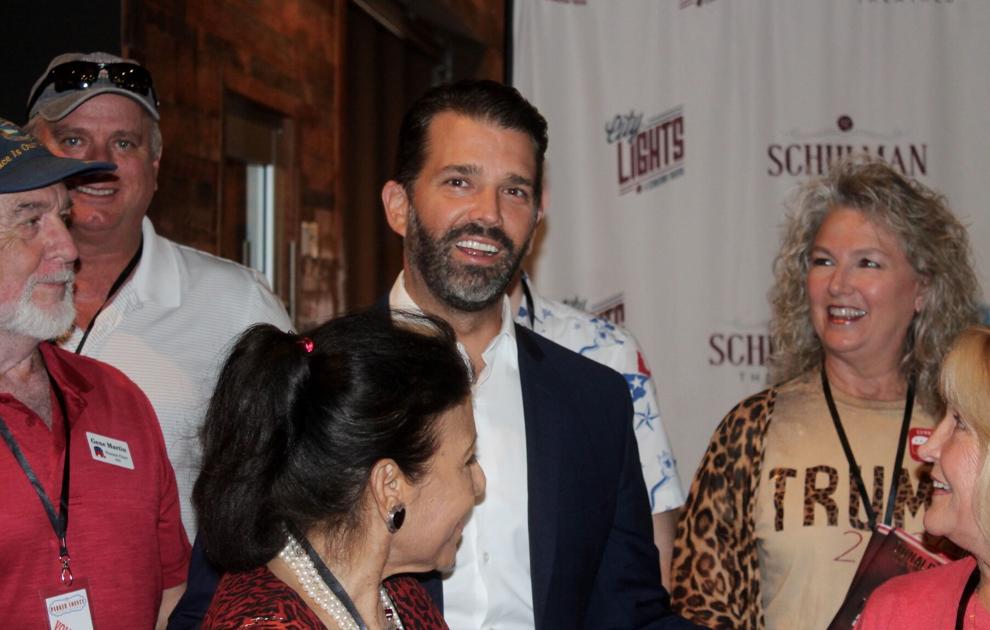 After the volunteers returned to their duties, Trump sat down at a table to wait for the crowd to be let inside. He began autographing copies of his self-published Liberal Privilege: Joe Biden and the Democrats' Defense of the Indefensible. Guilfoyle would hand him a book, and Trump would sign it and place it in a stack.
"Is it OK if I take some pictures?" I asked.
"Sure," he said.
After snapping a few photos, I asked him what he thought of Weatherford so far.
"So far so good," Trump said.
"Great Republican county," Guilfoyle said.
Trump planned to spend the next hour or so signing books and talking before heading to another book stop in the Metroplex.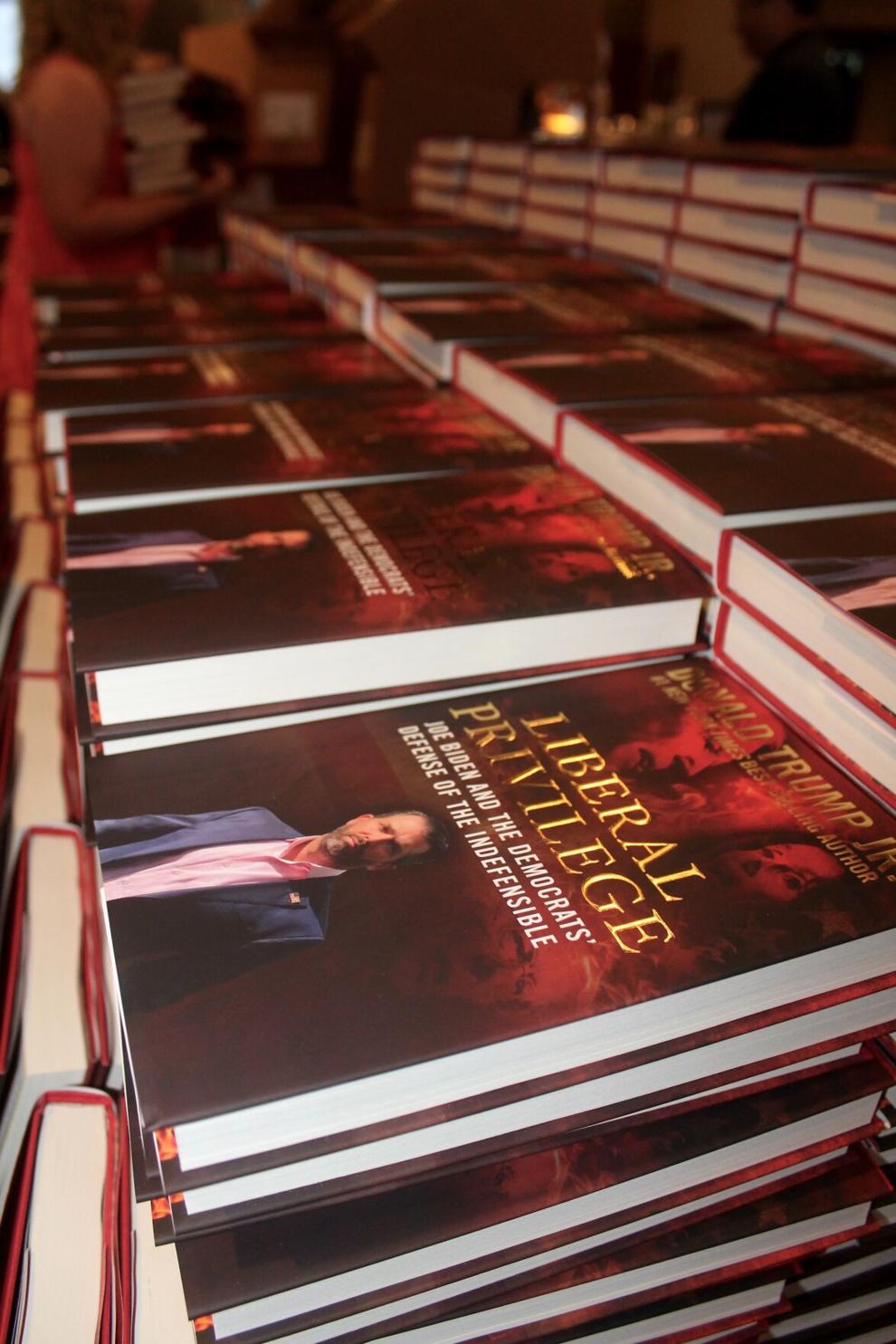 Outside, the man waiting first in line refused to be interviewed for this article. Another person behind him refused to be interviewed but pointed to a guy wearing a suit and tie nearby and said, "He will talk to you."
Paul Belew was happy to talk. The defense attorney in Wise County has announced plans to run for governor as a Republican and had been waiting in line for about an hour with his campaign manager. They had pre-paid $50 for autographed books.
"We wanted to hear him speak," Belew said.
Most people in line were older adults, but three teenagers stood together with their mother, ready to meet the former president's son. 
"I thought it would be a good idea to come here and support him," said Nolan Graft, a 16-year-old resident of Granbury. "He's a good person, and he's doing good things, unlike Biden, who is screwing this country up."
Graft and his siblings aren't old enough to vote but attend political events to try to make a difference in the world. Their mom, Melanie Graft, is vice chairperson of elections for Hood County GOP. 
"We've been raising them to be aware of politics and just the true history of our country and to be involved but also to make decisions for themselves," she said. 
A Trump trailer in the parking lot was covered in campaign posters and flags and played one of the former president's speeches over a loudspeaker. Trump's familiar voice was blasting the "radical Democrats," but nobody was around to hear the message. Everybody was waiting to get inside and retrieve an autographed book and maybe say a few words to his oldest son, who is rumored to have his own political ambitions.
The people on the right side of the entrance expressed admiration for the younger Trump. The protesters on the left, led by Weatherford resident Amy Hull, weren't fans of the father, his oldest son or the family in general. Hull held a sign that said, "Trumps are Trash."
Hull and most of her fellow protesters were members of the Parker County Progressives, advocates for social progress. They have been involved in numerous protests against the Confederate statue on the county courthouse lawn.
"We are here to protest the Donald Trump Jr. book signing event and the people who are here," she said. "We're used to being up on the courthouse lawn where we get things thrown at us and all kinds of things said to us, so this is tame. This is nothing."
While we're talking, someone in line to see Trump told the tattooed and pierced Hull she looked like a Neanderthal. She dished it right back, but both sides remained civil to one another for the most part.
"Our main goal is to get more support and to eventually get some of these Republicans out of office here in Weatherford and Parker County," Hull said. "We're not saying all the Republicans. We're not looking to make the whole county Democrat but need some balance because, right now, what we have is the good ol' boy system."