The American Legion Post 163 recognized took the opportunity to recognize some of its hometown heroes as part of its annual Law and Order Awards Tuesday night.
"We feel it's very important to honor these men and women so that they are recognized," Post 163 Award Chairman Ron Chandler said. "We have some outstanding first responders and law enforcement officers and reservists."
Weatherford Police Cpl. Paul Tumlin was honored a commendation for his contributions. Tumlin has been with Weatherford PD since May 2012 and holds an advanced peace officer license and basic instructor license. He is a DWI breath test operator and has advanced accident training, and is a member of the WPD Accident Team, which responds to fatality and serious injury accidents. He was awarded Police Officer of the Year by the department in 2019.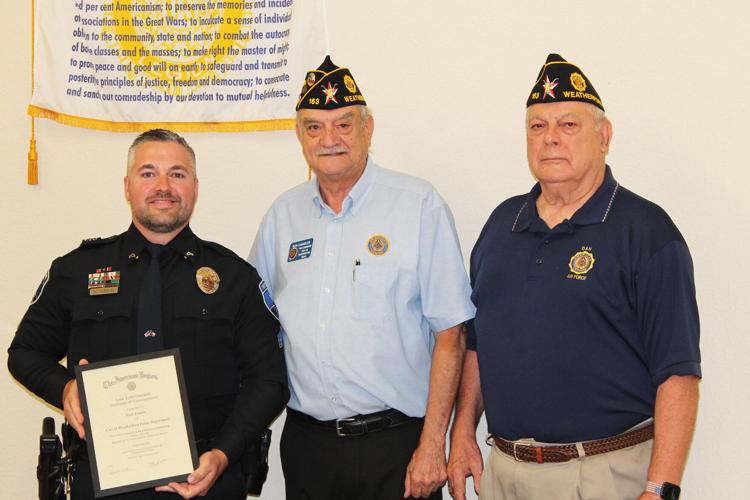 "Trustworthy, dependable, fair, honest, team player, good decision making, great communication skills, integrity, compassion and empathy — Cpl. Tumlin has all these qualities," Weatherford Police Chief Lance Arnold wrote in his nomination to the post.
Tumlin has also been instrumental in creating several programs, including Coffee with a Cop, the WPD Explorer program and Return Home Safe, WPD Sgt. John Rudolph noted.
Sgt. Ben Overholt, of the Parker County Sheriff's Office, was also recognized Tuesday night.
"I would like to explain that Ben is one of the finest field supervisors I have met in my lengthy law enforcement career," Parker County Sheriff Larry Fowler wrote in his nomination of Overholt. "His attention to duty, dedication to his profession and genuine empathy for the citizens of his community greatly exceeds those of his contemporaries.
"He is a role model for young deputies and an exemplary employee of the Parker County Sheriff's Office."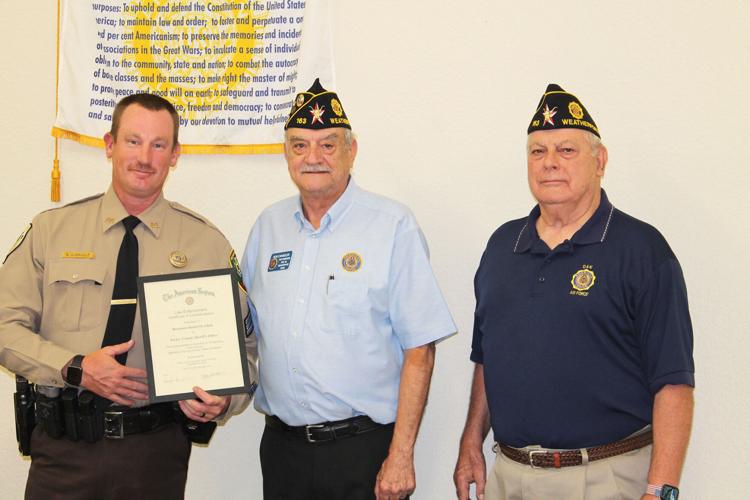 Prior to serving as a peace officer, Overholt served in the United States Coast Guard, and was awarded the National Defense Medal for his service after the 9/11 attacks, and the Coast Guard Commandant's Commendation Award for distinguished service to the U.S.
Overholt also spent time serving citizens with the La Junta Volunteer Fire Department, Springtown Volunteer Fire Department and ESD No. 1. Prior to being sworn in with the sheriff's office, Overholt was employed with the Reno Police Department and the Springtown Police Department, before being named PCSO deputy sheriff in 2006.
In 2016, he was named Law Enforcement Hero of the Year by the Weatherford College Criminal Justice Club.
In addition to his work, Overholt is also heavily involved in his Springtown community through the Hilltop Family Church and the Project Faithworks program.
SFC Robert Thomas, of Azle, was recognized as the Outstanding Enlisted National Guard/Reservist for his work in the Texas Army National Guard. Thomas serves as the Readiness NNCO of 840th Mobility Augmentation Company, has been a member of the Active Guard Reserve program since 2006 and has over 31 years with the Texas National Guard.
"SFC Thomas has dedicated his life to serving the Texas Army National Guard," Chandler said. "As an AGR soldier, his focus is taking care of soldiers. He is the backbone of the 840th MAC and runs the unit's day-to-day operations."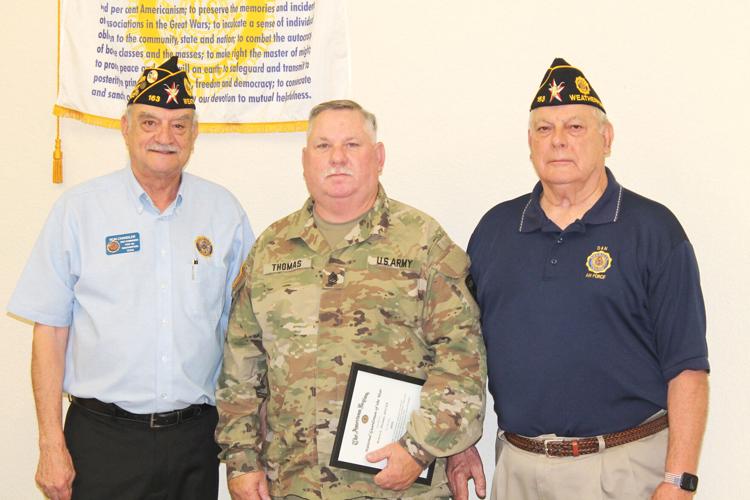 Thomas has earned the Bronze Star Medal and Combat Action Award, among other accolades.
"This may sound redundant, but we love our military and we love our law enforcement officers," Post 163 Commander Dan Robertson said.
Nominees from each post are typically submitted and have the opportunity to advance to next level — American Legion Post 163 has had four candidates in recent years that have been recognized at the state level — but because of the COVID-19 pandemic, the 102nd National Convention, originally set for Aug. 28-Sept. 3 in Kentucky, was cancelled.