Coming from a family of educators and musicians, Robert Laney always knew teaching music was his calling and in 1999 he started the Parker County Community Choir, which performs out of Weatherford College.
"I still remember one morning in Sunday School, I think I was 4 years old, and it was someone's birthday and my Sunday School teacher asked me to lead everyone singing Happy Birthday — that gave me my little ego boost there and I've never wanted to do anything else," Laney said. "When I was a sophomore in high school I was in region choir and the president of the Texas Music Educators Association was our clinician and before the performance, he was telling us about his position over the state of Texas and recruiting music educators. He said the state of Texas really needs good music teachers. I thought, that's my calling."
Laney — now the professor of music and director of choirs at Weatherford College — grew up in Dallas and graduated with his bachelor's and master's degrees from Texas Christian University in 1993 and 1995. Laney then taught two years in public school before being hired full-time at WC 21 years ago.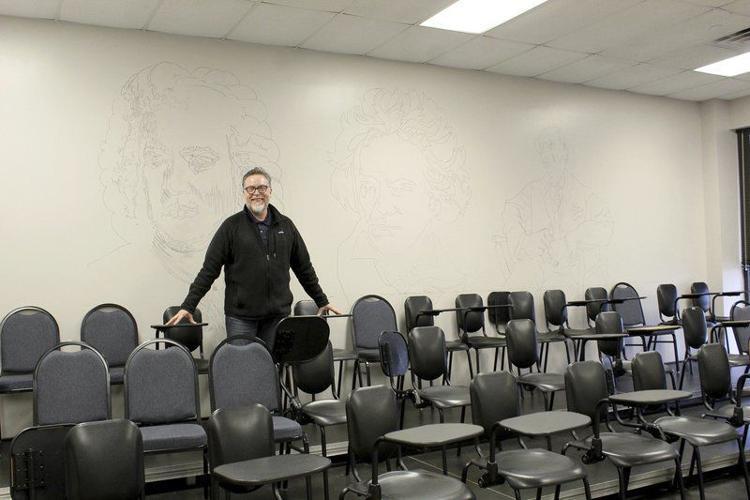 "When I got hired on full time, I just happened to find myself in the president of the college's company and he said, 'You ought to start a community choir,' so you just get hired, the president says start a community choir and OK, that's what you do," Laney said. "I just opened it up to all comers and we were the first community choir in the area and that first year we got 40 singers. We had more people than the auditorium would hold, so we got a really great reaction and the choir kept growing, the biggest we had it was 80 people."
Laney said it's important to have music in a community.
"I think that you're a healthy community when you have the arts in people's lives. You want paved roads, you want quality schools, you want art, you want to have access to hear live music," Laney said. "Roger Grizzard, he would always tell people, 'Imagine Weatherford if there were no Weatherford College. What would people do?' Well, what would we have if we didn't have live music offered to the community? What kind of a town would that be if there's no opportunity for that? So we serve in that we're enriching the lives of the people that we serve. I try to make them feel inspired by showing them the beauty of the music."
Evone Scott has been in the community choir since 2002.
"I saw it as an opportunity to refresh my skills because we don't read music anymore, anywhere, so it was a way for me to refresh that," Scott said. "I like the challenge every year. I like the camaraderie with the rest of the choir because we are multiple ages. We also make friends because some of us have been together for 15 years. Rob teaches a lot, we learn something every year and he always throws a challenge at us."
Billie Hooten has been in the choir for about 15 years.
"I started choir just after my husband died and started in McClendon County before I came here. I saw the college here and my daughter teaches here, so does her husband, and so I thought I would just take the class if they would let me. Every time you come you learn something new," Hooten said. "I sang in high school, started out as a soprano and then gradually worked down to the alto and now they got me doing tenor, so my voice has changed over the years."
The choir performs every December for the Christmas holiday, starting practices once a week in August. The choir auditions are open to all ages and are done year-round.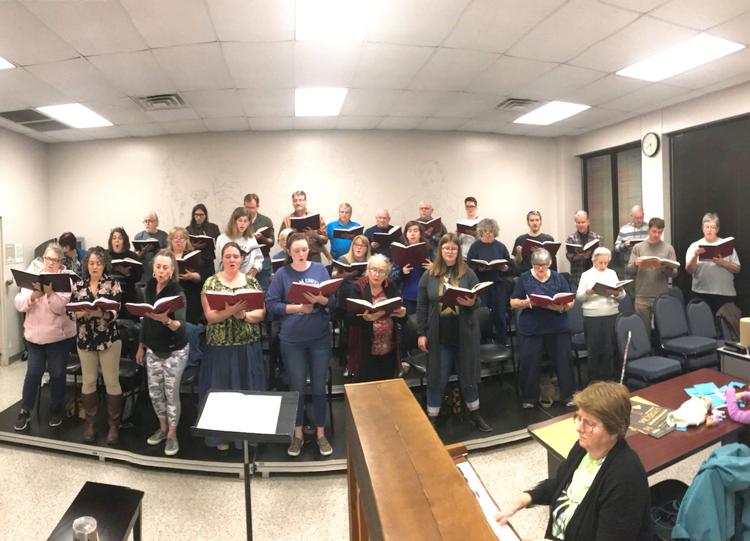 "If you have a background singing in choir and you know what the lines and dots on the page mean, and you can sing in pitch, that's about it," Laney said. "If you've been in the choir before, you're grandfathered in, and I hold auditions by appointment any time of the year."
Laney has the choir perform Handel's Messiah, which has become a tradition, but realized with the growth of the choir that they needed to start doing auditions.
"Handel's Messiah is the most popular piece of classical music in history, it's performed all over the planet every year and everyone knows it. After a while I thought we could make more music if I did auditions and so you have to know how to sight read a little bit, you have to have some choir experience, and that cut the number in half," Laney said. "We went back to a choir of 40, but we could make better music and so that's kind of the evolution of the choir at it's beginning. Every December we just stick with what works and it's kind of expected in the community, kind of a tradition that people want to come see the Messiah."
But Scott said Laney does try to change things up each year for the community and congregation.
"We sing different selections every year and we do about an hour each year. There are a few songs that tell the story of the birth, the death and the resurrection, so there are some songs that are pivotal that we keep every year but there are others that we trade in and out so that it's different," Scott said. "So it's always different, even for the congregation."
The Parker County Community Choir has also partnered with the First United Methodist Church in Weatherford to perform holiday music.
"The night before our performance here at the college, we went Sunday night to their church and did a little preview, the same concert, and so we do it twice," Laney said. "They're both free and it's a nice acoustical space and we get to perform it more than once and that's been a nice connection in the community that we've been able to have."
Laney said he's had the choir stick to the traditional way of performing.
"The choir world is changing. Over the last couple of decades there has been a shift away from what they call 'park and bark,' you just stand there and present your songs, and it's been evolving toward a more multimedia presentation," Laney said. "We're kind of keeping the tradition alive in that when you do an oratorio [large-scale musical work] you don't act it, there are not costumes. We do it traditional style, everyone is in tuxedos and evening gowns, and it's a formal affair."
For more information about the Parker County Community Choir, visit the Weatherford College website at wc.edu or email Laney at rlaney@wc.edu.