After being shot down during the Vietnam War on May 19, 1967, the remains of U.S. Air Force Col. Roy Abner Knight, Jr. were identified in June and are returning home to be buried with family members at Holder's Chapel Cemetery in Cool.
Knight was born in Garner on Feb. 1, 1931, and joined the Air Force days after his birthday at age 17. He was the sixth of seven sons and one daughter of Roy Abner Knight Sr. and Martha Holder Knight.
"I was the seventh son and he's three years older than me, but he always seemed much older. He had a presence and a lot of grit — I didn't think of it then as courage, but that's what it was. We lived out in the boondocks and were just little country boys. He kind of took care of me and saw that nobody bothered me. We just had a good relationship all the way through," Knight's brother, Bill Knight said. "He left home so early, as soon as he turned 17 in 1948, and I had three more years of school to go when he left home. After that I just saw him periodically — he had several oversea assignments and had one short period of time in 1950 where he was stationed in Carswell in Fort Worth and spent quite a bit of time home then."
Bill recalled a special story about his brother that took place on Christmas 1947, right before Knight went into the Air Force.
"He was really a good-hearted person and was always helping me. On thing that sticks out in my mind is that we never had a whole lot of money and it was hard for my dad to take care of some of our wants. I remember he, just a month before he went into the Air Force, for Christmas got me a brand new bicycle with all the bells and whistles and mud flaps and headlights and anything you could think of that you could get on a bicycle," Bill said. "He had worked a few months doing odd jobs and construction, and I think it cost him $15 or $20 at that time, but we're talking about the end of 1947, so things were a little cheaper.
Knight served during the Cold War, Korean War and was a pilot with the 602nd Tactical Fighter Squadron in the Vietnam War.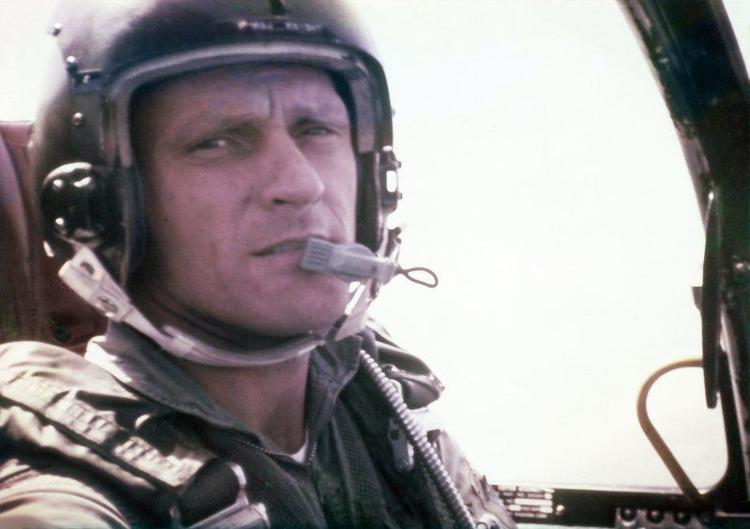 "It's been 52 years since dad was shot down — I was 10 years old when he left. In 1963, dad was an instructor pilot at Laughlin Air Force Base in Del Rio and then in 1966 dad got his orders to go overseas and fight in the war," Knight's son, Roy Knight said. "If you were a military family in 1966, it was basically just a matter of time and we saw examples of that all around us. In fact, the instructor pilots in my dad's squadron, most of them did not come back — several of them were killed."
Roy said his family lived in Millsap for about one year before moving to Weatherford in 1968 and stayed there until 1974.
Initially, Knight was declared missing in action after being shot down while leading a flight on a strike mission in northern Laos.
"What is perhaps unique in our experience and that of about 2,500 other families, and something you will never see again, is the missing in action aspect — this limbo life we lived for so many years. There was a chance he could be alive and there was a possibility he could be a prisoner of war," Roy said. "So we're living in this limbo thing where dad is still considered alive up until 1974. In 1974 our government said all the POWs and MIAs had been accounted for — those that were alive — and they had come home in Operation Homecoming where the Vietnamese released our prisons of war."
Roy said all those that did not return were declared "Killed in Action" by the U.S. government.
From there, Roy said the Defense POW/MIA Accounting Agency began the process to try and recover Col. Knight's remains.
"My dad's crash site was visited several times and there was kind of a preliminary excavation done in 1991 or 1992 and then a full excavation done in 1994. When they did that they recovered some items — a parachute harness that had been burned, pieces of survival equipment, stuff that would have been on a pilot when the aircraft crashed," Roy said. "In this particular area, we lost a lot of aircraft, but we had good intelligence that this was my dad's crash site."
Then in early 2018, the team went back and did another survey and, according to Roy, that's when a Department of Defense employee on the survey team said, "We need to come back and go a little further." That employee, a recovery specialist, is the one that really moved the needle forward, Roy said.
In February, another 16-member team went to Knight's crash site.
"There are active duty military personnel from all branches that are part of these teams and these people went in and spent almost a month at my father's crash site sifting through everything at that site. It is very difficult conditions and it is dangerous, so those young people went in there and worked so hard — and they're not getting rich doing what they're doing," Roy said. "They recovered the smallest amounts of different things, both materials and my father's remains, and I am absolutely amazed. I am moved beyond words by what they were able to do. It's a service thing, something my father would understand, something that military folks understand amongst themselves and that's why the commitment to leaving no one behind is very strong amongst the military."
Roy said the team even recovered segments of his father's DYMO Label that was placed on the front of his helmet.
"They recovered segments of the DYMO Label that were about an inch long — one says 'MAJ' and the other one says 'KNI' — now what I'm talking about is so small and so delicate and so thin, and they found that and it just blows me away," Roy said.
On June 4, Knight's remains were positively identified.
"They were able to make a complete identification of my father based on dental records, and it doesn't get any better than that," Roy said. "Since I was 11 years old my identity has been the son of this missing man, so the fact that we're ending this journey is kind of hard to describe. You have these competing emotions — you're happy this is resolved, but there's that uncomfortable feeling of change and coming to grips with reality, then there's also immense, intense sadness that comes whenever you contemplate the loss of someone that's important to you. It has been a little more difficult to deal with in that regard and the fact is, reliving a lot of that and unpacking it all and dealing with it again does have an emotional aspect to it."
Bill said the news of his brother returning home has been comforting.
"I'm just real pleased that he'll be back here with us at Holder's Chapel. That chapel was our family church — he and my sister and I joined the church there at a summer revival in 1942 — so I'm just glad that he's going to be there in that little valley at Holder's Chapel," Bill said. "It will just be comforting to know that he's there and not in some place all the way around the world in a remote region laying out there under the soil by himself. There's just something spiritual about it that it makes you feel more comfortable about knowing he's there with his older brothers and his parents, and when the time comes, myself and my wife and son will be there right by him. We'll all be tucked in there safe and sound."
According to the DPAA website, there are still 1,588 Department of Defense personnel who are still unaccounted for from the Vietnam War. Knight's name is recorded on the Courts of the Missing at the National Memorial Cemetery of the Pacific in Honolulu and a rosette will be placed next to his name to indicate he has been accounted for.
Col. Knight was awarded the Purple Heart, Silver Star, Air Force Cross, Distinguished Flying Cross and six Air Medals for his actions during his service. His brother, 1st Lt. Jack L. Knight was awarded the only Medal of Honor as a member of the U.S. Army ground forces in the China-Burma-India Theater in World War II. His brother, 1st Sgt. Curtis L. Knight, was awarded the Silver Star for his service in World War II; and another brother Lloyd Knight also served in World War II.
"The whole hero thing is pretty strong in that group of men. Every single one of them served, including [Knight's sister] June — she spent over 40 years as an Air Force civil servant," Roy said.
Arrangements were made to allow Knight's other son and Southwest Airlines Capt. Bryan Knight to fly his father to Dalle Love Field from Oakland, California on Aug. 8.
"Southwest Airlines went above and beyond to make special arrangements to transport my father from Honolulu to Oakland and finally to Dallas Love Field. This required significant effort regarding the credentialing and coordination between funeral homes, State of Hawaii, USAF and so on to allow Southwest to carry human remains inland," Roy said. "They take service member's records and they look at every award this service member has been given and they build his or her uniform. They add every ribbon exactly as it should be and the uniform is in absolute pristine condition, it is perfect, and checked over and over again. This is being done right now for my father and it will be checked at different places along his journey until he arrives in Weatherford, with one final check being done that morning as he is brought to Holder's Chapel. The thought of that has me very emotional."
A visitation for Col. Knight will be held from 4-8 p.m. on Aug. 9 at White's Funeral Home in Weatherford followed by a service with full military honors at 10 a.m. on Aug. 10 at Holder's Chapel.