WEATHERFORD — After hearing some three-hour testimony and arguments from various attorneys and property owners, Parker County commissioners Monday voted to deny an application for a neighborhood road.
Parker County resident Jonathan Hobson, who owns property off North U.S. Highway 281 in Perrin, has been seeking alternatives to access the land after neighboring portions were purchased, effectively leaving him landlocked since around 2015.
Hobson said his family owned the property since the 1970s and at one time, the family used an easement they created themselves, but it failed to be recorded in a divorce decree between Hobson's parents.
"In essence, the mother was awarded one property and the father was awarded the other and the decree tried to allow for an easement between them," Paul Vitanza, the attorney representing Hobson, said. "But the two tracts, for lack of a better word, are catty-cornered and share a fence-post. So it is physically and legally impossible for a road to be situated across the head of a fence-post.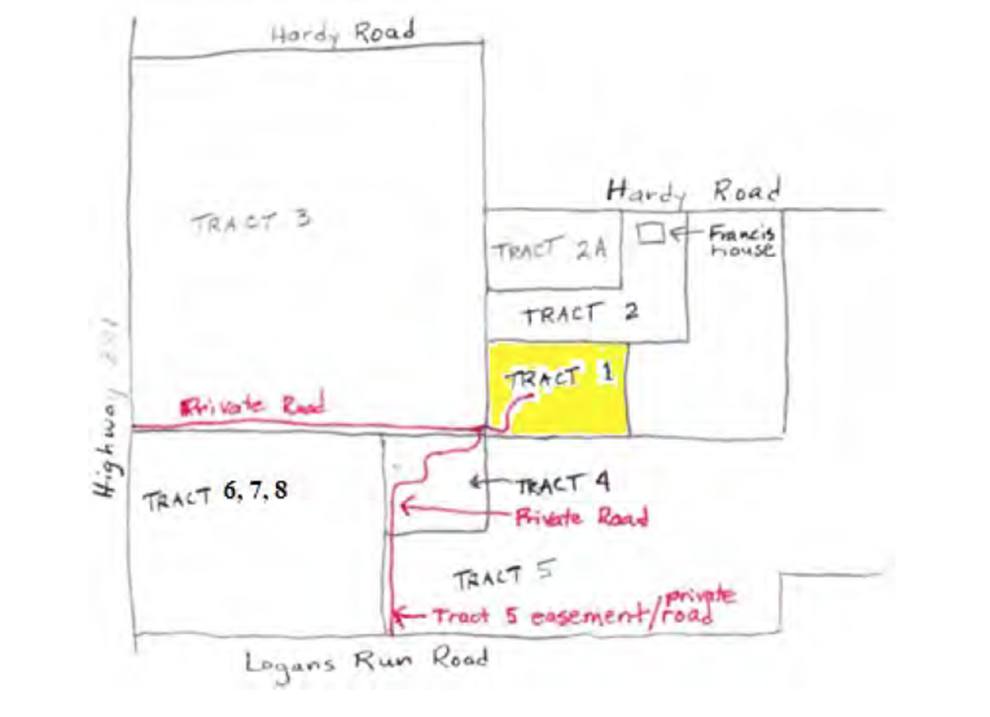 After commissioners granted a continuance in July regarding Hobson's latest application requesting the county build a community road, the court reconvened for Monday's hearing.
According to provided deposition of an interview with former Precinct 2 Commissioner and road crewman Mack Dobbs, the county maintained the roadway along the fenceline of Hobson's neighbors in the 1970s until around 1989.
A debate ensued on whether the road was ever a county road, with County Attorney John Forrest noting it was never established as a county road to be abandoned.
According to current Precinct 2 Commissioner Craig Peacock, the majority of that road is located in Palo Pinto County. 
"Ultimately, if we were to proceed forward and approve this, we would not have access to it until Palo Pinto has their hearing and determines whether it's a county road," Forrest said, adding that for a neighboring road, the county doesn't have an obligation to maintain it, just put it in operating order.
Tract maps provided to commissioners record the road as a 60-40 split between Palo Pinto and Parker counties.
Precinct 3 Commissioner Larry Walden asked for clarification on the application and whether it was to make the road a county road or establish a new road.
Forrest confirmed it was to establish a new neighborhood road.
"The term 'eminent domain' has come up and we're not saying commit an act of eminent domain against one person for one person," Vitanza said. "There's five or six landowners that would be able to use that road."
Precinct 4 Commissioner Steve Dugan said he sympathizes with Hobson and his situation, adding that he believes the road in question was at one time maintained by the county, but he has doubts on whether it's the right thing to move forward before Palo Pinto rules on anything.
"All we had before was that we were being asked to condemn the Francis' property by imminent domain and build a road across that. Now the same application is back before us," Walden said, referencing the commissioners' decision in 2019 to unanimously deny Hobson's application for a neighborhood road. "But as far as [this] application and the language it uses, it doesn't meet the criteria for you to take somebody else's land and build a road on it and give it to one person.
"I'm with Commissioner Dugan, I feel badly that this person doesn't have clear access to his property ... I'm not saying there might not be an avenue to determine that this road is a public road of some kind. What I'm saying is this application doesn't say that and that's not what we're being asked to do."
Walden's motion to deny was seconded by Peacock and unanimously approved.