Hard times have a way of bringing people together, and residents in Parker and Palo Pinto counties this week did exactly that, with neighbor helping neighbor through issues brought on this week by the winter storms.
Daniel Chapman and Ryan Nelson, co-owners of March Roofing in Azle, were out most of the week delivering firewood to people who were stuck at home without electricity. 
"We weren't able to work so we felt like we needed to do something, so it was kind of the natural thing because we have trucks, we have chainsaws and we know people that have downed trees on their property," Chapman said. "A lot of people out there don't have the means to get out, maybe don't have the extra money to buy firewood and with the power outages that may be their only option to keep their home warm."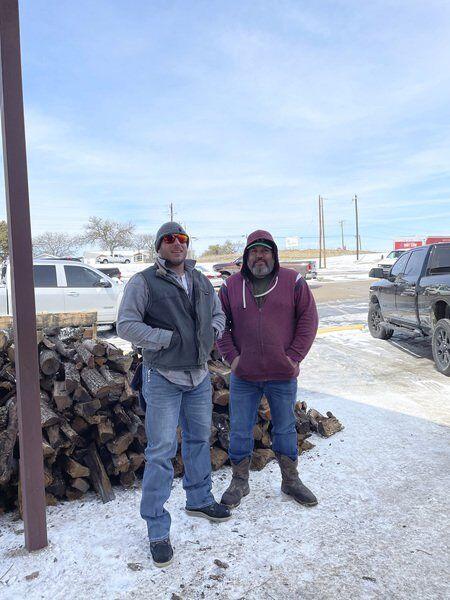 The two loaded up their trucks and made trips to residents in Springtown, Azle and Paradise, and were still out working on Thursday.
"There were a lot of people out towards Paradise that were just kind of stranded and they couldn't go anywhere so we got out to them. We were probably able to hit 50 homes together between me and Daniel," Nelson said. "It's great to give back to a community that gives to us. It's good to provide a service for your town and your community."
Chapman said after their post on Facebook blew up, they were able to team up with others to help get firewood out faster.
"We're now able to get caught up and have kind of a stockpile to where we can deliver a lot quicker now," he said. "Tuesday and Wednesday we probably worked until about midnight. We've seen some people in some pretty dire situations where they really had no other options."
Churches and schools in Parker and Palo Pinto banned together to provide a series or warming locations for residents — and their pets — to gather and get warm while charging their phones, with locations set up in Weatherford, Springtown, Azle, Hudson Oaks, Willow Park and Mineral Wells.
Others volunteered to distribute bottles of water to residents without.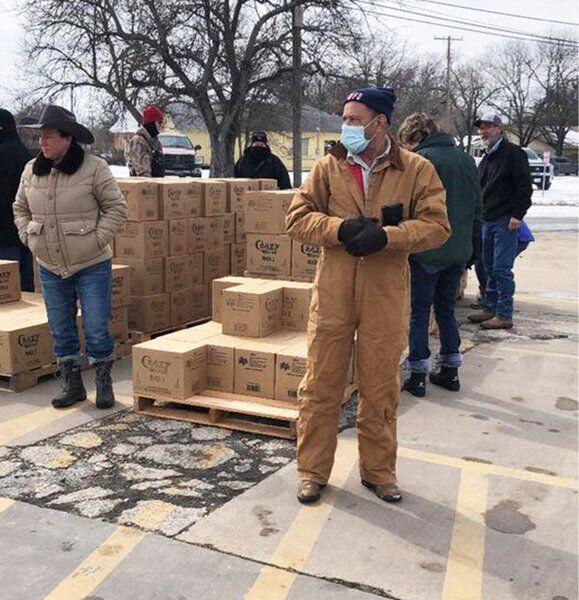 Nonprofits, like the Parker County Center of Hope, opened for a few hours Thursday afternoon to provide emergency food supplies to residents in need.
"They've helped us so much," said Millsap resident Linda Sparks, who was able to receive bags of groceries for her home.
Yesterdays Sandwich Shop was unable to open its doors for a couple of days because of the weather, but offered loaves of its homemade bread to residents that it was unable to serve earlier in the week.
Weatherford Place 4 Councilman Kevin Cleveland, who works in construction, was out helping residents with a variety of issues resulting from the winter storm. 
"We had some generators that were left over that we got to hand out and help some folks out," he said. "I have a plumbing background so have been helping people fix wells and water leaks — I don't do plumbing anymore, but help out where I can."
Cleveland also helped get diesel to a local nursing home that was having to make multiple trips to fill up three to five-gallon cans for the generator, providing relief until the nursing home was able to get back on a diesel service with somebody bringing diesel.
"A good friend who works at the city, he's been without power now for 60-plus hours and we carried a generator and some propane heaters and water and stuff to cook with to him today," Cleveland said. "I'm just doing what I can where I can."
He added that a lot of people are helping those in need this week, not just himself.
"My family was warm so it gave me the opportunity to get out," Cleveland said. "I don't sit very well and my company office didn't need to be opened so it was easy for us to shut that down and save electricity for others. That left me with nothing to do and I get bored really easy, so it feels good to be able to get out and do that stuff. 
"There are people doing it everywhere, so it's not just me."
Brandi Lockwood, general manager of Stuart Nursery in Weatherford, said they've been in business since the 1950s because of the community, and after watching conditions deteriorate, they wanted to give back to those that have helped them.
"There's no bigger platform for getting the word out than Facebook, so that's where we turned," Lockwood said, referencing a post calling for information on anyone needing a warm hotel room this week. "Calls and messages started to come in [from all over]. We immediately went to work on locating local hotels to house people in until we were out of the storm."
Stuart's was able to secure a week's worth of hotel rooms in Decatur, Azle and Weatherford for about 50 people. Some of those rooms were extended into the weekend for those needing it. 
The business was also able to purchase truckloads of food from Town Talk Foods, and partnered with Kangaroo Towing to transport the food to several hotels and warming centers set up in Parker County.
"It's God's will to help those in need and we are here for him to see that through," Lockwood said. "Thank you to the community for showing love and support to us as we helped many in need.
"There were many people helping — we were just a small piece of the puzzle."