WEATHERFORD — The demolition of the old movie theater off the Weatherford downtown square will have to wait a bit longer.
City council Tuesday unanimously rejected a bid by Matrix Demolition LLC in the amount of $87,850 for demolition services, following recommendation of staff.
Weatherford Director of Development and Neighborhood Services Kaleb Kenter said they had only received the single bid, and made the recommendation to reject to "ensure that we're using the city's funds in the best possible means."
In March, the city's building and standards commission approved a demolition order for the building, at 111 College Ave. beside Downtown Cantina, after it was deemed unsafe and unsalvageable following two inspections.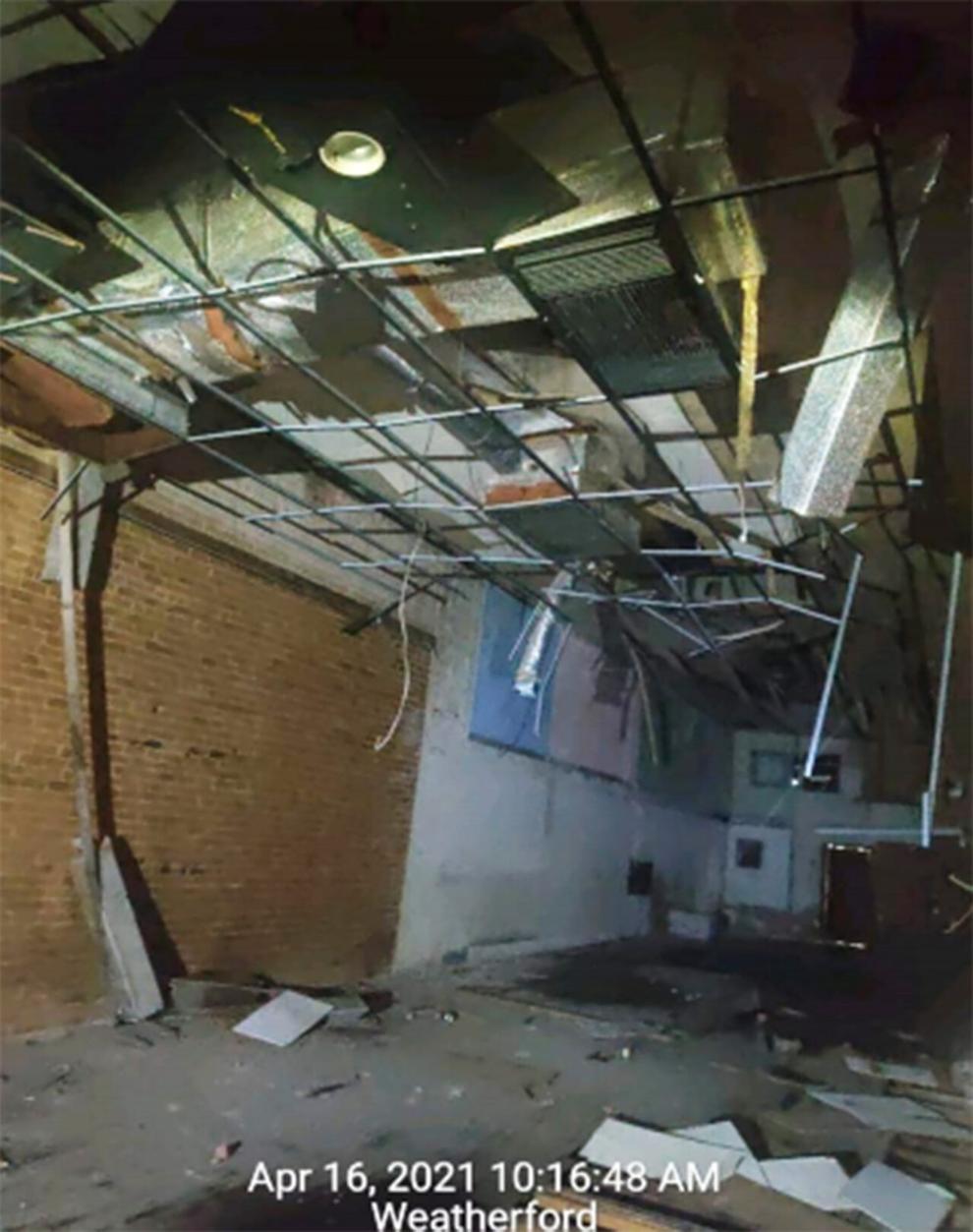 The building, which once housed The Plaza Theater, had been boarded up after sitting vacant for many years. Photos taken by city staff showed deterioration of the interior floors and wood fixtures, as well as holes and breaks in the walls and ceiling, labeling it a safety issue.
Kentner said the building will still have to be demolished, and the project will go out for bid again.
 Council members Tuesday also:
• Approved the voluntary annexation of approximately 56.7 acres adjacent to the current Wossum Ranch subdivision located off Farm-to-Market Road 730 and Azle Highway. The request was made by Richard Green with Castlemont Homes, with an intent to further residential development in the area.
The approval followed a public hearing, at which no one spoke.
• Heard from Assistant Director of Parks and Recreation Jaycob Kirkpatrick on the recent Spark in the Park July 4 event, which drew in an estimated 10,000 on the amphitheater lawn alone.
Two bands performed, followed by a 35-minute fireworks show and 2-minute grand finale.
"That puts us at almost the largest fireworks show in North Texas," Kirkpatrick said, while thanking staff, fire and police and the IT department for their work in helping things go smoothly.
• Heard a request from Mayor Pro Tem Heidi Wilder to add the topic of signage to a future agenda item.
"I want there to be a clear understanding of what an individual can and can't do," she said, using an example of someone wishing to post open house signs along a roadway.
• Heard a report from City Manager James Hotopp on last weekend's Parker County Peach Festival. An estimated 40,000 came out to the event, getting to enjoy "a little slice of Weatherford," he said.