Wildfires have continued to rage in California and at times, members from Parker County have been in the thick of the firefighting battle.
Three Parker County Emergency Services District 1 firefighters sat down this week to discuss their experiences battling the blazes over the past couple of months.
ESD 1 Captain Trey Tovar and Engineer Mike Ellis were both deployed to SCU Lightning Complex in California on Aug. 22, returning home on Sept. 14.
"It's surreal. You can learn as much as you want in a textbook but when you see all those little things like ladder fuels, you read about it and what they do, but when you sit there and watch a tree go 100 feet up in 10 seconds, that's your ladder fuel," Tovar said, adding that this was his first deployment. "That's what we've been reading about in textbooks for years. You experiment with thermal layers and the way wind and fire react to each other. It brought a visual to all the textbook material that you read for so long."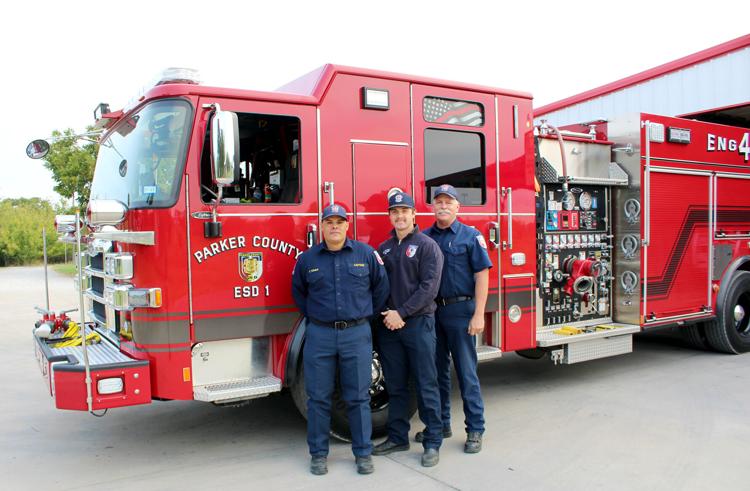 Ellis and Tovar — who have been with ESD 1 for seven and three years — were on one of two Texas strike teams that were battling the same fire, rotating in 24-hour shifts. Their strike team included personnel from Southlake, Temple and Killeen, and firetrucks from Fort Worth, Dallas and Allen.
"A lot of people say it's global warming with California. It's not, it's their forest management," Ellis said. "They have a beetle that kills all the trees so the trees fall over and you have all this dead wood out there and when it starts burning, it's uncontrollable."
The terrain is much different from Texas, Ellis said, and when aerial operations fail because of the smoke, that's when the ground crews go in.
"It's a challenge and [California Department of Forestry and Fire Protection] when we were there said they had 96% of their fleet either out on a fire or responding to a fire," Ellis said. "CAL FIRE is pretty big in California, it's their department of forestry, so it's like our Texas Forest Service and they're huge, and to have 96% of their fleet out is amazing. It's all hands on deck out there for sure."
Ellis said other than the terrain being a challenge, the air quality was terrible.
"There's smoke everywhere, the whole entire state is covered in smoke, so we didn't see the sun and we had our helmet lights and light on the truck on. Everything was so dark," Ellis said. "The forest is covering up the sun to start with so it's shaded but when you put all that smoke in there it's like midnight in there and you can't see anything."
ESD 1 Firefighter Justin Massey — who started with the district in February — was deployed with a crew on Sept. 29 and returned on Oct. 16.
"To go to California for my first deployment was a pretty big deployment. Weather played a big part, it's crazy just to see it in person," Massey said. "I count the experience as a once-in-a-lifetime opportunity because I don't think California will ever have as big of a fire as what they had. It was a humbling experience to go out there and just learn that kind of side of wildland fires, they're so different than here."
Massey said on Oct. 7, the fire he was helping to fight burned 135,000 acres and was at 65% containment at that point.
"By the time we left, it had burned over one million acres and it was at 90% to 95% containment, so just between that short period of time," Massey said. "There were 248 engines, 48 hand crews, nine helicopters, five fixed-wing aircrafts, 48 dozers, 33 water tenders and 2,538 personnel — that was just on that one fire."
Tovar said even crews from prisons came out to help.
"The prisoners there, they have programs for them to help them with early time, get time off if they work, and there was usually one or two trucks full with us almost every day," Tovar said. "They had prisoners that were the chainsaw crew, prisoners will all the tools and sometimes when they come out, they're the ones dismantling the hoses and bringing them out with them."
The three said it was "pretty awesome" to be able to go help with the wildfires.
Tovar said that although they were on teams with firefighters of different departments, it was amazing to see how they all worked together.
"We all learn from different instructors but when we were all there together and we had an assignment, we all knew what to do," he said. "Our training, even though we weren't trained by the same person, everybody has the same end result. We just meshed and it all fell into place. Everybody worked as a team."
The three said mapping technology, Avenza, really helped in battling the blazes.
"We'd get an assignment, we'd walk and you turn that on and we could walk four hours up a certain line that our strike team leader tells us to, and then when we came back, he'd get all the engine bosses together. They all look at the maps and it shows where everybody walked," Tovar said. "So he would relay it to the division leader saying we walked all of this and it was cold, so the next map the next day is black in that area."
They also participated in burnout operations to help slow or stop the fires.
"[When] you do a burnout operation, you burn out in front of it, so you take away that fuel there where you want to stop it," Ellis said. "So when that fire gets there, there's nothing else to burn."
Tovar added, "It's pretty amazing when you think about it — we're starting fires to put a fire out."
ESD 1 Chief Stephen Watson said the district has been participating in the Texas Intrastate Fire Mutual Aid System since their first deployment to Hurricane Harvey in 2017.
"This program allows our personnel to utilize their skill set and gain experience while serving abroad," he said. "All personnel costs are reimbursed, and with equipment rental fees the program has created a small revenue stream for the district. 
"We are grateful for the community's trust and support in allowing us to assist when and where needed across Texas and now the country."
Tovar, Ellis and Massey said they expect more deployments to come in the near future.
"I don't know if it will be California, we might be going to Oregon sometime and hopefully we'll start getting some more mutual aid agreements with Oklahoma, New Mexico, Arizona, all of them and start helping them out too," Ellis said. "But there will be more deployments and we don't only do wildland — we do all hazards too, so we'll do hurricanes, floods, stuff that like."