WEATHERFORD — A Weatherford-based nonprofit serving senior residents is setting its sights on growth as it emerges from a couple of challenging years.
The future of a 35-acre tract donated in 2014, however, remains in limbo as the governing board of the Parker County Committee on Aging weighs options, the facility's Interim Executive Director Jennifer Bledsoe said.
Board member Tom Kidd said the recent challenges have placed the Vine Street tract, donated to the center in early 2014 by Jerry Durant Auto Group, into an undetermined status.
Valued as three parcels on the Parker County Appraisal District rolls at $958,070, the donated land saw early activity that petered out. Concrete slabs sit among the Johnson grass, utility pipes extending skyward here and there.
The city of Weatherford OK'd rezoning the property in 2017, and a building permit for the 19,912-square-foot structure remains active, according to Weatherford Building Division records.
"We have several options," Bledsoe said of the land. "And we're still working on it at this time, to make the best use of the land."
Meanwhile, the interim executive director is enthusiastic about plans that include expanding from twice-weekly community meals to five days a week, enlisting volunteers to drive for Meals on Wheels and to help cook up a menu of services.
"It's a new beginning," Bledsoe said last week, while over her shoulder some 65 members enjoyed salisbury steak, beans, cole slaw, fruit and fellowship in the senior center's newly refurbished dining hall and activity room.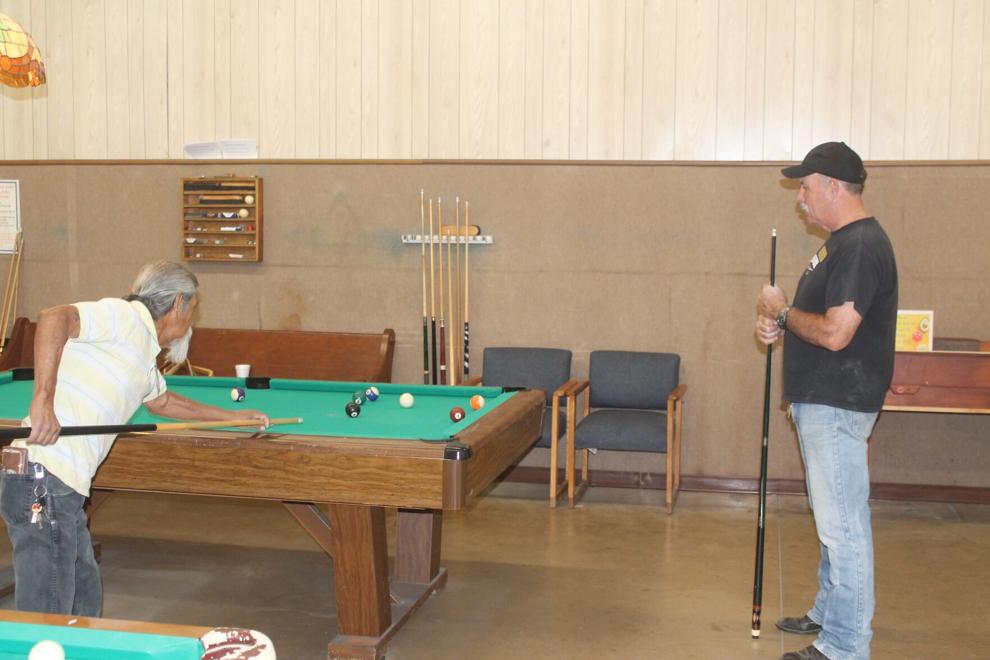 Near the roomful of diners, member Gavino Cardenas was clearing the pool table in a game with Mike Thompson. In a side room, others browsed clothing and other items in a resale room.
Bledsoe, the former community liaison for the Parker County Hospital District, came to the senior center at 1225 Holland Lake Drive on Aug. 9 with a mission to revitalize the 45-year-old focal point for many retired residents, who otherwise would be spending the hours between 9 a.m. and 2 p.m. on Tuesdays and Thursdays just like one-year member Jimmie Bethea would.
"Sitting at home, being lonesome and watching TV," Bethea said, seated across from 10-year member Karen Rubrecht. "Coming up here twice a week has been a lifesaver."
Asked why she was there, Rubrecht pointed to her left and right.
"There's a lot of good people here," she said.
By then, Bledsoe and a handful of volunteers were wheeling trays of plates among the rows of tables, many of them newly acquired just like all the tablecloths.
"This place was shut down for the better part of a year," said staff member Jim Hahn, who lost his wife of 49 years, Beverly, while the center was closed. "She said, 'You know what? I never knew how much I missed the center till I couldn't come.' … A lot of these people were locked up in their apartments. They are just so happy to get out and see their friends."
A visibly energetic Bledsoe, who says the only dues members are asked to pay is their smiles, reports that things are "ramping up" at the center.
"We're opening up, more people are coming in," she said recently. "We want people to feel excited, that they can't wait to turn 60."
Monthly birthday celebrations are re-started.
Meals on Wheels Coordinator Kim Boone said the atmosphere at the senior center is upbeat since Bledsoe arrived.
"Somebody new comes in that (members) don't know, and they flock around them to welcome them," she said.
Bethea said Bledsoe has undertaken other simple improvements that are breathing life into the center's activity and dining hall. The first-year member pointed to a shuffleboard table along the south wall.
"It was always covered up, and she went into the back store room and found all the pucks to play that," she said, before nodding toward a player piano standing along the north wall. "She went in the store room and found all the music for it. We're looking for a volunteer to come service the player piano."
As the dinner got underway, volunteer entertainer Scotty Hein set up his Casio keyboard and prepared to launch into a set of audience favorites. He likes his monthly gig.
"It's always fun, because I do a lot of oldies and I like their reaction to the old stuff," he said, shortly before launching into Willie Nelson's, 'Angel Flying Too Close to the Ground.' "All I ask is a glass of tea."
Founded as a nonprofit in 1974 or 1975, to the best of the volunteers' collective recollection, the Parker County Committee on Aging provides Meals on Wheels delivery, the twice-weekly luncheons and transportation services.
"We need volunteers to deliver Meals," Bledsoe said. "We need monetary donations to keep this program going."
A second, or third, volunteer receptionist also are wanted to take some of the load off of volunteer Denise Pochulsky.
Meals on Wheels Drivers need only a valid license, the state-required insurance and be at least 18 years old. Anyone interested can call the center at (817) 596-4640 or go to its website, pccoa.org, and click on the VOLUNTEER box on the top right side of the main page. (There is a DONATE box to its left). More information also can be requested by email at info@pccoa.org.
Kidd, one of five members of the center's governing board, also said trustees are hoping to add to their number and can call the center or him, at (817) 565-7717.
Bledsoe said 22,605 hot dinners have been delivered since January under the Meals on Wheels program, which the center performs with the community meals under a contract with the Area Agency on Aging.
The statewide agency, housed within the North Central Texas Council of Governments, also funds transportation in next-door Palo Pinto County, but Director of Aging Programs Doni Green said the senior center in Weatherford handles its own transportation service.
The center's land and building are owned by Parker County, but the nonprofit is responsible for its own utility and building upkeep.