Following a statewide trend, Parker County has seen an uptick in the number of positive coronavirus cases, recording 60 new cases as of the county's last update on Nov. 7.
The county now has 2,691 total cases, with 130 active, 2,552 recovered and 55 deaths.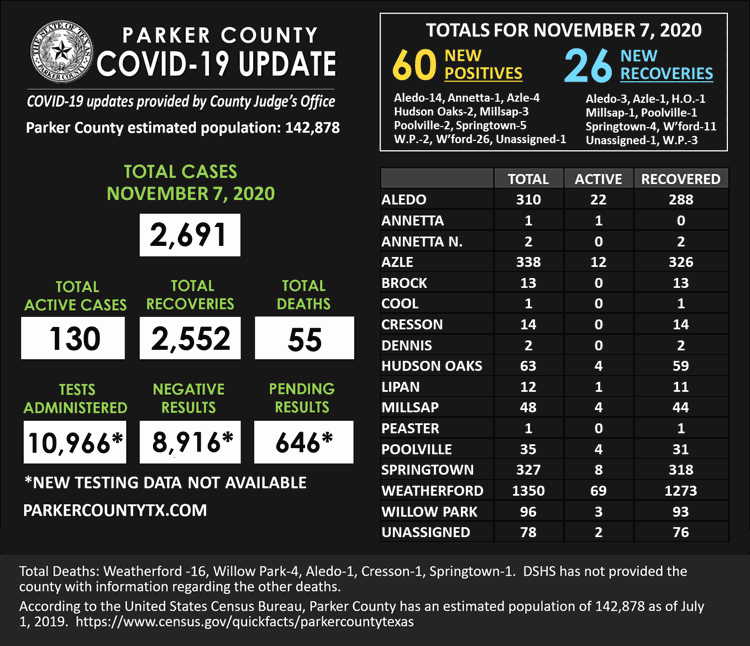 "One of the things we are working on, with the county clerk's office, is getting more information on those deaths," Parker County Judge Pat Deen told commissioners Monday morning. "As mentioned before, we know a lot of those are related to out longterm care facilities, but we are wanting more detailed information."
County Emergency Management Coordinator Sean Hughes said in consulting with local health authority Dr. Steven Welch, there are a couple of factors that are contributing to the increase — businesses and schools opening up, more testing and people becoming lax in wearing masks and social distancing.
"[Welch] seems to thing that's one of the largest contributing factors to the spread — people becoming relaxed in masks, hand washing and covering their coughs — and not only in Parker County but across the state," Hughes said."
The state remains under Gov. Greg Abbott's executive order for wearing masks when social distancing is not feasible, something Deen said is an appropriate reminder.
"One thing that is important, as we continue to trend gradually upward, is to encourage the use of masks and continue to provide masks and make them available where spacing is not possible," he said.
Last week, the county administered 278 COVID-19 tests at Heritage Park. Another testing day has been set for Wednesday, from 8 a.m. to 3 p.m. in the First Monday Trade Days parking lot. No appointment is necessary and there is no cost for the test.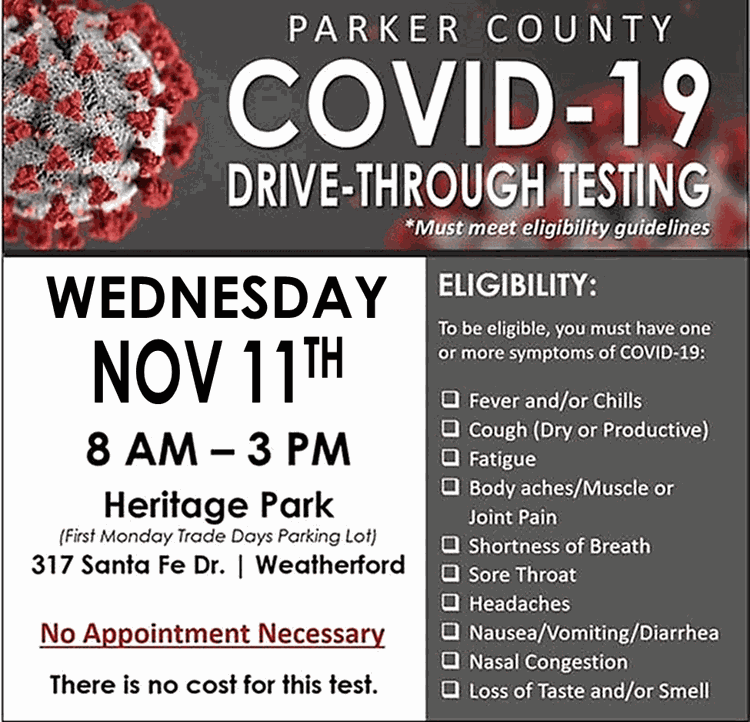 "We anticipate a similar number [as last week] and we want folks who are showing some of the symptoms to be taking those tests, not just random people that want to get a test," Hughes said.
Deen also noted that the Texas Alcoholic Beverage Commission is keeping a close eye on bars to make sure they are complying with state mandates as well. Last month, Deen allowed Parker County to opt in to Abbott's announcement that bars could reopen at 50% capacity.
"We don't have that many bars, but TABC has been very aggressive [on compliance] and we will be monitoring those," he said.
Parker County coronavirus relief funds
Parker County has received $4.7 million in Coronavirus Relief Funding, and the county has until Friday to submit a spending plan to the Texas Commission of Emergency Management. 
"This plan is a good guess of where those funds are going to be spent," Hughes told commissioners. "There can be a little bit of flex within the six categories but we cannot exceed that $4.73115."
The categories include payroll expenses, elections expenses, PPE expenses and medical expenses, with the latter two making up a good chunk of the funding.
Of the medical expenses — approximately $1.3 million — the majority is for pods at all of the school campuses, Hughes said. The PPE category — about $2.7 million, includes personal protective equipment, barriers and some technology for the county, ESDs and school districts.
"We asked the school districts to submit to us their costs and their justifications in a budget-type format. All of those were received in a timely manner, as were the interlocal agreements from school boards," Hughes said. "All of the costs that were requested by ISDs so far have been valid costs. That they asked for, we anticipate meeting those."
The funding period runs through Dec. 30 and Hughes said at that point, the departments would put together an entire package of actual figures and then make adustments.