Weatherford's Pinnacle Christian School seniors Brooke Souhrada and Traysen Crist played the role of pathfinders in front of friends, family and faculty Thursday morning in front of campus, officially becoming the first high school graduates of the hybrid school, which utilizes elements of both homeschooling as well as a brick and mortar institution.
Pinnacle, which got its start only a few years ago, began serving a different function initially, before a desire and need in the local community for an integrative learning approach for kids spurred a shift in focus, Co-Founder and Head of School Elizabeth Hall said.
"We started in 2017," Hall said. "We originally began as a school for gymnasts to work with their unique training schedules, but quickly realized there was a need and desire in our community for families to have a little bit more flexibility in their schooling.
"A lot of people refer to us as a hybrid school, where you have the freedom and flexibility of homeschooling, but also the direction, guidance and leadership of qualified teachers who provide the lessons, interactive opportunity and collaborative learning that you get in the classroom along with hands-on experiences like science experiments, out of the box learning and a lot of STEM-type projects. So that's what we provide here.
"It's kind of a blend between the best of both worlds of a private school and home school."
Souhrada, who plans on attending Weatherford College before transferring to Texas Tech University in pursuit of a business degree, said Pinnacle helped to strengthen her faith as well as her sense of self, while acknowledging the surreal feeling of being one of its first two high school graduates.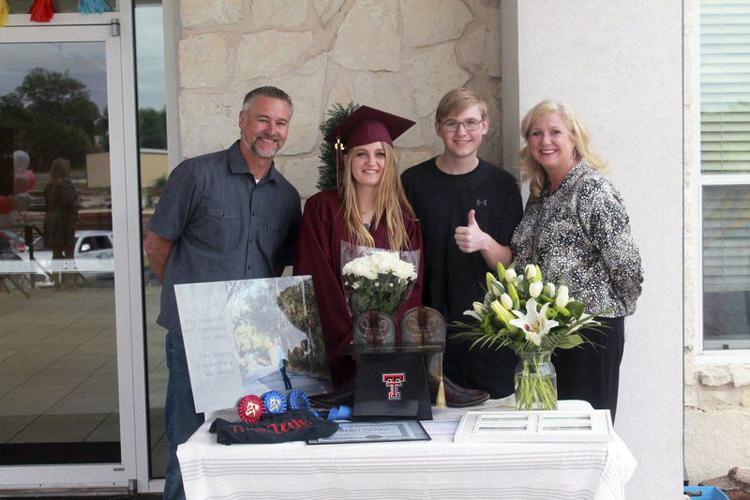 "I feel like [Pinnacle] has brought me closer to God," Souhrada said. "You get to know who you are and it just helps you grow. It's pretty amazing being one of the first graduates. I think it's such a cool opportunity to experience this all. It's a once-in-a-lifetime kind of thing."
Crist, who is headed to Tarleton State University as a nursing major with aspirations of becoming either a nurse practitioner or anesthesiologist, echoed her fellow graduate's remarks, adding that Pinnacle's support of her individuality meant a lot during her time as a student.
"It's a lot more loose than a typical public school and better lets you be your own person," Crist said. "It's a very judgement-free place."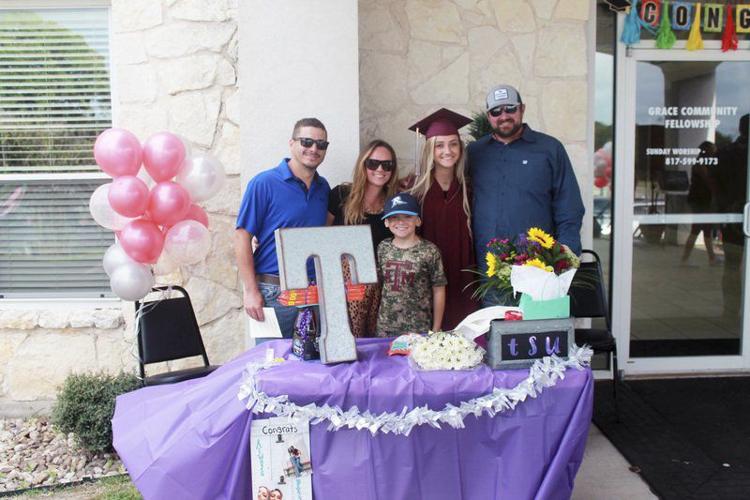 Crist also expressed an eagerness to see future students of Pinnacle graduate themselves as well as see how the school continues to build.
"It's really something special, we're their first seniors, so it will be good to see all these kids graduate and how this places grows years after I've graduated," Crist said.
Pinnacle Director of Curriculum and Co-Founder Shelly Morgan said it is already amazing to see how far the school has come since its inception.
"When we started we had just 17 kids back in a small house, and we only went through fifth grade that year," Morgan said.
"We never dreamed that we would do high school, so this is beyond anything Elizabeth and I can take credit for. The hand of God has guided us at every step, it's been incredible."
The current COVID-19 pandemic at one point threatened to put Pinnacle's plans for a graduation ceremony on hold, Hall said, before adding that the collective will of its parents, teachers and students helped the institution find a way to celebrate its first-ever graduates, something which is reflective of Pinnacle's values.
"This actually was our first year to add high school," Hall said.
"We have 15 students in our high school program, so we're pretty excited about that. When COVID-19 happened, we thought, 'Oh no, what are we going to do?' But the motto of our school is 'Rise above,' and I think that's what we saw [Thursday] with our little school watching everybody come together as a family and community to support one another."
That mindset is also present in Pinnacle's devotion to helping those in need wherever they reside, as well as building compassion within the hearts of its students, Hall said.
"Another thing we're very passionate about is mission and service," Hall said. "We want to be a blessing and the hands and feet of Jesus to our community, to our nation and the world. So we actively look for mission and service opportunities. We've partnered with organizations in town like Hearts Full of Love, we've provided shoes for an orphanage in Honduras, we were planning a huge Weatherford walk for water, but then COVID-19 happened and had to cancel that. But I'm really excited about additional mission and service projects.
"I'm really passionate about getting students out of our first-world bubble and helping them learn to fill hearts for one another. That's really the heartbeat of our school here."
Morgan added that the ability to think critically and problem solve are also highly important takeaways Pinnacle's educators want their students to leave with when they graduate.
"We are all about equipping the kids," Morgan said. "We don't want them to leave here and not be able to problem solve, think for themselves, question things. We really try to equip our kids to go out in the world and be led by their purpose and the Lord, because that's how you will stay on the path."
It is an approach to education which has resonated well with parents of Pinnacle's students, including Candy Mummert  — a mother to a seventh grader and freshman with the school — who said the seamless collaboration between teachers and families has been nothing short of exceptional for the children.
"My favorite thing about Pinnacle is the community," Mummert said. "The camaraderie of the moms and dads supporting one another, the kids wanting to study together and be together outside of school. There's just a family feel that we're all in this together.
"For me personally, I love that it allows me to have my hands in what they're doing to support them, but I'm not fully responsible because we have amazing teachers that guide us and help us with deadlines and curriculum. So I get to be really involved, but it doesn't all fall on me. We all help one another."
Shelley Bailey, who has a sixth grader and second grader enrolled with the school, said Pinnacle's educators do well getting maximum effort from students.
"They push the kids," Bailey said. "These teachers expect a lot, and they get a lot out of the kids."
With athletics and other extracurricular activities often creating conflicting schedules among families, Pinnacle's hybrid school foundation helps give loved ones more opportunities to experience day to day life together, Hall said.
"I think everybody wants to be more connected with our children, and especially with the way sports and extracurriculars pull our families in so many different directions, having a school like this where we're only on campus from Tuesday through Thursday, that provides families that additional freedom and flexibility with schooling and the ability to develop a relationship with our kids in a new way," Hall said.
"Our teachers provide all the instruction, so parents are not expected to teach. Parents just work alongside their students to make sure that the work is done and that the students understand it. We have an active partnership with their parents to give students what they need, encourage them and coach them along the way. I think through that partnership that we've built with each and every one of our parents, we provide a lot of that naturally. As long as we have an invested parent, really any parent is able to fill the parental side of what's expected here."
While Pinnacle is still young, Thursday's graduation ceremony proved a heartwarming example of how far the school has come, as well as where it can go moving forward, Hall added.
"It's just so special seeing in light of COVID-19 and how things have been cancelled all over, the way that our staff has come together, we have a phenomenal group of staff, 11 ladies that are the best professionals I've ever worked with.
"It's unbelievable, I don't even have the words, I'm overwhelmed."