Parker County Republican candidates answered questions during a joint forum held by the Aledo ISD Young Republicans and Bush Legacy Republican Women of Weatherford Tuesday night.
The forum was held in the Aledo High School auditorium where each candidate was allowed three minutes for introductions. Candidates were then asked questions and allowed one minute to answer each.
Parker County sheriff
Parker County sheriff candidates were given the first opportunity, addressing a question about their thoughts on private prisons. The Parker County Jail is currently operated by LaSalle Corrections out of Louisiana.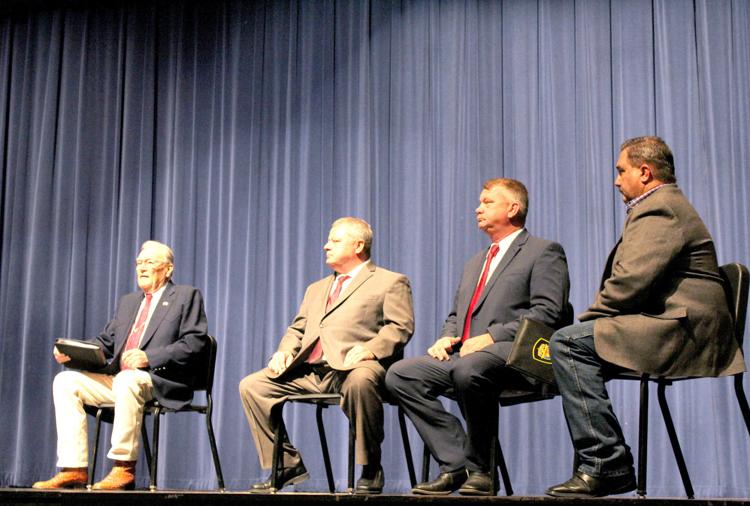 "I believe private prisons should definitely not be allowed. I do not believe our jail should be ran privately. I believe the sheriff should be running our jail. I don't believe we should be paying $8 million a year to an out-of-state LaSalle company," candidate Gregory Scott Gates said. "Our jail is full, we're having to send people to Jack County — last year we paid Jack County $50,000 because we didn't have room and LaSalle is getting that money. They have the jail full with federal prisoners. That's wrong. Parker County needs to take care of Parker County."
Candidate Fred Hammons said the sheriff needs to be responsible for the jail.
"We need to have the jail in-house. We need to be responsible for what goes on in your house. These deaths that we've had, there is no excuse for them. Yes, someone else is running it, but it's your house, you're still solely responsible for it at the end of the day," Hammons said. "There's five deaths in the jail probably in the last three years, there's no need of that. That's the reputation that Parker County has out there that needs to be fixed. Go to YouTube and look at these videos, they're very graphic. Don't take our word for it, go Google it and you'll see the facts and see this first-hand. These things need to be controlled more, we need to have more leadership that is trained. These jailers don't have the training required to deal with people."
Candidate Darrell Hull said he's not against private contracts to manage the jail, but it's still the sheriff's responsibility to oversee it.
"I'm not against private contracts that come in and manage our jail. The responsibility stays with the sheriff. It is the responsibility of the commissioners court to approve that contract. However, it is the responsibility for the sheriff to manage the jail. It doesn't matter if we have LaSalle or another company come in, it's still the responsibility of the sheriff. That's under our state constitution and by law," Hull said. "[Sheriff Larry] Fowler came in in 2005, he had a vision and a purpose. Now, I have a vision and a purpose and I'm going to hold us accountable to that. I will bring in [the] Texas Police Chief Association that gives us the accountability to do that, to show transparency to you and whoever else wants to see our policy and procedures followed for everyone."
Parker County Sheriff Larry Fowler said having the jail under contract has allowed him to put more deputies on patrol in the county.
"It's pretty obvious I disagree with some of the things being said. The state law provides that the commissioners court shall fund the jail. It also provides that the sheriff shall operate the jail — we do both," Fowler said. "It has just been an absolute remarkable partnership with the people that operate the jail there for me. That has enabled me to put more officers on the street, period. Without the contract of that jail, I wouldn't have been able to do it."
Another question asked to the sheriff's candidates was about the timeliness and accuracy in filing campaign finance reports.
"I'm a businessman, I keep my financial reports up to date. With that being said, that's a pretty easy question, you put yourself around the best people and I've got a bookkeeper that does it all. I put myself around some of the best people that are actually bookkeepers, so with that being said, that's an easy question," Gates said. "My submissions have been on time as far as I know. They're due on [Feb.] 15, I'm not sure, my financial lady knows that, so like I said I surround myself with the best people. I won't be dealing with that kind of stuff, I'll be dealing with the problems that all of you have and the safety of you guys. That's not my expertise and I surround myself with the people that know what's going on."
Hammons said his daughter is his treasurer and as far as he knows, she's turned in everything on time.
"I don't work in Parker County so I don't have the luxury of being here all the time. My daughter is helping me, she's my treasurer, and as far as I know she's turned everything in on time. I haven't talked to her in the last two days because my job and her job," Hammons said. "To be on time, you have to do that, that's leadership. I'm not making excuses, I haven't talked to her so I'm assuming so I can't give you 100 percent yes or no. She hasn't let me down, so I'm going with what I feel."
Hull said one of his financial reports was late because of some confusion, but has been corrected and submitted.
"Our original report was on time, an amendment was done to that first filing. The second filing I was late on turning it in, it is complete and turned in as well along with my first amendment to my first report. From this point, I don't see a reason why it won't be on time. The reason why the second one was late, the elections office had contacted me and we had confusion on the two different reports that were due," Hull said. "The elections company sent me a packet indicating that I needed a personal financial report done and about five days later they called me back and said that was not required by me at that time — we had a confusion on which one we were talking about, which was the 30-day requirement that was due. I was late on filing that report, it is up to date, the financial report was amended and is correct and submitted."
Fowler said he doesn't have any issues with his campaign finance reports.
"To my knowledge I don't have any issues with any of my campaign reports," Fowler said. "As a matter of fact, my wife wears out the phones to the elections office in Austin, so I think I'm in good shape."
The candidates were then asked what their vision is for Parker County and how they would bring it about.
"My vision's easy, I want to change what's going on here. I want all of you to be safe, I want you to save money, I don't want our jails to be ran by LaSalle, I want them to be ran by our in-house sheriff's department. With that being said, the change needs to start at the top and the top people are what had drug the whole sheriff's office down," Gates said. "I'll bring it about just like I said, changing it, just like Trump changed America. It's a business, that's what it is, you put yourself around the best people. You don't do the same thing over and over. I'm sick of seeing the same people, the same thing goes on every day and it's the same thing. You gotta change it folks or it's just going to stay the same thing."
Hammons also said that change at the top is where they need to start.
"This county is growing, so we need to move forward. Change at the top is where we need to start. You need to make these deputies accountable, we need to work with commissioners court, we need to work with other agencies, other PDs, we need to get this community involved not just with the sheriff's department," Hammons said. "I'm just going to throw this out there, you have a deputy with a self-inflicted gunshot wound, they issue a reward for this person that didn't exist and three days later they come out that his off-duty weapon went off. They issued a manhunt and had all these agencies involved and then they issued a reward and then the Weatherford Democrat the sheriff is like well there's no reward that was issued. Accountability, if you're going to tell stories to the media, who else are you going to tell stories to? That needs to stop, we need to be accountable and we need good leadership."
Hull said he will continue the programs that are working in the county and make improvements to ones that need it.
"My vision is to continue the programs that are set for us now that are working and doing a great job for our community and our residents. I will come in with a vision that will include those programs and the ones that need improvement, that starts at the top and it goes down from there," Hull said. "If you set an example for everyone to follow, they will do the same. I have a vision for us to be a recognized agency from the state of Texas, the police chief's association, there are a very limited number that are recognized. That will keep us accountable and continue to operate at a very professional level."
Fowler said his intention is to maintain the things he and his office have done.
"My vision is to continue to do what we've been doing for 15 years and that is to have a Parker County Sheriff's Office that is second to none and I sincerely mean that," Fowler said. "We are second to none, we built this thing into something that all of us should be proud of."
Other questions to the sheriff's candidates included community involvement and law enforcement background.
Commissioner Precinct 3
In the race for Commissioner of Precinct 3, incumbent Larry Walden and challenger Matt Dillon Drikas gave their introductions and were asked a couple of questions, including what changes they would make to improve the service to residents.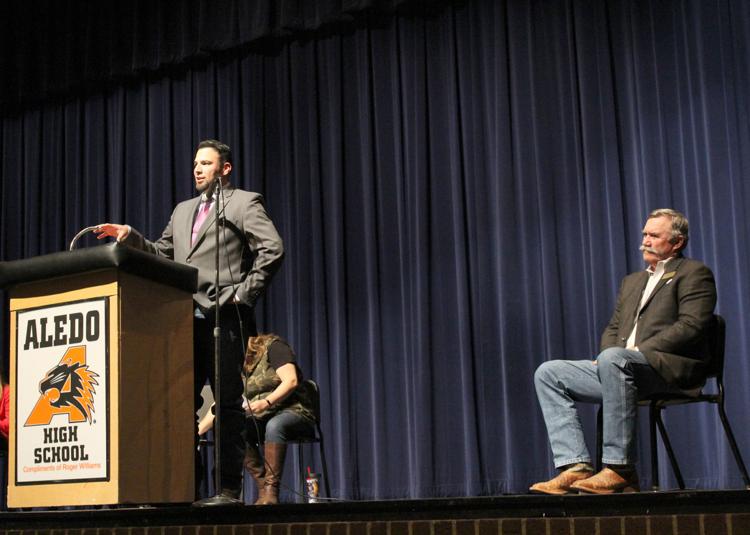 "If elected and you give me this great honor of serving you in Parker County Precinct 3, one of the things I'm going to do is I will work with our staff and road crew, who is a good crew, and we will better the environment in the county, we will work with those," Drikas said. "When you call into the office, you're not going to get the, 'Well that's not part of Precinct 3, call somebody else,' you will get an answer. It may not be right then, but we will call you back, we will figure it out and you will have access to me 24 hours a day. We will continue what the commissioners court has currently done working with the water district, working on providing and maintaining and ensuring our future."
Walden said he made several changes when he took office and his precinct is going to continue to do what they've been working on.
"Eight years ago I was elected as county commissioner and we made several changes then. First of all, if you call into our office someone's going to call you back that day or the very next morning. We get things done in Parker County Precinct 3. When I came into office, it might be a week later. We have people that are specifically there for call-in questions and handle them immediately, we had some [Tuesday] from the rains that we've had and we took care of those [Tuesday]," Walden said. "We are responsive, but what are we going to do differently? We're going to keep doing the same things, I'm going to continue to get the grants that I have to build roads, that give equipment to us and save tax dollars. We're going to continue to improve infrastructure in my precinct, we're going to continue to work on drainage, roads and bridges. By the way, I think I've attended every Upper Trinity Groundwater meeting in the last two years. I've been there, I work with them right now."
The other questions included what the candidates' vision was for the county and if either candidate had been sued as an individual or as a business owner, to which both answered no.
Constable Precinct 2
In the race for Constable of Precinct 2, challenger Ray Riley was unable to attend the candidate forum.
Incumbent Joe Harris Jr. was asked what qualifies him for the position. "I think the biggest qualification is my experience in civil law enforcement. The constable's position here in Parker County, we specifically handle civil process, we can do criminal law just like the sheriff, but I don't see the need for that at the time right now," Harris said. "With my 400 hours of civil and administration, that qualifies me for this position."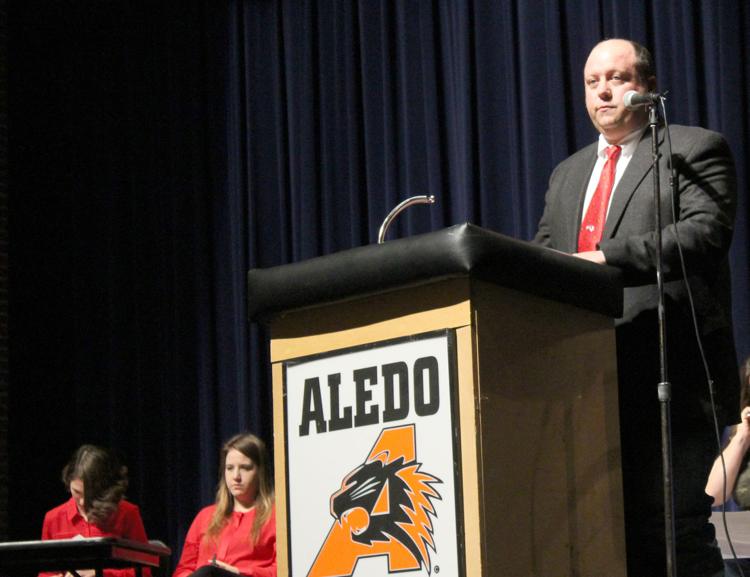 Harris was also asked if he would have a problem serving a family member with civil process.
"Absolutely not. I will carry out my duties just like I have for the last seven years as constable," Harris said. "Without getting too personal, I've actually served family members of mine and I don't have a problem doing that."
Constable Precinct 3
Constable of Precinct 3 incumbent Glen Praytor was asked the same questions as Harris about his qualifications and serving family members.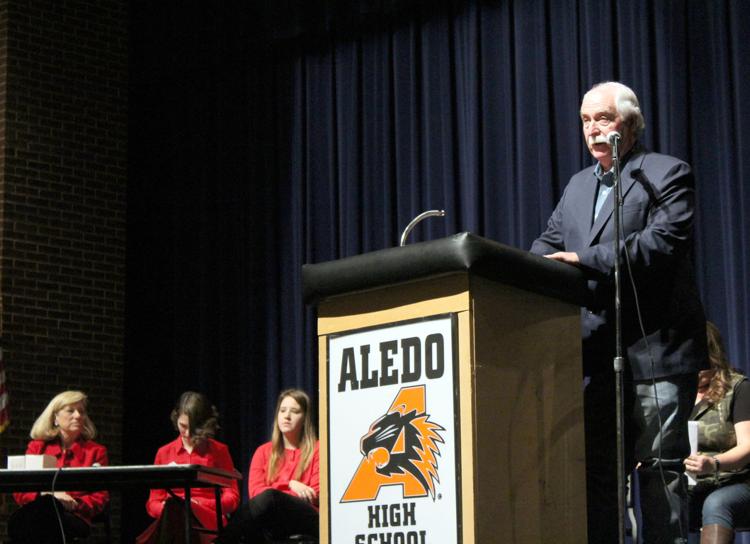 "I think 19 years as constable without any major glitches or any problems, and the fact that I do have extensive civil training, would be more than enough qualifications for the job," Praytor said. "If it's court ordered, you do what you're told to do, that's what a constable does. You execute whatever that paper tells you to do. Fortunately, I have not ran into that (serving family members), but I'm not kin to everybody in the county either."
Challenger Brad Chane was unable to attend the candidate forum.
Early voting began Tuesday and runs through Feb. 28. Election Day is March 3.