Freezing temperatures, little to no water and power outages wreaked havoc across the area this week, and even after temperatures reached the mid to high 30s Friday, many residents were left dealing with lingering issues caused by the winter storms.
Weatherford resident Judy Privette, who lives on the south side of town, said her household lost power early Monday morning.
On Tuesday, both toilets in the house froze. Water dripped out of the bathtub faucet just enough for it to be used to flush the toilets.
"It was 47 degrees in the living room, 32 hours without electricity and counting," Privette said. "I called eight hotels [Monday night] and all were sold out."
She and her brother found some relief at Privette's son's house — which had power off and on due to the state's rolling blackouts — Tuesday afternoon. Her power was finally restored Wednesday.
The rolling blackouts, mandated by the Electric Reliability Council of Texas, weren't just limited to residential homes.
A gas station employee at Tiger Mart in Weatherford Tuesday afternoon issued a greeting to customers who entered the dark business.
"Cash only, power is out," he said.
Many grocery stores were running low on basic items, such as bread, water and eggs. Finding gas, propane or firewood was also a challenge.
Donnie and Linda Sparks made their way from their home in Millsap to the Parker County Center of Hope in Weatherford Thursday afternoon to stock up on emergency food supplies that the nonprofit was providing to the public.
The couple said they had been without power for several days before it was restored Thursday morning. Their water, however, remained out.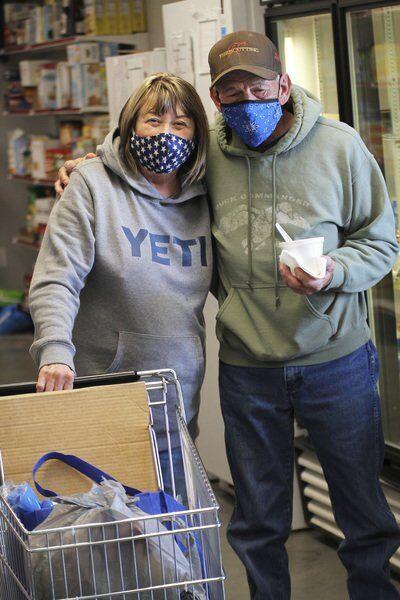 Water woes
Water issues were a recurring theme, particularly in Mineral Wells, Aledo, Willow Park and Springtown, which each issued boil water notices to residents.
Willow Park Communications and Marketing Director Rosealee Kertok said the city's wells were without power for an extended period of time. One well, servicing several roads in Route 11, froze, and one of the wellheads burst while crews were trying to thaw it out Wednesday night.
Willow Park resident Libby Afflerbach, who lives in the Route 11 area, said she was doing her best to heat snow while she was without water.
"Wednesday morning I woke up with no water and of course that's a big panic because you think the pipes are going to break. After about three [neighbors] said their water was off too, we knew it was a city thing," she said. 
Afflerbach said she never received notification from the city that there was an issue or that her water was cut off — just a boil notice.
"We don't have any water so a boil notice is worthless," she said. "I've just been shoveling snow into big horse buckets that I have, but melting snow on the stove doesn't make you much water. So I've been doing that and rationing my flushes and just waiting."
Afflerbach said she and other neighbors shut off the water to their homes, and added she wished there was more communication from the city regarding updates.
"We've just been checking on each other and just kind of waiting. Water is precious when you haven't got it," she said Thursday. "Willow Park has had water problems ever since I've lived here, which is 30 years, and it's just been one thing after another. I just wish they would communicate better.
"I'm not on Facebook so I'm not somebody that's going to be reading that. They send the robocalls, they can do that, just to say they're working on it."
Water was restored Friday morning, but the residents remained under a boil water notice as of press time.
Kertok said most of the city had not lost water service at any time, other than individuals who had pipes freezing in their homes.
"I really want to give out praise to [the public works department] for their efforts because some of them haven't been home or slept in several days," she said.
Afflerbach said the situation has brought out kindness from others, including a friend, Amy Fennell — a former city councilmember — who brought her a five-gallon bottle of water.
"She just drove it over, so people are doing nice things," she said.
The city of Mineral Wells also remains under a boil water notice, as required by the Texas Commission on Environmental Quality, and City Manager Randy Criswell said he is not sure when that may be rescinded at this time. 
"[The notice is] legal language that this pressure has dropped below what we consider a safe level and could allow contaminants into the water system," he said. "Therefore, as a precaution and as good practice, that water should not be consumed until it's been boiled," Criswell said. 
Criswell said the city's water treatment plant is functioning but one of the primary pumps went down, which has caused extreme issues in keeping up with demand. While that pump is being repaired, the city is operating off of a backup pump source, which isn't able to deliver the same amount of water. 
The city is also identifying and working on leaks within the system, concentrating on the large ones first, and Criswell said they have made some progress.
"In a situation like this you find that your water system is fragile," he said.
Criswell said there are also wholesale water customers that the city has not been able to provide any water to in days so they are asking residents to conserve water while they get the tank levels full.
"We asked our folks [Thursday] night and continue to ask our folks to please don't use water anymore than you have to. And when I say have to, we don't have to do a lot of things that we would like to do, so critical need is to absolutely conserve as much water as we can so that we can get our tanks levels full," he said.
However, the city is encouraging people to leave a faucet dripping to prevent pipes from freezing. In the event that leaks are discovered as temperatures warm up, Criswell said the city is prepared to meet the demand the best that it can. Anyone who identifies a leak or burst pipe is advised to locate their water meter or shutoff valve and turn it off. Any emergencies or concerns should be directed to Hilltop Water Treatment Plant at 940-328-7865, the public works department at 940-328-7777 or visit mineralwellstx.gov and the city's Facebook page.
"We don't want people's property damaged any worse than what it may be," Criswell said.
The city of Aledo, which gets its water from Fort Worth, had workers out in the field Thursday and Friday, working on water main breaks, turning off water for those who requested it and responding to emergency calls.
Aledo Mayor Kit Marshall Wednesday issued a notice that Fort Worth had quit pumping water to the city and that staff was working to get one of the wells back into full production to get water to all residents. The city was able to get two wells into full production, which restored water to residents. The outage was caused by a break in the city of Fort Worth's system, Marshall said.
Aledo is asking all residents to boil water as a precautionary measure.
"There is no issue with the water you have consumed. Our water was fine overnight to the point we received FTW's notice," Marshall said Thursday. "We will likely experience the same water outage and low pressure we experience [Wednesday] night for the next few days due to the numerous leaks in the FTW water system. You will want to plan accordingly but we ask that [residents] please conserve water as much as possible."
Residents with emergencies can call 817-209-8753 to report any issues.
Springtown issued a boil water notice to its customers Tuesday, asking for the public's help in conserving water following power issues at its treatment facilities.
The city was able to produce water Thursday night at its treatment plant and as of Friday morning, had begun slowly sending water to the booster station tanks to pressurize.
"Residents should be advised that when water service returns, it will do so slowly from a pressure standpoint," according to a press release sent out Friday morning. "Residents will be asked to continue to restrict water use to only the most crucial needs to give the storage tanks time to fill up and re-pressurize the system. 
"Premature overuse of water will prolong the outage."
Springtown Community Fellowship at 1300 West Highway 199 was continuing to serve as a distribution point for bottled water and for residents to bring their own containers to fill up.