Mineral Wells officials are looking to make downtown not just a tourist location but a resort destination through revitalization efforts, including the grand opening of The Baker Hotel and Spa.
Myndi Muncy became the city's Main Street manager in October of 2020 and since that time has revamped the main street program as part of the Texas Historical Commission's Main Street designation, putting an advisory board in place as well as committees to help in the rejuvenation of downtown.
"There's so much we want to accomplish in downtown before The Baker opens, so that's kind of been the setup for everything," she said. "We wanted to get established with all the businesses, get to know everyone, and I feel like we've done a pretty good job of that so far, and with the board in place, we should do even better."
The Baker Hotel and Spa is projected to open in 2024 and has had the same eight general partners — Laird Fairchild, Chad Patton, Brint Ryan, Randy Nix, Jeffrey Trigger, Beth and Kurt Thiel and Mark Rawlings — involved in getting the hotel renovated since 2008.
"We acquired in June of 2019 and we put boots on the ground in October of 2019," Rawlings, who is also the restoration project manager for The Baker, said. "Our target date is 2024. With absence of having the plans complete it's really tough to nail down when it's going to be, but we've made a lot of progress and are continuing to make progress."
The Main Street Advisory Board had its first meeting on March 25 where goals were discussed.
"The goal for downtown is much bigger than just turning it into a tourist destination because I don't think that's anyone's agenda or what they want," Muncy said. "We want tourists to come and enjoy the town, but we also want to benefit the community — we want it to be the community thriving from the growth of the town."
Muncy added that the same goes for businesses that open in Mineral Wells, one example being Flying Tire Bicycles.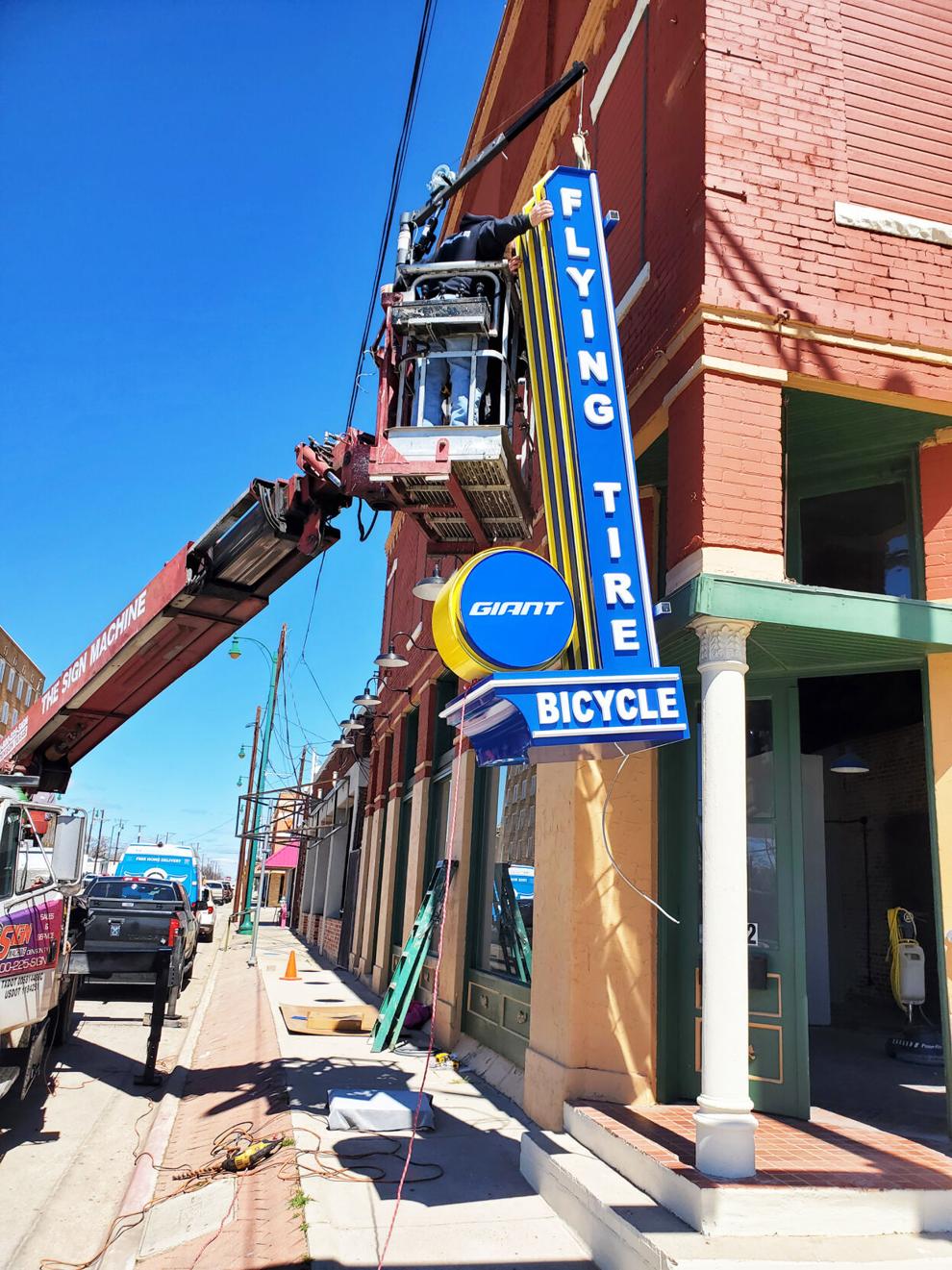 "He's the type of business we love — he's not just opening a business and putting a manager in place and leaving — he is fully investing in the town," she said. "He is becoming a member of the community as well as a downtown merchant, which is, in our opinion, the key to having a successful business in a small town. It's not just going to be popular on the weekends when people are stopping in, but is successful every day of the week and has community buy-in that helps them be even more successful. He is the representation of the type of business owners we like having."
Cody Jordan, who is helping The Baker team and strategic planning of downtown Mineral Wells, said the goal is to make sure The Baker has good community/city relations because that is what will make it successful.
"We do weekly meetings where we discuss not just The Baker but new development that's happening," she said. "There are so many beautiful things that people can come here for, so we really can be the destination for weddings, the health destination, the outdoor destination because we have everything here. [The Baker] is what is going to bring people here, but our county, the gems, are what is going to make people want to stay or make them want to come back."
And Muncy said The Baker team has been very supportive and helpful with downtown.
"A lot of the investors in The Baker are members of the community and the same with the Crazy Water [Hotel], which is another very successful project so far — they have absolutely rocked that project," Muncy said.
Muncy and Jordan said Nix has been the community liaison and has been very instrumental in the revitalization project.
"Randy's whole goal with purchasing buildings downtown was to make sure that they were in the right hands to where somebody didn't go in and just destroy a historical building and so that they wouldn't continue to be utilized for storage," Jordan said. "Not only that, but also to make sure we don't have the same type of business going into every storefront downtown, because a thriving community has different things to choose from and that's what a destination place is."
Muncy said she's excited about all the growth that continues to happen in Mineral Wells.
"A lot of people were afraid that through the pandemic nothing was going to make it and I know for sure The Market [at 76067] has had their best year of sales ever," she said. "A bunch of the boutiques were able to use this time to transition into online sales and get their inventory posted on Facebook and Instagram for shopping, and they've done really well across the board."
The Baker will be a full hotel with a spa, which will be open to the public with memberships available.
"The whole second floor is going to be dedicated to spa processes. We'll have a gym, so there will be yoga, pilates and spin, and have locker rooms and lounges, wet saunas and dry saunas and just tons of spa treatments," Rawlings said. "We'll have a mineral bath area — a 16-person soaking tub with mineral water in it with three temperature zones — and you only get there from the spa elevator, so no children."
Muncy said The Baker Hotel is going to draw a lot of people downtown.
"That will only bring them one time — coming to stay at the hotel for the novelty of it — so our main goal is to have it where when the doors of The Baker open, people come to visit and everything surrounding it makes them want to come back again," she said. "That we have things to do, places to go, places to shop, we have all the nature and health and wellness that makes it a resort destination for people. We're so close to the Metroplex that it's a convenient getaway."
For more information about the revitalization of downtown, visit mineralwellstx.gov/325/Main-Street.