Weatherford High School senior Camille Fournier is breaking barriers on the wrestling team after winning two state championships, competing in Sweden and receiving a full scholarship to Texas Wesleyan University.
Fournier said she followed in her older brother's footsteps after watching him wrestle at Weatherford ISD over the years.
"I fell in love with wrestling and have really enjoyed it. It's definitely been a journey and I've been involved in this for awhile, even before I was in high school with my brother," Fournier said. "It's been amazing to go through this whole program and be here with the same coaches behind me and supporting me. I'm ready for the next chapter."
One of those coaches is WHS Wrestling Coach Read Sanders, who's been coaching for about 20 years.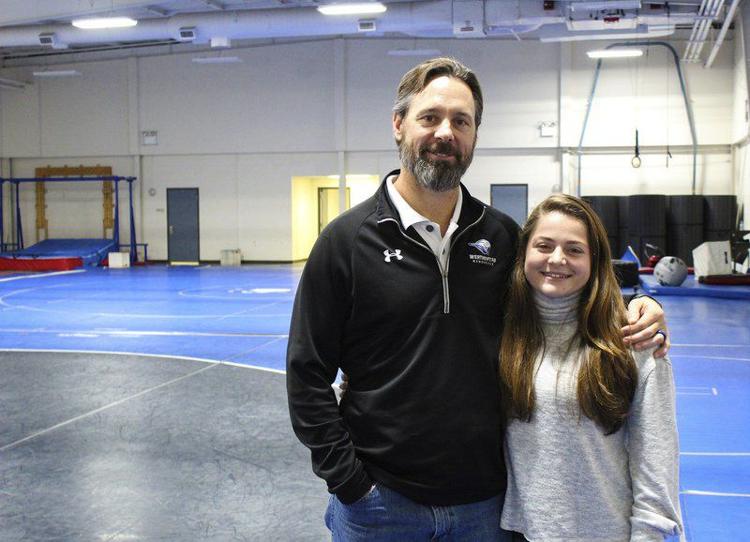 "I've helped coach Camille since she was 10 or 11 years old and it's kind of what a coach lives for — you have a kid that you know is special and is going to achieve high," Sanders said. "She's just the sweetest kid overall, so watching her progress, grow and transition the way she has, it's what you hope for."
Fournier won two state championships in wrestling her sophomore year and junior year, and almost won as a freshman.
"She's won two state championships and her freshman year she took second place. [Fournier] was actually predicted to win her freshman year and really should have because the girl that beat her had been beat the week before at regionals," Sanders said. "Sometimes as a freshman you just get a little scared — the other girl was a senior — and so when we got to the state final it was kind of scary and she lost by one point."
Fournier said winning two state championships has been a humbling experience.
"It's definitely awesome, but that experience is very humbling and also fun and amazing," Fournier said. "To be in front of your whole state and win gives you that reassurance that everything you've done has paid off. You feel accomplished."
Fournier just recently returned from competing in the Klippan Women's Open Tournament in Sweden where she competed against several countries as a member of Team USA.
"It was really an honor and good opportunity that they opened that for us to do. It prepares us and it also gives us a taste of what other countries are like," Fournier said. "When we went over there we were with all ages, freshmen to adults and the official USA team-member level, and it was cool to see the difference in all of them competing — see what it's like at their level, what it takes and how they wrestle."
To get to Sweden, Fournier had to qualify through a national tournament that took place in Fargo, North Dakota last summer.
"My final match determined whether I could be on the team or not and I had gotten beat by this girl at the beginning of the tournament," Fournier said. "I got a redemption match and so that was amazing to come back and win that spot."
Fournier will continue her wrestling career at Texas Wesleyan University after receiving a full scholarship.
"I'll be continuing my academic ventures at Texas Wesleyan in Fort Worth and I'll hopefully be majoring in exercise science and kinesiology to become a chiropractor, so that's the goal right now," Fournier said. "I'm definitely going to wrestle. It's a new program, but I feel it will bring in some girls and it's growing. There's a decent team there right now, but it's their first year so of course they need to get some accomplishments."
Sanders said Texas Wesleyan University is just the second college in Texas to pick up wrestling at that level.
Fournier said she will also strive for some academic scholarships to create a balance between wrestling and her studies.
"I'm looking forward to being on my own and kind of independent," Fournier said. "I'm excited to see how school is on my own and find myself through all of that. It will be fun and I'm looking forward to getting my education and building my future."
Sanders said his goal as a coach is to always produce successful young women and feels that has been accomplished with Fournier.
"My first goal is always to produce successful young women to be good citizens and good people, and then secondly, it's always to win championships and train kids to achieve as high as they can — become the best person they can — and in this sport, become the best wrestler," Sanders said. "I see great things with Camille, she's very goal-oriented and very focused. She's got a good head on her shoulders and understands how hard you have to train, but doesn't take losses too hard. I think she'll do great things — she knows what she wants and knows how to get there, and she's got good people behind her."
And one of those goals Fournier hopes to achieve is a third state championship win.
"I want to be a three-time state champion and that's probably my main goal right now," Fournier said.
The state championship tournament is on Feb. 21 and 22, and Fournier will compete in district and regionals, once again looking towards gold.