Working more than 60 hours of overtime each day and helping put customers' minds at ease, Weatherford Electric employees ran a smooth operation despite winter storm Uri.
The Electric Reliability Council of Texas has six levels of alerts — the highest being Energy Emergency Alerts Levels 1, 2 and 3, Weatherford's Director of Electric Utilities Joe Farley said. The city received notices, watches and a Public Appeal for Conservation notice between Feb. 8-14. Between midnight and 1:20 a.m. on Feb. 15, the city received the Energy Emergency Alerts Levels 1, 2 and then 3 from ERCOT, immediately requiring the city to move into rolling blackouts.
"The biggest thing was the rolling blackouts and just dealing with customers that didn't understand what was going on. We didn't like it at all and I felt sorry for people," Overhead Foreman Mike Byars, a 25-year employee, said. "A lot of people didn't see what was coming and had no clue this was going to happen."
Construction Superintendent Gene Doss, who has worked for the city for 35 years, said this is the first time Weatherford has had to implement rolling blackouts.
"The challenges were staying away for the long hours and my job was directing the crews, keeping them productive and actually keeping everybody safe, and keeping them fed was a big challenge," Doss said.
During a Weatherford Municipal Utility Board meeting last week, Farley said they had 8,000 customers affected by the rolling blackouts but none of the city's customers were left completely off.
"Of course we wish we didn't have to turn anybody's power off but we were fortunate that we were able to do the rolling blackout and not leave anybody off," he said. "We did have 700 customers roughly where we had outages that were other than the rolling blackouts and those were overloaded tap lines — so we'd have a blown fuse, [employees] would go out and refuse or transfer load to another line, we had overloaded transformers and actually had some transformer failures. So those outages lasted anywhere from 30 minutes to two and a half hours, but our crews were out there and replaced all of that."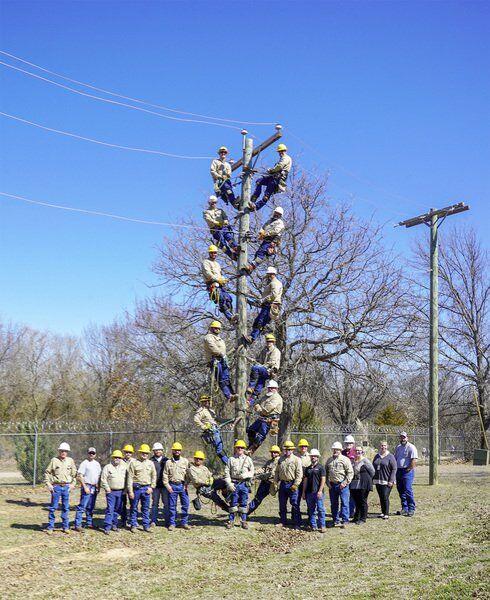 The temperature reached single digits during the winter storm and the electric employees worked in 12-hour rotating shifts to prevent exhaustion.
"We had coveralls and our main coats on and our FR hoods — FR is flame retardant clothing, so everything we have is flame retardant," Byars said. "We were out there changing transformers one evening right at dark and it was in the single digits and after about 45 minutes, it was getting pretty cold. Luckily we weren't dealing with it more than about 45 minutes to an hour at a time in the coldest part."
With temperatures being so cold, keeping their equipment working — especially when a fuel shortage occurred — proved to be difficult.
"Fuel got to where we were scared for a little while. We still had it, but we really had to go looking for it," Byars said. "We had to leave [our trucks] running 24/7, you couldn't shut them off. Our pressure digger did gel up and we had to pour some stuff in it to break it loose."
On top of doing their jobs, the men were faced with issues at home too.
"What was bad too was that we were also having trouble at home with our stuff, so dealing with that and then being here, that's challenging too," Underground Foreman and 15-year employee Edgar Esquivel said.
Overhead Lead Lineman Travis Moore, a 19-year employee, had to get a hotel in order to shower.
"My neighborhood lost water for an entire week," he said. "I didn't stay in the hotel, just went to take a shower."
Although they fielded calls from customers of other electric providers, most of the calls they got were just for information or to praise the employees for their hard work.
"We had people calling us praising us and on [Tuesday], everybody got letters from a third grade class at Seguin Elementary and that was really nice," Doss said.
Byars added, "One evening we went to Mesquite Pit and several people came up and told us thank you."
He said they felt prepared before the storm hit.
"We knew where our critical areas may be and watched them, and we just had to wait," Byars said.
Doss said something he learned for the future was the importance of stocking up on food, especially when most restaurants shut down.
"On one day I think the only place open was Whataburger and then there was one day no one was open," he said. "If we see like a big storm coming, instead of scrambling to find some place to eat, I'll go to Albertson's and buy a whole bunch of sandwich stuff."
But even facing many challenges, Doss said their team accomplished a lot.
"I've worked storms for decades now and this is the first storm I've worked like that in this position, but it was very challenging," he said. "But I feel like we accomplished a lot also. We divided the crews into two groups and worked 12-hour shifts, so there was a crew here 24 hours a day, and that helped us a lot. All in all, I think we accomplished a smooth operating department in a high-stress situation and delivered good customer service under the circumstances with as little service interruption as possible."
The team has been praised not only by customers but has been given kudos by city officials too.
"As frustrating initially as the rolling blackouts felt at my house, we realized very quickly that we were actually very, very fortunate when we had people come stay at our house that had other service providers," Weatherford Mayor Paul Paschall said.
Did you know:
• Weatherford Electric employees listen for generators during power outages and will inspect them to make sure they have been installed safely before working in an area.
• Generators can energize the line back to the employees' end, which is called backfeed.
• Do not wire a generator directly into your home's breaker box, instead use extension cords and run them to appliances you want on.
• And do not plug a generator directly into a wall socket.