Coming down with the coronavirus, hitting a temperature of 102, and being whisked by ambulance to a hospital made it appear that Marie Thornton might not reach her 98th birthday.
Betting against Thornton is never a good idea.
In May, she began her hospital stay, received a plasma exchange and was released eight days later, tired and disoriented but alive.
"She stayed in bed and slept a lot for another four or five days, then she started coming out of it a little more every day," daughter Holly Griffin said.
Thornton owned and operated Weatherford's Colonial Art Shoppe at 113 W. Church St. from 1971 to 2012. Her friendly personality and longtime presence on the town square made her a popular town matron. More than 50 birthday cards were sent to the Weatherford home that Thornton and Griffin share, where relatives and a few friends gathered to celebrate on June 12.
They kept the birthday party small. Thornton has struggled with dementia. She began repeating herself a year ago and can become disoriented. Her bout with COVID-19 exacerbated the dementia, Griffin said.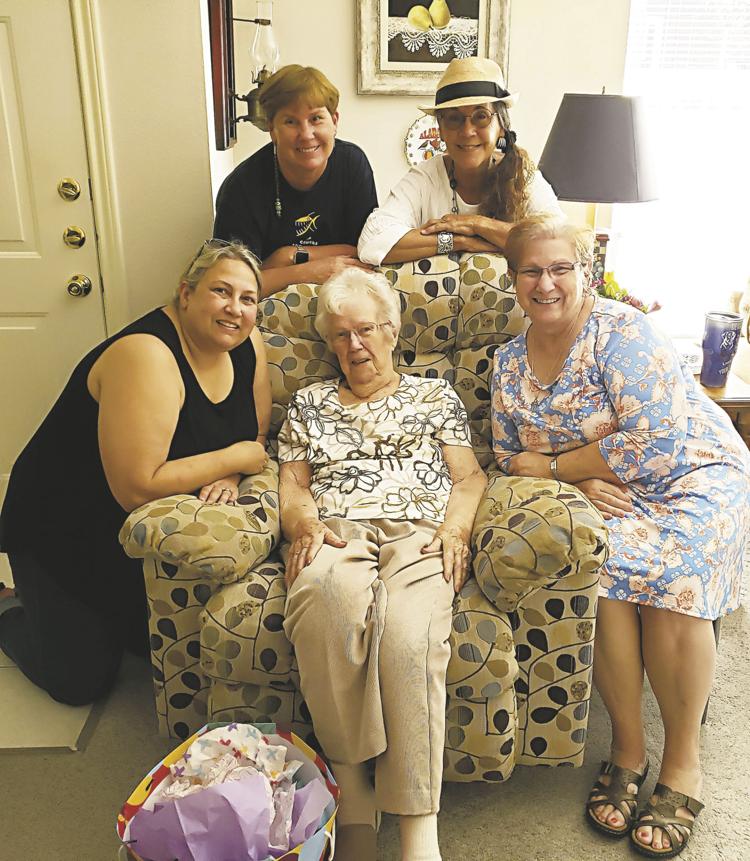 Thornton has been surprising people for most of her 98 years. At 21, she left her native Alabama to join the U.S. Naval Reserve during World War II. She had been dating a young man against the wishes of her mother, and so her mom came home one day with Navy literature in hand and said, "Here's what you're going to do."
A dutiful Thornton quit her job as a draftsperson and, in 1943, moved to Washington, D.C. to draw invasion maps for the Navy.
Oh. Remember the boy she liked back home? He became a Navy pilot stationed in Florida. One day, Thornton boarded a plane, flew to Florida and married her sweetheart.
Her husband died in an airplane crash not long afterward, and Thornton was a widow when she left the Navy in 1945. Returning to Alabama, she earned an engineering degree and a pilot's license and flew her own Piper J-3 Cub for fun. She met Fred Griffin, an Air Force pilot, at a local airport. They fell in love, married and "opened a crop dusting service together, and she flew, and he flew," Holly Griffin said of her mom and pop.
In 1957, Fred Griffin died in a plane crash.
By the mid-1960s, Thornton had remarried a third and final time. Les Thornton, also a pilot, moved his new family to Weatherford, where he became a flight instructor at Fort Wolters. His vivacious wife, always skilled at drawing, began taking art lessons. In 1971, she opened Colonial Art Shoppe to sell painting supplies and exhibit her art and the works of others.
"She started real small, and it grew into a pretty good-sized shop and just lasted and lasted," Griffin said.
At 88, she tandem skydived for the first time.
"She loved it and wanted to go again," Griffin recalled.
At 90, Thornton retired in good health and began traveling the world.
"She has traveled a good bit up until about a year and a half ago," Griffin said. "She had to slow that down because of the dementia. I didn't feel like it was safe to let her go traveling all over the place."
Nowadays, Thornton rises mid-morning and goes back to bed at 8. She likes to go fishing every now and then with one of her four children. They all help look after Thornton, who remains friendly and energetic if forgetful.
"She is a real neat person, and I think a lot of people in town would enjoy seeing that she is still kicking," Griffin said. "That's my goal, keeping her healthy and happy."