After being diagnosed with a rare disease when he was 6 years old, Landon Nolty discovered he was given the gift of perfect pitch and has gone on to do great things with his voice at a young age.
Landon, now 12, is a student at McAnally Intermediate School in Aledo and when he was 6, he was having a lot of pain in his legs and hips.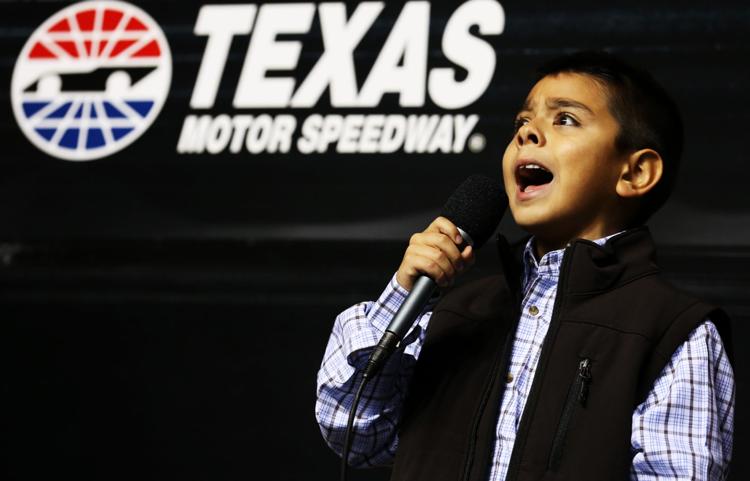 "I'm a nurse and he would complain sometimes about having leg pain and I thought it was kind of like growing pains, so in March of 2014, he was playing soccer and he started having really bad pain. That's when he was diagnosed with Legg-Calve-Perthes Disease," Landon's mom, Melanie Nolty, said. "It's a deterioration of the femoral head, the big ball that our hip joint rotates on, and it's a very rare disease and usually when little kids get it it's just one hip. So, not only did he have it one hip, he had it in both hips and so that was even more rare."
According to the U.S. National Library of Medicine, about 10 percent of Legg-Calve-Perthes cases affect both hips. The condition causes the upper end of the thigh bone, femoral head, to break down. The femoral head is no longer round and does not move easily in the hip socket, which leads to pain, limping and restricted leg movement.
"He got really discouraged because it's hard to tell a 6-year-old they can't run or jump, that's everything to them," Melanie said. "I remember one Sunday morning he was in a lot of pain and I told him we didn't have to go to church that day, we could just have our own little worship. I was in the bathroom and I could hear him talking and I came out, took a picture of him and asked him what he was doing. He said, 'I'm talking to the Lord, mom. I'm asking him if he'll heal me because I want to run and jump again.' I told him we don't go through these trials in life without a purpose."
Following his diagnoses, Melanie wanted to take Landon on a vacation and he chose to go to the Indianapolis 500. That's when he heard the National Anthem for the first time in person, a moving experience for him.
"After that he was just amazed with the National Anthem. So on July 3, 2014, he asked to sing the National Anthem at our Fourth of July party. He was in his room and starts belting out the National Anthem and I stopped dead in my tracks and all the hairs on my body were standing up straight," Melanie said. "I was like, 'This kid can sing,' and I know to this day that God was showing us that this kid had a gift."
Landon then sang the National Anthem at his cousin's volleyball game in Saginaw, his first public performance.
"It was a really open experience and it meant a lot to me to perform for the first time," Landon said. "It was probably a moment that I've cherished for a long time, an amazing moment and the start of my journey to where I am now."
In August of 2014, Landon went to Cook Children's Medical Center and then Scottish Rite Hospital to a doctor that specializes in Legg-Calve-Perthes Disease. Melanie said it typically takes two to three years to heal from the disease and that's why it was so important for Landon to keep from running or jumping around.
"When we were there in August the doctor said, 'You can see the scarring on his bones where the disease was, but it's 99.9 percent healed.' He said he didn't know how it was healed," Melanie said. "I absolutely believe that God sped up the healing process of his bones."
Landon went back for a follow-up appointment in October and was officially released from the doctors' care.
After that, Melani and her husband, Donald Nolty, put Landon in private singing lessons with Nancy Cantrell at Creative Soul Music School and that's where it was discovered that Landon had perfect pitch.
"I'll never forget the day they called me and said, 'Mrs. Nolty, Landon has perfect pitch,' and not being musical we didn't know what that was," Melanie said. "They said, 'Do you understand what that is? Perfect pitch is a very rare gift and you're just born with it.'"
When he was 7 years old, Landon performed the National Anthem on national TV at Texas Motor Speedway.
"I'm still the youngest to ever do that. It was probably a couple of million people watching on national television and live there were probably a couple hundred thousand," Landon said. "It was my biggest performance and it was a big moment for me because I never thought I would be there."
After that, Landon kept performing and was going to go do a try-out at the Lone Star Park horse racetrack in 2018.
Cantrell was unable to attend the try-out because of a family emergency in Alabama, but recorded him a pep talk and voice warm-up to send to him. After that, tragedy struck.
"She was going to Alabama to go see her family members and had to leave on the spot and was recording this track in the car on a voice memo. She sent me the recording and I used it one time and it would become a big deal to me after what happened next," Landon said. "She died of heart failure in Alabama. For a solid week, I was really sad and cried every day. She had been with me for four years. It was May of 2018, so I was 10 years old."
Landon sang at Cantrell's funeral at her church, Wedgwood Baptist Church in Fort Worth.
"He now uses that recording when he warms up and listens to her," Melanie said. "She will always be a big part of him."
After hearing him sing at the funeral, Wedgwood Baptist Church hired him to sing again, officially making Landon a professional.
Over the next couple of years, Landon has recorded music at Cook Children's Medical Center studio and events, inspiring other children that are struggling and raising funds for the center.
"I've always had a passion for kids because I always knew what it felt like to be in excruciating pain every day," Landon said. "Since I am a God-believer, I think anything is possible and it means a lot to me to be able to sing for sick children because I know they're suffering and maybe they can get just three minutes of them not focusing on pain."
Landon has now been attending the Weatherford Music Academy, taking lessons from founder Phoenix Rose, who has also been helping him get videos together for America's Got Talent after the agency contacted the Noltys.
"We haven't heard back from them yet, but we got with Phoenix and created a video clip and sent it to them with a song list," Melanie said. "Landon's journey doesn't stop with a contest like America's Got Talent, it's so far beyond that."
Rose said he met Landon at the Weatherford Music Academy's Grand Opening event in December of 2019.
"Landon's story truly makes me feel humbled to do the work that we are doing. Weatherford Music Academy is here for a reason, and it's here to serve students like Landon. Every step of the way, Landon has been pointed to music in his life. Then, his long time music teacher passed away and he was very hesitant to work with someone else for months, maybe longer," Rose said. "The fact that we can be a place where kids like him feel comfortable giving music a chance or a second chance, is what keeps us inspired to continue building this program."
Rose said he believes Landon Nolty will be a household name within the next 10 years.
"That's exactly why we are pushing him to work so hard and giving him opportunities to share his story with our community through the videos we are producing. My wife, Danielle, who is co-director of the Academy and I had a chance to sit down and talk with Landon and his parents, and we know their belief and encouragement of him will be a huge asset to his future," Rose said. "There's so much more to the equation than just having talent, but Landon's sense of purpose, his story, and his strong family ties will all be strong anchors as he moves forward in what we believe has the potential to be a long and successful career."
Through it all, Landon said he just wants to bless people with his voice.
"Whenever I sing, it's an unexplainable joy that you can't really describe with words. It's something deeper than that," Landon said. "It's hoping you're going to bless people when they hear your music and if you happen to bless at least one person with a song, it's worth it."