The Records and Deeds Division of the Parker County Clerk's Office was one of 68 recipients in the state of the Five Star Service Award for excellence in vital registration.
The staff of the records and deeds office was honored by the Parker County commissioners Monday morning for receiving the 2019 award, which is presented from the Texas Department of State Health Services.
"The Five Star Award acknowledges vital statistics partners who understand the importance of vital statistics and its impact on the citizens of Texas," Parker County Judge Pat Deen said. "This award honors partners who go above and beyond the duties of birth and death registration by attending training and keeping up with the legislation and trends."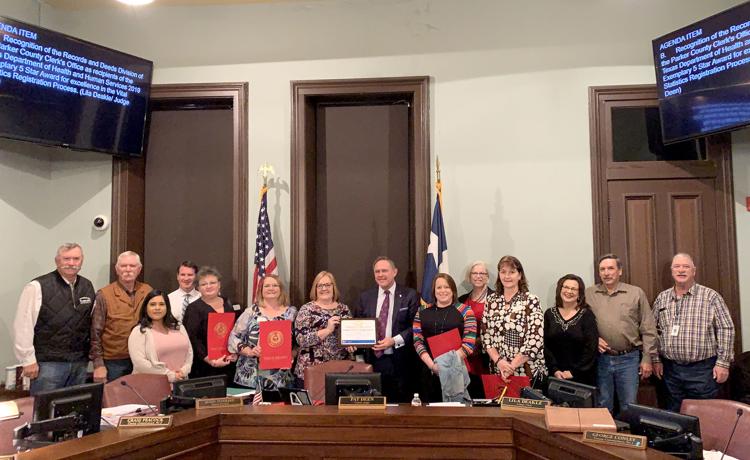 Vital statistics include the issuing of marriage licenses, recording birth and death certificates and issuing certified copies of the same.
To qualify, the staff had to meet a list of criteria, which include training, a self-assessment survey, security measures, maintenance and customer service requirements. Staff must register 96 percent of birth and death records in the Local Acceptance Queue within one business day. Local registrars using the Remote Birth Access System must have an average completion percentage of 90 percent. Parker County was selected as an exemplary winner for meeting all the required criteria.
More than 250 offices were up for the award.
"I am so proud of the deeds and records staff. Our Chief Deputy [Clerk] Shawn Loiacano and all of the deputy clerks have greatly contributed to winning this award by registering birth and death certificates while providing top-notch customer service," Parker County Clerk Lila Deakle said. "Ms. Karol Slates is the Patrick Mahomes of vital statistic clerks, she is our overall coordinator and is responsible for all of our state reports and solving the most difficult issues that may arise. We all take great pride in our work and it shows."
Jennifer Lundy, coordinator for Sen. Pat Fallon's office, presented the staff with certificates of recognition during commissioners court on behalf of Fallon.
"He was absolutely thrilled whenever he saw what you all have accomplished," Lundy said. "He wanted to make sure he recognized that."
Deakle said their office takes pride in their work.
"All of the accolades go to the staff. They do an amazing job day-in and day-out and there's a lot they have to do to win this award every year. We all take great pride in our work and it shows," Deakle said. "I would like to thank the county judge and the entire commissioners court for recognizing this achievement in court [Monday] as well as Senator Pat Fallon's office for presenting certificates of recognition."