WEATHERFORD — It's been a little more than two years ago since Scouts BSA, formerly known as Boy Scouts, allowed girls to become members. And it was an opportunity that Shyanne Story, of Weatherford Troop 75, latched onto with both hands.
Story, part of the Liberty Belles Troop 75G, recently made history, using those two years to become the first female Eagle Scout in Parker County and its surrounding Brazos Valley District.
Only 6 percent of Scouts ever make it to the top, and Shyanne joins less than 1,000 other young women who have earned the highest rank.
Her experience with Scouts began early, though. Her older brother, Houston, spent years in the program and went on to obtain his Eagle Scout ranking. Their dad, Howard Story, has also been involved for the last eight years and now serves as an assistant Scoutmaster. Their mother was a leader for Girl Scouts, an organization Shyanne tried out for a bit before switching over to BSA.
"She was like a lightning rod," Howard Story said of his daughter's merit badge accomplishments and community service project.
The project included the restoration and addition of several picnic tables located at the playground in the parking lot of Couts United Methodist Church.
Four groups of Weatherford's Troop 75 meet in what is known as the "Scout hut," a cabin-like structure owned by Couts. The troop has been sponsored by Couts since 1956, though it has been around since 1919.
During those meetings in the hut, Shyanne took notice that the nearby area and its picnic tables were in rough shape.
"Plus there wasn't enough room for gatherings and things," she said.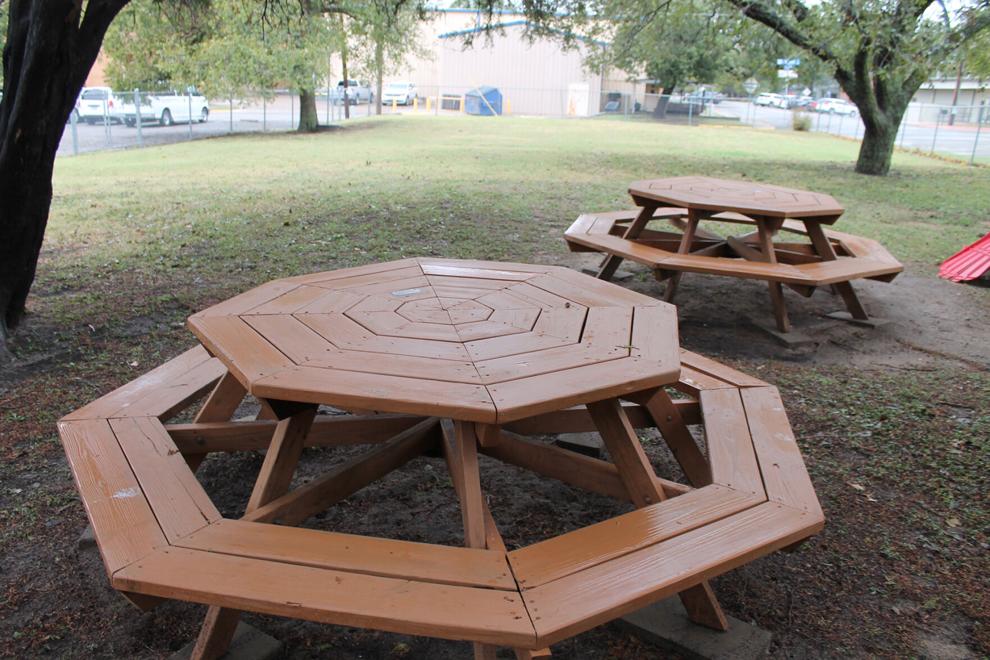 In total, 46 hours were spent preparing, which included cost estimates, design, a supply list, sign-offs from church officials and more, which had to be pre-approved, and 120 work hours were used to refurbish existing tables and add another one. The project was completed July 31.
A court of honor, a formal ceremony recognizing Scouts who have attained the highest ranking, will be held for Shyanne Dec. 12 at the Parker County Sheriff's Posse.
While the playground area project was her crowning achievement, it wasn't all Shyanne had to do. The Eagle Scout project is the culmination of numerous other accomplishments, among them merit badges.
A total of 21 merit badges, including first aid, citizenship in the community, citizenship in the nation, citizenship in the world, communication, cooking, personal fitness, emergency preparedness or lifesaving, environmental science or sustainability, personal management, swimming/hiking/cycling, camping and family life, must be acquired, though BSA offers about 135 badges that scouts can obtain.
Shyanne's plan of attack was simple — do the hardest ones first.
"The hardest one was probably physical fitness," she said. "We had to do exercises for a certain number of days and document every single one."
And her favorite?
"Archery, because I used to be part of an archery club through 4H," she said.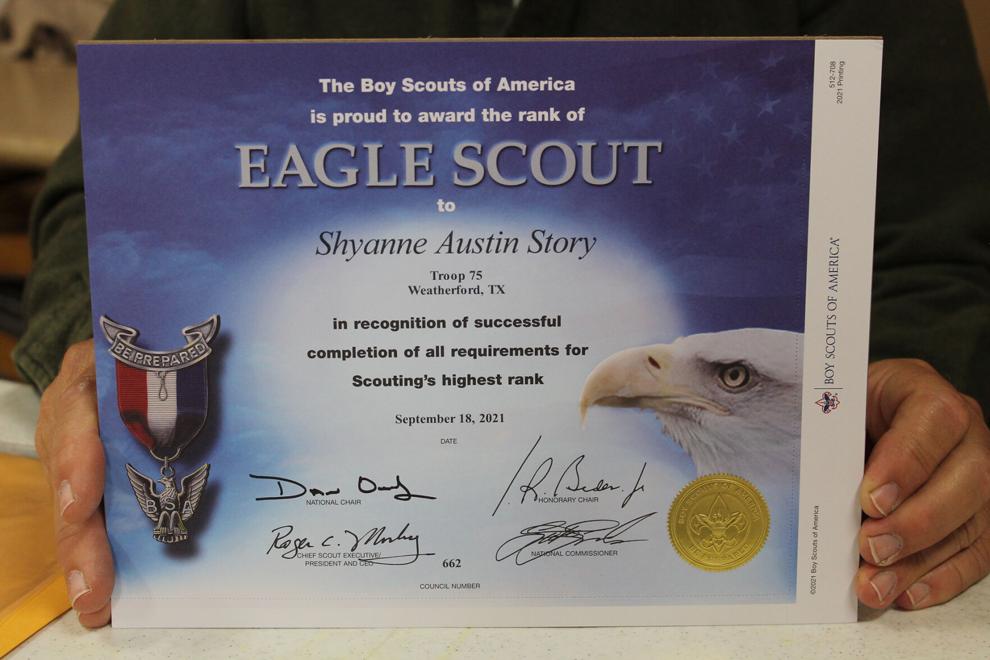 Some of the merit badges can be acquired through school — chemistry, journalism and music, for example — but the skills gained through the process have benefits that are two-fold.
"These scouts get to go through these skills and they may find something they're really interested in that they wouldn't have been exposed to before," Howard Story said.
The other benefit is the acquisition of skills that can transfer way beyond teenage years, such as cooking and cleanliness.
"'Leave no trace' is kind of like a model for both Scouts and in life," Shyanne said. "Even when we're done cleaning at a campsite, we will go and push the [trampled] grass back upright.
"I even apply it in school. If I see trash on the ground, I pick it up and throw it away, because it just bothers me."
And now that Shyanne, 18, has officially "eagled out," she has chosen to return as a troop leader to encourage and mentor younger Scouts.
Her father also plans to remain on board with Troop 75, which is now winding down from an extremely active summer of hiking, sailing and rock climbing, among other things.
"We want people to know that Scouts is more than just camping," he said.
That much is evidenced by the Scout hut's supply closet, filled to the brim with cooking equipment, tarps, tents, kayaks, canoes and more.
"Those who may not have their own equipment can now be prepared, because it can get expensive," Story said. "And we'll work with other troops if they reach out and need to borrow something."