Social media rumors that a militant group was on the way to town prompted 200 people or more — many of them from out of town and many carrying shotguns, rifles and semi-automatic weapons — to show up at the Parker County Courthouse Saturday.
"I just come out to show a little support for North Texas and see what happens," said Troy Gladden of Decatur, who wore a "Trump 2020" cap and a Confederate flag mask and T-shirt. "Hopefully things don't get stupid."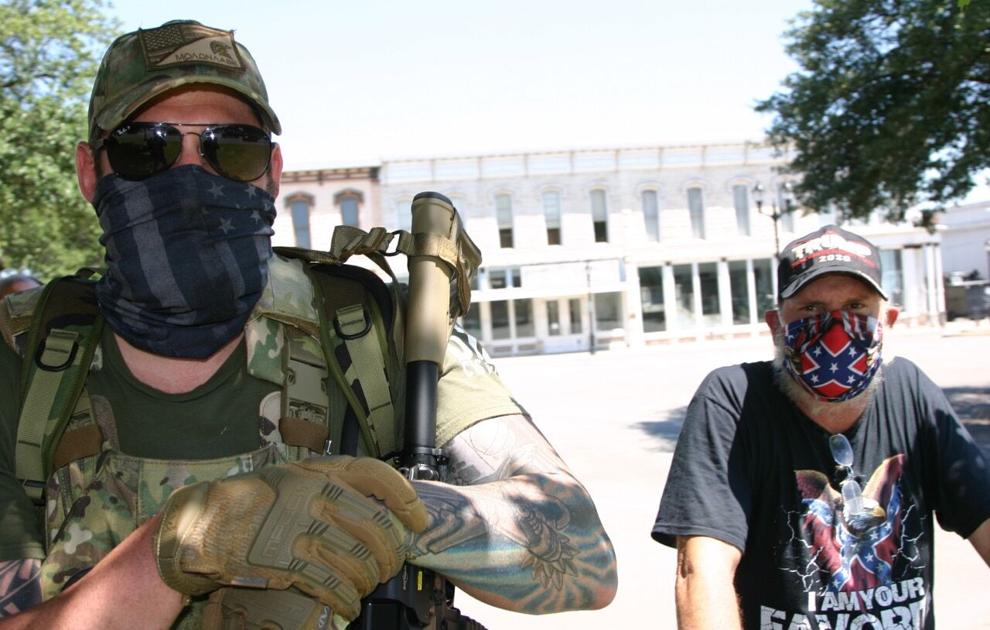 He was standing near a dozen other men in one of the sectioned quadrants that surround the courthouse. A Confederate memorial on the courthouse lawn has drawn protesters and counter-protesters in recent weeks.
Weatherford resident Curtis, who asked that his last name be withheld, was wearing full camouflage clothing and carrying a semi-automatic rifle. He served 10 years in the U.S. Marines and wanted to make sure his hometown was safe.
"I've seen what's going on around the world, like Minneapolis," he said. "i don't want that to come here to Texas. This is where we live and where we raise our families. We don't want to see any of that violence and chaos. We're not out here to incite any violence, we're just here to let them know that the citizens don't want them busting in from other places telling us how our city should run. it's pretty much that simple."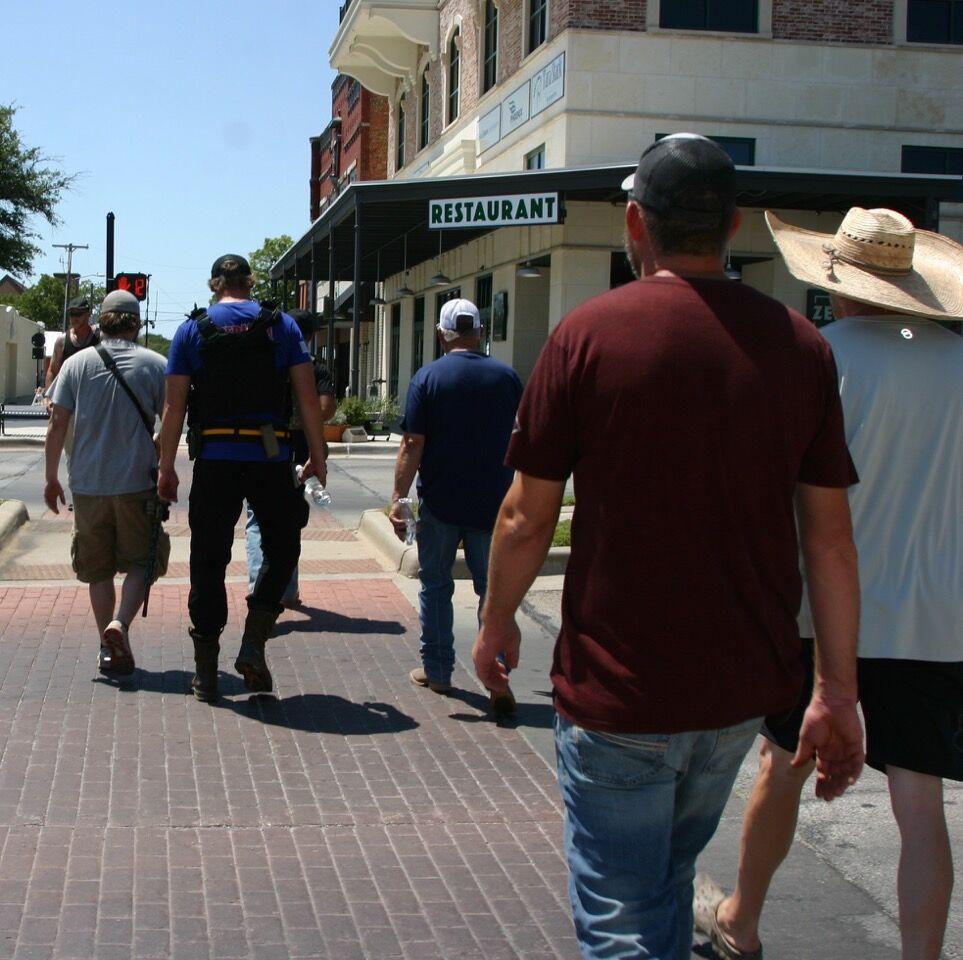 Curtis said he had seen a social media post that showed 15 charter buses that were parked at the Hudson Oaks Walmart that were departing and on the way, along with possibly others. 
"You can call it rumors all you want, but there's people circulating pictures of it on a Facebook group," he said.
Which group?
"I don't know who it is, but they're saying this is a KKK rally, which is probably the last thing it would be," Curtis said. "I don't think anyone here would condone that behavior."
Sitting alone under a shade tree was Larry, who held a semi-automatic rifle and asked that his last name be withheld. He didn't want his photo taken.
He drove in from Fort Worth "to make sure people in Weatherford don't get their property damaged," he said. "And I don't want to see law enforcement get hurt."
He had heard about the gathering in Weatherford from "the internet and from some law enforcement sources," he said.
He said he had not attended any of the protests that have been held in Fort Worth.
"I heard the NFAC Militia was coming here," he said, referring to a black militia group. "They haven't been to Fort Worth yet. I thought if they were going to come here, the community here needed a show of force against another militia. That's the Not [expletive deleted] Around Militia. They threaten law enforcement and all the people, and they carry guns."
Where had he seen the rumors that the group was coming?
"Just coming across it on several pages I belong to," he said.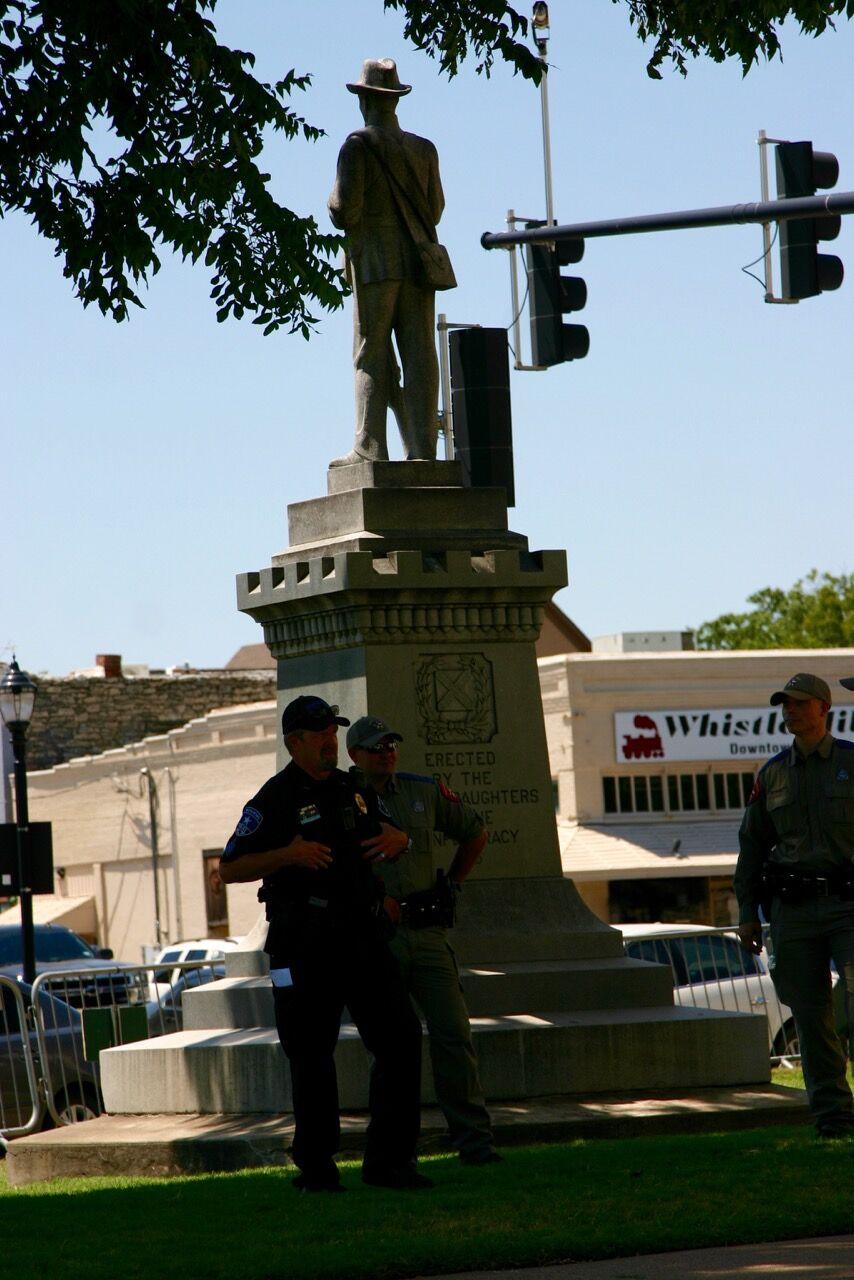 Barricades surrounded the courthouse lawn Saturday morning, and parts of some side streets were also blocked off.
There was also a heavy police presence, with members of the Weatherford PD, Parker County Sheriff's Office and Texas DPS on scene.