A peaceful march was held Saturday afternoon in Weatherford to protest the death of George Floyd.
The march, which went from Walmart down Main Street to the courthouse, was organized by 19-year-old Zeke Baker, a Class of 2020 graduate of Weatherford High School.
Baker said the turnout was better than he could have ever imagined.
"I think everything that's going on is kind of crazy right now and I feel like if we support the cause, we need to show our support for the cause, so I thought I might as well do something," Baker said. "It was really just a shower thought, so I used the Notes app on my phone and just made a little checklist and then I sent it to a bunch of people and told them to spread the word. It kind of blew up from there."
Texans protested in Fort Worth, Dallas, Austin, Houston and San Antonio over the weekend after the death of Floyd, a black man who was killed in Minneapolis police custody on May 25, according to an article by The Texas Tribune. Floyd had been a longtime resident of Houston's Third Ward. Viral video footage has shown that Floyd died after Minneapolis police officer Derek Chauvin kneeled on his neck past the point when he lost consciousness. Chauvin, who was arrested on May 29, has since been fired from the department and charged with third-degree murder and manslaughter. Floyd's death has sparked protests and rallies all over the nation.
"Like the rest of the country, the murder of Mr. Floyd was horrible. It was just a horrible act. What a lot of the country is upset about is the lack of swiftness in the arrest of the officer that actually did it and others who witnessed it and didn't do anything about it," Parker County/Weatherford NAACP Branch 6321 President Calvin Clay said. "The media doesn't seem to be concentrating on the slowness of the arrest of the initial officer and the arrest of the other three officers, and so that's the outrage that everybody has -- this has been done and nothing has been done about it."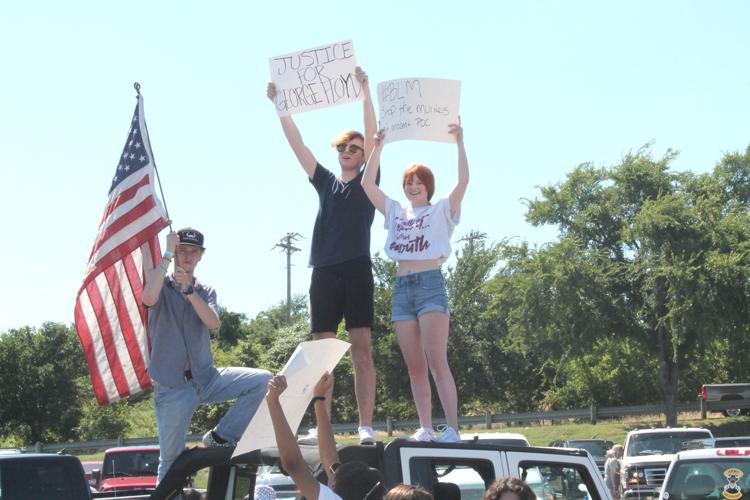 Saturday's march in Weatherford remained peaceful with participants walking down the sidewalk of South Main Street holding signs and chanting. Joining in Saturday's march was Weatherford Police Chief Lance Arnold, who also had officers on-site to ensure the safety of those participating.
"[WPD] actually contacted me the day of and wanted to ensure all of our safety and wanted to communicate with me about everything we were doing, and I thought that was really cool," Baker said. "I actually played football with Chief Arnold's son, so he knows me really well and he knew my intentions weren't to start a riot or anything like that. I know that he supports the cause the most he can being the chief, so I thought it was really cool to have him walking out there and showing Weatherford that we stand for rights."
Arnold said Saturday's march was a great example of what should happen.
"I thought it was important to show the group through our actions that we not only respect their right to peaceably assemble, but we also care about them and their safety whether it be protecting them from any counter protestors or just from heat exhaustion from the walk. It was also a great opportunity to listen to their ideas and share meaningful discussions about the issues in our country today," Arnold said. "The march Saturday was a great example of what should happen. The majority of the group don't dislike the police, but they do want to see changes in our country. They were very respectful and went out of their way to thank the officers for being there. There were a couple of people there likely taking advantage of the situation to profess their hate for the police in general, but that was not the sentiment of the group as a whole."
Willow Park Police Chief Carrie West issued a statement Monday morning saying the death of Floyd is a tragedy that never should have occurred.
"The conduct of the officers is deplorable, and as a member of the law enforcement profession, I am outraged at their actions. The members of the Willow Park Police Department are professionals who receive the best training available. We will stand to protect our community and their Constitutional Rights under all circumstances. We have not nor will we perform any action that would cause distrust from our community," West wrote. "The tragic death of Mr. Floyd and the events that have followed are disturbing and have touched all of us on some level. We as a society are better than this. As your chief of police, I want to assure our community that our officers are trained to use only force necessary for the safety of all parties involved. We have as our mission to partner with the community to reduce and prevent crime through collaboration, partnerships and community policing, ensuring the city of Willow Park is a safe place to live, work and visit.
"The men and women of the Willow Park Police Department stand with our community against violence and other illegal acts. We will continue to provide excellent customer service."
Baker said he wasn't expecting the march to gain as much momentum as it did.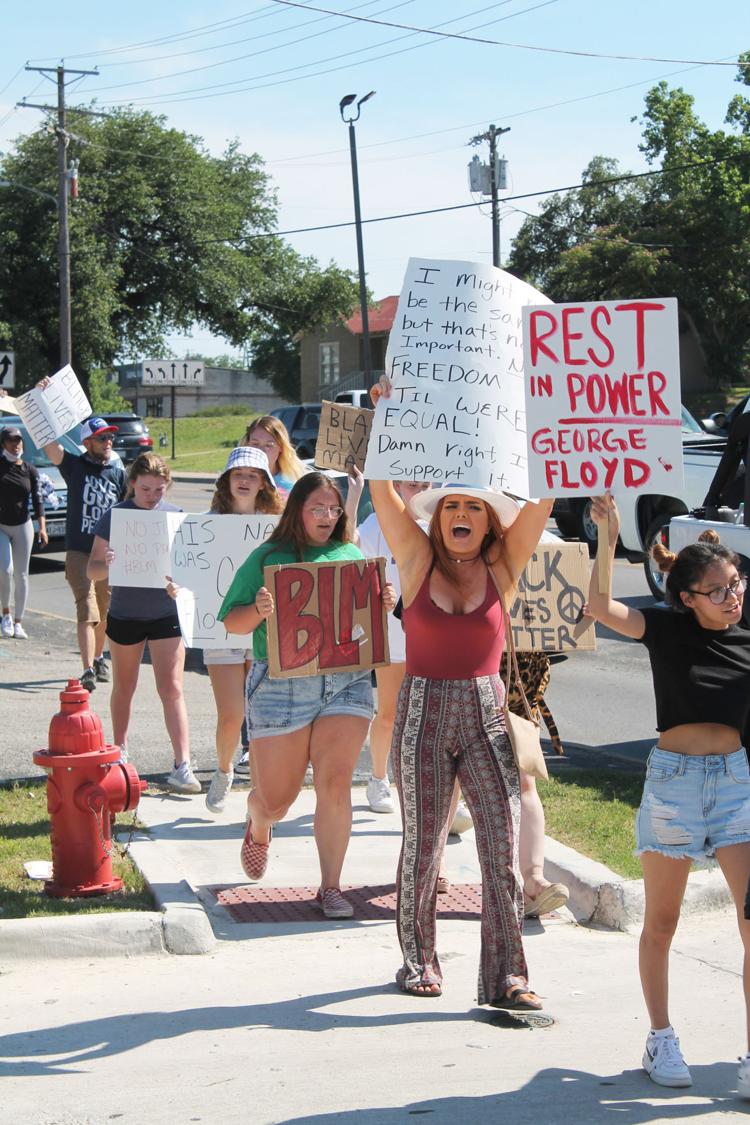 "It was better than I could have imagined," Baker said. "I was expecting like 10 to 15 people max, I was not expecting the numbers that we had. I got added into a Facebook group and I think they said it was around 50 to 60 people, somewhere in there."
On Sunday, Texas Gov. Greg Abbott declared a state of disaster following protests. According to Abbott's declaration, Texas National Guard was deployed as well as numerous other state resources, including Texas Department of Public Safety officers to enhance preparedness and response to ongoing threats.
Arnold said the protests that have become destructive or violent are likely because of a few bad actors that are not there for any other cause than to create chaos.
"I think too many people operate in one extreme ideology or another and they think in terms of all or nothing. I believe there is common ground to be found. Many of the protestors want fair and impartial justice, want everyone to be treated with dignity and respect, and want their voice to be heard. Our core values and what we profess as a police department align exactly with those things. The protests that have become destructive and violent are likely due to a few bad actors that are not there for any other cause than to create chaos," Arnold said. "The irony about dealing with the few cops haters anywhere is that we will still do everything in our power to protect and serve them regardless of their beliefs because we believe in the oath we take. It is just who we are."
As for any upcoming marches, Clay said he doesn't foresee the NAACP doing that at this time.
"Most of our members are elderly and I wish there were more younger people involved with NAACP, but because of that people aren't going to do too much marching and with COVID-19 being out there still, people are still not real eager to get out if they don't have to," Clay said. "Now we can, if we want to, organize and meet somewhere publicly but as far as a march, I don't foresee that. But it's possible we may meet and discuss this publicly in one of the parks or something and maybe invite religious leaders and the chief of police and maybe the district attorney because the chief of police and district attorney are the people that, when these kind of things happen, have the authority to arrest and prosecute these types of situations, which have happened so much over the years to different people."
Baker said he wants to plan another peaceful march in Weatherford and added that he feels it's important for the community to stand up for what they believe in.
"I think it's wonderful that we got the community out, but I want to do it peacefully and safely and that's why I'm not doing it the next day, I'm trying to actually think about what to do," Baker said. "If they believe in it, stand up for it. Don't be afraid to get out there and show what you believe in."
Baker said he is looking into creating a Facebook group for any future marches he may organize.