At 3:30 p.m. on Saturday, the Aledo Bearcats won the coin toss and chose to kick away, thus igniting an annual rivalry with the Weatherford Kangaroos. 
After a touchback, the Kangaroos offense trotted to their own end of the field. Sophomore quarterback Ryan Clark had won the starting position during an offseason that had been abbreviated by COVID-19, and he was eager to prove his offense's mettle against the defending state champion Bearcats.
First and 10 at the 20. First game of the season. First chance in this crazy 2020 to play a real game at gorgeous Globe Life Park while it was half-filled with an exuberant crowd of socially distanced and mostly local folks cheering for what amounted to two home teams.
Then reality hit.
The Kangaroos lost seven yards in three plays and punted.
Aledo began at its own 31, and, on the first play, Jo Jo Earle bolted to his left and scampered untouched to the end zone.
"Widen out!" a Kangaroos defense coach hollered at his players on the sidelines afterward. "That's why they hit that banana on us!"
On its next possession, the Kangaroos offense lost yardage again. On third and 14, Clark threw an incomplete pass that sank short of wideout Seth Robertson.
Another punt.
On Aledo's second possession,, wide receiver Logan Flinta hauled in on a deep pass to put the Bearcats up by 14.
The Roos offense still had a bit of swagger when it hit the field for its third possession. On third and four, Clark took off running. He juked and dodged and made a first down with plenty of yardage to spare.
The Weatherford folks yelled. The band played, and the cheerleaders hollered and performed stunts. Hope had returned … oh, wait.
Clark didn't jump back up. He stayed down, writhing in pain and holding his lower left leg. He struggled to his feet, or, more accurately, his one good foot. He grimaced and hobbled back to the huddle, determined to stay in the game even though he couldn't walk.
Weatherford coach Billy Mathis pulled his starting quarterback and sent in Major Youngblood, a junior, who is three inches shorter and 50 pounds lighter than Clark but a real gamer.
Soon after he entered the game, he handed the ball to running back Dez Forrest -- the team's sparkplug, wily No. 3, the senior running back with the winning smile and strong legs and big personality.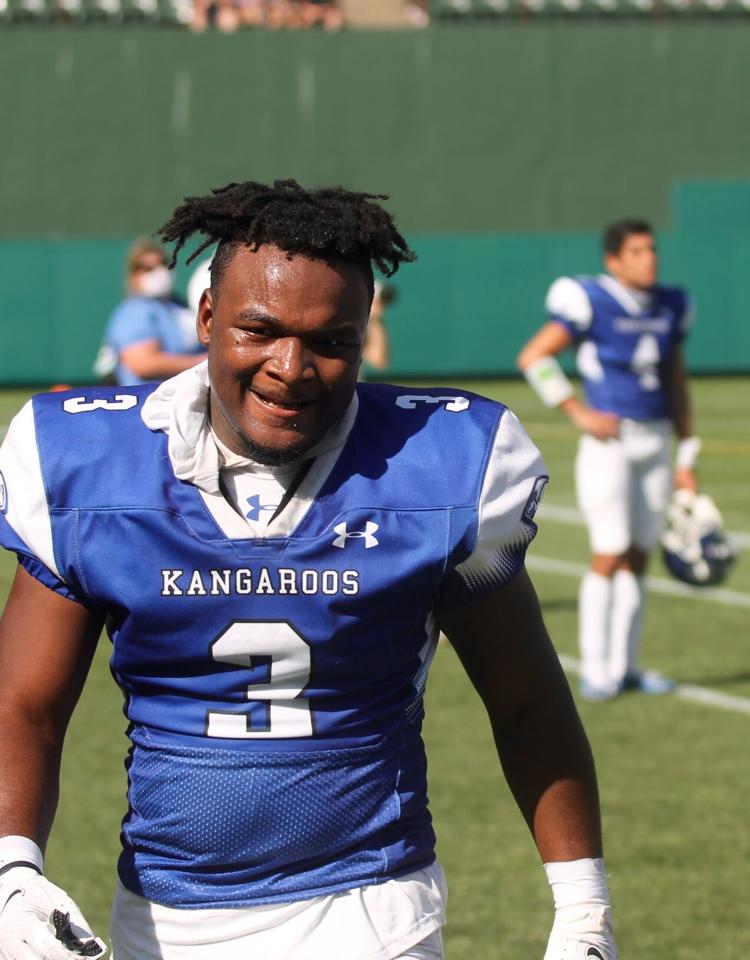 He injured his ankle, too.
Another punt.
More injured Roos.
Slowly, like the inflatable Roo that collapses after all the players run through his mouth at the beginning of each game, the blue-and-white team from Parker County began to flag. The score became lopsided quickly, and both coaches sent in younger players to earn valuable game experience, and this rivalry was put on hold until next year.
Final score: Aledo 70, Kangaroos 7
After the game, Aledo coach Tim Buchanan proved himself the king of the understatement: "We played a pretty good football game," he said.
He was pleased but not exuberant. There are flaws he wants to fix.
"We got tired," he said. "It got hot, and we got tired."
Weatherford coach Billy Mathis fell on the sword for his Kangaroos.
"I didn't get our guys prepared well enough," he said. "Seventy-seven points — that's a beating. We're better than that. I know we're better than that. Our kids know we're better than that. Having our starting quarterback go down in the second series didn't help, but no excuses. I've got to do a better job at getting us prepared."
Turnovers and penalties — in addition to a rash of injuries — don't make for a pleasant afternoon on the gridiron.
"We had a couple of turnovers and costly penalties, and you can't play like that against a team like Aledo," Mathis said. "They are too good. You have to play as flawless as you can. We didn't do that tonight. It's my fault."