BASEBALL
Weatherford 5, Arlington Martin 5
The Roos finished in a deadlock on Saturday afternoon against Arlington Martin but enjoyed a successful weekend overall.
On Thursday, the Kangaroos picked up a couple of wins. It was the first day of action at the Drew Medford Memorial Tournament. In the first game, the Roos beat the Arlington Colts 10-3. Weatherford jumped out to an early lead after Dawson Nelson hit a two-out double to score Dayton Tockey and Luke Bagwell.  Trace Holcomb followed with a single to score Nelson. Bagwell and Nelson hit back-to-back home runs in the third inning. Hudson Stark picked up the win by pitching three innings, striking out six batters and allowing two hits. Kannon Kemp prevailed in relief, pitching the final three innings to pick up the save.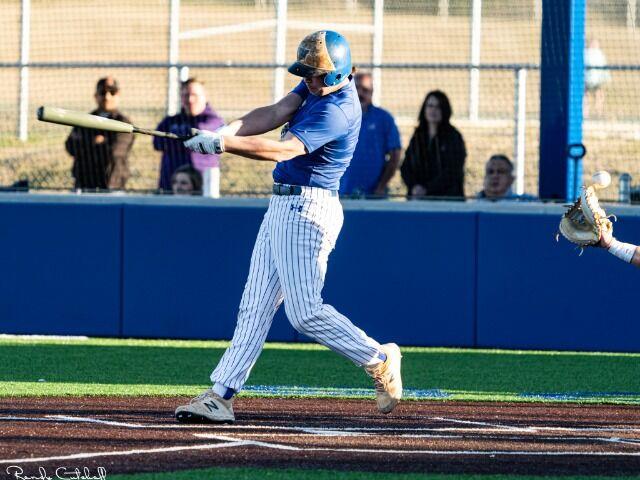 In the second game, the Kangaroos took on a talented Mansfield Legacy team. The Roos fell behind 2-0 in the first inning but fought their way back to victory.  Landon Ellington picked up the win, going 4 1/3 innings, striking out seven batters and allowing two runs on two hits. Kemp pitched the final 1 2/3 innings to earn his second save of the day. The Kangaroo offense took the lead for good after Ellington doubled to score Jake Williams and Juan Mascorro. Later, Mascorro hit a home run.
Weatherford (11-4-1) plays at 7 p.m. Tuesday at Bell (2-3).
Mineral Wells 5, All Saints 17
The Rams took a 2-0 lead after leading off at bat in the first inning on Saturday but fell behind quickly.
Mineral Wells plays at 5:30 p.m. Tuesday at home against Trinity Christian of Willow Park. 
Brock 3, Paradise 2
The Eagles won a pitchers' duel on Saturday. Senior pitcher Carson Lightfoot struck out eight batters in five innings in a strong outing.
Brock plays at 7 p.m. Tuesday at Eastland.
Perrin-Whitt 0, Alvord 10
The Pirates were blown out by Alvord on Friday but hope to return the favor against the same team on Tuesday.
Perrin-Whitt (2-5) plays at 6:30 p.m. Tuesday at home against Alvord (3-0).
Aledo 12, Waxahachie 0
The Bearcats have been busy, playing four games — and winning two — between Thursday and Saturday.
Aledo plays at 5 p.m. Friday at Abilene.
Springtown 8, DeLeon 0
The Porcupines (11-4) play at 7:30 p.m. Tuesday at Lake Worth (4-7).
Poolville 6, Hamilton 8
The Monarchs lost a close game on Friday afternoon against Bartlett, then played again that night against Hamilton. The Monarchs scored six runs on seven hits but lost 6-8 in the second game.
Poolville (6-7) plays at 6 p.m. Tuesday at Chico (3-1).
Other games scheduled:
Millsap plays at 7 p.m. on Tuesday at Early.
Peaster plays at 7 p.m. on March 23 at Early.
Gordon plays at 6 p.m. on March 23 at home against Graford.
SOFTBALL
Weatherford girls win again while celebrating yesteryear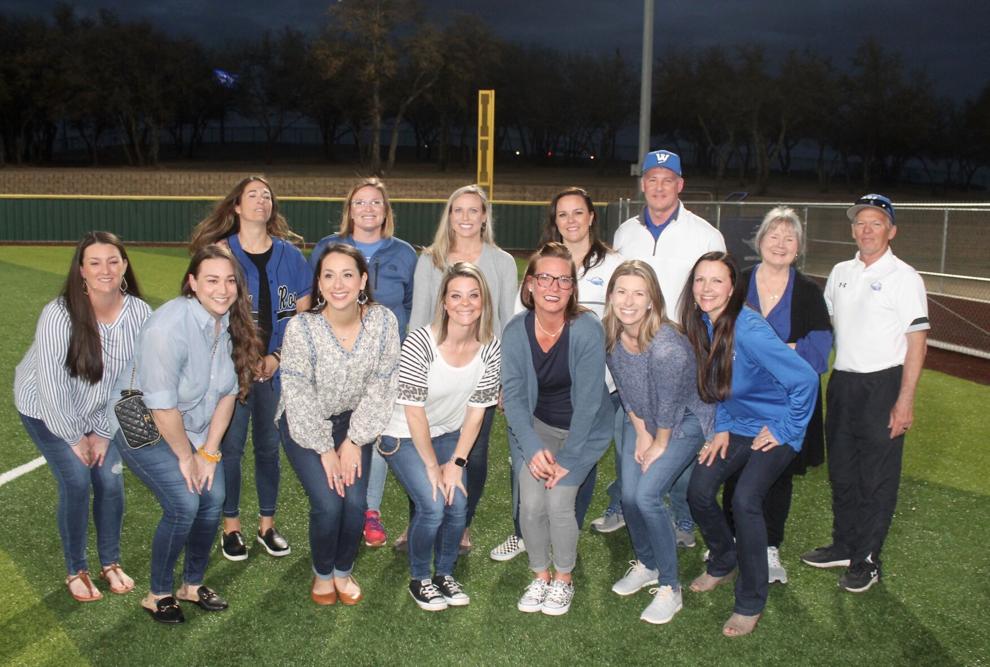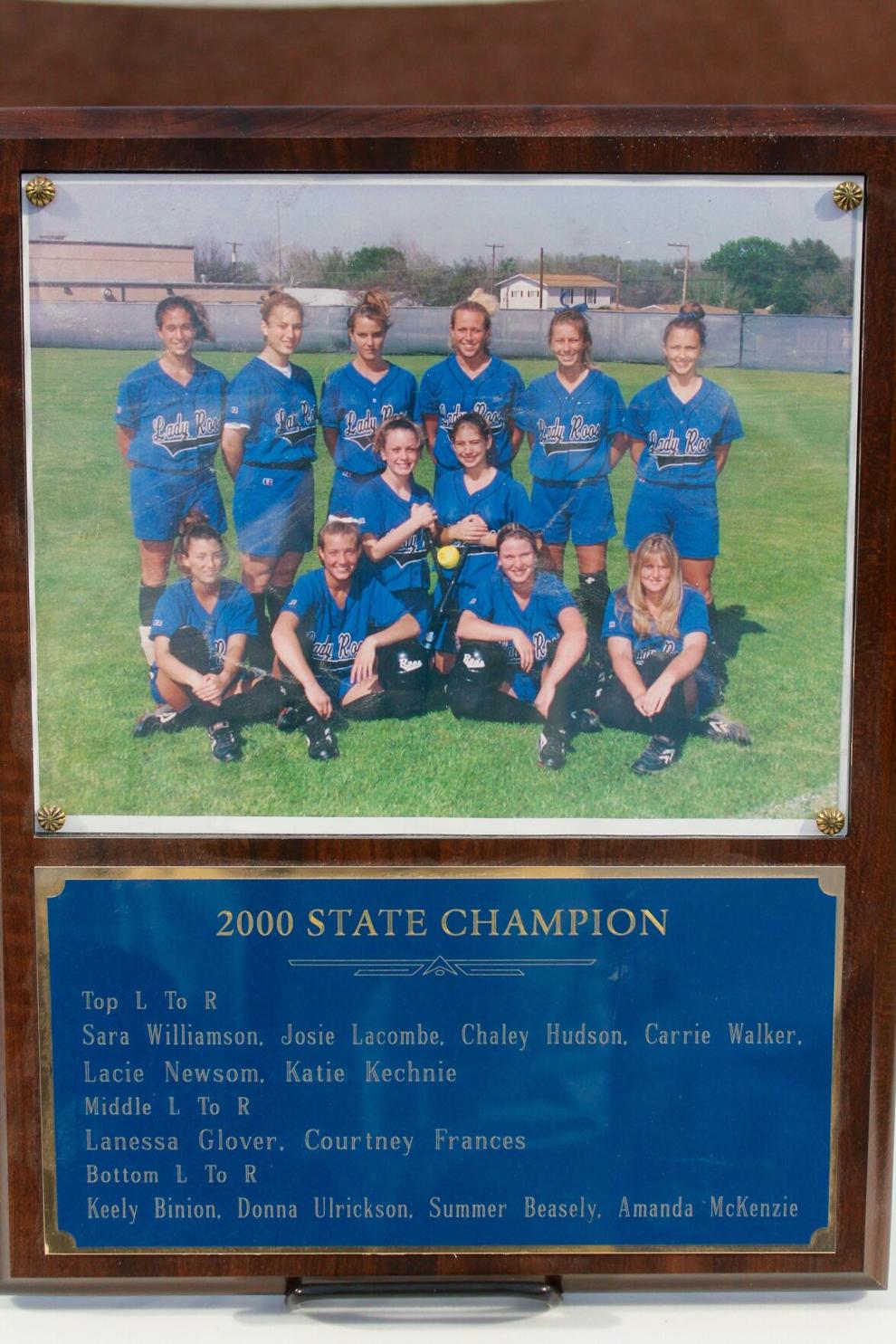 Lady Roos Head Coach Jeff Lemons stood near home plate and spoke loudly and without a microphone to a large crowd sitting in the bleachers before Friday's game. The fans were so quiet and intent, no microphone was needed.
Standing behind the coach was his current team, ready to play Boswell in the district home opener.
Over to Lemons' left, the Lady Roos team from 2000 stood along the first base line, waiting to be introduced one at a time and celebrated for a spectacular accomplishment -- winning a state championship. The players, now approaching 40, look like they could play a mean game of softball still.
The celebration was supposed to occur in March, 2020. Lemons planned to commemorate the 20th anniversary of winning the state title while simultaneously debuting the school's brand new state-of-the-art baseball/softball complex.
Instead, the world went haywire.
"COVID put a dent in all that, but it never meant we weren't going to do this," Lemons told the crowd.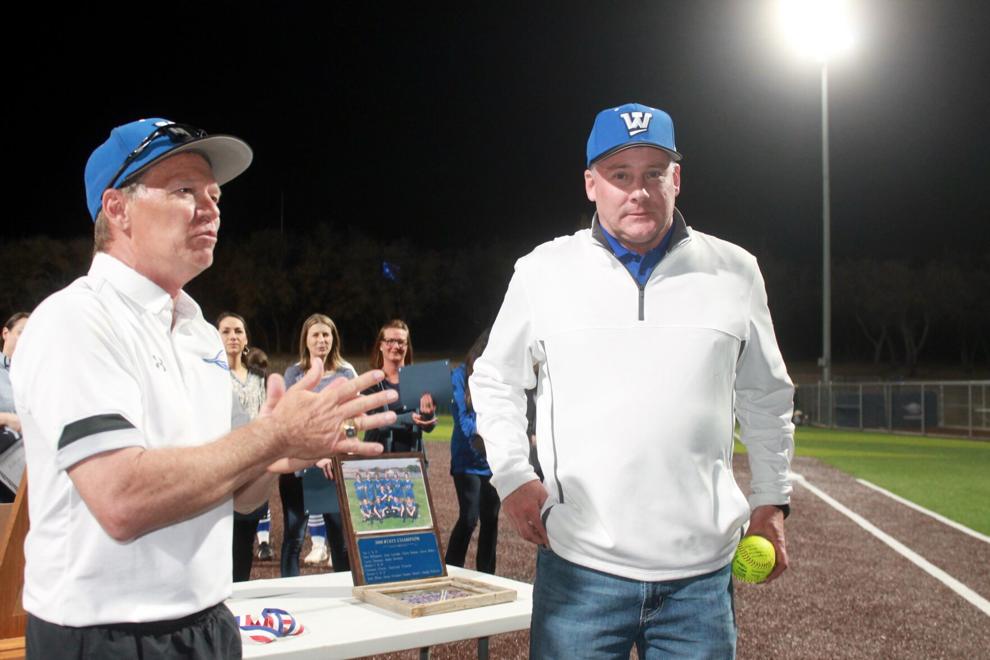 Lemons introduced the players one at a time, shared a quip or memory, handed them an award and gave them a hug. 
When it was Summer Beesley Tarver's turn, Lemons said, "This next young lady has one of the greatest outfield arms you will ever see."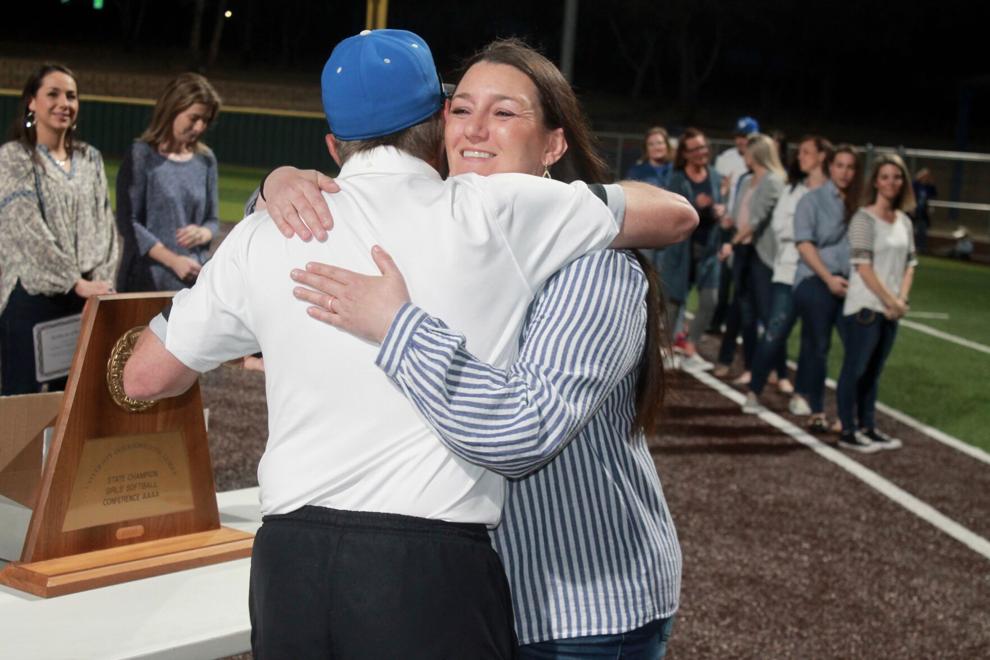 Lemons pointed to the centerfield wall.
"She could stand at that fence and throw a bead right here to home plate," he said. "Awesome, awesome arm. Also, she not only went to state with softball, she went to state with tennis. Great athlete."
He saved star pitcher Carrie Walker Fowler for last, recalling how disappointed she and her teammates were after losing the state title game in 1999.
"This next young lady made a statement going into the next year," Lemons told the crowd. "I remember her being quoted in the paper saying we are going undefeated that year. Nobody is beating us."
Near Lemons, a table had been set up, and displayed on top were the state title trophy, framed photos and other items. Lemons reached down and grabbed a framed copy of a newspaper clipping that showed a teenaged Fowler, the winning pitcher in the 2000 title game, alongside a headline that said, "Perfection: 34-0."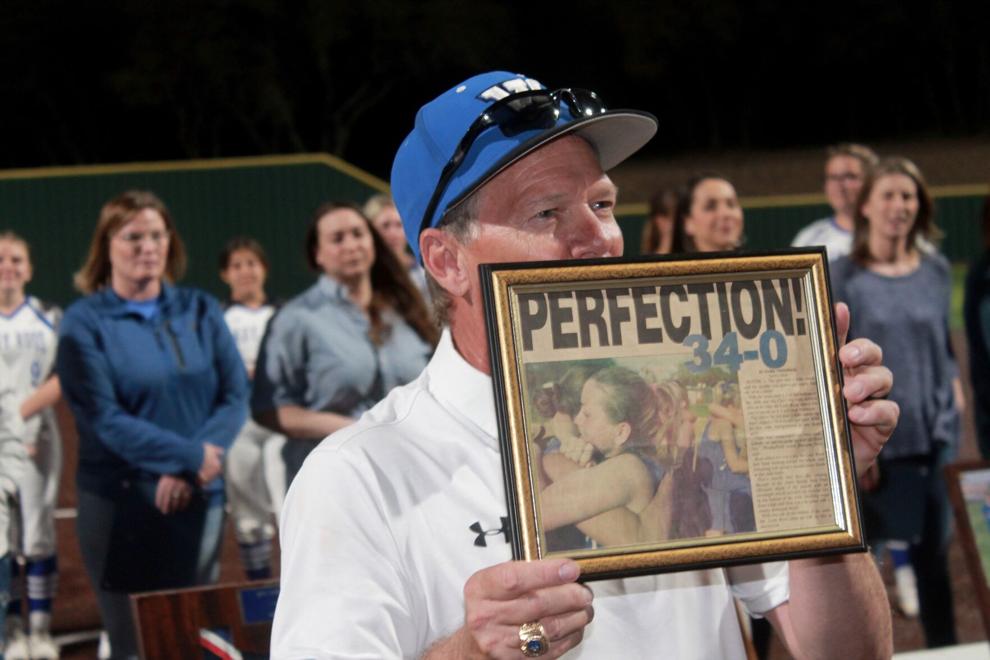 "Right there, you see Carrie Walker Fowler — she not only talked the talk, she walked the walk," Lemons said. "When you go 34-0, you get one of these."
He picked up the title trophy, and the crowd applauded.
Lemons was an assistant coach on the 2000 team, and he introduced fellow assistant, Diana Ulrickson, and the former head coach, Dwayne Ross.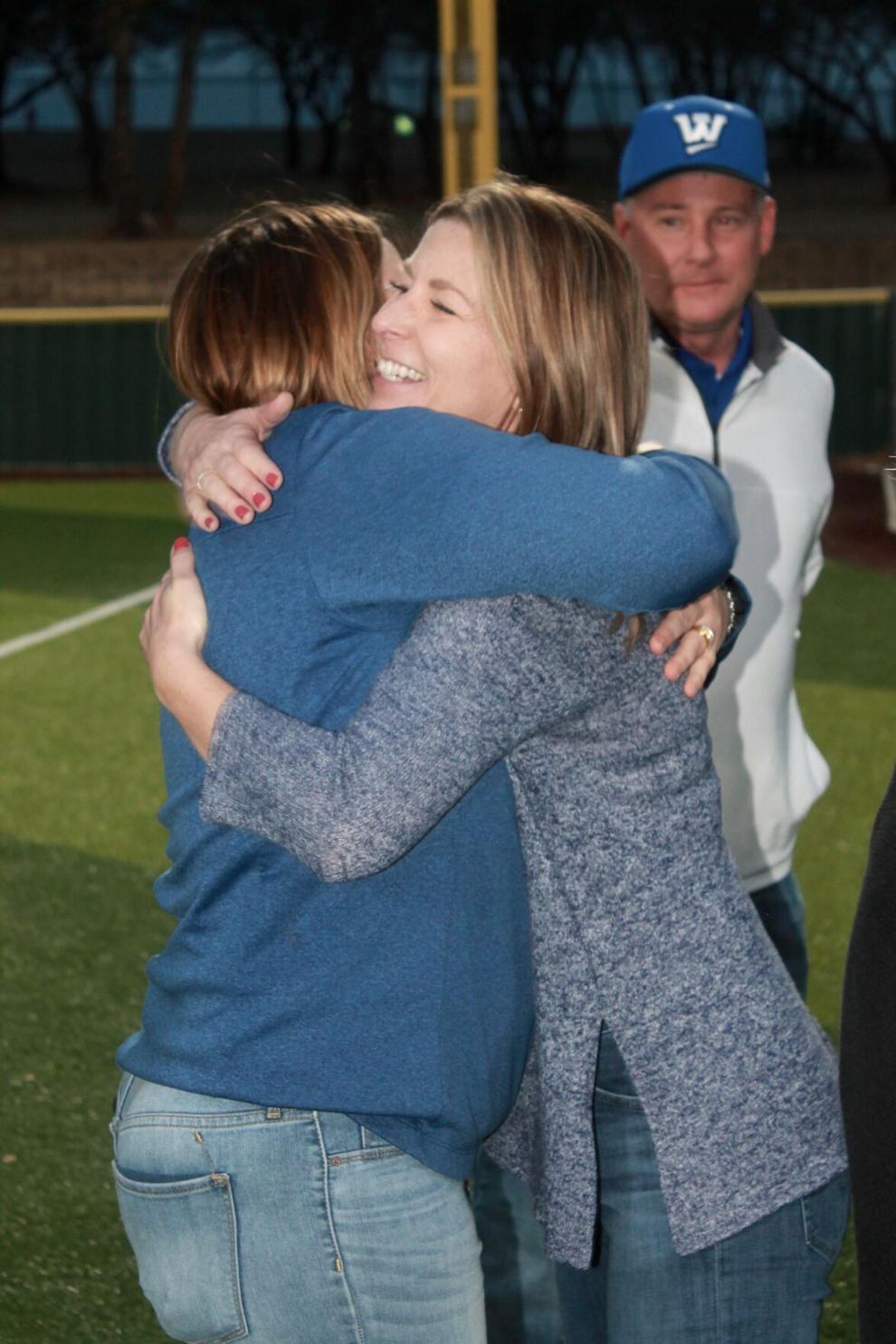 "There is no way I'd be standing here today if not for this man," Lemons said, pointing at Ross.
Lemons turned to his current players and said, "When y'all hear me holler, 'Atta, kid,' that's where I learned that."
Tarver, who played right field in 2000, drove to the event from Mineral Wells, where she lives now. She recalled the sense of camaraderie she shared with her teammates.
"We all grew up playing with each other," she said. "We put a lot of work into it. Winning state was what we had always talked about the whole time."
Many of them have stayed in touch.
"Social media makes it pretty easy," she said.
Fowler, a Realtor in Weatherford, was happy to celebrate with her friends, even if the 21st anniversary didn't sound quite as cool at the 20th.
"I was really excited last year and upset that it was cancelled, but I'm glad we are able to make it happen this year," she said.
A couple of teammates were encouraging her to throw out the first pitch before the current team's district opener, but Fowler hesitated. Although she remains in excellent physical condition, she hasn't thrown a softball in a while.
"I do not want to go out there and mess it up," she said. "I haven't pitched at all. It's probably been about 15 years since I've thrown."
While she didn't correct her old coach during the ceremony, Fowler shared a tidbit of information with the Weatherford Democrat about that rash prediction she made so many years ago. She said she hadn't made that prediction before the season began as Lemons had mis-remembered.
"I think we were already 12-0 at the time, and I said we were going to keep that streak going," she recalled.
Lemons' version makes for a better story, and, like the guy says in The Man Who Shot Liberty Valance, "When the legend becomes fact, print the legend."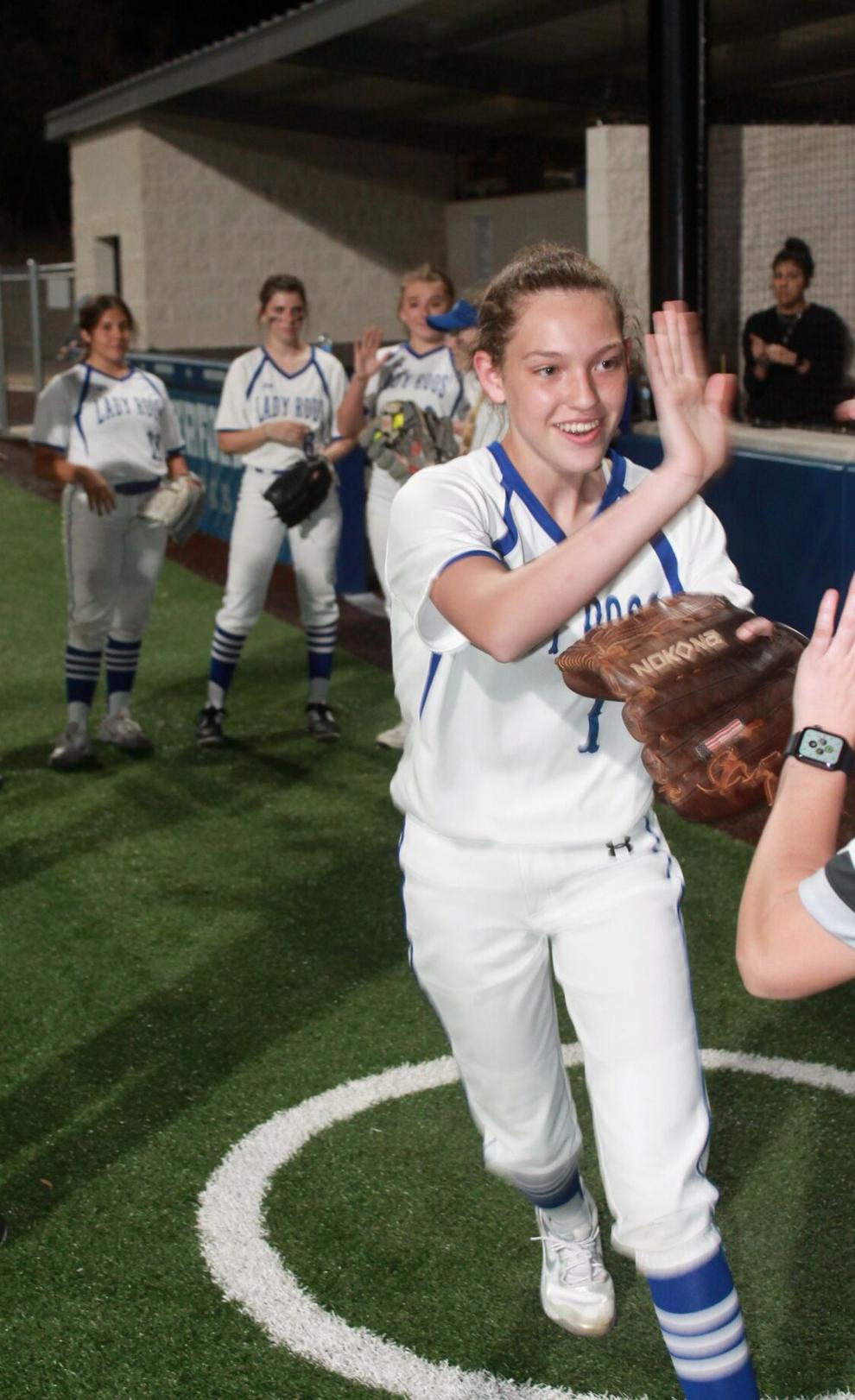 Speaking of legends, the current Lady Roos team is on a tear. On Tuesday, they won their district opener, an away game at North Crowley, 16-0. Then, on Friday, they took their home opener 14-4 against Boswell. The Roos are undefeated at 13-0-1 with a 2-0 district record.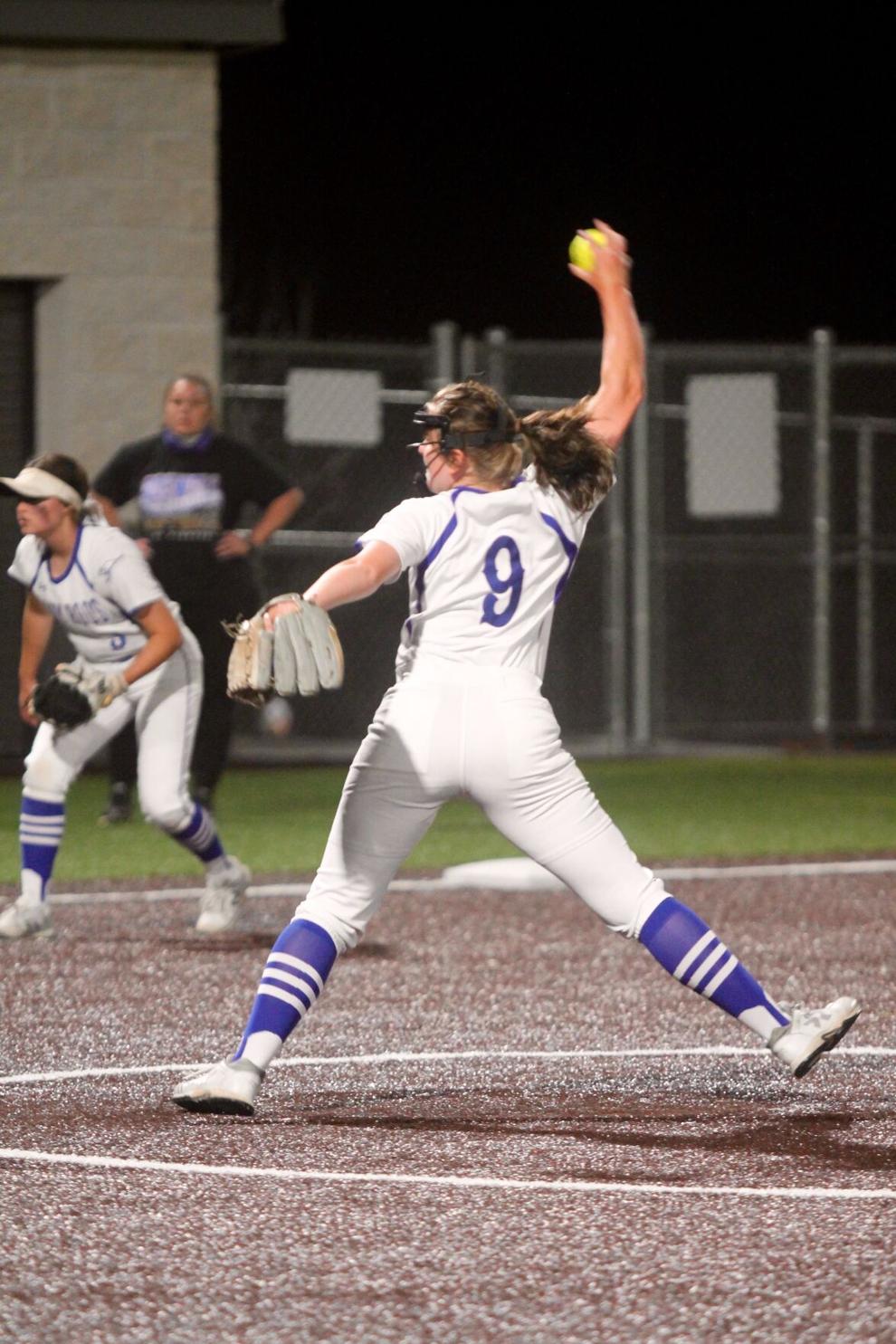 Pitcher Lauren Belles earned the win against Boswell, and Hannah Reed and Addie Tidwell hit home runs. Tidwell and Landry Fonseca picked up three hits apiece, while Bella Garcia, Morgan Skold, Kaylee Embrey, and Hanna Bartels nailed two hits apiece.
(Kudos to the visiting Boswell team. The players weren't involved in the 20th anniversary ceremony but were required to stand still in silence for a half hour and watch the event that delayed the start of their game by half an hour. The Boswell girls displayed class throughout.)
Weatherford (13-0-1) plays at 3 today at Paschal and at 6 p.m. Tuesday at home against Chisholm Trail.
Brock 4, Peaster 0
Brock (6-2) plays at 5 p.m. Tuesday at Eastland (3-2).
Peaster (9-4) plays at 5 p.m. Tuesday at home against Dublin (3-1-1).
Aledo 4, Granbury 5
Aledo (10-3) plays at 5 p.m. Tuesday at Azle (3-2).
Graford 1, Northside 4
Graford (5-3) plays at 5 p.m. Tuesday at Petrolia (2-3).