Game times and dates are subject to change.
Baseball
Weatherford 2, Haltom 0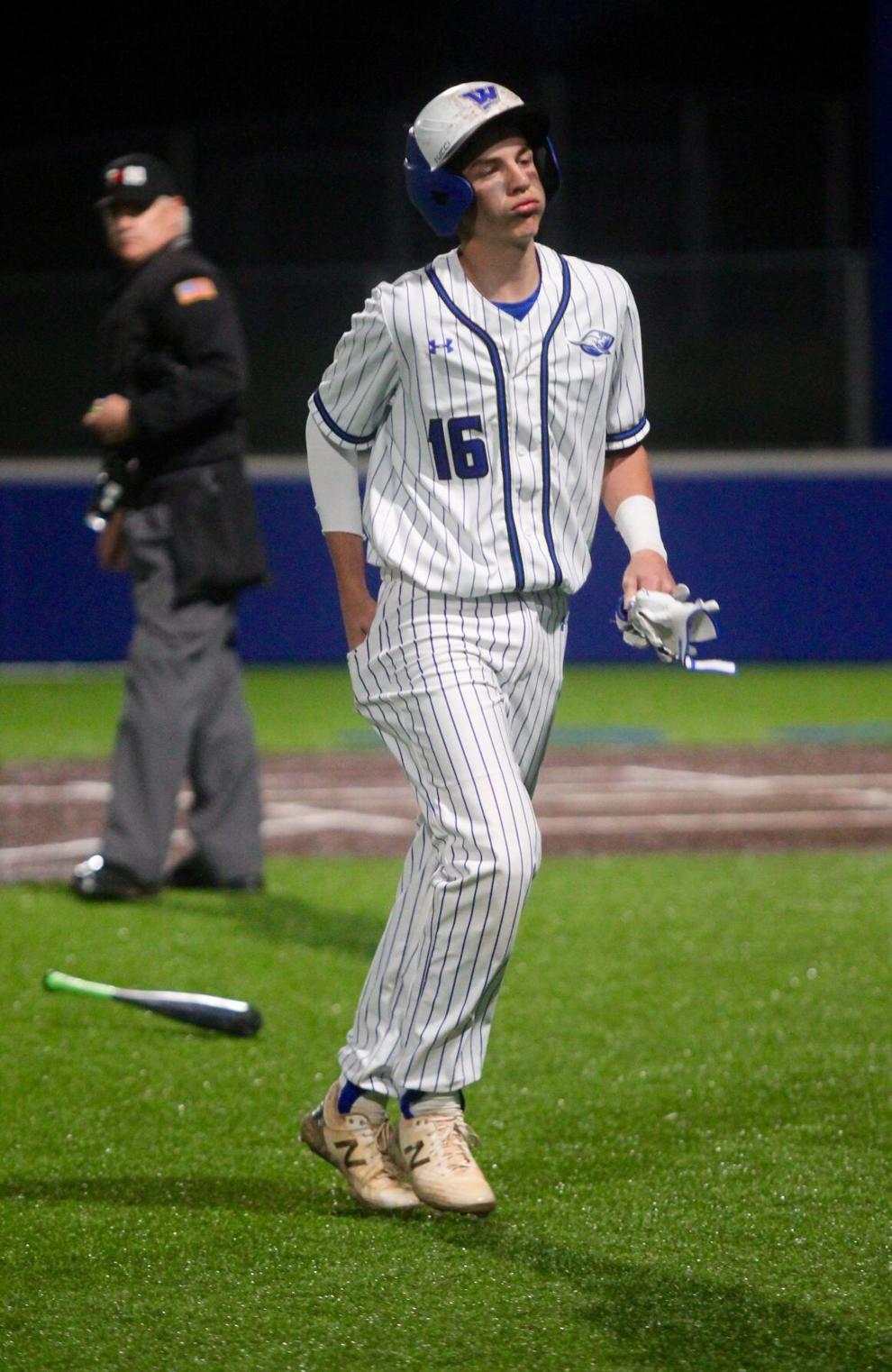 Pitcher Landon Ellington showed why TCU is eager to snatch him up after he graduates in May. On Friday, the right-hander beleaguered the Buffalos, tossing a complete game shutout with nine strikeouts and two hits.
Strong defense and timely hitting helped the Roos cinch the game. In the fifth inning, Trace Holcomb reached second base on a double, and Dawson Nelson singled him in for the first run. Kaden Kerbow doubled down the left field line to score Nelson, and that 2-0 mark stood to the end. 
The win puts the Roos at 3-1 in district, with the undefeated Paschal and Boswell sitting above them in the standings. Weatherford takes a shot at one of those teams next.
Weatherford (14-5) plays at 7 p.m. Tuesday at Paschal (7-7-4).
Brock 6, Comanche 0
Strong pitching by Carson Lightfoot and timely hitting by Eagles batters doomed Comanche. Jaxon Gleaton, Camden Harris, Cash Jones, Peyton Shaffer, Luke Stills and Sawyer Strosnider logged a hit apiece, with Shaffer's first-inning triple scoring the first run.
Brock (8-8-1) plays at 7 p.m. Tuesday at Millsap (5-6-2).
Poolville 0, Lindsay 10
Poolville (7-10) plays at 6 p.m. Tuesday at home against Saint Jo.
Millsap 15, Dublin 4
The visiting Bulldogs were down 0-4 heading into the top of the third inning at Dublin, when Weston Moore hammered a single to score a run. Before the inning ended, Millsap had tied the game. The Bulldogs blew the game open in the top of the six, scoring seven. They added four more runs in the final inning, and Dublin was done.
Pitcher Beldon Cox earned the win after taking over for Brayden Cox, who tossed the tomato effectively for the first four innings.
Bulldogs batters with multiple hits included Aldo Calvillo, Brighten DeSantiago, Dawson Swindle, Nathan Sykes. Calvillo's two-run triple in the sixth inning broke the tie and propelled the Bulldogs to a district win.   
Millsap (5-6-2) plays at 7 p.m. Tuesday at home against Brock (8-8-1).
Perrin-Whitt 5, Chico 10
Perrin-Whitt (2-8) plays at 6:30 p.m. Tuesday at home against Lindsay (15-2).
Springtown 5, Krum 4
Springtown 1, Maypearl 9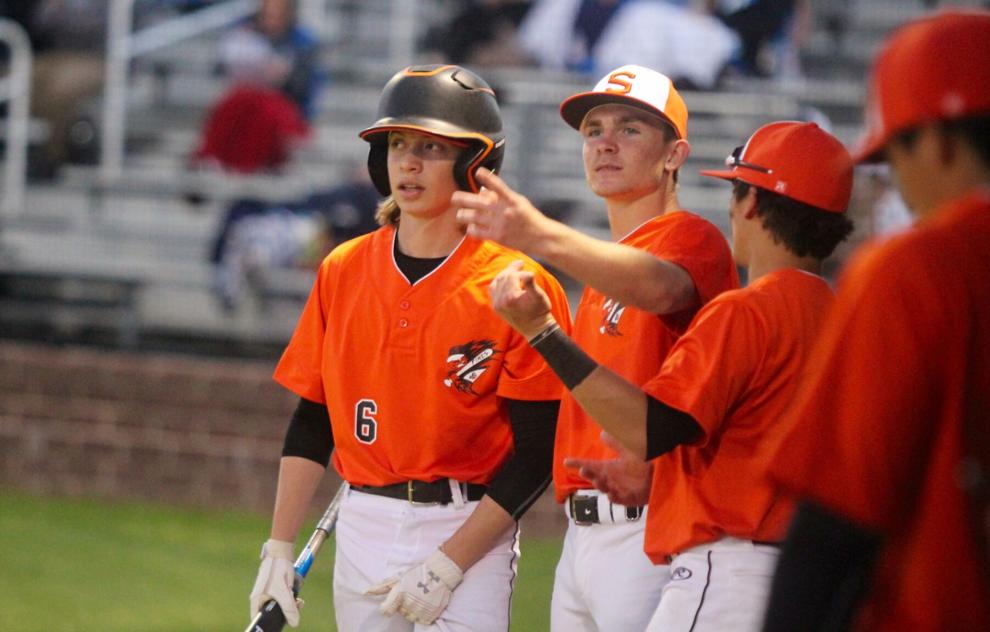 On Friday night, Springtown had fallen behind 0-2 in the second inning, and district rival Krum was threatening to score more. Instead, the mighty Pines threw a runner out at home plate to end the inning and squash a potential rally.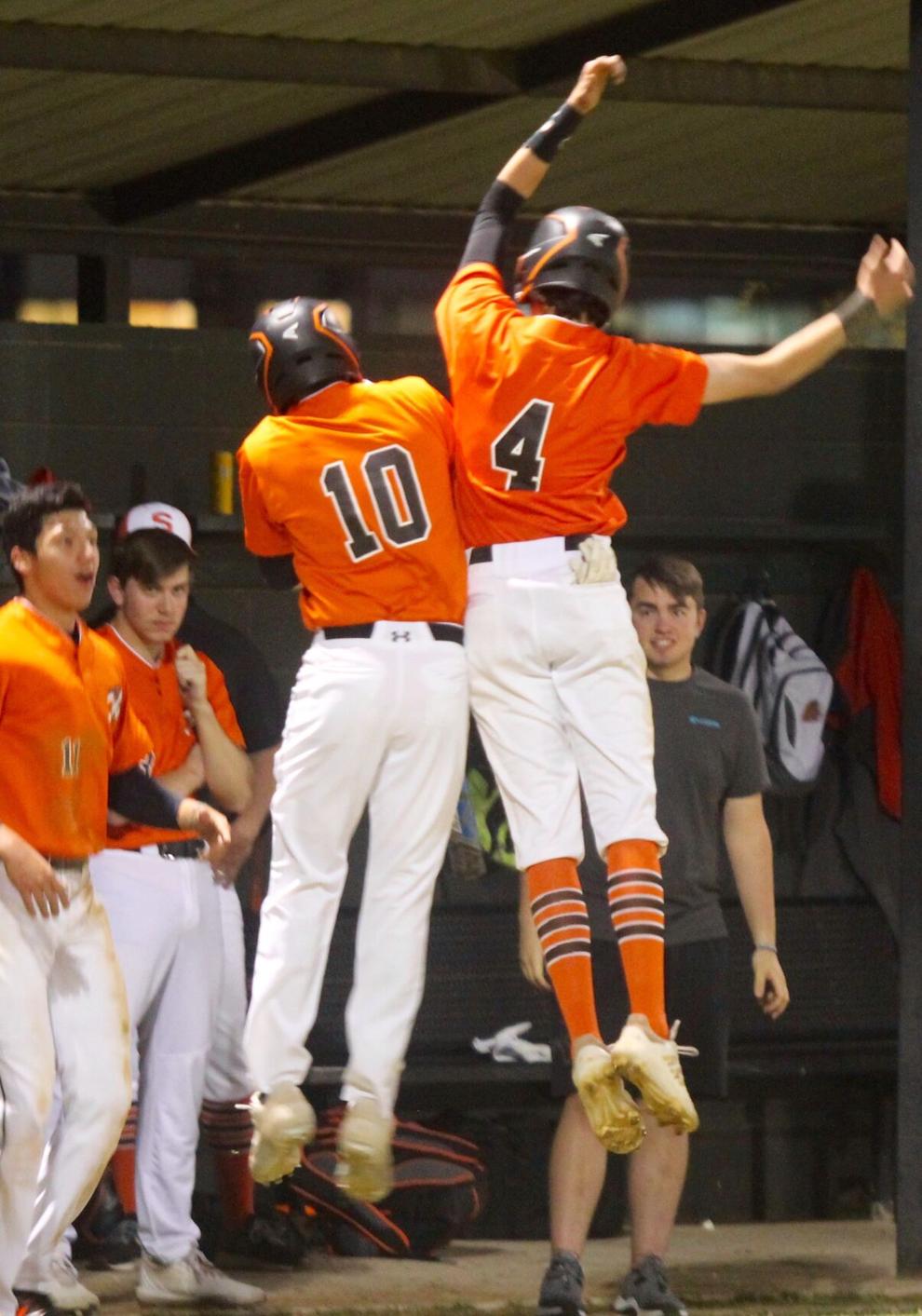 In the bottom of the second, the Pines loaded the bases with no outs and cut into Krum's lead when William Gleason stole home on a wild pitch. Aiden Vickers tied the game after stealing home on another wild pitch. Gleason hit an RBI single in the third to put Springtown on top 3-2. Both teams would go on to score two more runs apiece, and Springtown held on to claim its third district win.
On Saturday, Springtown dropped a non-district game against Maypearl.
Springtown (14-6) plays at 7 p.m. Tuesday at Alvarado.
Peaster 6, Bangs 7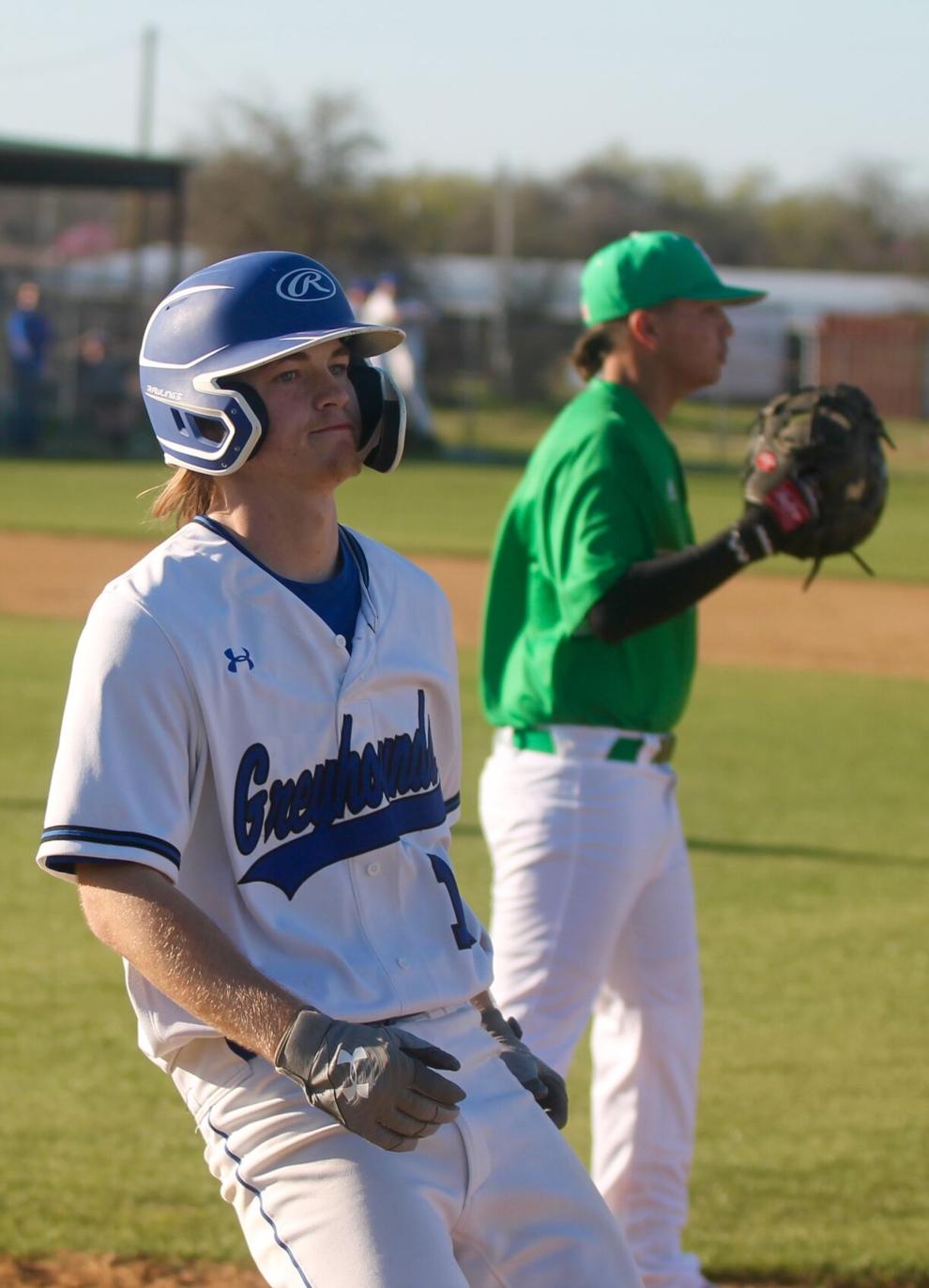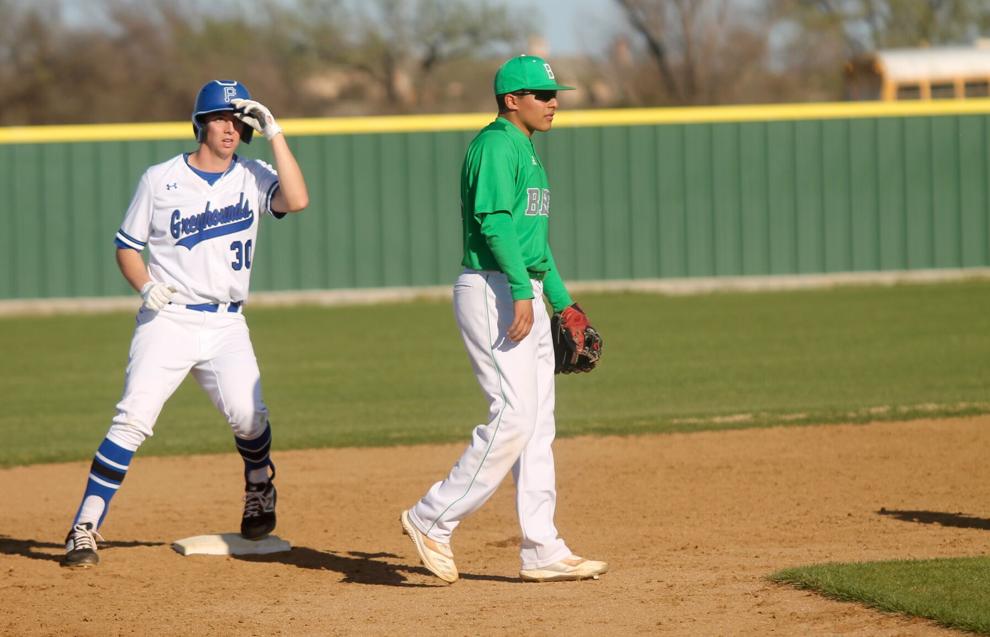 Carter McCullough struggled to find the strike zone in the first inning, walked the bases full and allowed three runs before settling down on Tuesday night in Peaster. The Greyhounds had fallen behind 1-5 by the third inning.
Gary McElroy, the school's athletic director, rooted for the team from behind the backstop and didn't appear worried about the boys falling behind.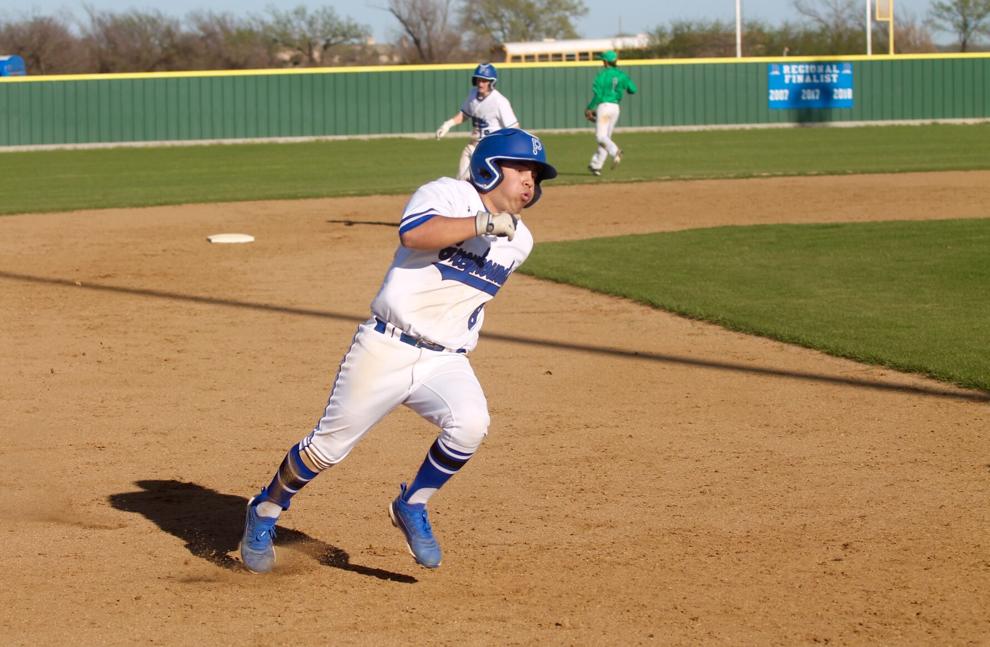 "Our boys battle hard," he said. "They've started out down before, and they battle back. Last Friday night they were down to Eastland 0-9 and came back and won 17-10. You can't count these kids out, ever. The scoreboard means nothing until the last inning is over."
Sure enough, the Greys mounted a rally after Major Glenn reached base on a single and was batted in by Caden Duer. By the end of sixth inning, the Greyhounds had cut Bangs' lead to one run.
Daniel Gomez pitched the end of the game and shut down Bangs, and he smashed a single at the plate to start the seventh inning. Peaster's bats went cold, though, and the Greyhounds were unable to mount a comeback.
Head Coach Lynn Grimes liked what he saw and told the team so during a post-game meeting near the pitcher's mound.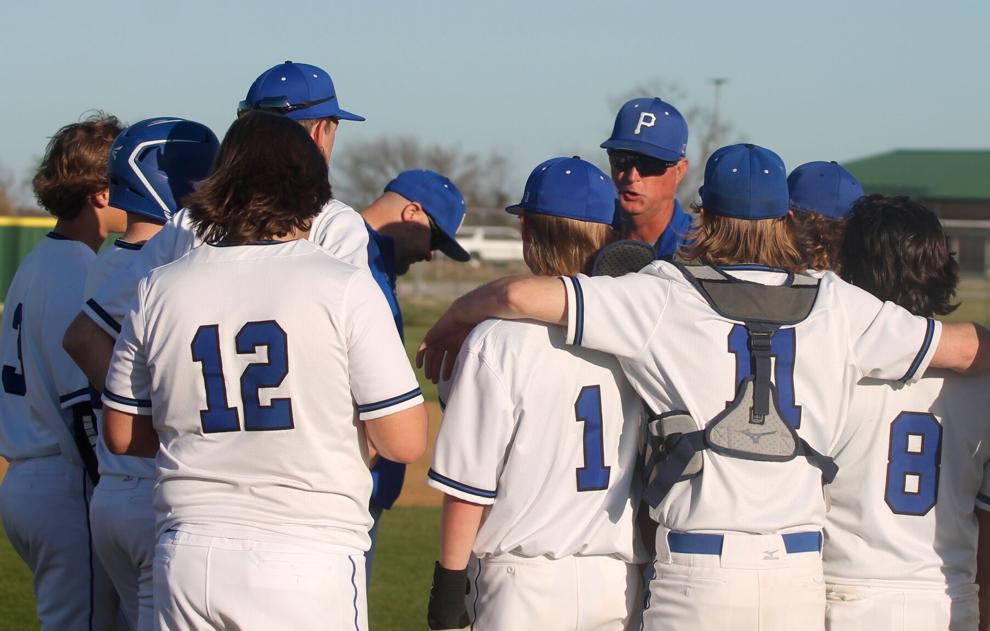 "Way to come back," Grimes said. "You competed hard."
The team's 2-2 district record keeps them in the hunt for the playoffs.
"We've just got to keep plugging," the coach said.
After the team headed for the field house, the coach straddled a four-wheeler and groomed the infield dirt to prepare for another game. Afterward, he said his team was trying establish better continuity and "figure out who we are a little better."
Last season was cancelled due to the pandemic, and Peaster's roster is short on varsity experience.
"Everyone is fighting that this year and trying to get them innings and experience," Grimes said. "I feel like we are right on the verge of winning a lot of games."
Grimes is retiring after this year and would like to go out on top. He is in his ninth season at Peaster and his 31st as a teacher and coach.
"We've got a great little team," he said. "I love these kids. We're having a lot of fun, and they play hard. That's all I can ask. I feel positive when it's all said and done, they will be in the hunt" for the playoffs.
Peaster (7-6) plays at 4 p.m. Tuesday at Comanche (6-3).
Graford 16, Gordon 2
The Jackrabbits lived up to their name, darting the baselines to steal five bases and scampering for eight runs in the second inning and six in the fourth. The Longhorns couldn't recover.
Gordon plays at 4:30 p.m. Thursday at Huckabay.
Graford plays at 11 a.m. Friday at Bryson.
Other games scheduled:
Mineral Wells (5-10-1) plays at 7 p.m. Tuesday, March 30, at Vernon.
Weatherford Christian (10-6) plays at 4 p.m. Thursday at home against Abilene Christian.
Aledo (11-5-1) plays at 7 p.m. Tuesday at home against Granbury (13-4).
Softball
Weatherford 11, Bell 1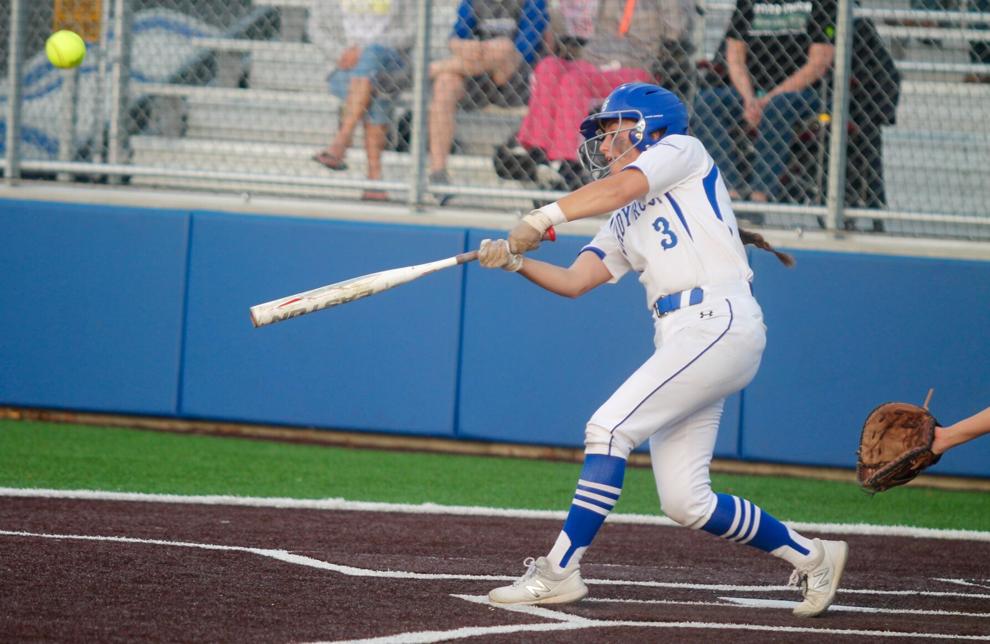 The Lady Roos remain entrenched in first place after another win by the run-rule on Friday at Bell. Kaylee Embrey opened the scoring for the Roos by slamming a first-inning single to score two runs, and she would earn another hit later in the game. Others notching multiple hits for the night included Bella Garcia, Hannah Reed and Morgan Skold.
Skold, Reed and Landry Fonseca knocked in two runs apiece.
Pitching ace Lauren Belles struck out six batters in six innings.
Weatherford (17-0-1) plays a district game at 6 p.m. Tuesday at home against Haltom (9-8).
Mineral Wells 26, Hirschi 0
River Pugh's powerful night on the mound combined with big nights at the plate for Katie Coker and others ended with the Lady Rams melting Hirschi on Friday night. Pugh gave up just one hit and no runs while striking out 14 batters in five innings. Pugh was a gamer at the plate, as well, logging multiple hits along with Coker and Zaniya Pruitt.
The Lady Rams won't have it so easy in their next game. Iowa Park pitchers have pitched three shutouts in their last three games.
Mineral Wells (9-12) plays at 6 p.m. Tuesday at home against Iowa Park (22-1).
Brock 9, Comanche 0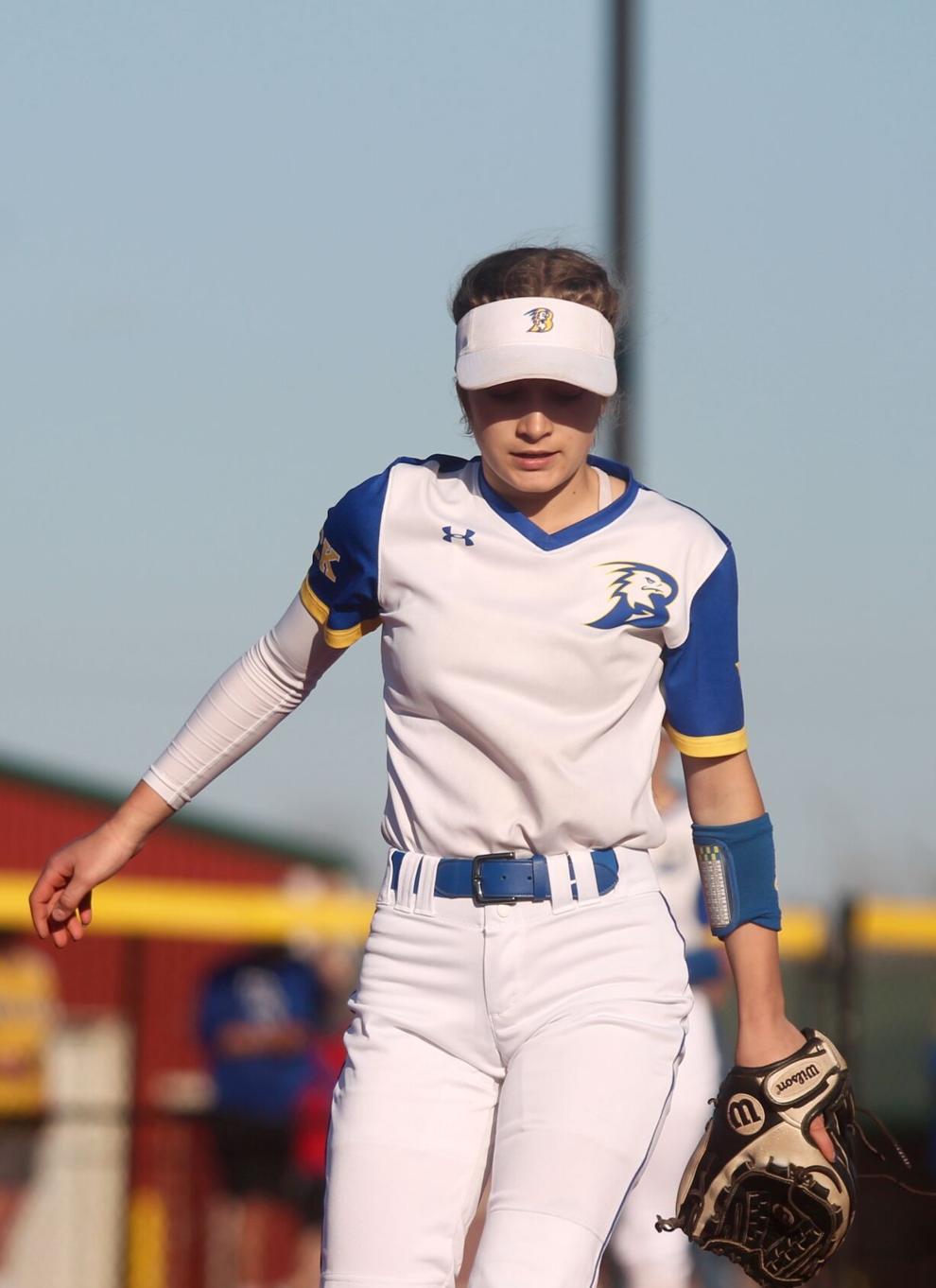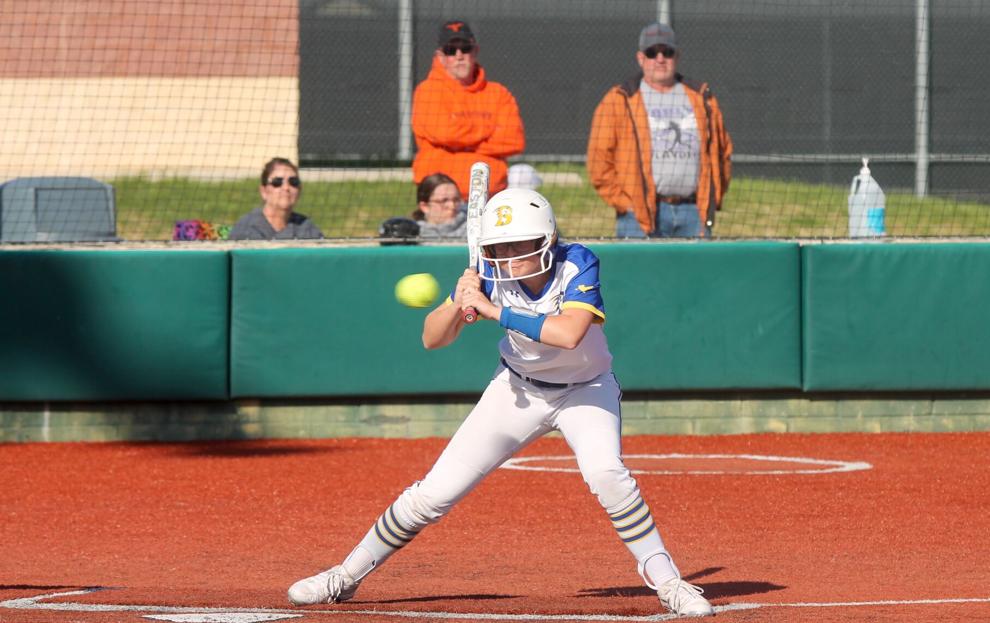 The Lady Eagles weren't exactly lady-like when they invited Comanche onto their softball field on Friday. Melanie Middleton threw a no-hitter, and Brock batters pummeled the Comanche pitchers. The onslaught began in the bottom of the first inning, when Brock scored two runs. The Eagles continued peppering pitchers to notch three runs in the third, three in the fourth and one more in the fifth. Sariah Ellestad and Carson Presti garnered multiple hits.
Brock (12-5-1) plays at 6 p.m. Tuesday at Millsap (6-7).
Millsap 1, Dublin 15
The Lady Dogs scored a run in the fourth inning but were behind by 11 runs already and couldn't recover. Makayla Savage went two-for-two at the plate.
Millsap (6-7) plays at 6 p.m. Tuesday at home against Brock (12-5-1).
Peaster 10, Bangs 0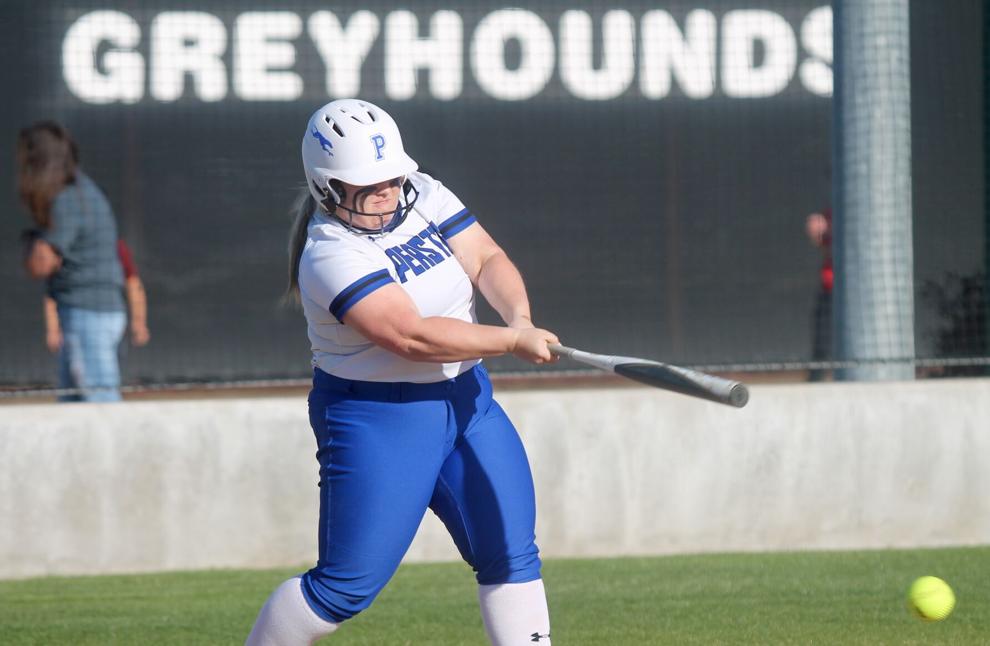 The Lady Greys bested Bangs by the run-rule in the fifth inning after a solid display of hitting and fielding. The win improved their district record to 4-2.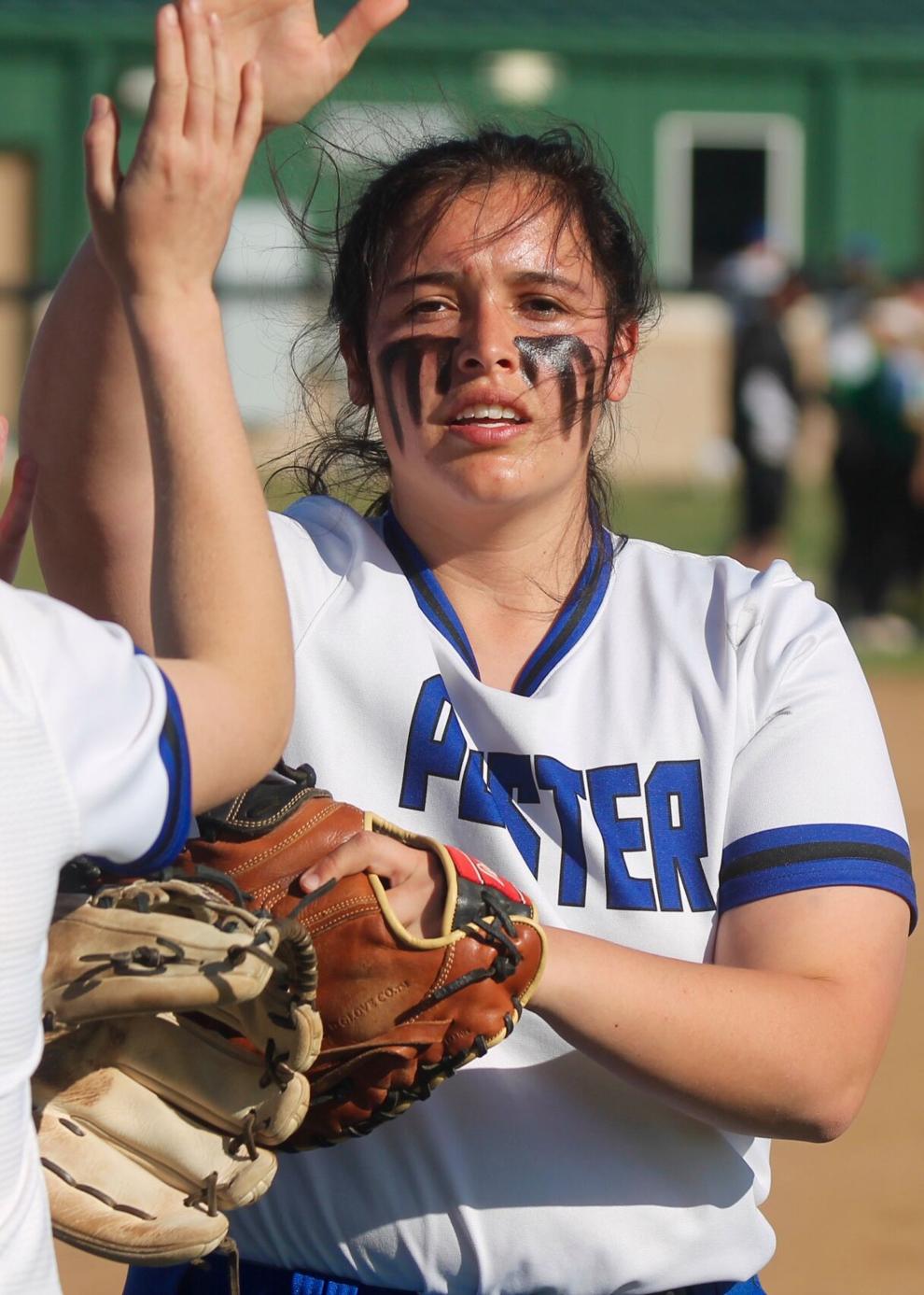 The girls' team is young but hitting the ball well and learning how to play as a unit, said Athletic Director Gary McElroy, who was watching the boys and girls games simultaneously on Friday afternoon.
"They are getting better every week," he said, praising Head Coach Barry Mathis, who is in his first year at Peaster. The previous softball coach had a baby in the offseason and decided to stay at home.
"We filled the position late, and Coach Mathis has come in and done a great job," McElroy said.
In another hiring coup, former college pitching great Jordan Wallace was pegged as the assistant coach. The Weatherford native was a collegiate All-American as a pitcher, compiling 91 career victories. In 2012, she went 27-2 on the mound with a 2.26 ERA as a college freshman at the University of Louisiana. She coached for several years at the collegiate level before taking the job at Peaster.
"Luckily for us, her husband transferred up to this area for work, and we were able to grab her up,' McElroy said.
Mathis and Wallace "do a really good job of complementing each other well with the girls," the athletic director said.
Mathis has noticed the Lady Hounds are playing better at home than on the road, but the defense has been reliable.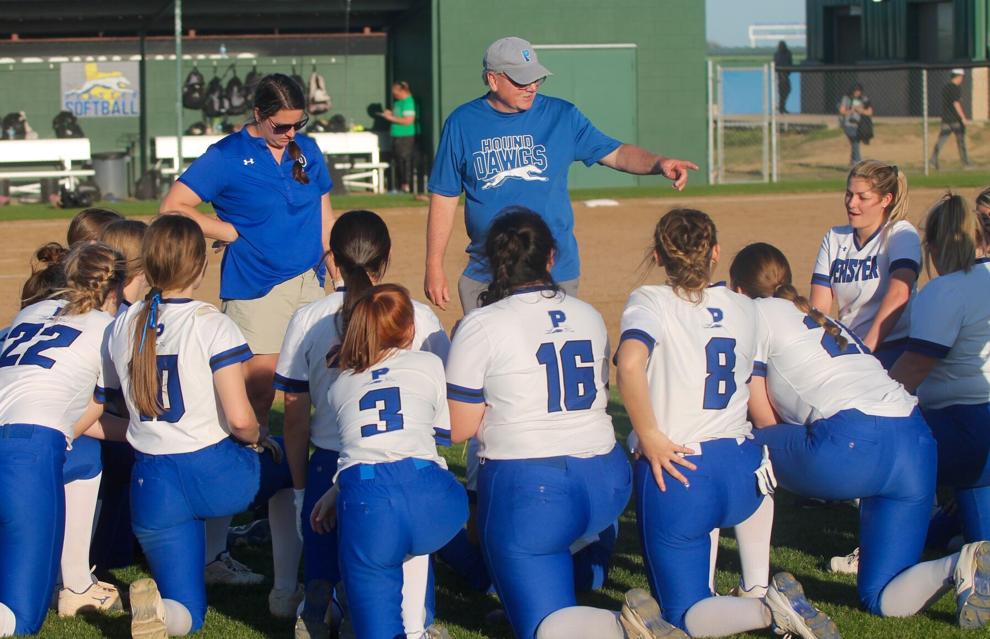 "That's the key," he said. "We've been limiting runs for the other teams, and it's been really good for us."
The team's district record is 3-2 at the midway point, with the two losses coming against Brock and Eastland. Peaster kept both of those games close in scoring, which bodes well for the remainder of the season, the head coach said.
"If we play well, we have a possibility and going through and sweeping the second half," Mathis said. "That's our goal. We're capable of doing it."
Peaster (12-5) plays at 4 p.m. Tuesday at Comanche (12-6).
Graford 10, Olney 1
Two runs in the first inning and six more in the second put the Lady Rabbits out front to stay on Saturday in Olney. Jayce Houser's two-run homer started the barrage in the first inning. The team scored six more in the second inning thanks to RBIs from Cyla Carver, Riley Cook, Bree Hunt, Hannah Lindsey Paige Ruddy and Skyler Ruddy. 
Paige Ruddy pitched a complete game with 15 strikeouts.
Graford (7-4) plays at 5 p.m. Tuesday at Chico.
Aledo 14, Wichita Falls 0
Aledo (13-3) plays at 5 p.m. Tuesday at home against Brewer (7-8-2).
Springtown 0, Krum 16
The Lady Pines battled the Bobcats twice last week, losing both times. They hope to regroup during a non-conference game this week.
Springtown (14-6) plays at 7 p.m. Tuesday at Alvarado.
Santo 1, Tolar 12
Santo (0-5) plays at 6 p.m. Tuesday at home against Gordon.
Other games scheduled: 
Perrin-Whitt plays at 7 p.m. Tuesday at home against Olney.