Times and dates of games are subject to change. 
Baseball
Weatherford 1, Boswell 4
The Roos led 1-0 heading into the sixth inning on their home turf but missed an opportunity to end Boswell's undefeated trek through District 3-6A.
Pitcher Hudson Stark threw a beauty for Weatherford, going five innings and striking out seven batters while allowing two runs on four hits.
Boswell's pitcher was even more effective, and Roo batters found little luck at the plate, although Dawson Nelson went two-for-three. Dayton Tockey and Kannon Kemp logged hits, including Kemp's clutch hit to score Nelson. 
Weatherford takes another crack at the district leader on Friday.
Weatherford (15-7) plays at 7 p.m. Friday at Boswell (16-6).
Weatherford Christian 22, Wichita Falls 0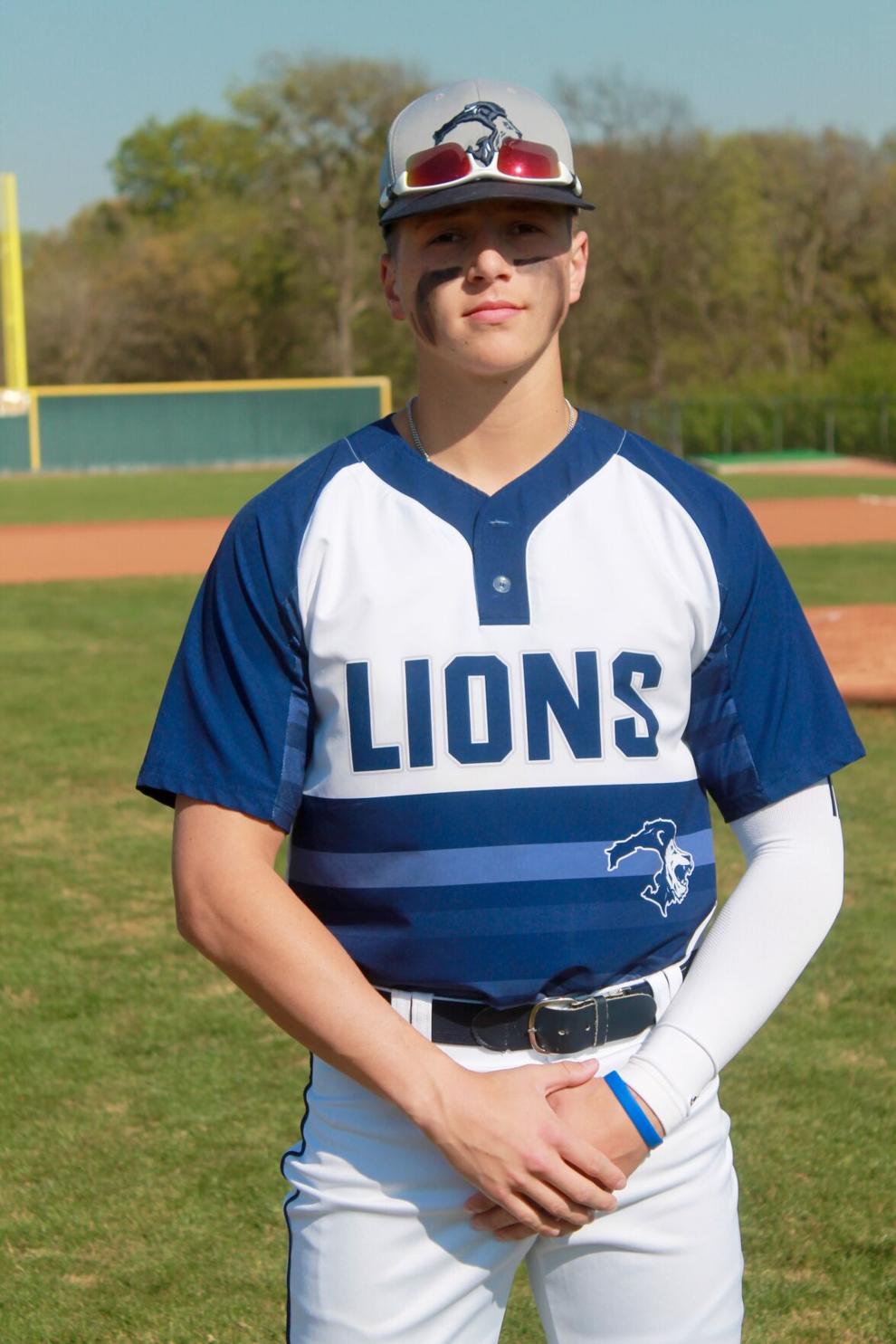 Bryson Smith smacked two hits for two RBIs and scored three runs on a big Tuesday afternoon for him in Weatherford. Other Lions notching hits included Colton Moore, Jaxon Foland, Ethan Smith, Aaron Greenfield, Wyatt Smith, Ben Blackburn and Jon Paulsen, who tallied three RBIs.
Weatherford Christian (14-6) plays at 4 p.m. Monday at home against Covenant Classical. 
Trinity Christian 4, Harvest Christian 0 
The Eagles played a non-conference contest on the road Tuesday and came out on top after pitcher Wyatt Deary took a sickle to Harvest batters. Deary, a freshman, tossed the bean like an old pro, allowing no runs on two hits in a complete game shutout.
Jake Povero, Eli Carter, Colton St. Peters, Caleb Nelson and Brody Blauser connected at the plate for the Eagles, and the defense made nary an error.
Trinity Christian (8-3) plays at 7 p.m. Thursday at home against Lake Country.
Brock 2, Peaster 0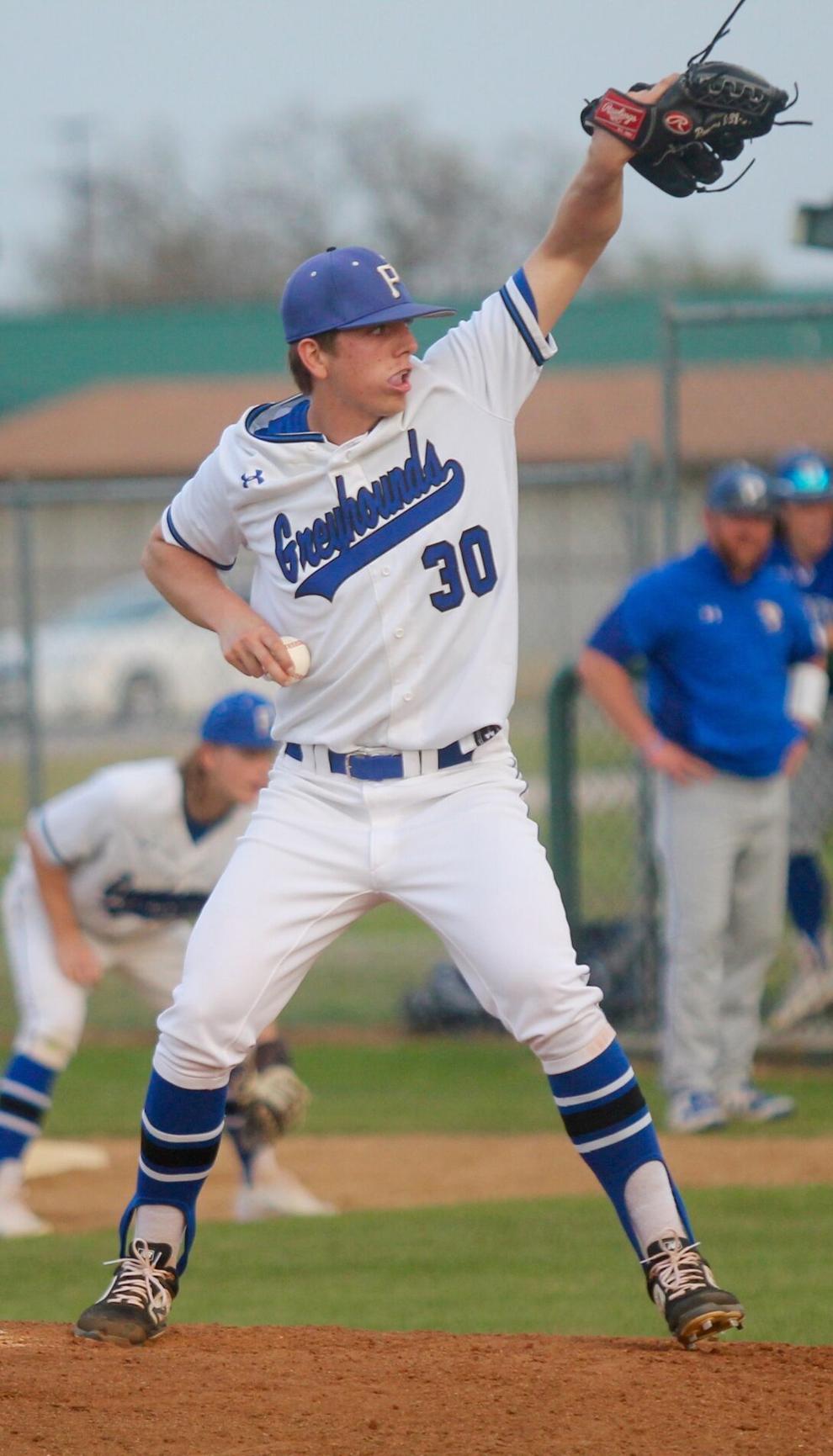 The Eagles put a runner on third base and were threatening to score in the second inning, but Peaster pitcher JoJo Grimes became stingy when it counted most and shut down a batter for the third out.
"Good inning," said sweaty Greyhounds catcher Carter McCullough as he filed back into the dugout with teammates. "That was a good inning!"
He and his teammates clapped and encouraged each other as they prepared to take their turn at the plate, hoping the good inning would continue. 
Brock pitcher Carson Lightfoot had other plans. The senior pitched a gem, allowing just one hit and no runs in six innings while striking out a dozen. His efforts this season have earned him a coveted Roundup nickname.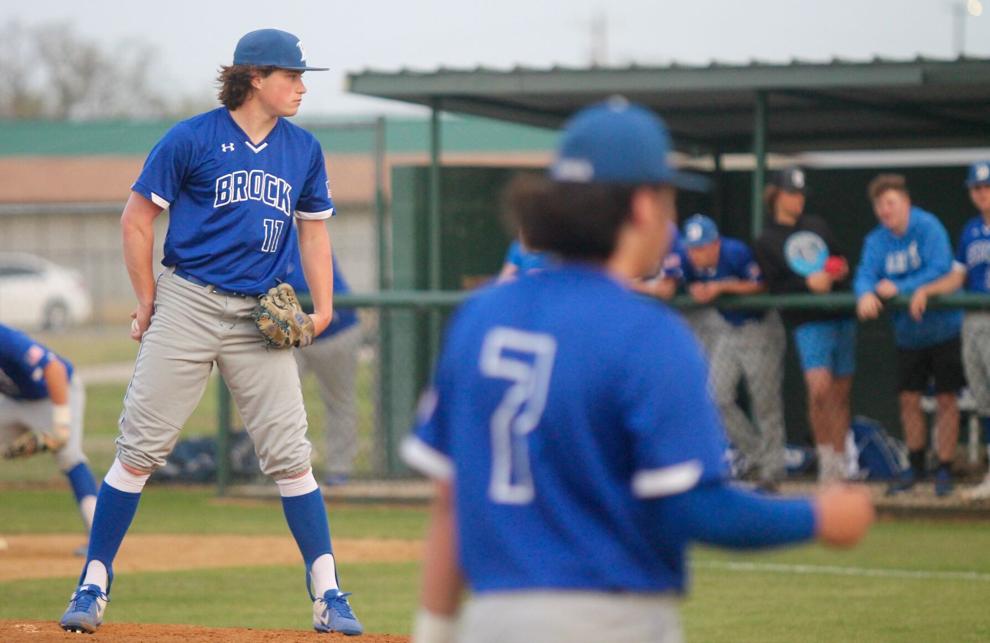 World, meet Carson "Strongarm" Lightfoot.
Tristan Boedeker threw the final inning for the Eagles and shut down any attempt at a last-ditch comeback by the Hounds.
Grimes pitched the full game for Peaster, giving up five hits and two runs while striking out 13.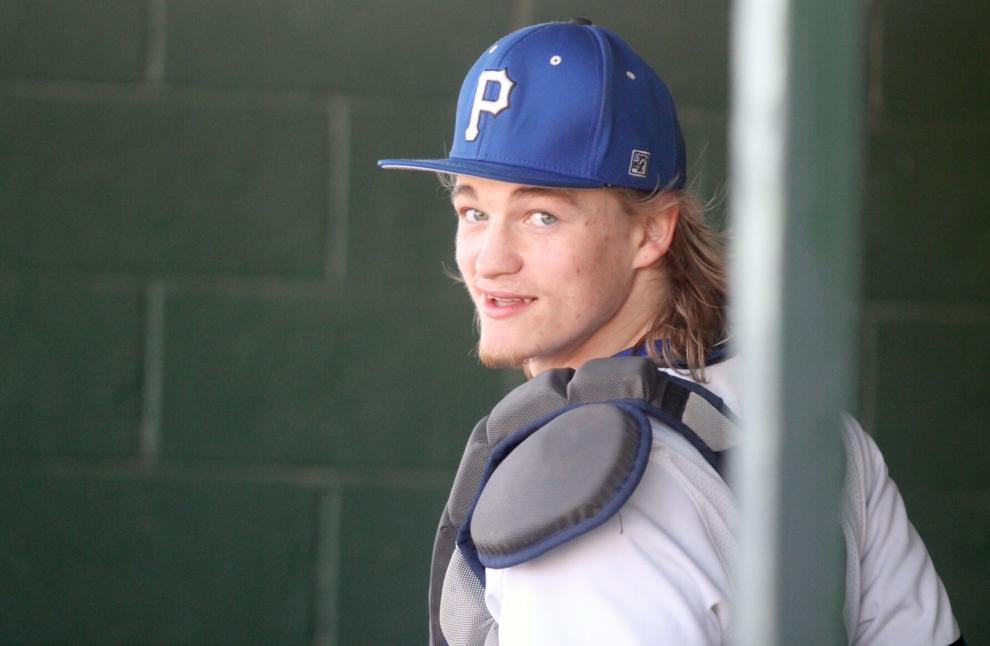 Brock (11-8-1) plays at 7 p.m. Friday at home against Eastland.
Peaster (9-9-2) plays at 7 p.m. Friday at Dublin.
Mineral Wells 1, Burkburnett 6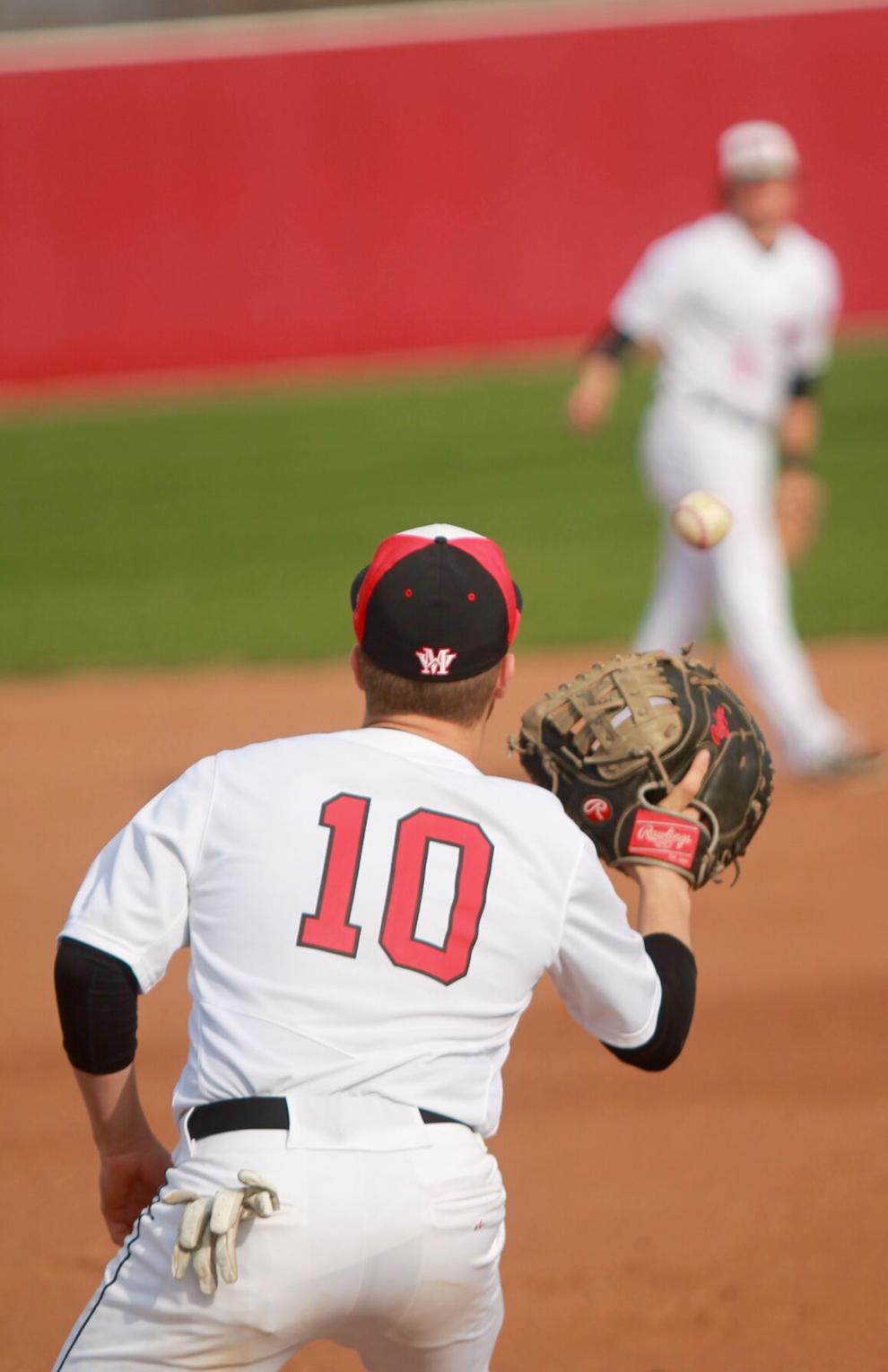 The Rams were feeling fine after tying the game 1-1 in the bottom of the sixth inning. Then, Burkburnett scored five runs in the top of the seventh, and the Rams couldn't match the output to swallow another tough loss.
Isaiah Santibanez was gold on the mound, throwing five scoreless innings for the Rams. Cameron Michels tossed two innings of relief.
Michels, Ryan Bell, Blake Blue, Luke Bullock and Mason Facteau found success at the plate for the Rams.
Mineral Wells (5-13-1) plays at 7 p.m. Friday at Burkburnett (9-12).
Springtown 15, Castleberry 1
The Porcupines stuck Castleberry with a loss, and have a chance to do it all over again as the two teams meet again in two moons. Springtown is trying to surpass Argyle as the district leader and will get their chance to go head-to-head with that team later this month.
Springtown (15-6) plays at 7 p.m. Friday at Castleberry.
Gordon 18, Bluff Dale 2
Gordon plays at noon Saturday at home against Bluff Dale.
Other games scheduled:
Aledo (13-6-1) is off this week and will play again at 7 p.m. Saturday in a non-district game against Trinity (14-4).
Softball
Weatherford 0, Boswell 1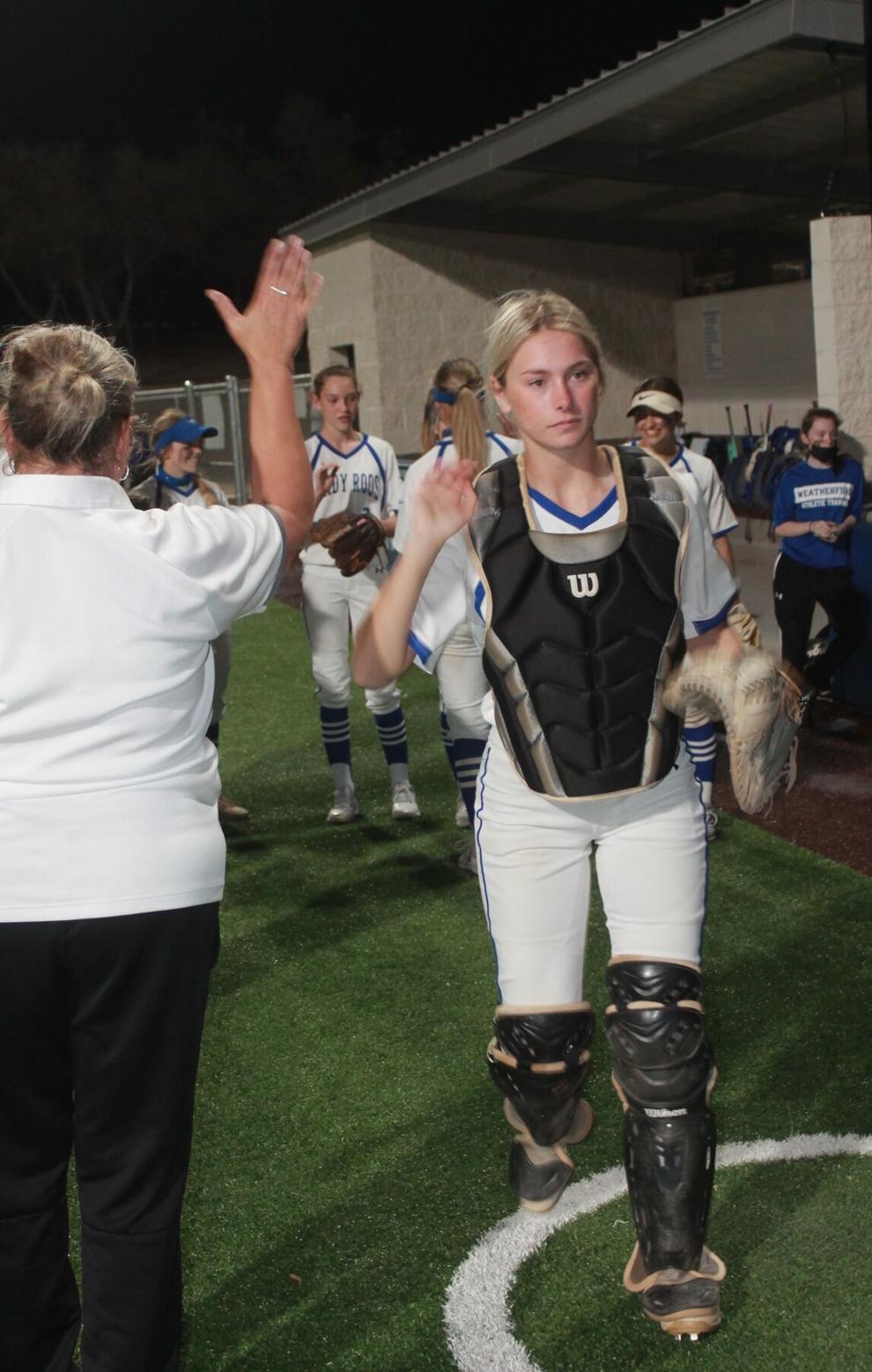 The Lady Roos were 8-0 in district play and in sole possession of first place when they entered the arena with second-place Boswell on Tuesday. Earlier in the week, Weatherford Head Coach Jeff Lemons had described the upcoming game as "absolutely huge."
Both teams are blessed with ace pitchers, and the game turned into a duel on the mound. Lauren "Slay" Bells has dominated from the rubber all season for the Roos, winning every district game on the schedule. She pitched near-perfect ball on Tuesday, striking out eight batters and allowing two hits and a run in six and two-thirds innings.
The game was tied 0-0 when the visiting Lady Roos visited the plate at the top of the seventh inning. They couldn't punch a run across the plate.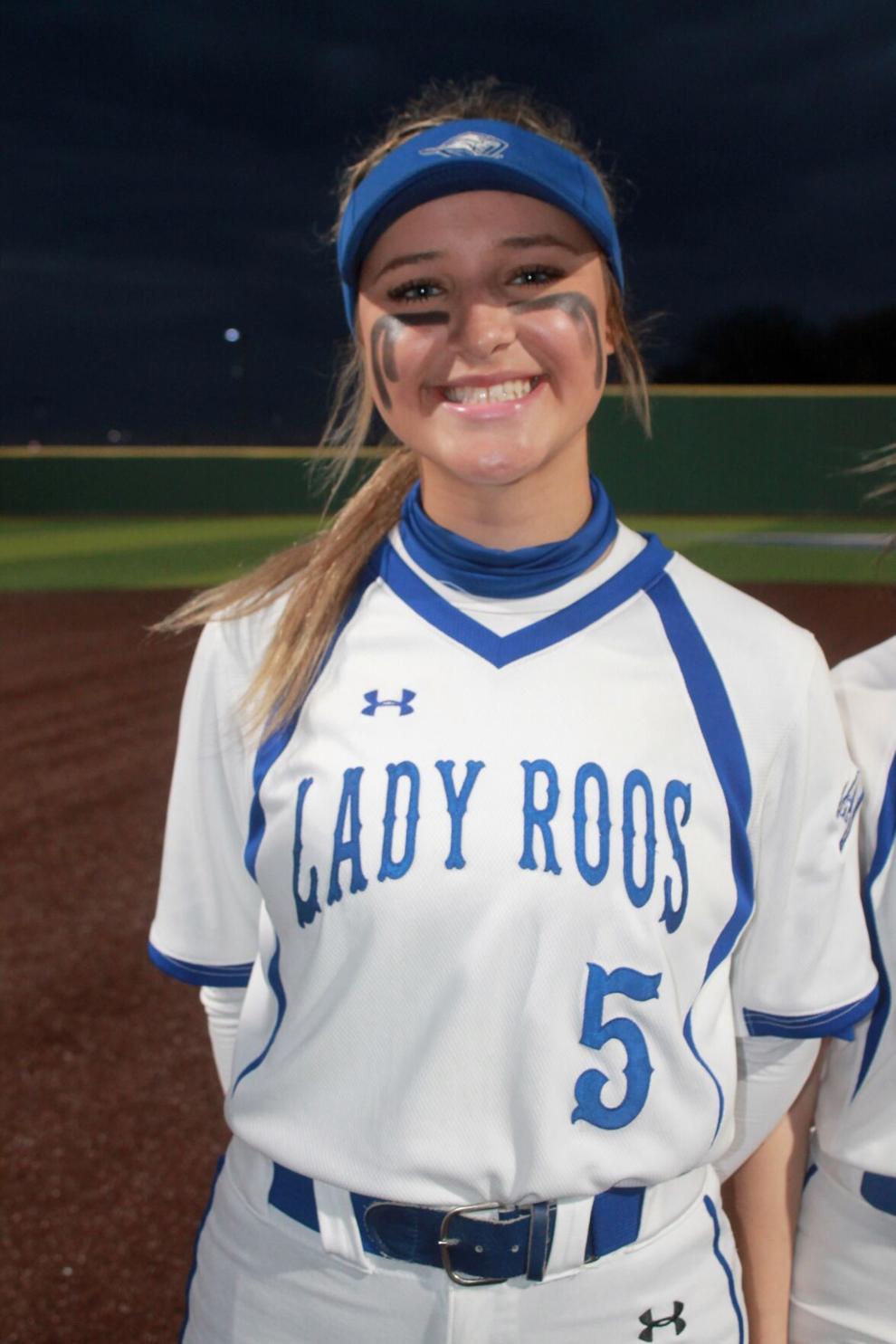 The game would go into extra innings unless Boswell managed to score a run.
They managed.
The Roos can put themselves back on top of the standings by toppling Boswell in a rematch on Friday.
Weatherford (19-1-1) plays at 6 p.m. Tuesday at home against Paschal.
Mineral Wells 5, Vernon 9
Vernon kept peppering away at the plate, notching runs in the first three innings and going up by six. The Lady Rams came roaring back with five runs of their own in the fifth inning thanks to timely hits and RBIs by Caitlyn Colwell, Cadence Colwell, Katie Coker and River Pugh.
Still, Vernon hung on and added two three more runs.
Zaniya Pruitt pitched for the Rams, striking out three batters while giving up eight runs on eight hits.
Mineral Wells (9-15) plays at 6 p.m. Friday at home against Graham.
Brock 9, Peaster 3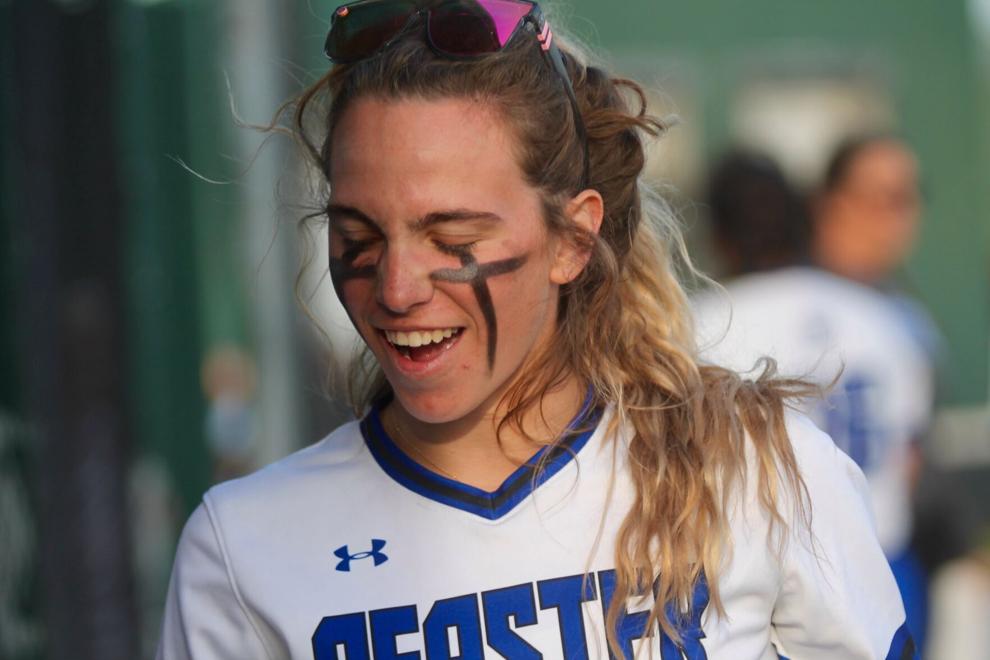 Prior to Tuesday's game, the Lady Eagles were undefeated and sitting alone atop the standings in District 8-3A at 7-0, three games ahead of the Greyhounds.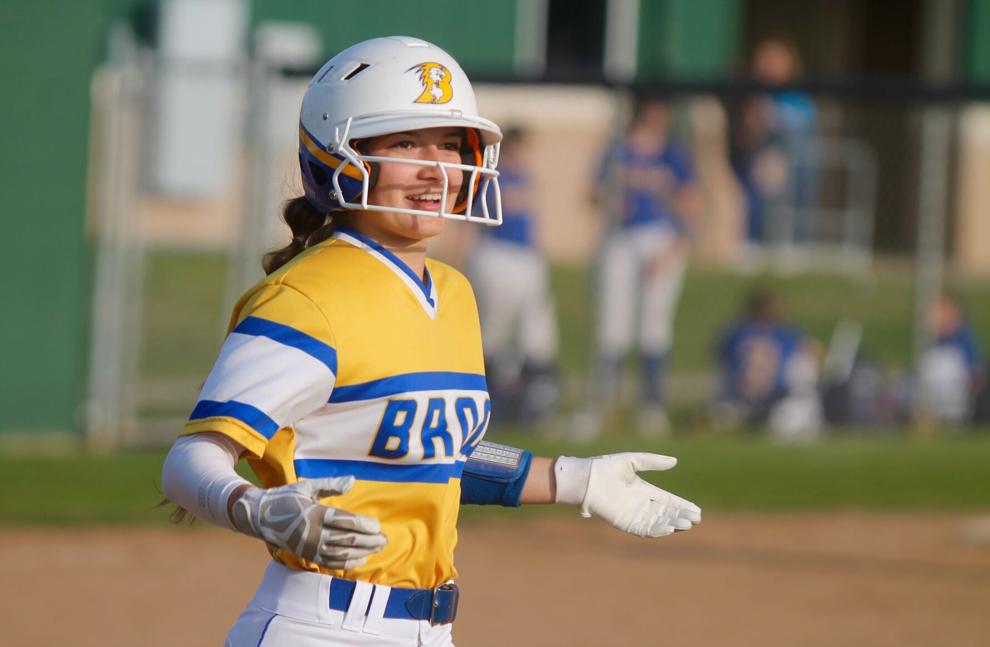 Make it four now.
Peaster put up a strong fight and were winning 3-1 in the fourth inning when the Brock gals began punching their way back. Emmy Windle's clutch double knocked in two runs to tie the game, and the Eagles added two more the next inning. Peaster's hopes for a comeback were muffled by the sound of cracking bats in the top of the seventh, when Brock batters knocked in four more runs.
Peaster had grabbed the lead after hits by Kelie Ruddy and Addison McConathy. The Lady Hounds tallied nine hits for the night, with Ruddy and Kamden Hutton leading the way with two hits apiece. Also picking up hits were Cody Ruddy, Ryen Browning, Rylee Esmond and Preslee Scarbro.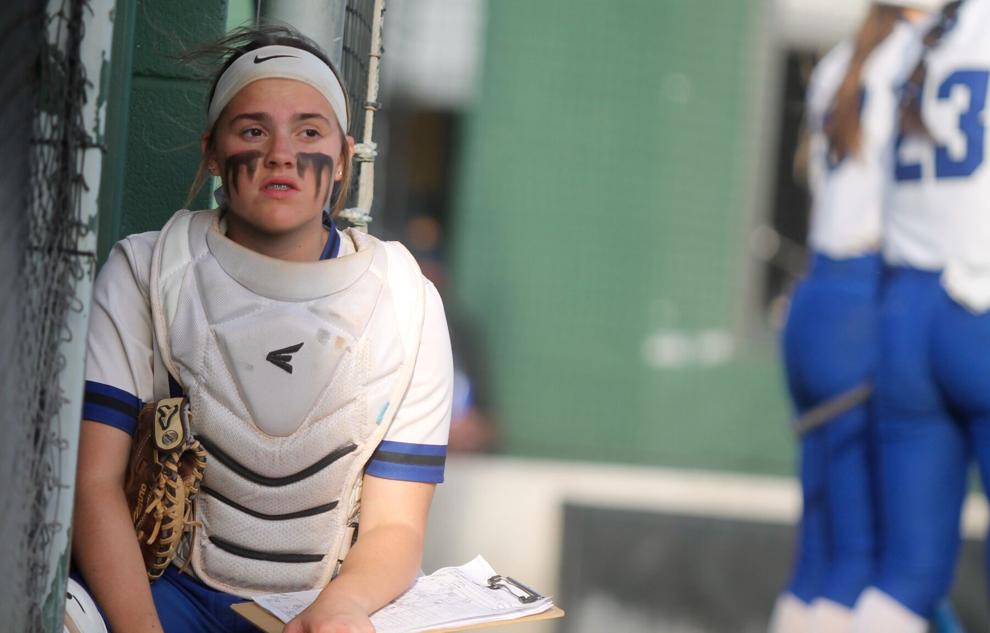 "The difference in the game was, we had baserunners on, they had baserunners on, and they had three two-out hits that scored runs," Peaster Head Coach Barry Mathis said. "We did not."
He commended Kelie Ruddy for driving in two runs with the game scored at 1-1.
"When you've got runners on base, somebody has got to produce and try to drive somebody home," the coach said. "We left too many [runners] out there."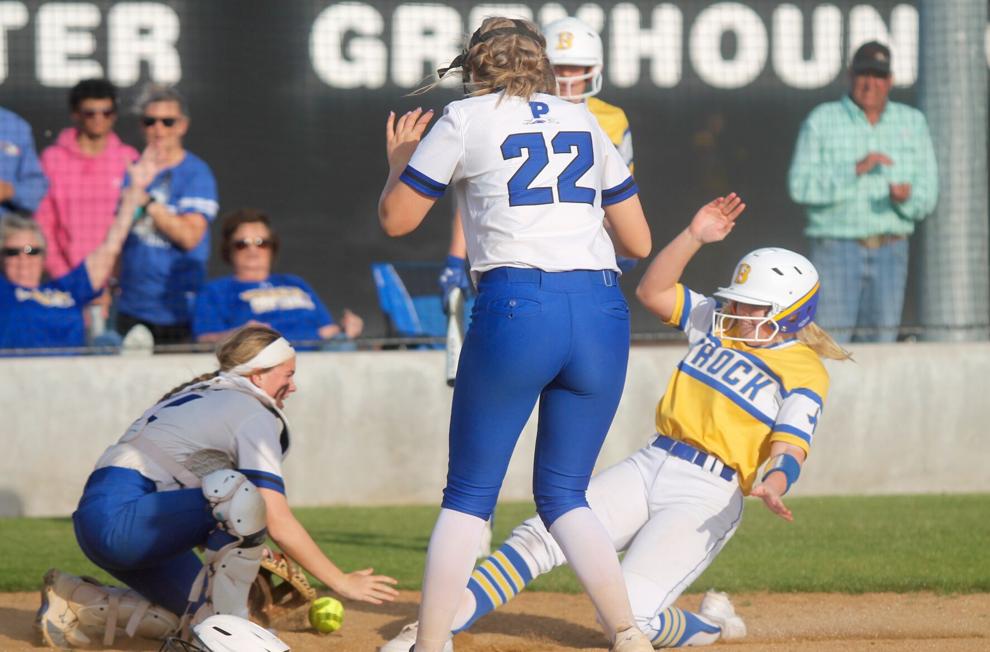 Five more district games remain. The top four teams of eight make the playoffs, and third-place Peaster remains heavily involved in the mix.
For Brock, Cayden Stephens and Melanie Middleton enjoyed big nights at the plate, knocking three hits apiece. Sariah Ellestad tallied two. Other hitters included Maddie Bramblett, Tessa Cowan, Carson Presti and Lola Reynosa. 
Neither team made an error despite strong winds that made fielding unpredictable at times.
Middleton earned the win for Brock on the mound, while Browning took the loss for the Hounds.
Brock Head Coach Ryan Starnes took pride in how his team overcame self-inflicted wounds and a deficit in runs to prevail. This year's motto for the Lady Eagles is "resiliency," and Brock showed plenty in the win over rival Peaster on the Hounds' home turf.
"Sometimes a motto can really propel a group," Starnes said. "I thought our group showed a lot of resiliency. We're down a starter with an injury, and we've got some people moved around, and others stepped up. We found ourselves in a hole and didn't make some plays I thought we could make, but then we answer and keep battling. It was a good team win."
The Eagles take on second-place Eastland next.
"That's a big one for us," Starnes said. "Every one is big when you have a young group trying to get better and improve on some things. There are some runs we left out there today and some execution things we didn't take care of. When you've got a young group, you try to learn from it and get better for the next one."
Brock (15-5-1) plays at 5 p.m. Friday at home against Eastland (9-4).
Peaster (13-6) plays at 5 p.m. Friday at Dublin (6-4-1).
Springtown 11, Castleberry 0
The Lady Pines collected 10 hits on their way to defeating Castleberry in an important district win on Tuesday.
Springtown (15-6) plays at 6:45 p.m. Friday at Castleberry (9-12).
Perrin-Whitt 0, Archer City 20
Perrin-Whitt (1-9) plays at 5 p.m. Friday at Windthorst (3-7).
Graford 1, Windthorst 14
Graford (9-6) plays at 5 p.m. Friday at home in a non-district game against Petrolia.
Other games scheduled:
Aledo (15-3) plays at 5 p.m. Friday at Azle (17-7).
Millsap (6-10) plays at 5 p.m. Tuesday at Bangs (9-3).
Santo (2-10) plays at 5 p.m. Friday at Seymour (5-7).