Editor's Note: Game times and dates are subject to change due to COVID-19 issues.
BOYS
Brock, Peaster quit pummeling one another long enough to whip others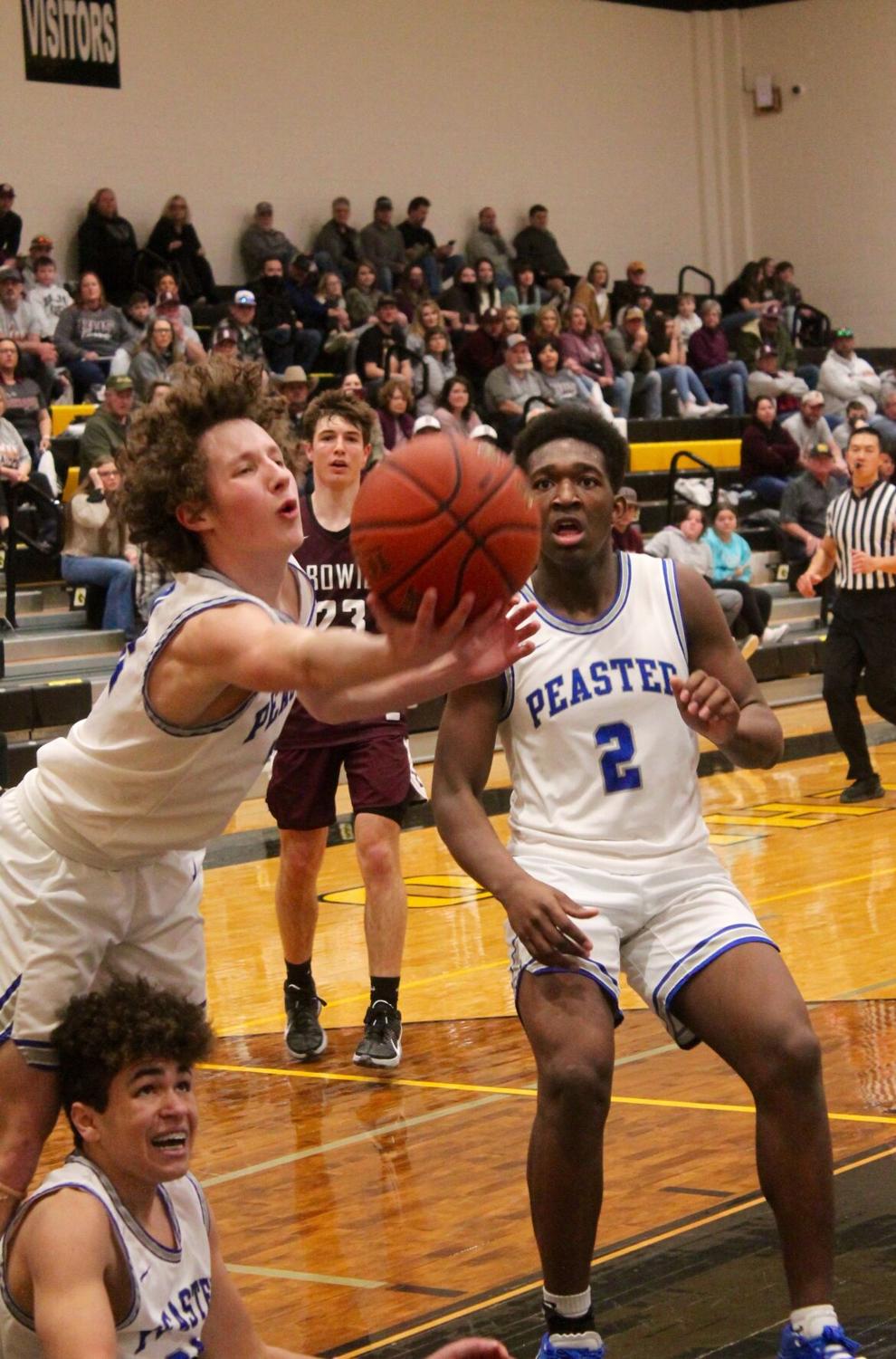 On Saturday, playoff runs for Brock and Peaster began, but those games would be hard-pressed to match the excitement of the previous weekend's games. On Friday, Feb. 12, those two teams met at Brock's gym for the final game of the regular season. Peaster prevailed, which meant both teams tied for first place.
The next night, they played again to determine the champion, and Brock won in a 64-63 thriller.
Then, a historic Arctic blast covered the area in snow and ice and shut down schools, giving the Greyhounds a full week to dwell on their loss.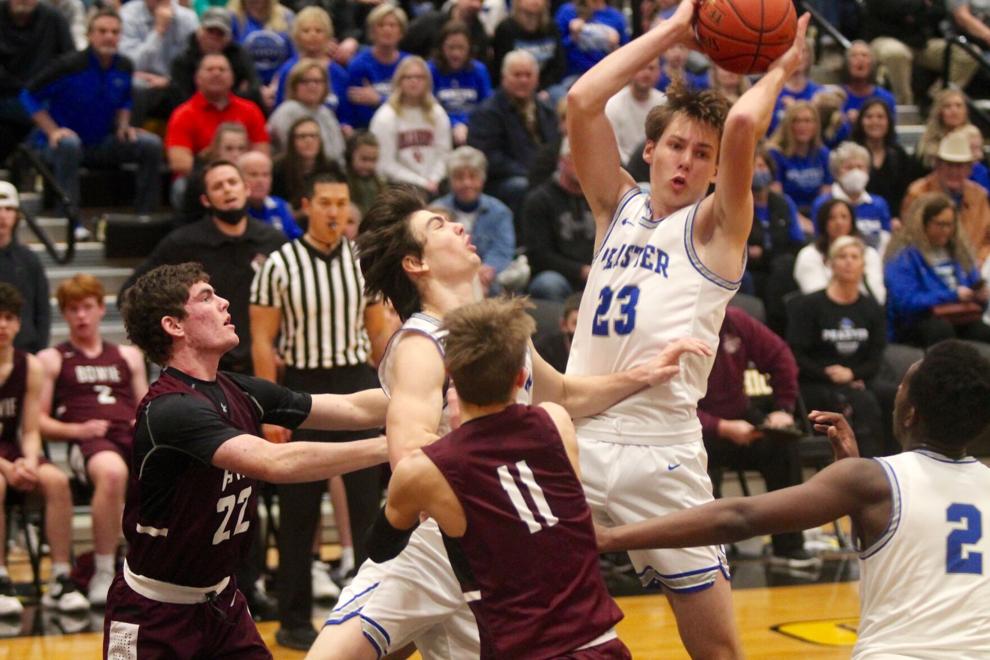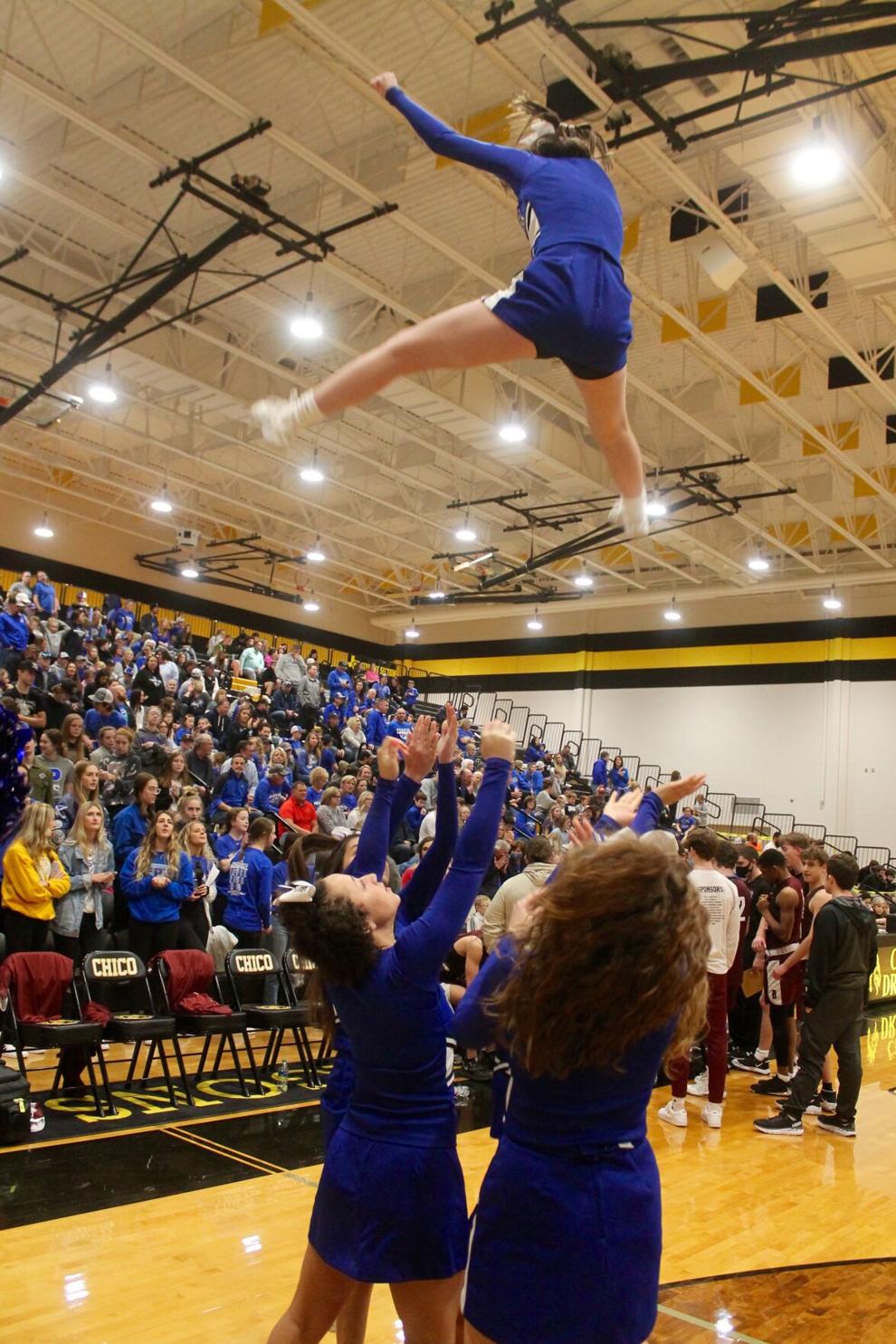 Both teams played in bi-district matches held at Chico High School over the weekend. Snow and ice still coated much of the school grounds and sidewalks when Peaster squared off against Bowie at noon. The bad weather had knocked out the water service as the gym, and spectators were required to use one of two portable toilets placed just outside the main entrance.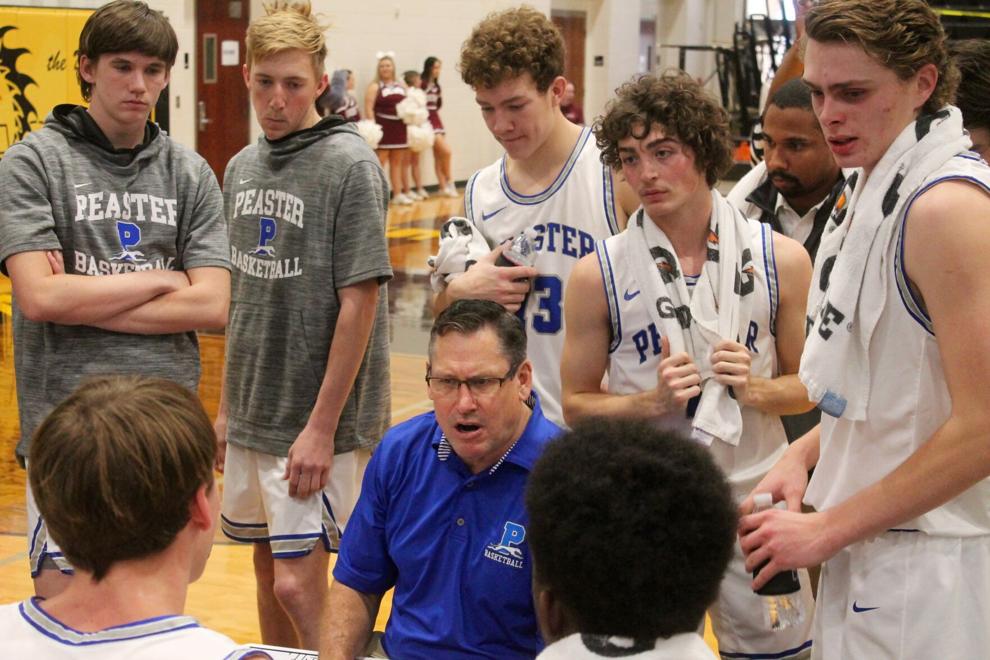 Peaster fans, many donning shirts and hats of Greyhound blue, filled their side of the stands and made plenty of noise. Bowie fans were fewer in number but almost as loud.
The Greyhound team is one to fear — they came one game shy of the state championship in 2019, and the entire starting team returned for 2020.
Bowie's team was smaller in height but muscled up and scrappy and tried to compete by playing with ferocity. Peaster jumped out to a 15-7 lead early, but Bowie mounted a comeback through sheer tenacity. By the second quarter, Peaster was clinging to a 17-16 lead when Braxton Bosher hit a three-point shot to make it 20-16. A re-energized Peaster began moving ahead again and never slowed down.
Final score: Peaster 67, Bowie 44
Afterward, Peaster Head Coach Bubba Jennings was smiling.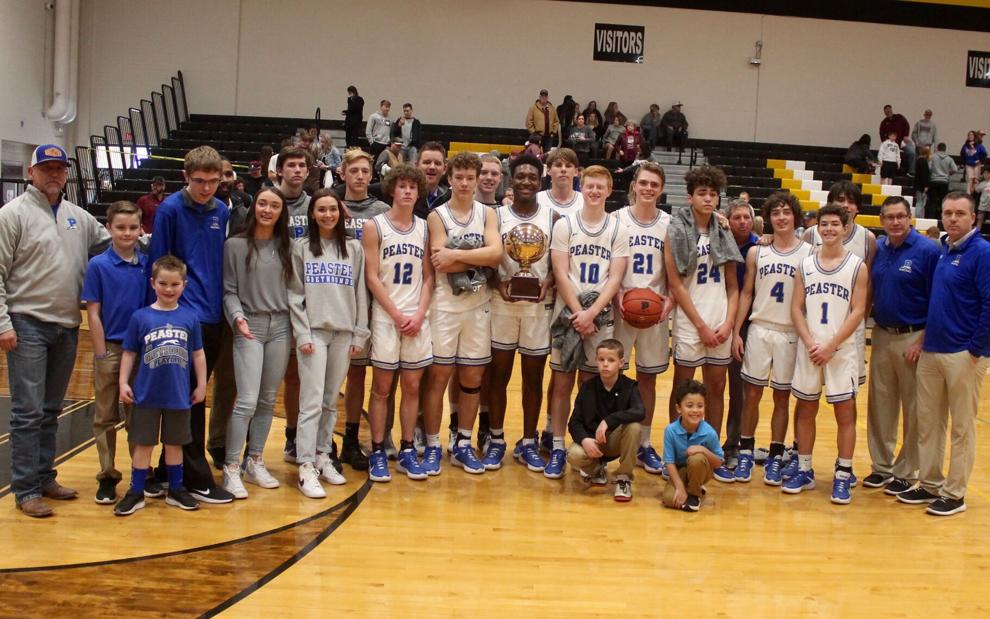 "Anytime you get in the playoffs and get that first win, it's a great feeling," he said. "The way things have been with the weather and everything and the emotion we went through last weekend — we were on a very high high and then a very low low after the two Brock games. And, then, not getting a chance to come to school, that made it tough on us. I was really proud of the kids and the way they stepped up and played really well. Bowie's got a tough team. They've got some real aggressive players and they came at us hard."
After the game, several Peaster players, including Bosher, autographed shirts and hats for impressionable youngsters who had watched the game.
Bosher still felt a twinge of pain from the previous week's district championship loss to Brock, although beating Bowie helped rinse some of that bad taste from his mouth.
"I'm glad we kind of got our groove back," he said. "We had a tough first quarter, but I felt like in the second quarter we really broke out, came together and played better."
Winning a state title requires coming out on top in six playoff games, and the Greyhounds have five more to go.
"I see us coming together on defense, talking more and playing better," Bosher said. "We are hitting our stride. Hopefully, we can really take off."
After Peaster's noon game, Chico High staff sprayed and wiped down the stands to prepare for the Brock game at 3. The Eagles were taking on the Nocona Indians.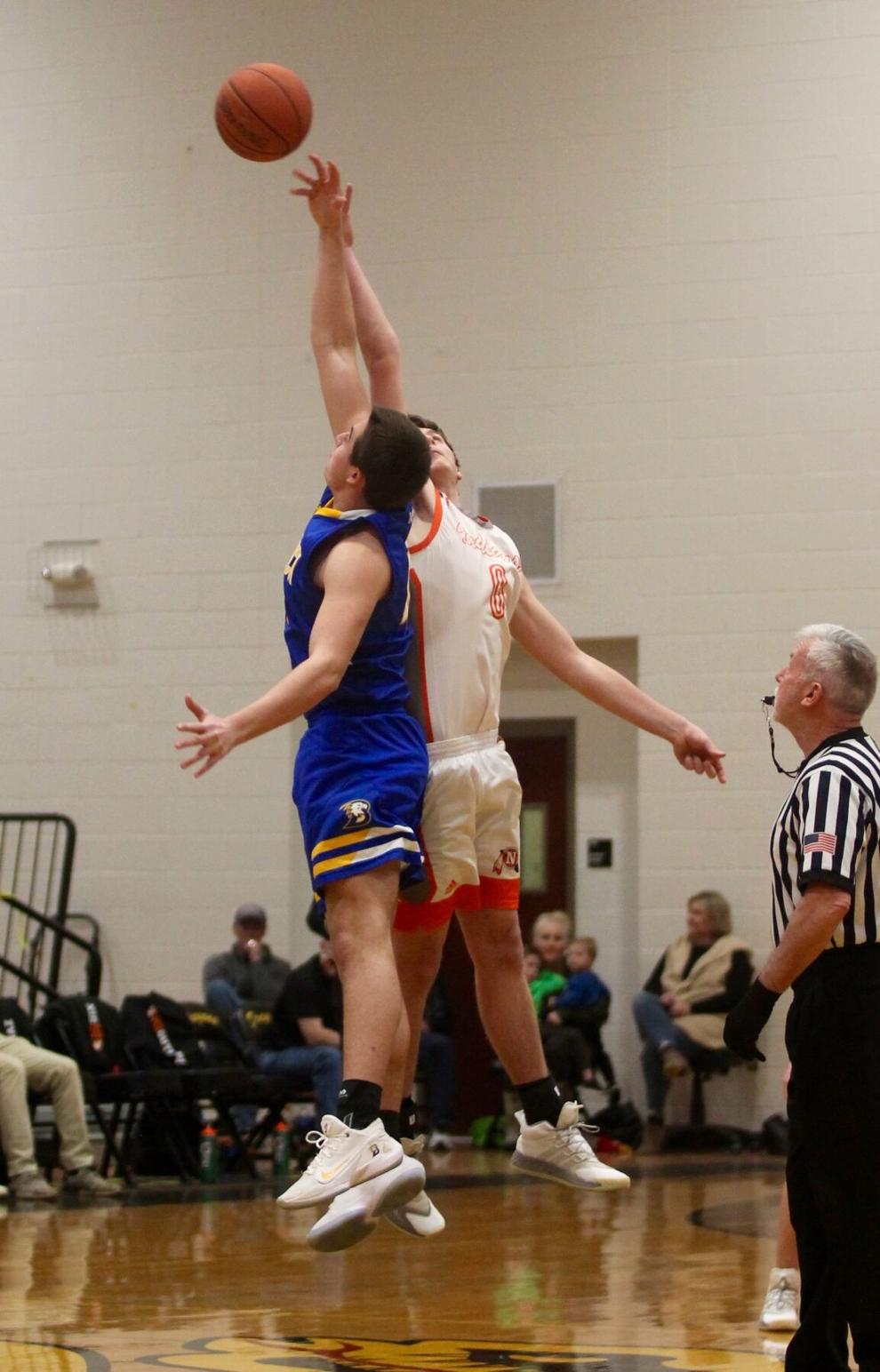 Junior power forward Nathan Jones set the tone early for Brock, out-jumping Nocona's tallest player on the opening tip-off. Then, when a Brock teammate missed the first shot of the game, Jones grabbed the rebound and tossed the ball into the basket for the first two points.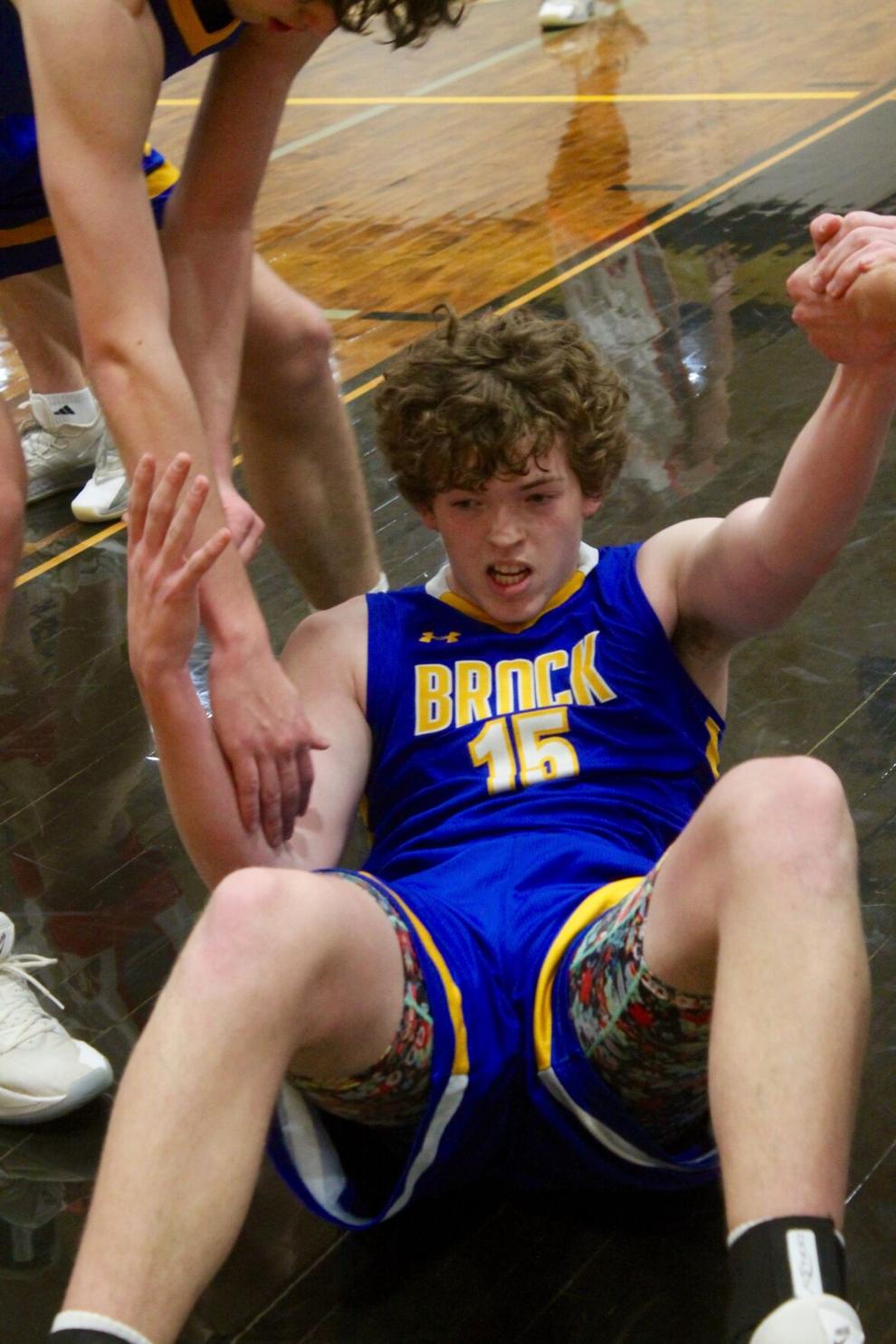 Jones owned the court for the rest of the way, grabbing rebound after rebound and either passing the ball back out to teammates or scoring the points himself, including at the foul line, where he spent much of the time as the Indians struggled to stop him.
The Eagles were up 24-11 after the first quarter and 37-16 at halftime.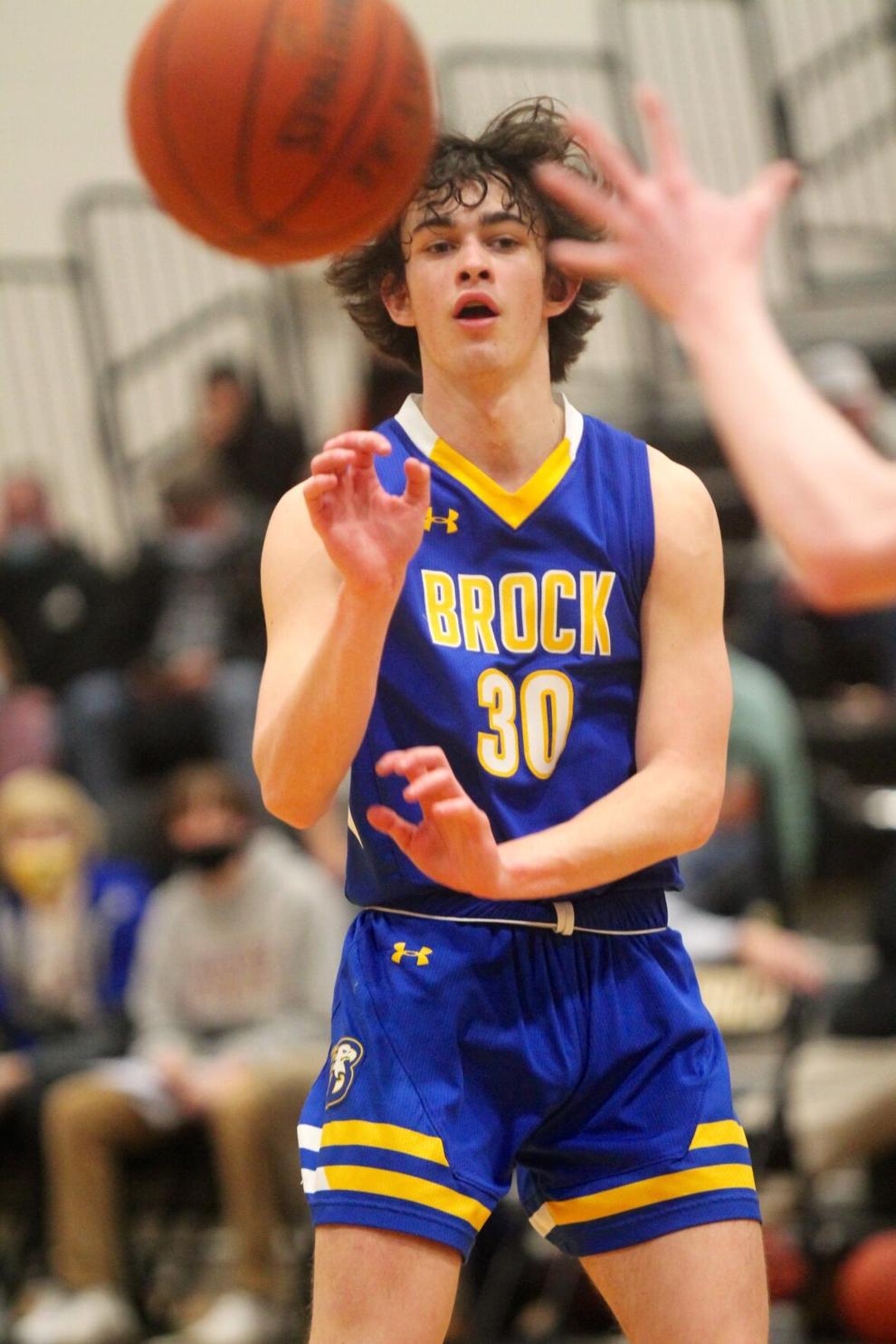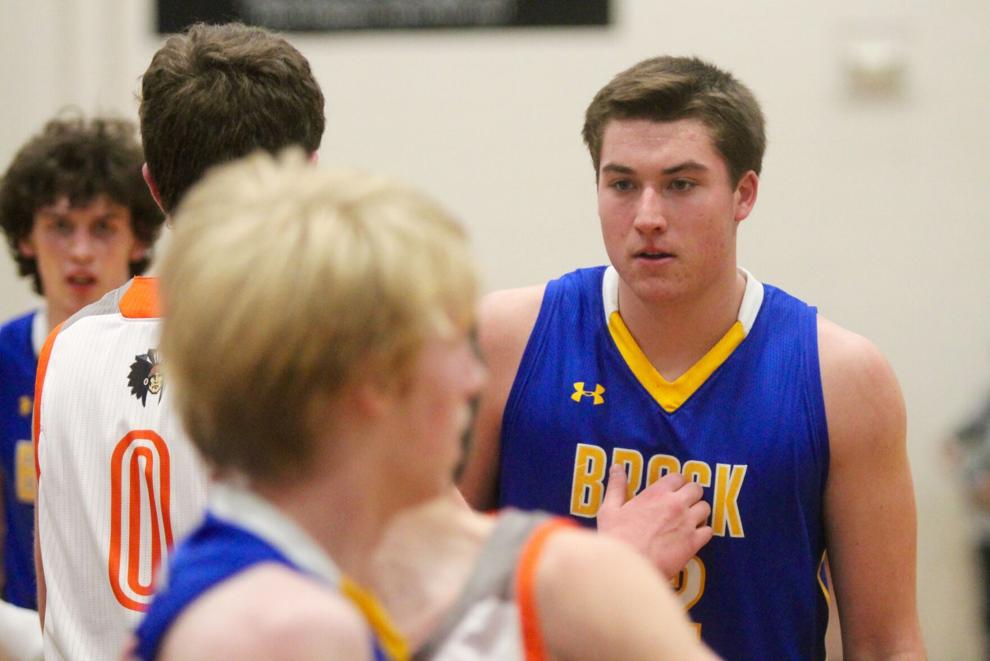 Perhaps the fast start lulled the Eagles to sleep. After halftime, Brock wasn't playing with the same intensity as before. Nocona whittled away at the deficit and moved to within 15 points.
Brock Head Coach Zach Boxell called a timeout midway through the third quarter to talk to his players. Afterward, it wasn't hard to see a difference in the Eagles. The fly-in-your-face defensive tactics they had relied on early in the game were back. Nocona, finding it difficult to move in close to the basket, began tossing up long balls with some success but couldn't claw its way back.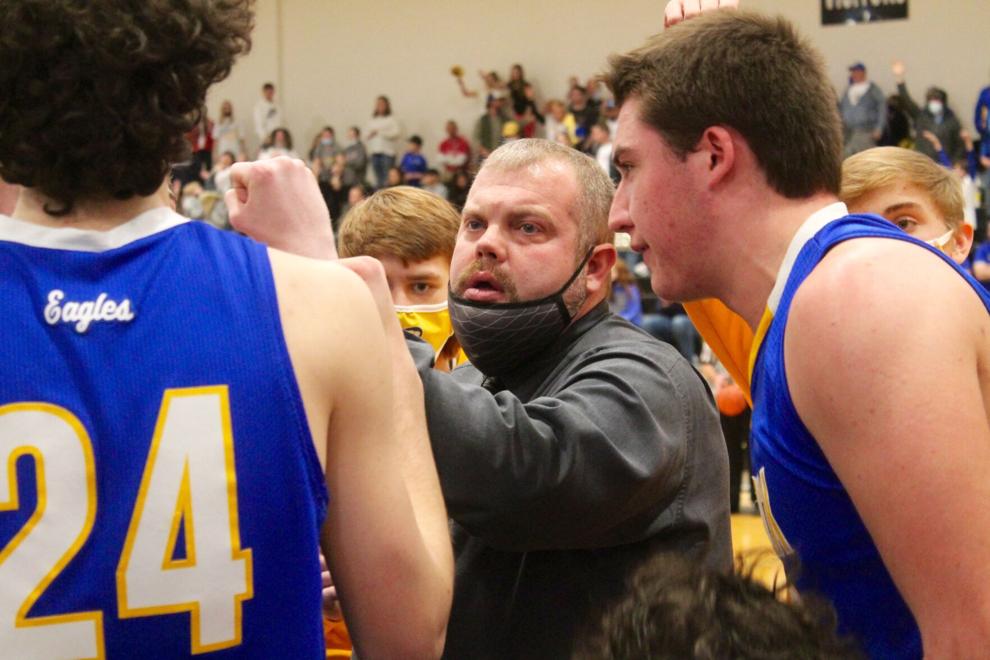 With a 65-43 lead near the end of the fourth quarter, Boxell pulled his entire starting squad and relied on the bench the rest of the way.
Final score: Brock 78, Nocona 43
"Coming off the two Peaster games, we knew we had to get refocused and get ready for the playoffs," Boxell said. "Those being such big rivalry games, sometimes you worry about the next game and getting yourself ready to play."
The Eagles "came out strong" against Nocona but drifted afterward, he said.
"Once we got a lead, we sort of were having some bad moments here and there," he said. "We got refocused and finished out strong. It was a good playoff game for us. Now we have to get ready for whoever we have in the second round."
Next up for Brock and Peaster is the area championship round.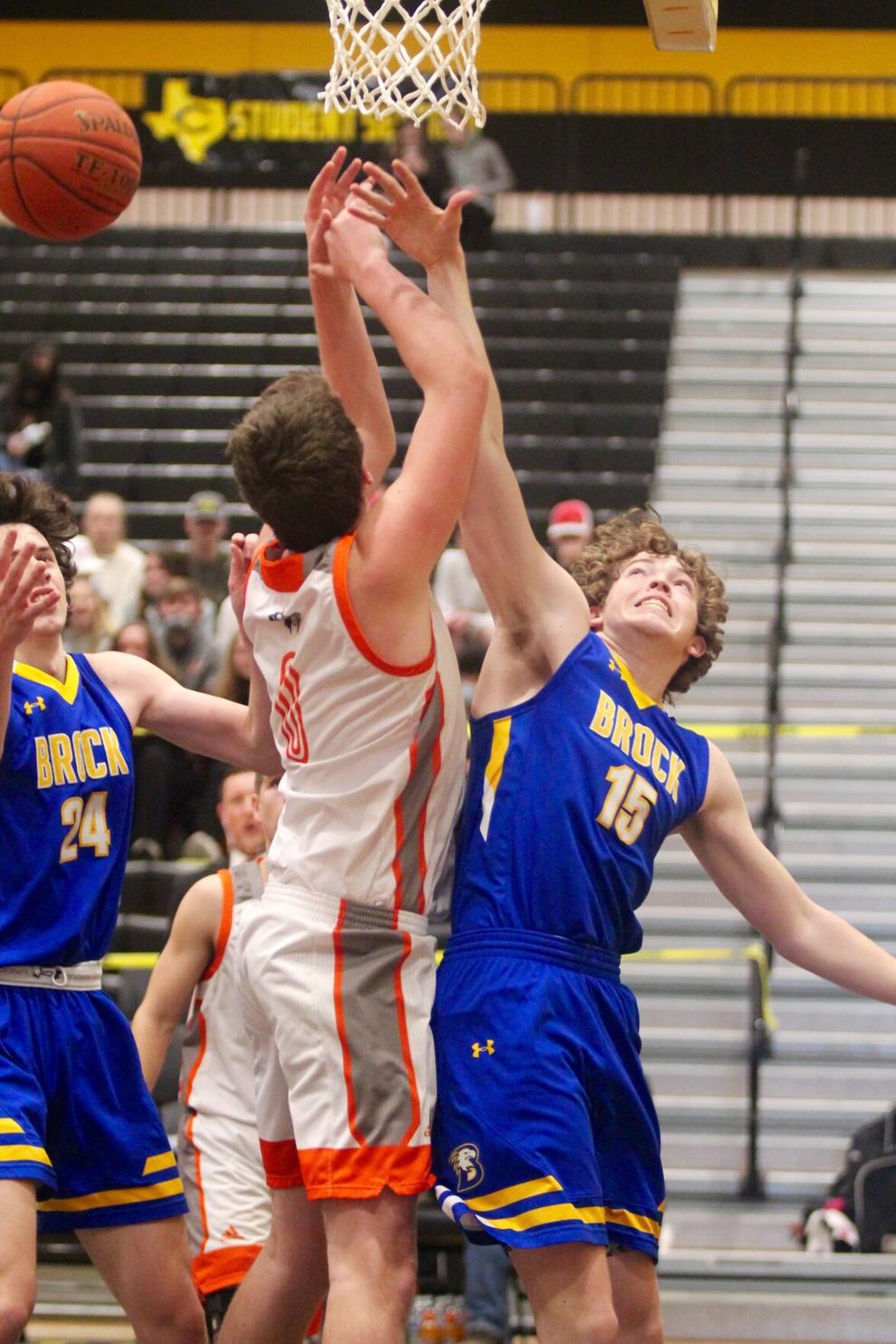 Brock (25-3) will play Jim Ned (14-10) of Tuscola at 7:30 p.m. Tuesday at Breckenridge High School.
Peaster (22-4) plays Ballinger (21-4) at 7:30 p.m. tonight at Clyde High School.
Community Christian 67, Abilene Christian 64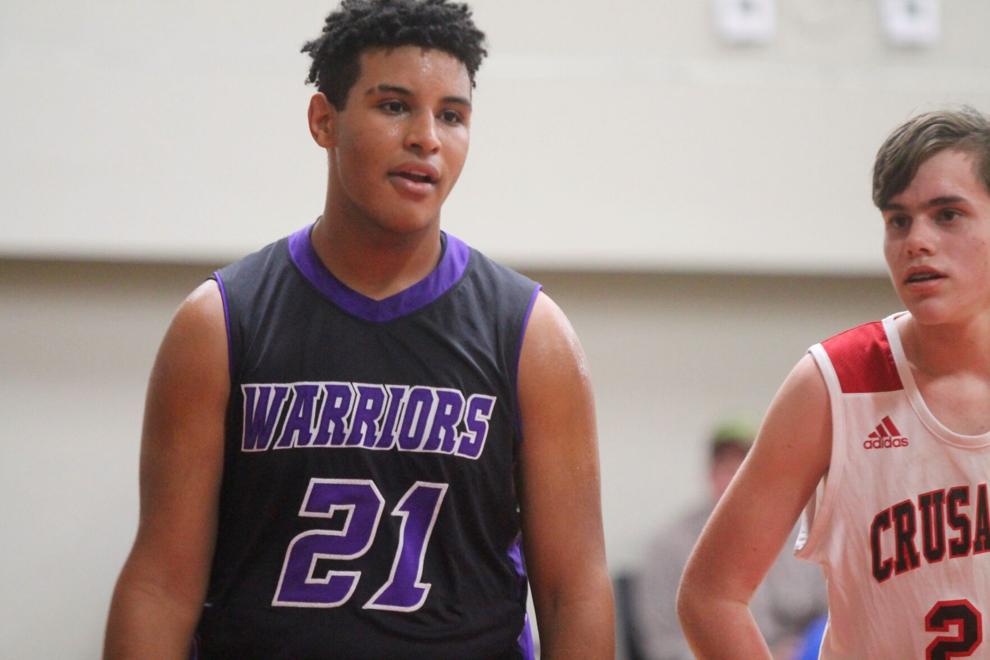 The Warriors prepared themselves for the playoffs by taking on Abilene Christian in a warm up game on Saturday and came out on top. If you've seen any Warriors games this year, you won't be surprised to learn that Jackson Horton was the high scorer with 29. Horton destroys opponents with his impassioned play and has helped the Warriors to an undefeated season in conference games.
Haden Scarbrough and Bryce Haralson dominated the boards for the Warriors.
Community Christian (20-7) plays at 7:30 p.m. Tuesday at Mineral Wells City Gym, 734 Warren Road. The Warriors will battle the loser of the Providence Prep (Georgetown) vs. Grace Christian (Belton) game being played on Monday.
Poolville 53, Rio Vista 30
The Monarchs thrashed the Rio Vista Eagles in 2A bi-district competition and move on the area championship.
Poolville (15-8) plays at 6:30 p.m. Wednesday against Cisco (16-3) at Stephenville High School.
Aledo 42, Birdville 53
Aledo lost its bi-district game on Saturday and is gone from the playoffs. The Bearcats finished a strong season at 20-6.
Graford awaiting playoff schedule
The district champion Jackrabbits, unbeaten in district play and 20-2 overall, are awaiting their playoff schedule. 
GIRLS
Poolville 54, Haskell 76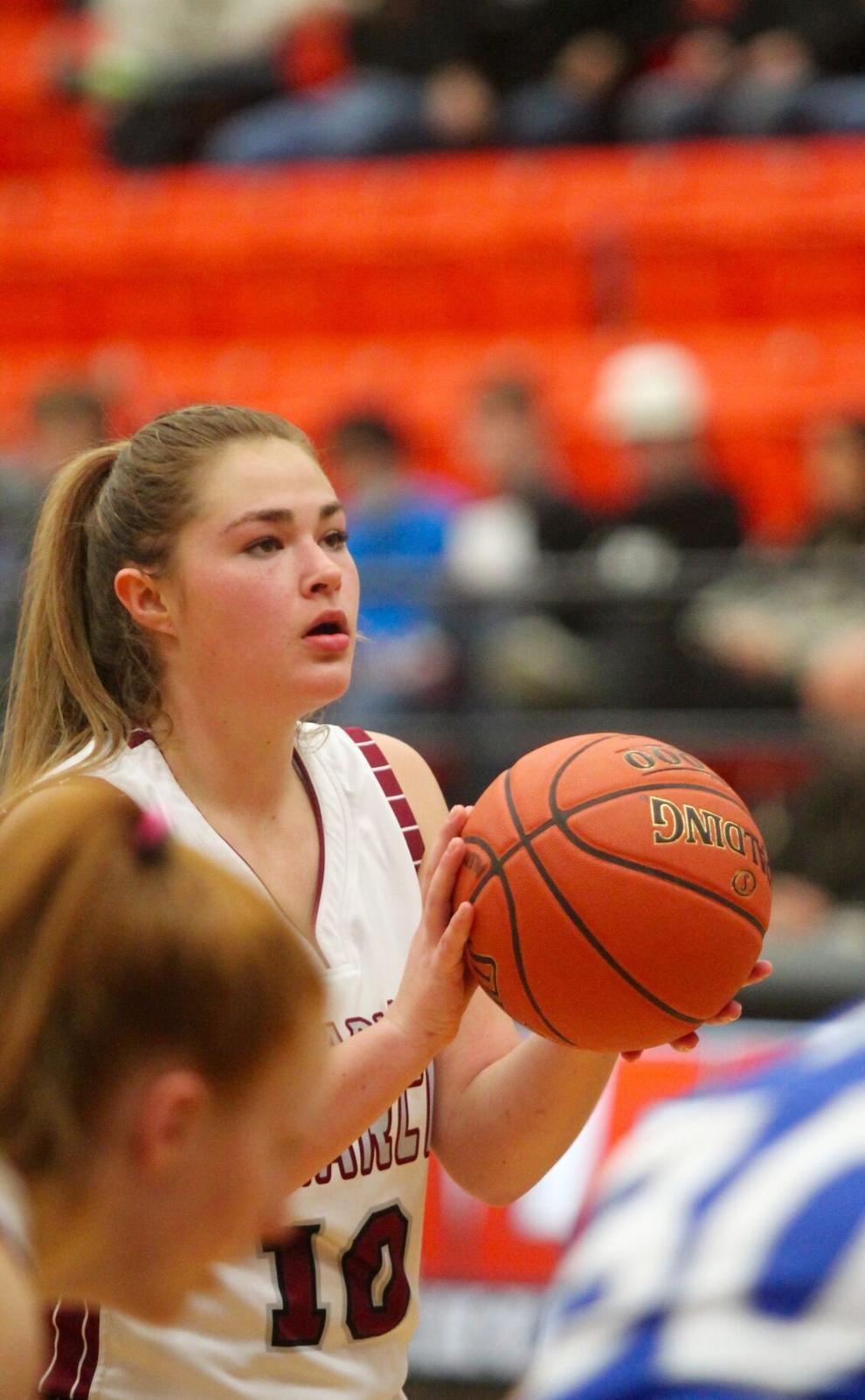 After rescheduling the game several times due to the ice storm, Poolville met arch rival Haskell on Saturday and was hoping for redemption. The Lady Monarchs were determined to avenge a regular season loss to Haskell and win an area championship. Instead, they saw their season come to a close.
Poolville finishes with a 19-5 overall record. Two of its starters — Payton Jennings and Brooklyn Hensley — were named All-State.
Graford to battle Sulphur Bluff in first playoff game
Graford went 8-2 in conference contests and owned 1A District 21 this season. The Lady Rabbits were set to take on Sulphur Bluff in their first playoff game on Monday, but the game was postponed due to ice.
Graford (16-7) plays against Sulphur Bluff (13-7) at 7:30 p.m. tonight.
Strawn to face Richland Springs
Last week, Strawn began its playoff run by besting Blum. Then, the playoffs ground to a snowy stop. Strawn's second game, originally set for Feb. 15, was delayed.
Strawn (12-8) will play Richland Springs (15-7) at 6 p.m. tonight at Gorman.
Peaster to face Coahoma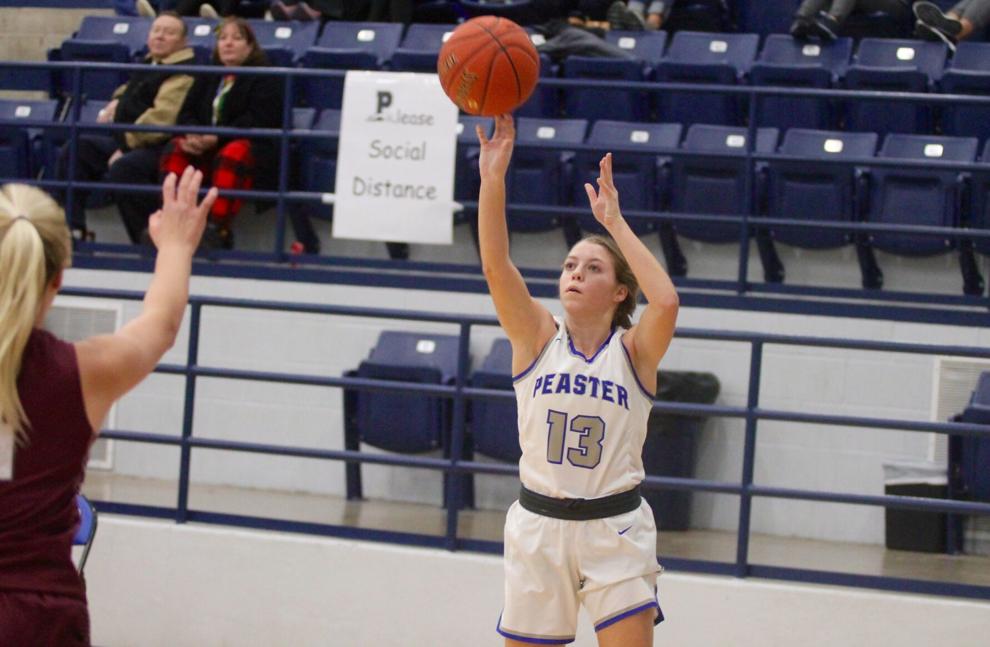 The Lady Greys won a bi-district championship before the storm shut down things for the better part of a week.
Peaster (24-4) plays at 6 p.m. Monday against Coahoma (16-6).
Community Christian ready to start playoffs
The Lady Warriors (22-2) will play at 6 p.m. Tuesday at the Mineral Wells City Gym against the loser between Waco Methodist and Killeen Memorial, who play tonight.