Editor's Note: Game times and dates are subject to change due to COVID-19 issues.
Boys
Poolville 38, Cisco 40
And just like that, the Monarchs' magical season is done.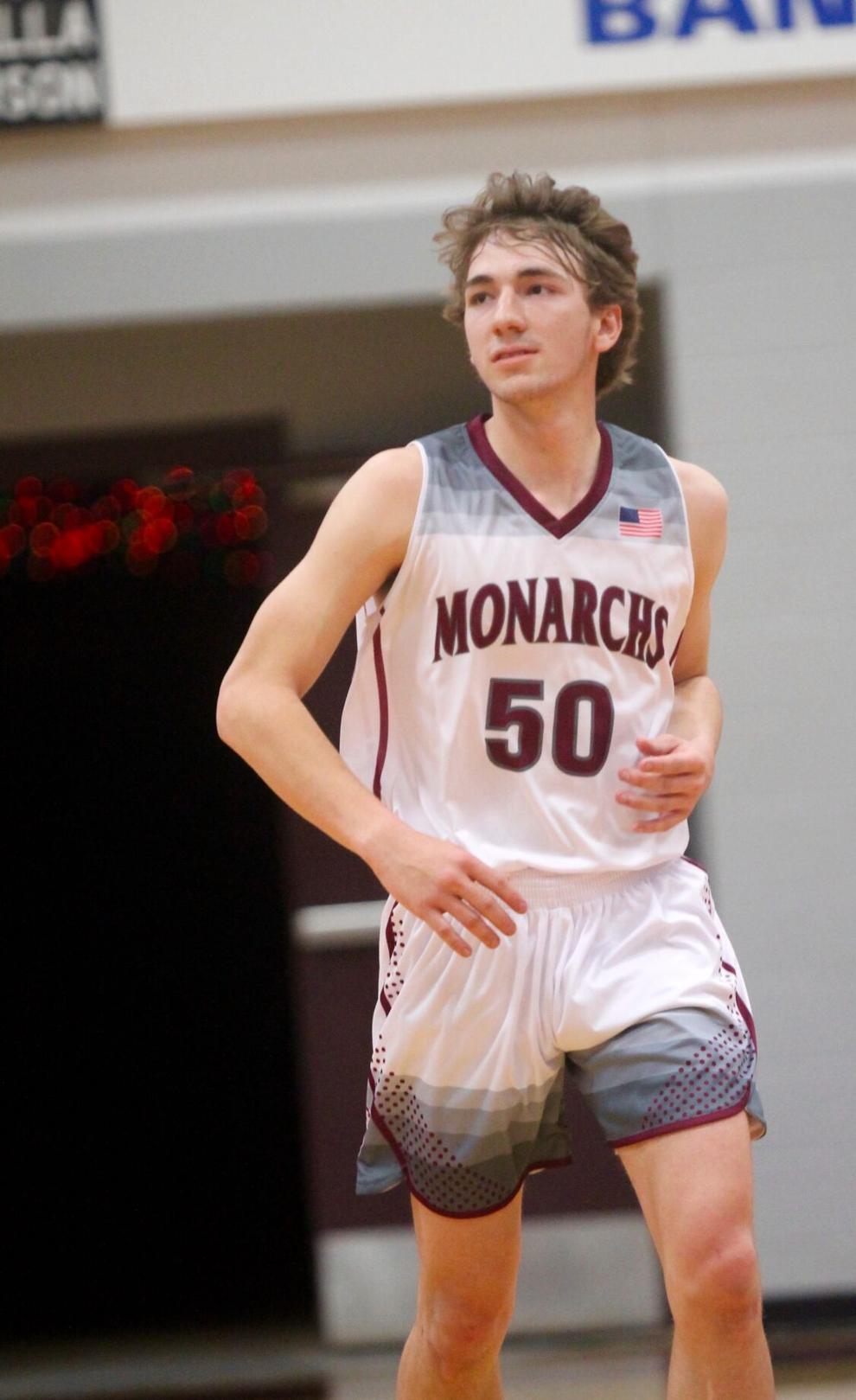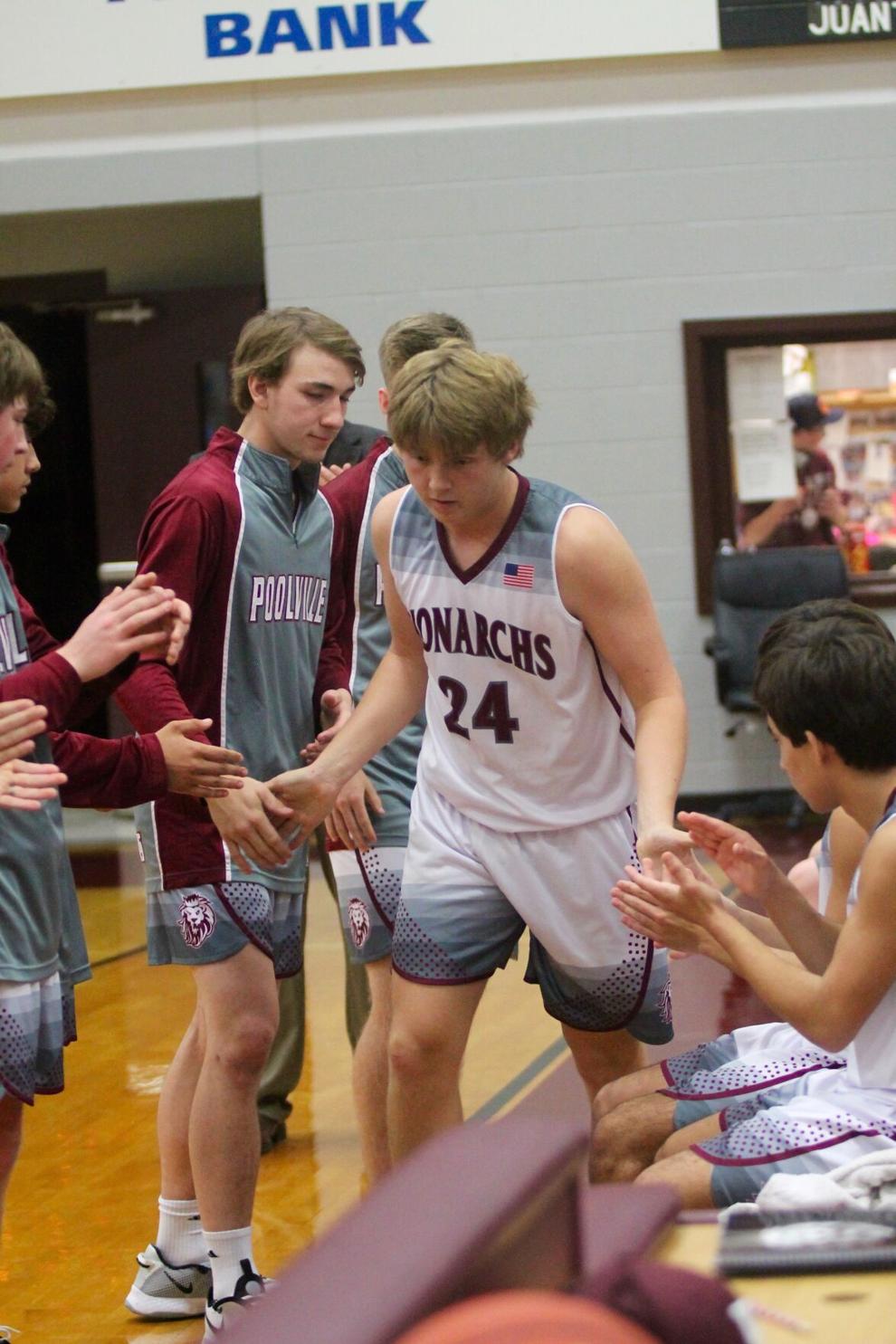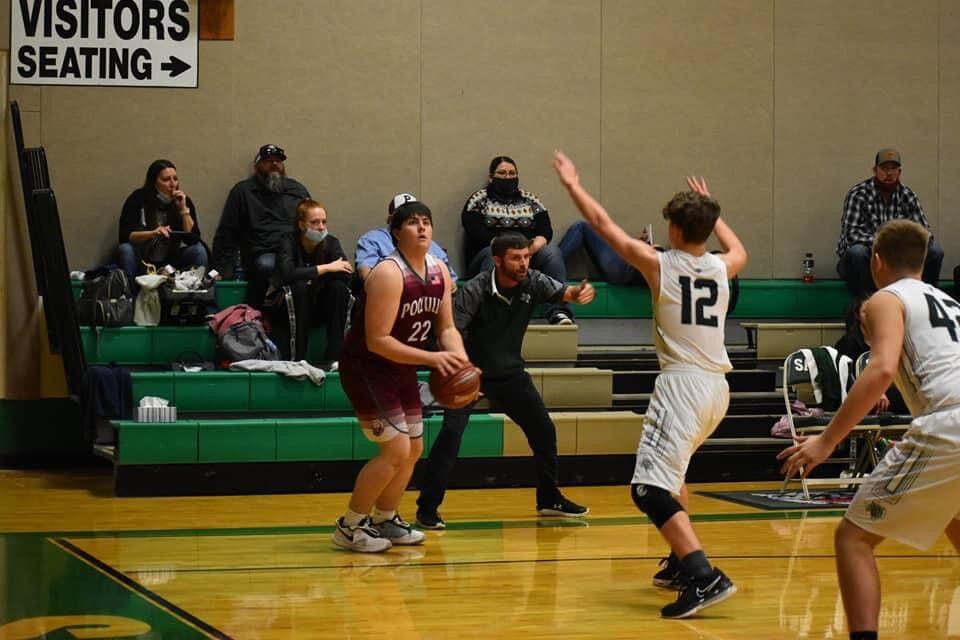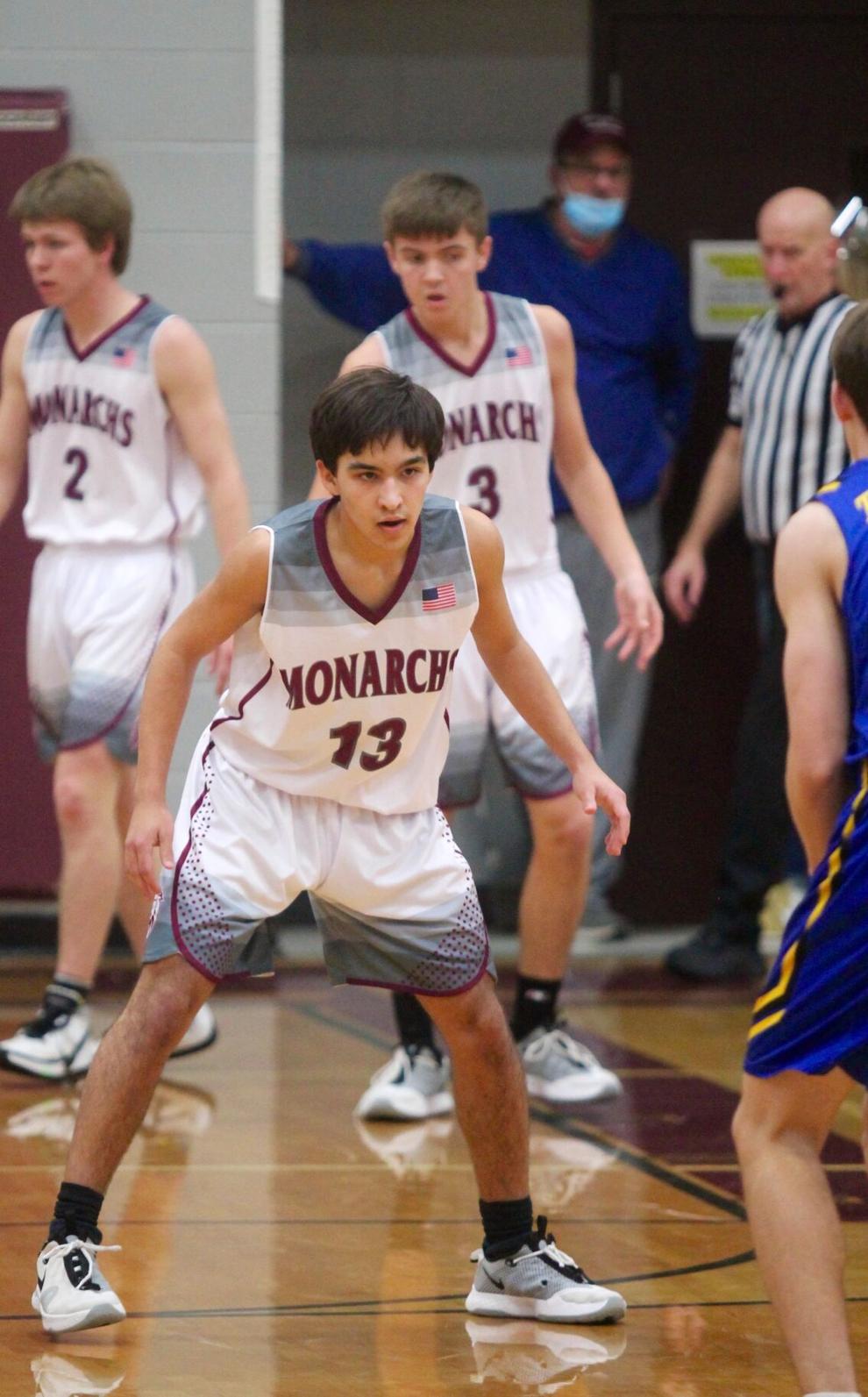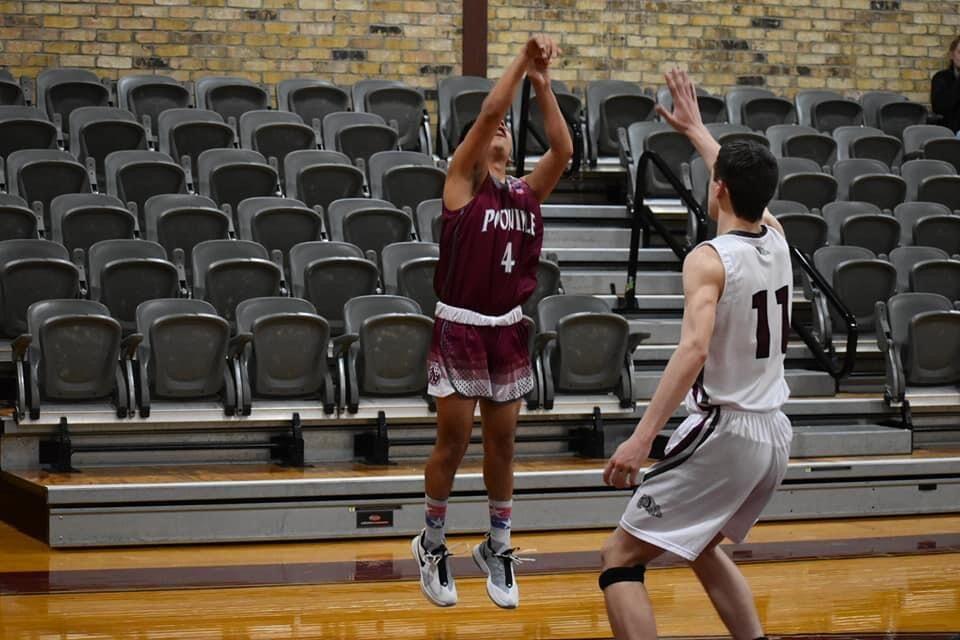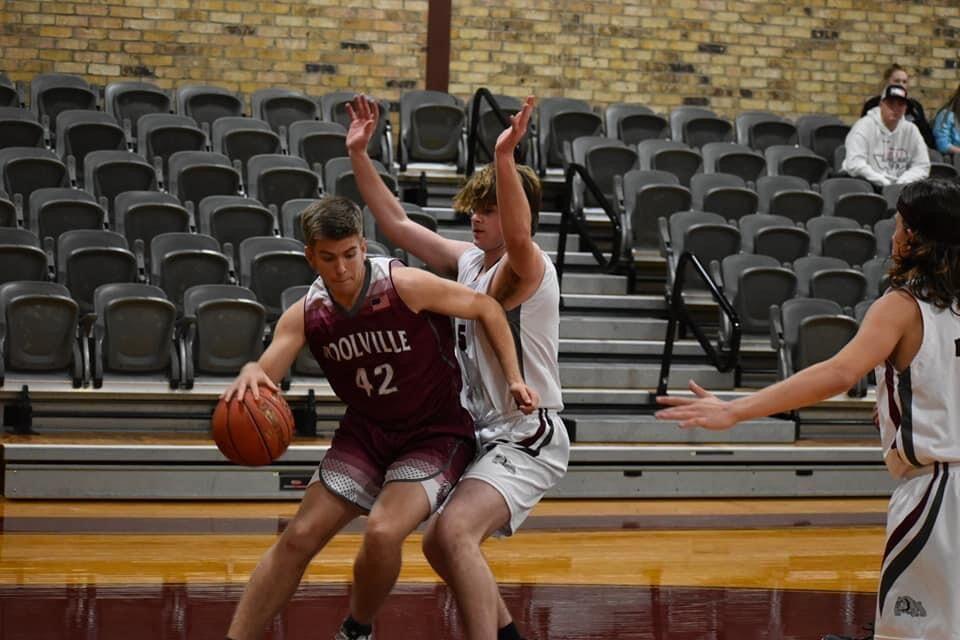 Poolville squared off against Cisco in the area championship game on Wednesday in Stephenville and came up one basket short. The score was neck-and-neck for the duration. Tied at halftime. Tied with under a minute to go.
Cisco sank a shot to go ahead by two points with four seconds remaining. Poolville inbounded and made a last-second shot from mid-court that would have provided a miraculous one-point victory if successful.
The shot missed.
Seven of the players — almost half of the team — are seniors who had been together for years and had set their sights on winning a state title before graduating. That bucket list item will never be checked off.
"They were upset," said Head Coach Steven Stegall. "We've got a lot of really good seniors that have put a lot of time into it. That was tough for those seniors to go out in a game that way. We had chances to win and just didn't get it done, and that's hard for them."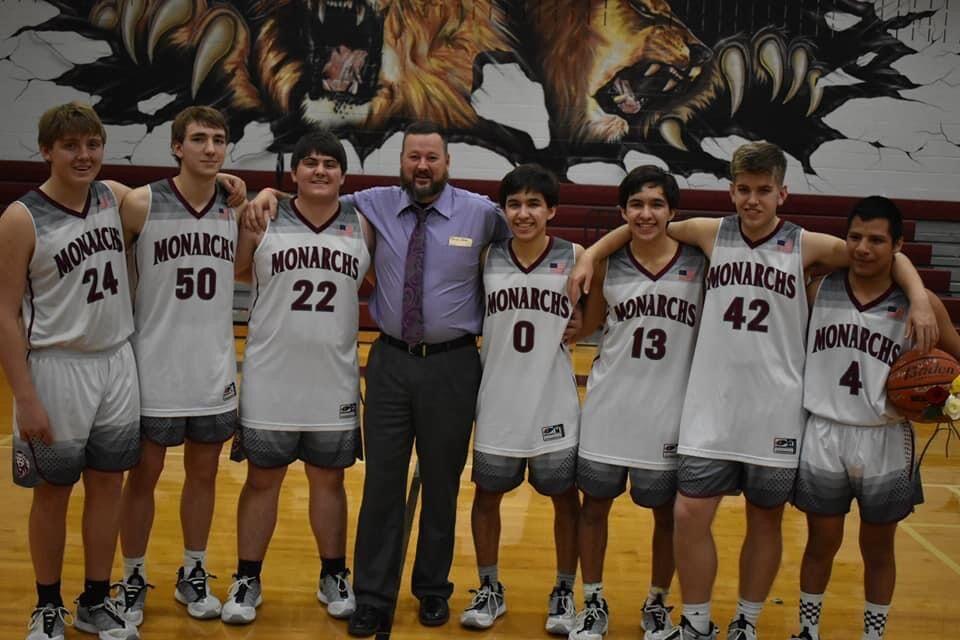 Poolville entered the tournament as a second seed, finishing with with an 8-3 record in 2A District 11. Cisco had won its district with an 11-1 record and is among the state's best teams.
"We played really well defensively to keep it close," Stegall said.
The team's seniors include Tanner Hamlin, Anthony Pesqueda, Chris Pesqueda, Juan Juantos, Cade Hines, Evan Lang and Wyatt Thomas. Though they will be leaving the high school soon, they won't be forgotten, Stegall said.
"They are just a really special group," he said. "I've been with them for 12 years. I've seen them all the way through Little Dribblers and junior high and now high school. They are very special, what they did for the school and the basketball program and for Poolville in general. They are the type of kids that you want to be the leaders of your school. Some day they will be the leaders out in their communities, wherever they are at. They are great kids and I just really appreciate everything they did for us."
Once they move on, the juniors and sophomores move up, and the cycle repeats itself.
"We always have a saying around here at Poolville that tradition never graduates," Stegall said. "Those guys coming up have seen it and know what's expected of them. They will fill in. Our program is not just based on a few kids, it's based on a whole bunch of kids."
Community Christian 56, Grace Academy 39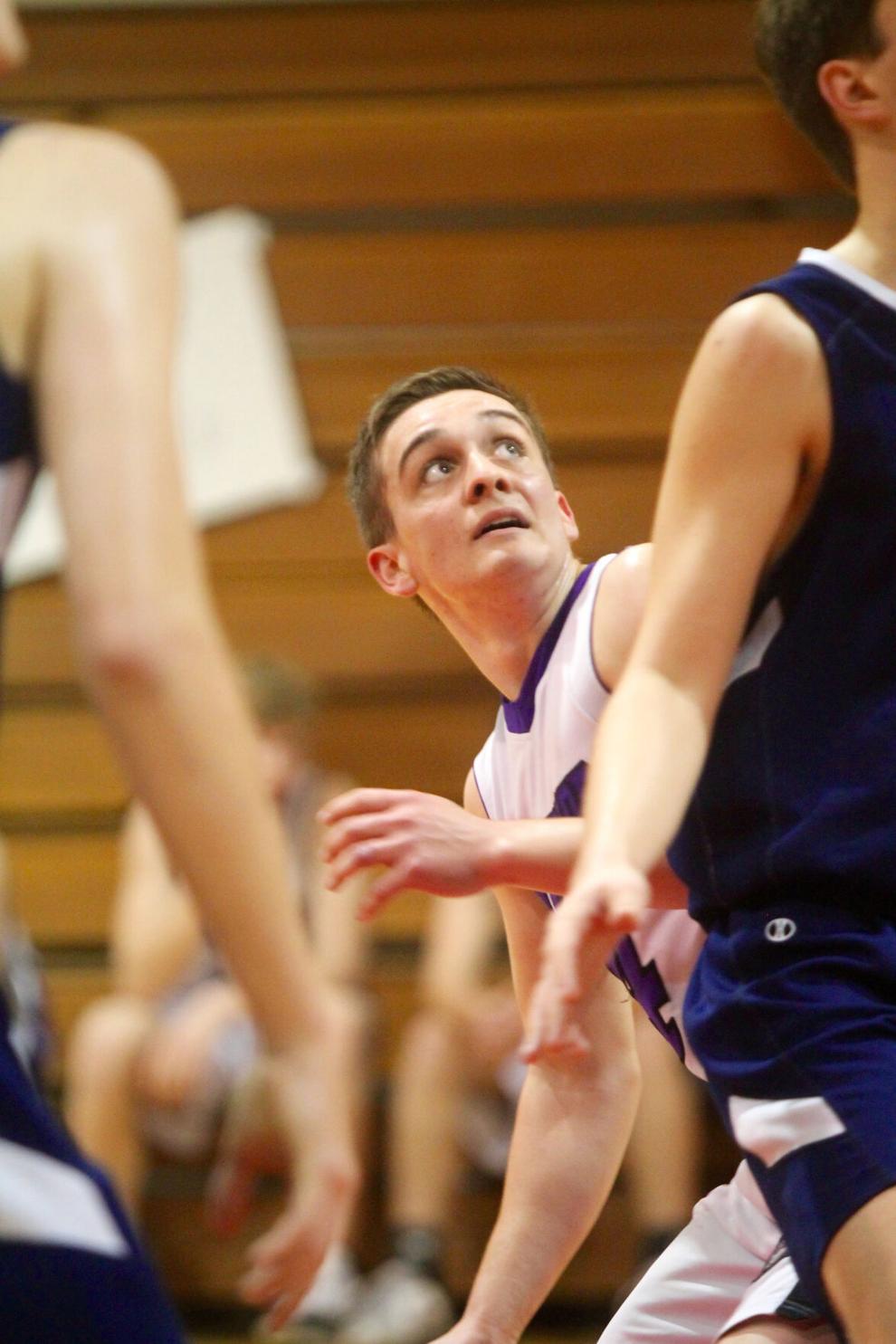 The Warriors opened their playoffs in the Texas Christian Athletic Fellowship (TCAF) state tournament on Tuesday in Mineral Wells by facing Grace, a team from Georgetown that finished third in its district with a 10-7 overall record.
The Warriors have been playing domineering ball for the second half of the season, going undefeated in district play and sporting a 22-7 overall record and starting out 8-7.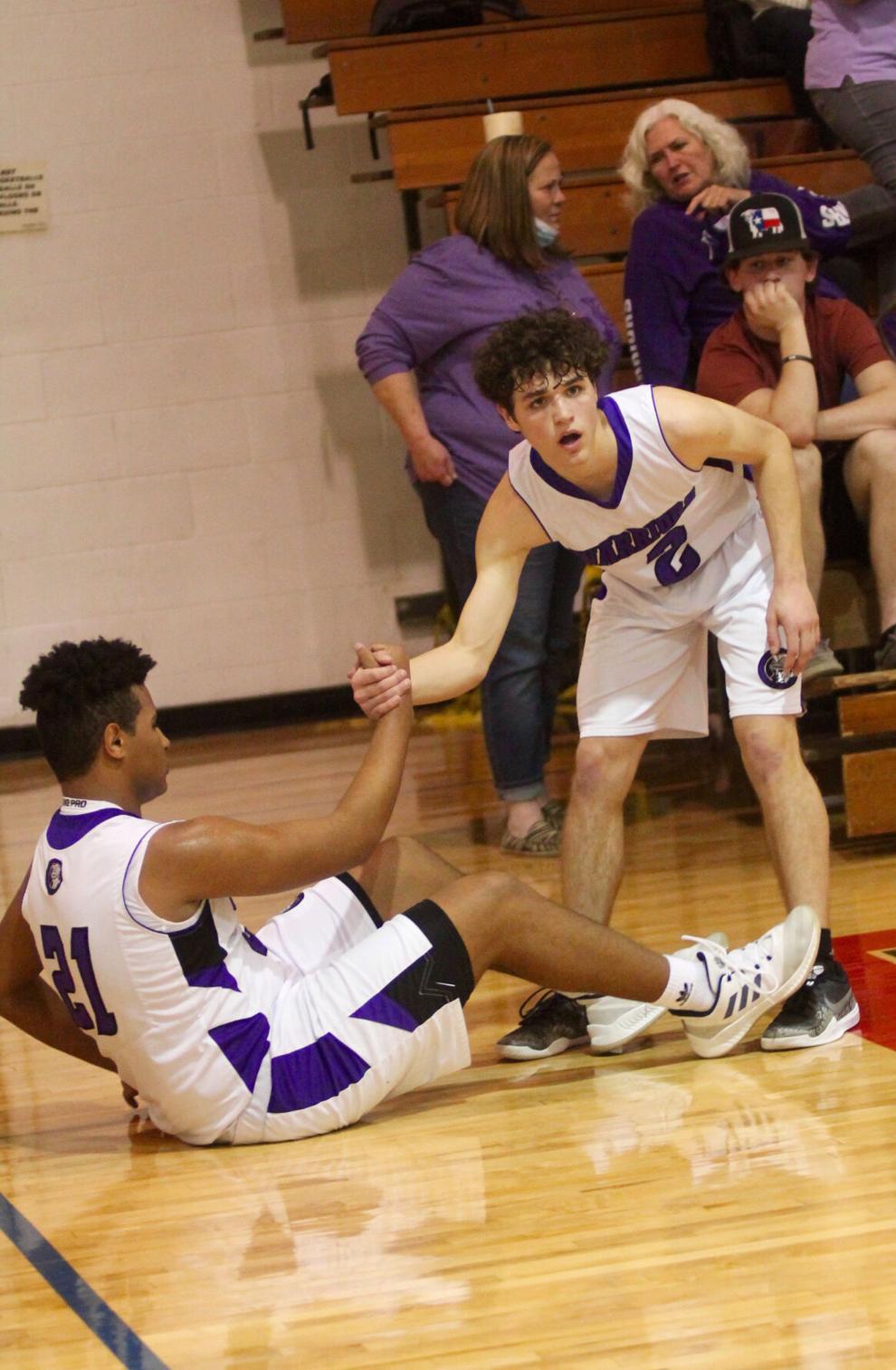 "We've hit our stride," Head Coach Brian Rodricks said before the game. "Our chemistry started clicking. We've changed our tempo. We're starting to push the ball a little bit more. Our intensity has gotten a lot better."
The Warriors were favored on Tuesday, but Grace didn't make things easy. Both teams rely on smothering defense.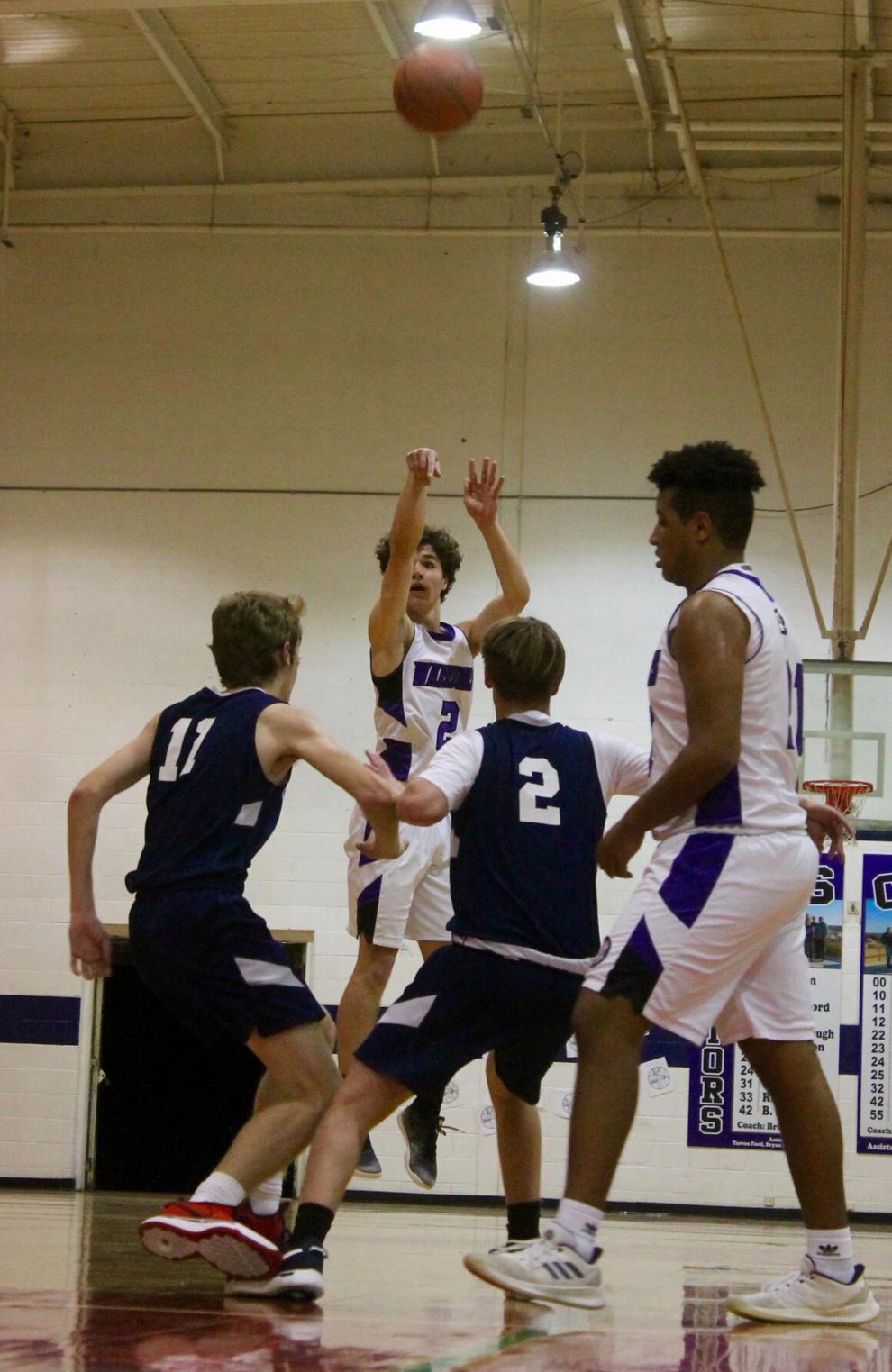 Community Christian got off to a quick lead before Grace fought back, tying the game at 14 apiece and even taking the lead for a brief moment. Losing the lead must have caught the Warriors' attention. They fought back, built a 31-23 lead by halftime and never came close to falling behind again.
Joshua Guzman powered the team, putting Community Christian within two games of a state championship. Guzman led the team in scoring with 25 points and added five rebounds, four assists, a steal and quite a few highlight reels for those videotaping the game.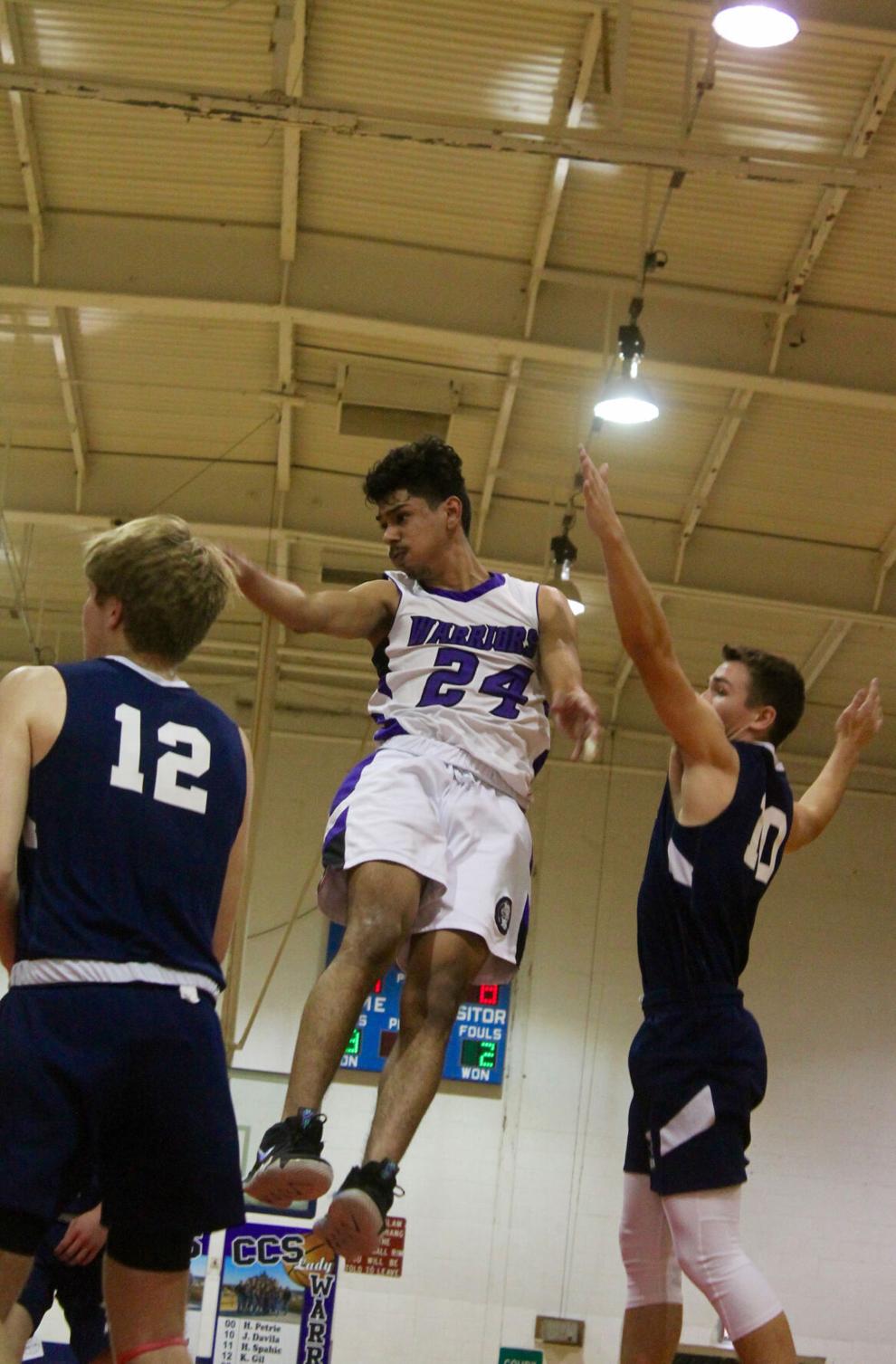 Jackson Horton scored 19 points, and Christian Crawford and Bryce Haralson scored six apiece.
The Warriors play next at 7 p.m. Friday with details to come.
Brock 47, Jim Ned 29
The Eagles won an area championship on Tuesday and move ahead to the quarterfinals.
Brock (26-3) plays at 6 p.m. Friday against City View (22-3) at Graham High School.
Graford 58, Miller Grove 49
The district champion Jackrabbits won an area championship by beating Miller Grove on Tuesday and is ready to go for a quarterfinals win.
Graford plays against Saint Jo (19-7) tonight. 
 Peaster 72, Ballinger 32
The Ballinger Bearcats might be feeling like they were run over by a bus on Monday night. In a way, they were — the big Greyhound machine from Peaster flattened the Bearcats in the area round of the state championship tournament.
This year's Greyhounds look a lot like last year's team that rolled over most everyone before falling just short of a state championship. All five starters returned as seniors, and sophomore Tramar Gilbert has been added to the mix as the first player off the bench.
The Greyhounds lost a conference grudge match with Brock in the last game of the regular season, but the loss appears to have inspired rather than deflated them. A subsequent ice storm gave them an entire week to think about the defeat and adjust.
"I always learn more from a loss than I do from a win," Peaster Head Coach Bubba Jennings. "I get a little bit more focused and try to get the kids a little bit more focused. Try to go back, regroup, get everything together, figure out why we lost and try to improve on those points."
The Greyhounds came back a week later and beat Bowie 67-44 on Saturday.
Peaster Athletic Director Gary McElroy is excited to see the basketball team playing so well in his first year at the school after a long coaching stint at Burleson High School.
"This is an exciting group," McElroy said. "Coach Jennings does a great job with these kids. We've got those five seniors that are battle tested. They've had their hand in the fire many times. Went down to the state tournament last year but came up a little bit short. Just a great bunch of kids that work hard and practice hard, good in the classroom, good in the community and love to play basketball. They set the bar high last year and they're working their tails off to achieve things that haven't been done around here in awhile."
McElroy praised Jennings' intelligence and intensity. Jennings is a Texas roundball legend, an All-State player in high school and a star player at Texas Tech University, where he led the Red Raiders in scoring in three of his four seasons. The Dallas Mavericks drafted him, but Jennings chose coaching instead and led Artesia High School in New Mexico to two state titles before returning to Tech and coaching as an assistant under Bobby Knight.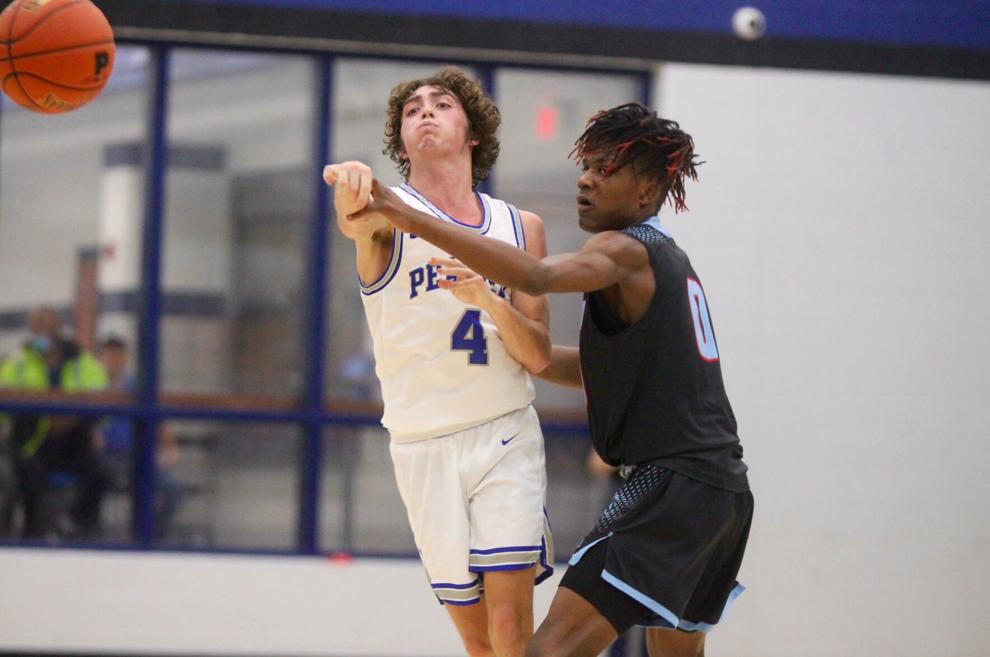 "He does a great job with the kids," McElroy said of Jennings. "Great Xs and Os. Great basketball mind. He can get them out of jams pretty easily."
Peaster's reputation means the Greyhounds won't be sneaking up on any opponents, McElroy said.
"Everybody in the state knows who Peaster is," he said. "They'll be waiting for us, but our kids are ready for the challenge."
Next up for Peaster (22-4) is Dublin at 7 p.m. Friday in Cisco for the regional quarter-finals.
GIRLS
Strawn 27, Huckabay 48
The Lady Greys' season came to a close with their loss to Huckabay on Wednesday.
Strawn won an area championship on Monday but couldn't get past Huckabay, a team that had beaten them twice in the regular season. Strawn finishes its season at 13-8.
Community Christian 105, Waco Methodist 4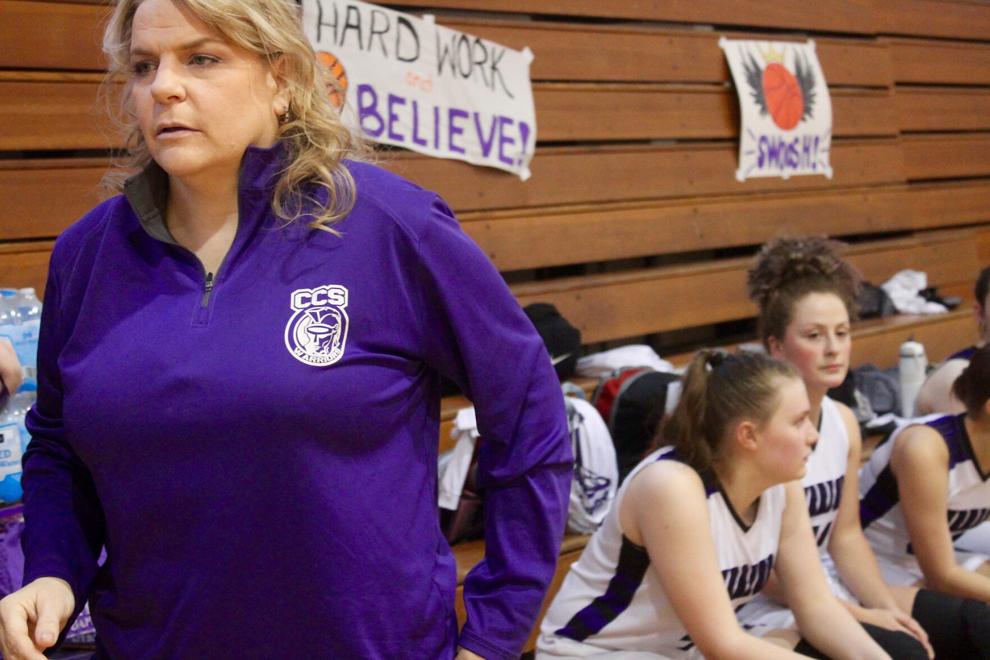 That's not a misprint. The Lady Warriors won by 101 points during a playoff romp in Mineral Wells on Tuesday. Every member of the Lady Warriors team played, and each scored points.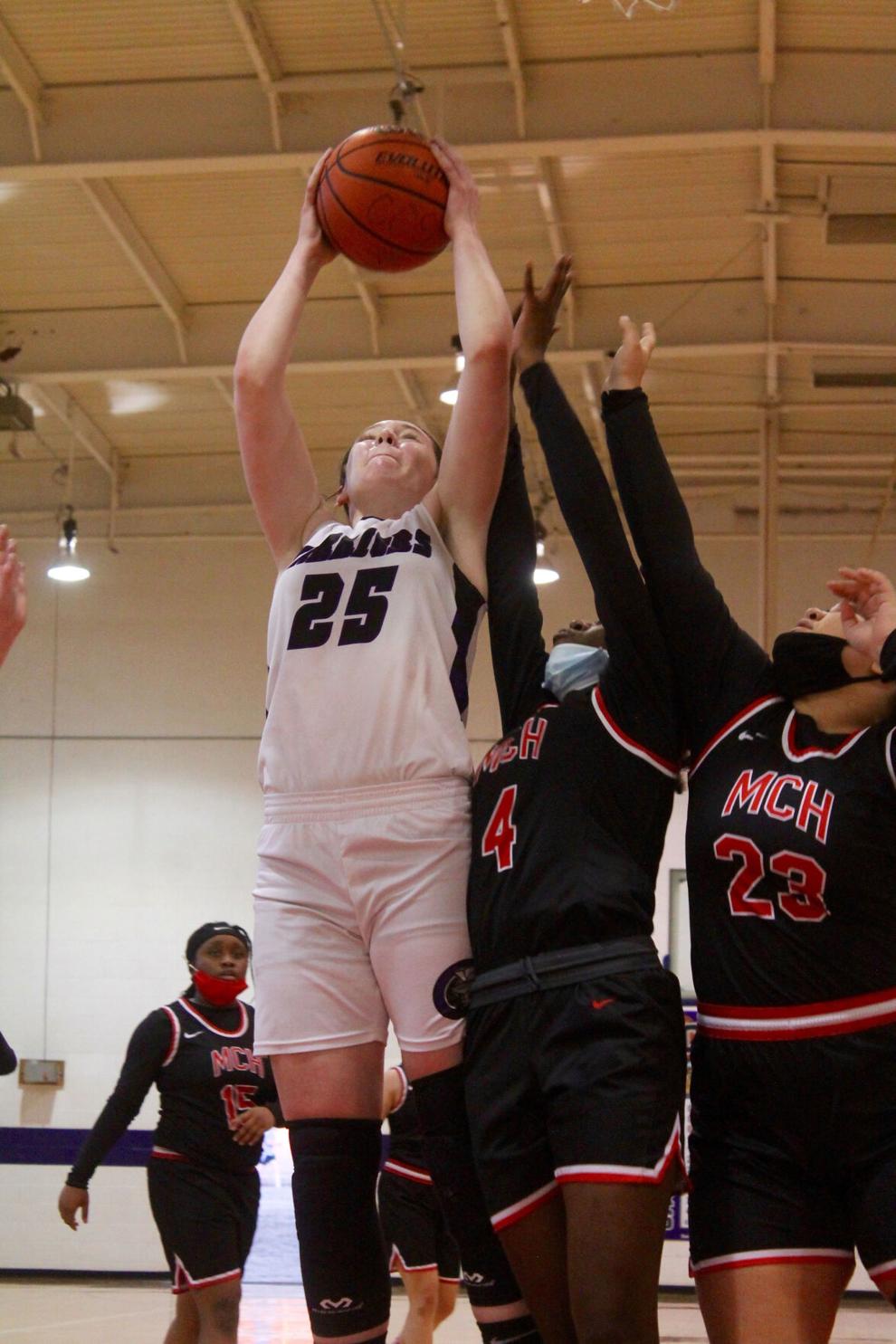 Community Christian's starting lineup looked smooth as silk — OK, sweaty red-faced silk — as they dismantled the Waco Methodist Lady Bulldogs for four straight quarters. 
Here's how it went: The Warriors won the opening tip-off, took the ball to their end of the court and made a basket. Then, by applying full-court defensive pressure, they would prevent the Waco girls from moving the ball toward their basket or, in many cases, inbounding the ball even. Instead, one of the Warriors would steal a pass or disrupt a dribble and go score.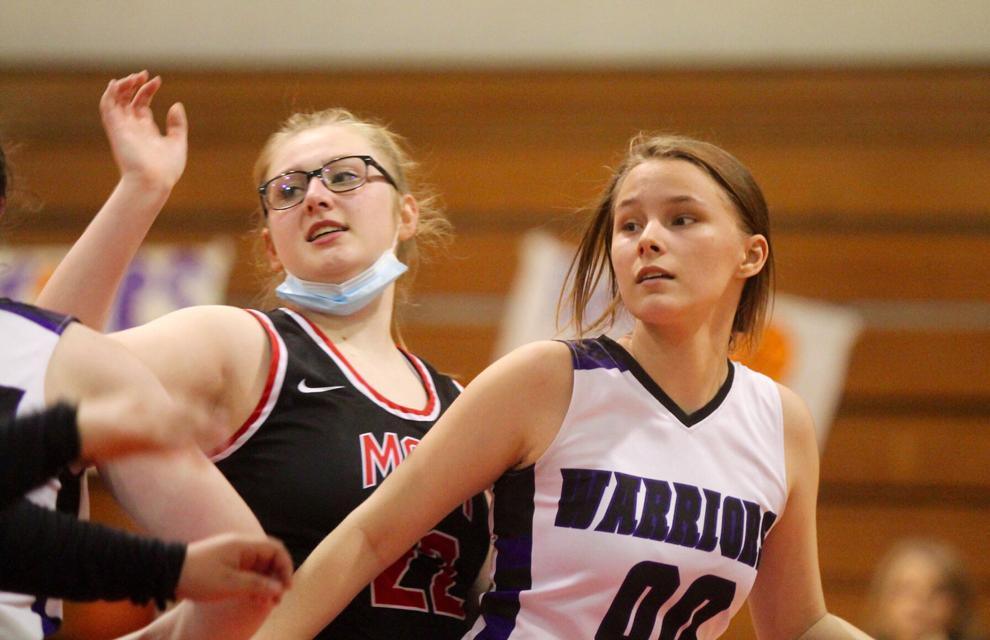 Community Christian led 9-0 before the first minute was gone. After the lead grew to 28-0, Coach Buchanan called off the full-court press and allowed Waco to move the ball to their end of the court. That didn't mean they could score. It meant the Warriors would steal the ball down there and run the full length of the court before scoring again.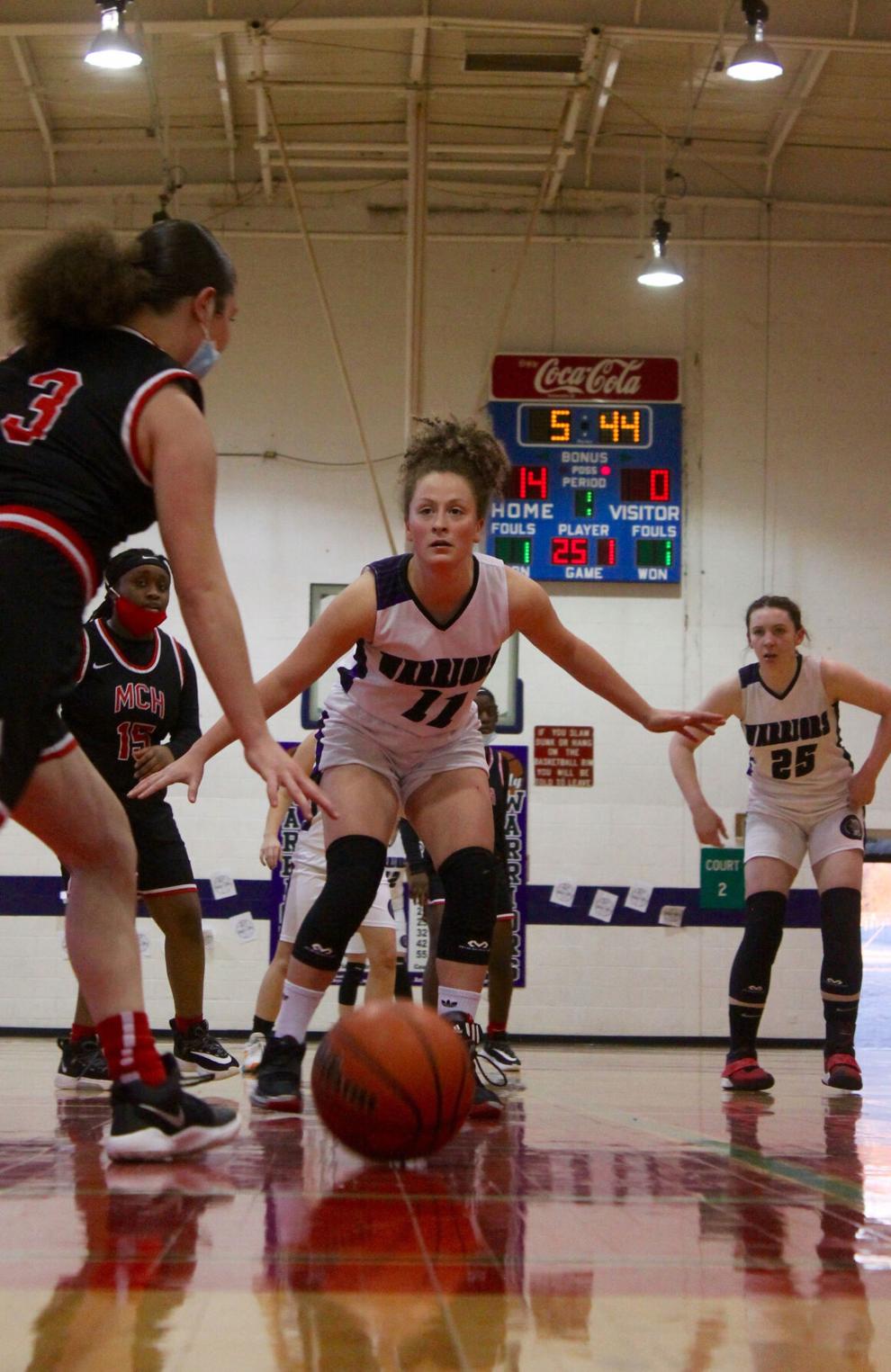 Midway through the second quarter, with the Warriors up 51-0, Waco scored a point on a free throw to make it 51-1. That lone point would remain until near the end of the game, when the Warriors were playing eighth and ninth graders, and the Bulldogs managed to find the basket again.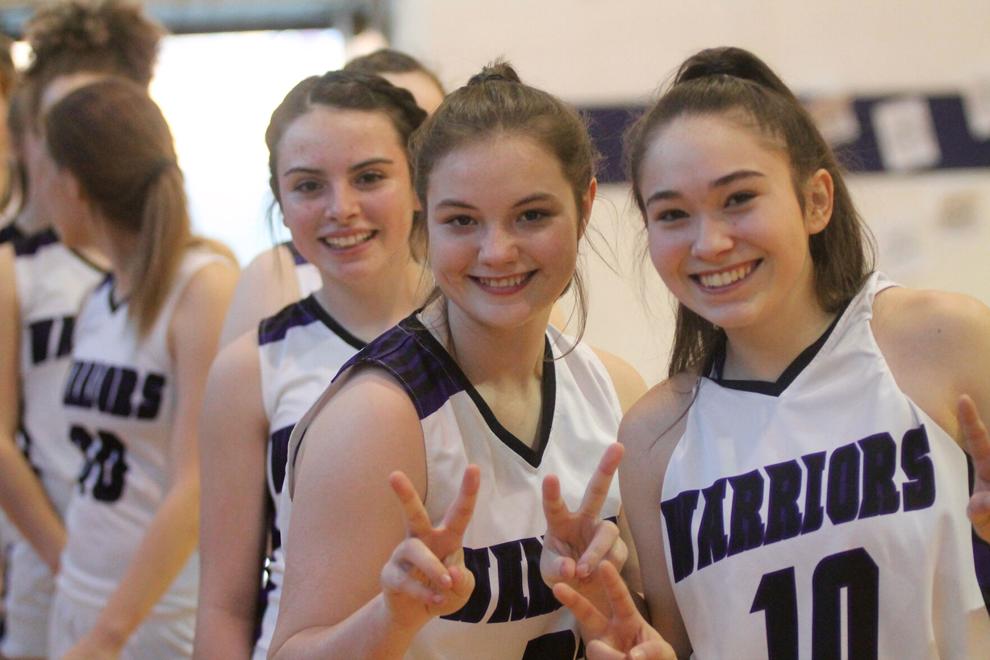 Warriors Head Coach Kayla Buchanan knows her team well. Here is how she described them before the game: "This is a team we've been building since my seniors were in eighth grade, a solid strong defensive team. They have a really good shot at going all the way to state and taking it this year. This is something they've been working toward for a while."
Two players who stand out are senior point guard Hena Spahic and senior center Elaina Buchanan, the coach's daughter. Spahic hails from Bosnia and is in her second year at Community Christian. She has averaged 20 points and six assists a game this season and was named district MVP. Elaina Buchanan averaged 15 points, 15 rebounds and a half-dozen steals and was named the district's Defensive MVP.
She and starting guard Halee Petrie have played together since kindergarten in Mineral Wells and since junior high at Community Christian, and they've developed a strong rapport on the court.
Coach Buchanan has three daughters on the team, and Kate Buchanan has cracked the starting lineup as a sophomore. She averages 10 rebounds a game and nine points a game. (Olivia Buchanan is an eighth grader on the varsity roster.)
The defensive-minded Jersey Davila, a junior who starts at guard, won Newcomer of the Year by averaging six steals a game.
"They're a lot of fun to watch," Coach Buchanan said.
Spahic and Elaina Buchanan want to play college ball and are considering schools currently.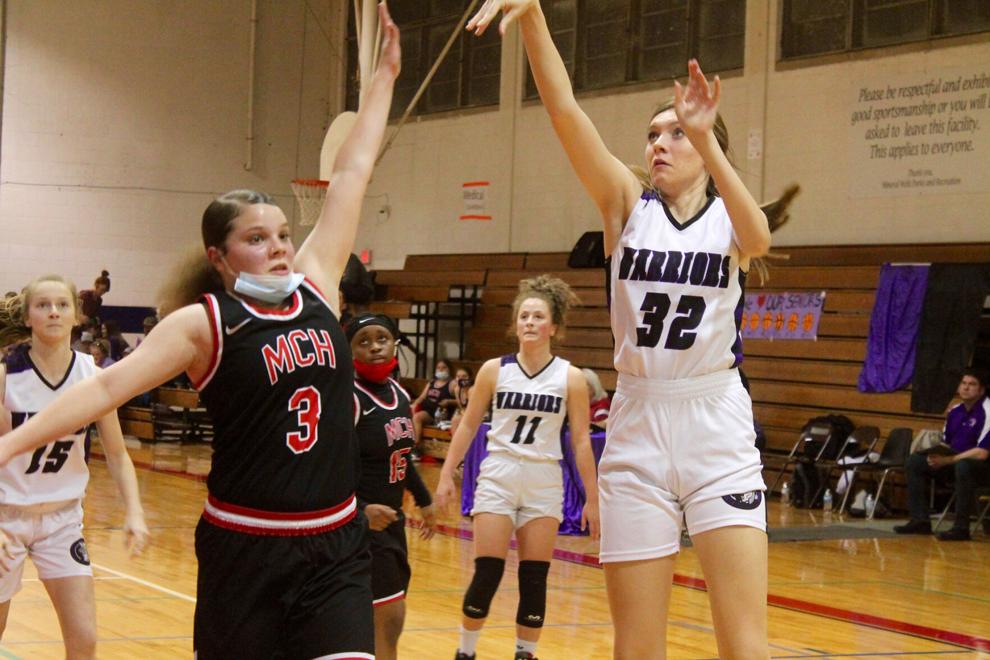 How good are the girls and the team?
Community Christian is tiny with an enrollment of about 30 kids ranging from eighth to 12th grades. They'd be considered 1A if they played in the University Interscholastic League. Still, the Lady Warriors faced and conquered larger schools during the non-district part of their schedule.
"We've got a good team," the coach said. "They've proven themselves a lot."
Only four of the team's 13 players are seniors, meaning much of this tough team will remain intact for a while. With so few schools in the TCAF division, the tournament is shortened. Only three playoff wins are needed to earn a state title, compared to six in most UIL leagues.
Peaster 88, Coahoma 56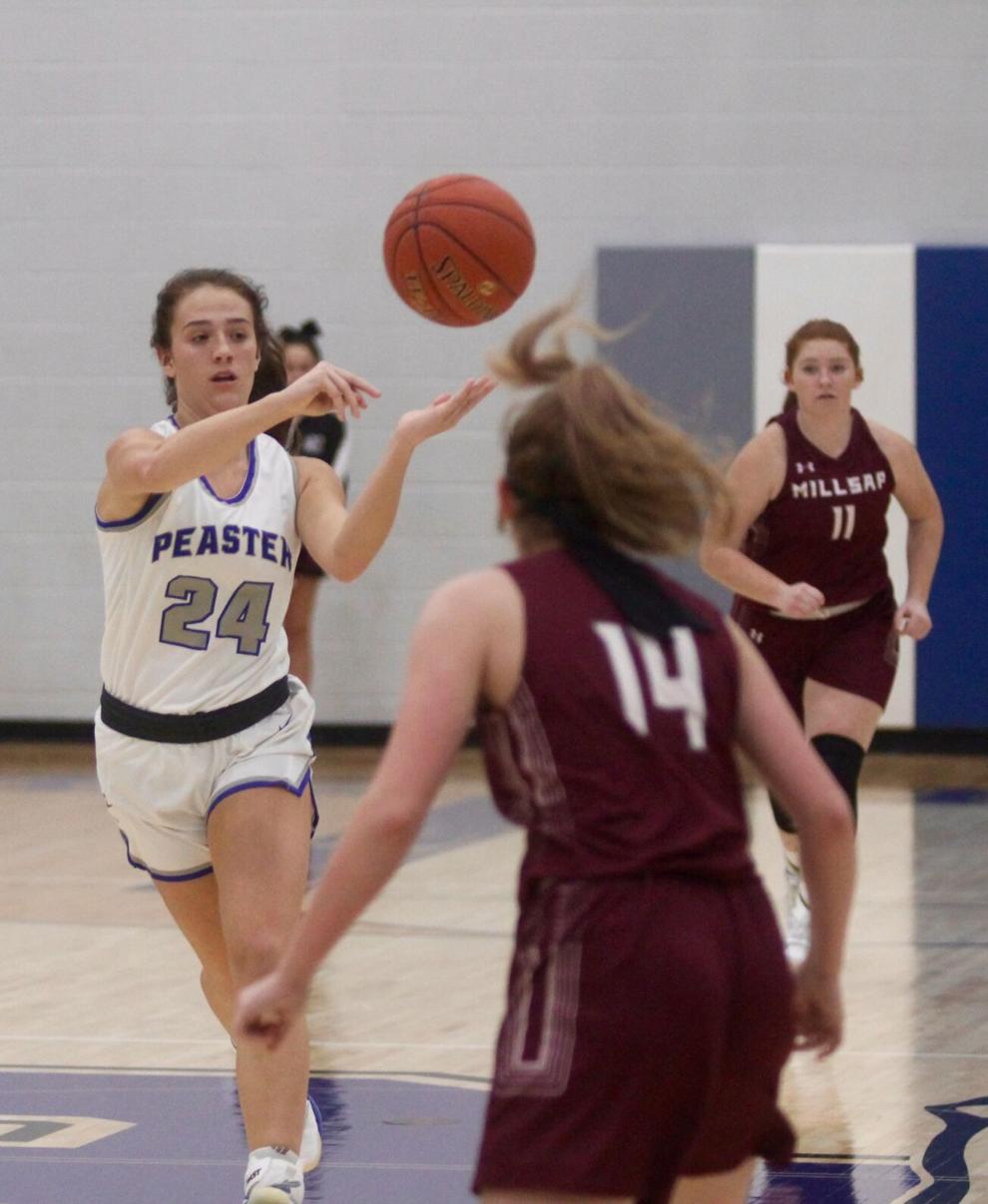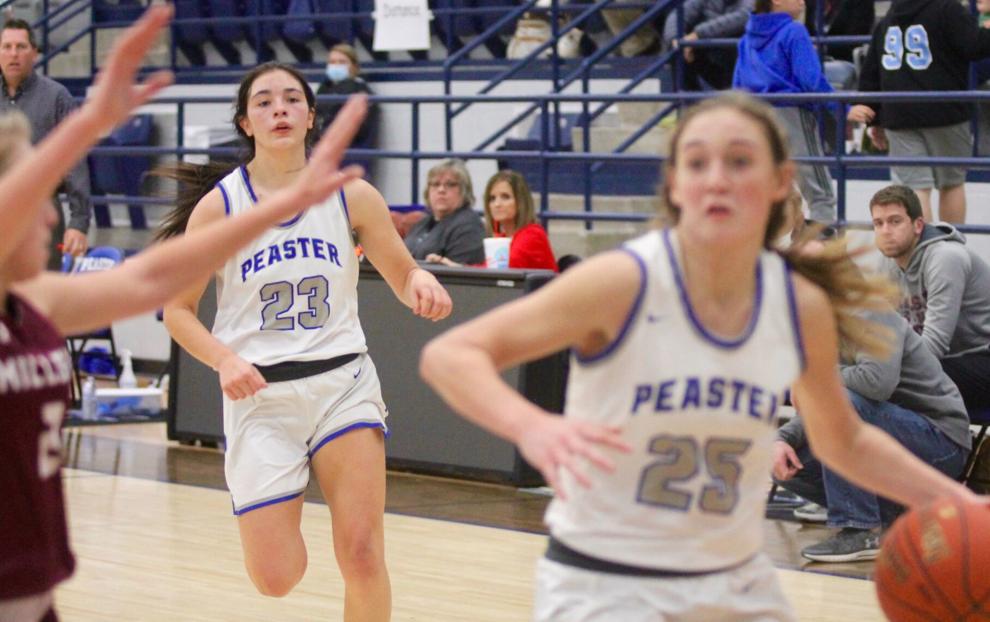 The Lady Greys out-muscled and hustled Coahoma on Monday to win an area championship. Peaster grabbed 38 rebounds and 21 steals to keep Coahoma on its heels.
Payton Hull, Brooklyn Bosher and Miranda Smith knocked down three-pointers and provided strong defense along with Landry Robertson and others.
For the quarterfinals, Peaster (25-4) will play the winner of the Nocona and Wall game being held tonight.
Graford 32, Sulphur Bluff 49
The Lady Rabbits took a slim lead into halftime but couldn't stay on top during the second half. The loss ended Graford's season with a 16-8 overall record and a bi-district title in 1A District 21.
Strawn 68, Richland Springs 58
Strawn won an area championship on Monday by knocking off Richland Springs and faces — gulp! — Huckaby next. The Lady Rabbits played Huckabay in mid-December in a non-district game and were blown out 36-71. The two teams met for a rematch in mid-January, and Strawn lost again, although by a much more respectable score: 48-50.
Will Strawn avenge those earlier losses and keep moving ahead in the playoffs? Will Huckabay beat Strawn three times in a row? 
Strawn (13-8) plays Huckabay (17-2) at 6 p.m. Wednesday at Eastland.