For many years, Max Adair, Kaben Skold and Hudson Stark harbored dreams of pitching so well in high school that they'd catch the eyes and offers of college recruiters. None of the three made varsity as freshmen or sophomores — most players don't at 6A schools — and would rely on their junior and senior seasons to nab attention.
Then, a once-in-a-century pandemic came along to shut down the 2020 season. A year later, COVID-19 was still creating havoc and there were no guarantees the 2021 season would happen.
Setbacks such as these can derail a kid or inspire him to appreciate what he had lost and to work harder to reattain it.
For Stark, he was derailed momentarily but inspired longterm.
"It threw me back a little bit," he said of the lost season. "I went down in my potential for a little bit."
He had transferred from Aledo to Weatherford in the eighth grade and grown to love his school and coaches, particularly Jason Lee, the head baseball coach. COVID made it hard to find scholarship offers and, for a while, Stark allowed the shutdown to weigh heavily on his mind.
During the summer of 2020, however, the "love came back, and I really started grinding," he said.
He wanted his senior year to be memorable and worked out at the school's weight room, doing specific exercises to strengthen his throwing arm. He developed a slider to add to his arsenal of pitches and, when the season rolled around, enjoyed success on the field.
He became proactive in publicizing his availability.
"I got myself out there doing showcases in front of colleges so they got to see what I can do," he said.
This week, Stark signed a letter of intent to play baseball at East Central College in Union, Missouri. He hopes to play baseball for two years there before grabbing the attention of a Division I school.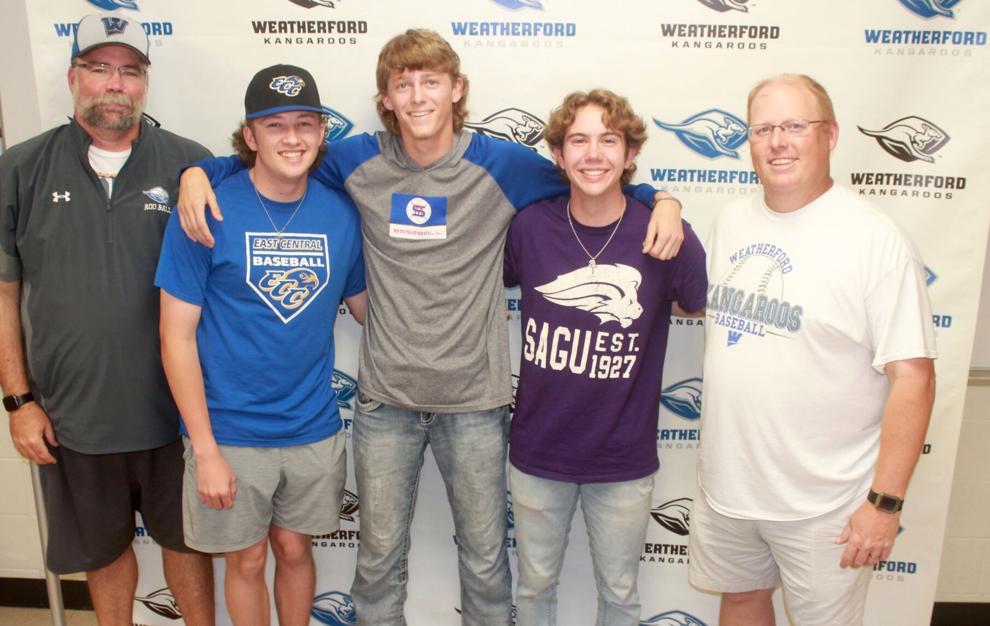 "The next two years, my mind is going to be baseball," he said. "I'm hoping I can grow and become a little stronger and maybe go to a bigger  college."
Adair, too, is heading out of state but not quite so far. He will attend Murray State College in Tishomingo, Oklahoma.
"It's a small town," he said. "Kind of country. Nothing really to do up there. Just land and the campus. It kind of felt like Weatherford. Kind of felt like home."
Adair could be considered the Kangaroos' top comedian, quick to crack jokes and to prank teammates and coaches. He's also a world-class heckler, peppering opponents with good-natured barbs throughout most games.
Adair will continue his pitching career and good times for as long as he can.
"I've always had a dream to play college ball — and as far as I can play," he said, alluding to even bigger dreams of reaching the bigs one day.
Missing out on his junior year hurt his prospects but put a chip on his shoulder that he relied on for inspiration while preparing for his senior year. Still, he wasn't sure the pandemic would end in time.
"It was really tough," Blair said. "It was hard to face the fact I was going to miss out on the biggest season in your high school career. I had played baseball my whole life. For it to be gone didn't feel right."
He decided to train as if his senior season would be played in full, which is what happened.
"I got really into it," he said. "Started a fire. Pitching. Throwing harder than I've ever thrown. Busting it. Trying to prove I can pitch at the next level. Working out more. Doing weighted balls, bands, everything. Just doubled down and made sure I was ready to come out and show whenever I got the opportunity."
A year later, his senior year is in the books, and he's headed to college. The rough times created solid connections and a sense of accomplishment.
"It was a lot of fun," Adair said. "I got to make a lot of good memories joking around with the coaches, having a relationship with the team, finding out who I want with me throughout my life. Not just, 'Oh, they're my friends in high school.' I found some true friends that are going to be in my life for awhile."
The Kangaroo roster was thick with talented pitchers this year, and Skold was one of the best. He signed his intention to attend school and play baseball at Southwest Assemblies of God University University in Waxahachie.
"It's close to home so I can help my mom and family," he said. "It was a good offer. I can do what I love there."
Skold grew up with his mom and two sisters, including Morgan, who stars on the Lady Roos softball team. The college is a little more than an hour's drive from his hometown.
"It will be nice to stay close to home," he said. "I'm a momma's boy for sure."
When asked how he enjoyed his four years of high school, Skold responded without hesitation.
"It was fantastic — all four years," he said.
Huh? What about COVID? The lost season? The uncertainty?
Skold lost much of his sophomore season to injury. The pandemic took his junior year. Overcoming obstacles requires having them to begin with. He faced those that came along and didn't duck, dodge or complain. He wore a mask, social distanced and kept himself in shape.
"When my senior year came around, I really had to show out, and I did," he said. "I pitched some of the best games I'd ever pitched before. It was a lot of fun making memories."
Those memories have put him in position to continue fueling his ambitions.
"I know the talent I have and the hard work I've put into baseball for the last 13 years," he said. "I wasn't going to give up my dream of playing college baseball."
After the three players had signed their letters, their head coach spoke to a gathering of families, friends and teammates. Jason Lee saw firsthand COVID's impact on the team and how players had to become self-motivated and rely on work ethic to thrive.
"It was definitely hard on them," the coach said. "We lost time to develop during the season. With all the restrictions, we couldn't do some of the things we had always done. I give it to these kids. They came out and worked hard. No matter what the situation was or what arose, they rolled with the punches and kept getting after it."
Three three players join Landon Ellington, who signed to attend TCU earlier this year, as the 2021 Kangaroos who will go on to pitch at college. Lee said he was proud to be a part of the season and their lives.
"I hope you have the best success at the college level and go on and have your career," he told the players. "And just remember — you are always a Kangaroo."