It's a measure of a team's strength when its head coach is concerned after a 66-7 win.
Coach Chad Worrell expressed happiness that his team was 2-0 while standing near the end zone at Eagle Stadium after whipping Nevada Community. He didn't seem all that happy, though.
The Eagles have scored 121 points and allowed only 14 in the first two weeks of the season, but the offense has been prone to turnovers. The Eagles fumbled four times on Friday. 
"That is two weeks in a row we've had the turnovers," Worrell said. "It's something we're going to have to continue to work on."
He will have a long week to drive home his point — the Eagles take a bye this Friday before taking the field again on Friday, September 18 at Iowa Park.
This week, his players can expect to go through drills designed to keep the ball in their hands and their minds in the game.
"We're going to focus on trying to clean up the penalties and turnovers," the coach said. "Practice and precision — work on our ball handling drills and really stress that and put emphasis on it and put them in situations where they're tired and having to hold on to the football."
Fixing those problems was foremost on Worrell's mind when asked about the upcoming game with a powerful Iowa Park.
"I haven't even looked at them yet," he said.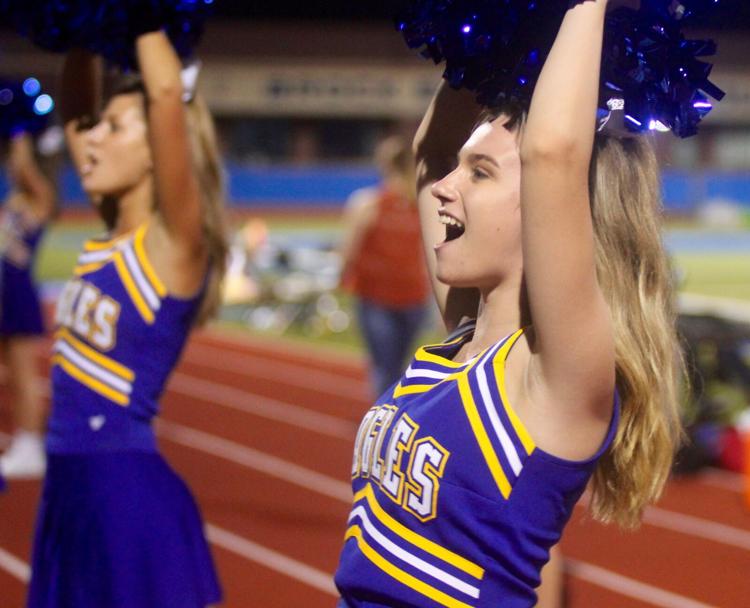 Brock's miscues have been noted by others as well. This week, the Eagles' ranking in Texas Division 3A-1, according to MaxPreps, dropped to No. 3 after topping the list early in the season. (Pottsboro is No. 1 currently followed by Grandview.)
The Eagles aren't exactly biting their fingernails with worry. The team displayed swagger in front of its home crown on Friday, led by a stingy defense that disrupted the opposing offense on a regular basis. Against Community, the only scoring during the first quarter was a Brock safety, which made for an unlikely looking scoreboard at a typically high-flying Eagles game: 2-0.
"We started off really sloppy," Worrell said.
The Community Braves coaches, coming off a first week loss, had tinkered with its scheme to catch the Eagles off guard.
"They came out and gave us a different defensive look, and we didn't adjust to it — it took us a couple of series," Worrell said.
In the first quarter, the Eagles offense punted on its first possession, fumbled on its second and turned the ball over on downs on its third. The sloppiness was a reminder of the previous week, when Brock dominated Bushland 55-7 despite some uncharacteristic penalties and turnovers.
Brock's defense, however, corralled Community from the start, forcing a fumble, notching a safety (its first of two safeties for the evening) and intercepting a pass in the first 12 minutes.
In the second quarter, Brock's offense stumbled again, fumbling on its first possession to continue its woes. Then, running back Cash Jones started to break long runs, which opened up the passing game, and the Eagles began to uncork its weapons.
"We had some penalties there in the first half, but once we got to rolling, I thought we played really well," Worrell said.
The Eagles appeared well on their way to another shutout, leading 46-0 midway through the third quarter. The defense, led by senior defensive end Brett Drillette and senior middle linebacker Carson Carte, had been containing Community's offense all night when quarterback Paul Testa rolled right and heaved an 80-yard touchdown pass to Jonathon Norris.
Worrell didn't appear too concerned after the game.
"We gave up the long pass, but that quarterback made a heck of a throw," he said.
Afterward, it was crickets for the Community offense and Mardi Gras times 10 for the Eagles.
With the bye week, the Eagles coach sees an opportunity to fine-tune the troops.
"I'm happy to be 2-0, happy the way things have gone, but we still have a lot of early season mistakes we need to clean up as we get toward district," Worrell said.
While the Eagles take a week off, other teams in Parker and Palo Pinto counties are preparing for games on Friday night.
Springtown vs Waco Connally
The Springtown Porcupines face a 1-1 team coming off a close loss to La Vega on Friday, a team surely fired up to get back to its winning ways. The victor in this game will boast a winning record while the loser falls to 1-2.
Head coach Brian Hulett said he feels good about his team moving forward.
"We have a long way to go to get where we need to be, but we are better than we were last week, and that's what we are looking for," he said.
On Friday against Graham, Springtown dug down deep to prevail over long odds. The team didn't want to begin the season with consecutive losses and a 0-2 record, and that sense of urgency helped spur them to a 19-14 win. The Pines were missing some crucial players due to injury, so the chances appeared slim. After falling behind to Graham in the first quarter, however, the Pines offense scored 19 unanswered points in the second and third quarters and hung on until the end.
Hulett expressed a feeling of pride for his team after the victory, though "less about the win, more about their heart and effort," he said.
Springtown takes on Connally at 7 p.m. Friday in Waco.
Mineral Wells vs Venus
Neither team has won a game this season and both the Rams and Bulldogs will be eager to do so on Friday. Which team will prevail? That's the question Rams fans want answered on Friday when Mineral Wells plays its third consecutive home game of the season.
So far, home field advantage has been missing its magic.
Mineral Wells debuted a high-scoring offense in Week One that tallied 40 points but fell to an experienced Boyd bunch. On Friday against Godley, the Rams hoped to improve on that showing. Instead, the Rams offense scored half as many points, and the team dropped to 0-2.
It's tough to notch a victory when your defense gives up more than 60 points as they did at home against the Yellowjackets in the season opener and again against Godley.
Mineral Wells battles Venus at 7:30 p.m. Friday at Ram Stadium.
Millsap vs DeLeon
The Millsap Bulldogs are undefeated after two weeks of relying on heads-up defensive play to buy time for its offense to find its legs. Next up is an 0-2 DeLeon team with two dismal showings so far this season: a Week One loss to Dublin by a score of 33-7 followed by a 55-7 loss to Windthorst on Friday.
Don't let the losses be deceiving.
"DeLeon is going to be tough, physical game," said Tim Holloway, assistant coach at Millsap. "They have some big kids, and we know they're gonna be ready for us. We just have to have a good week of practice and execute what we do."
The Bulldogs are trending in the right direction. Millsap's offense continued to roll on Friday, scoring 37 points against Henrietta a week after putting up 54 against Bruceville-Eddy.
"Our defense played really well," Holloway said. "Henrietta was a tough team, and they made some plays, but our defense always stepped up when it mattered."
The offense started slowly but "we just kept grinding and kept believing," he said.
Millsap plays an away game at 7 p.m. Friday against DeLeon.
Peaster vs Collinsville
Peaster will be a playing a close facsimile of itself in the Collinsville Pirates. Both teams are 2-0 this season. Peaster's offense has scored 76 points in two games compared to Collinsville's 70. Both teams would be thrilled to start their season at 3-0.
Peaster appears to have a better defense, and that might be the pivotal difference against the Pirates. Collinsville's defensive squad has given up 62 points so far compared to Peaster's 23. Peaster's defense boasted a shutout in Week One against Venus and relinquished 23 to Alvord last Friday.
Peaster coach Gary McElroy praised his team after the Alvord game for remaining cool under pressure.
"Our team fought really hard to overcome a lot of adversity early," McElroy said. "Two turnovers in the first quarter put us in a hole quickly. However our players never panicked. They just kept playing hard, shook it off and dug themselves out from behind to remain undefeated."
The Peaster Greyhounds applied steady pressure on the Alvord Bulldogs on Friday night, spreading out six touchdowns over four quarters and controlling the game from start to finish. Quarterback Gunner McElroy relied on legs — his and running back Tramar Gilbert's — to post 228 total rushing yards. Gilbert found paydirt five times. The ground game helped overcome a tough passing night for McElroy, who threw two interceptions and no touchdowns but logged 90 yards in passing yards. Receivers Hank Morris, Jayden Canafax and Zane O'Donnell caught passes but couldn't find the end zone. Peaster is enjoying its first season of UIL 11-man football competition and doing better than many predicted.
Next up, the Greyhounds play a home game at 7:30 p.m. Frida against Collinsville.
Strawn vs Bryson
The 1-1 Strawn Greyhounds hit the road to face the 1-1 Bryson Cowboys on Friday. Strawn kicked off the season slowly with 36-48 loss to White Deer but gained momentum last week after thumping Brookesmith 64-37.
Strawn plays the Cowboys at 7:30 p.m. Friday at Bryson.
Perrin-Whitt vs Community Christian Mineral Wells
The Perrin-Whitt Pirates are a 1-1 team coming off a drubbing last week — a 20-65 loss to Jonesboro. The Community Christian Warriors, too, are looking to rebound after losing by a score of 58-6 to Stephenville FAITH last week and dropping to 0-2.
Both teams will be seeking a resurrection this week. Only one will prevail.
Perrin-Whitt plays Community Christian at 7 p.m. Friday in Mineral Wells.
Gordon vs Baird
The 1-1 Gordon Longhorns are feeling frisky after last Friday's 64-28 win over Newcastle and look to carry that momentum into this week's six-man matchup with a reeling Baird. The Bears have been blown out of both of its games this season, losing 58-20 last week to Hermleigh and 58-12 the week before to Crowell.
Gordon appears to have found steadier footing after its season-opener loss to O'Donnell
Gordon battles Baird at 7:30 p.m. Friday at home.