For the past three years, Peaster has been home to a Texas basketball legend. Head Coach Bubba Jennings was a fiery, impassioned player when he was winning all-state honors in high school and leading the Texas Tech Red Raiders in scoring for three seasons. The Dallas Mavericks drafted him in 1985, but Jennings played overseas before gravitating to coaching. He coached at a couple of high schools and won a couple of state titles before spending 11 years as an assistant coach alongside Head Coach Bobby Knight at Tech.
Three years ago, Jennings made his return to head coaching at Peaster and recalls still his first game on the sidelines during that preseason. His team's shooting guard — a lanky, quiet, red-headed kid named Braxton Bosher — scored 45 points against Krum.
In the second game, Bosher scored 38 before the third quarter had ended.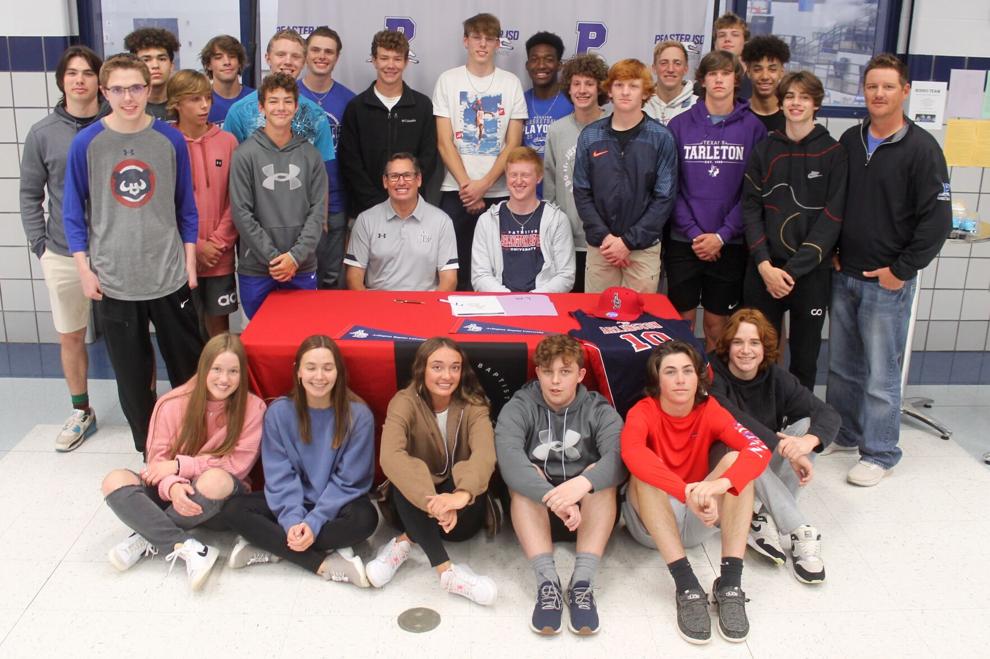 Jennings knew he had a special player.
"I told him at that time, 'Braxton, there will never be another time when you are not the total focus of the defense,'" Jennings said. "He continued to work, and he continued get better. Not only was he a very good scorer, but he could distribute the ball, as well. He worked very hard developing his game and spent hours every day on his own learning how to play basketball and develop his skills."
Jennings' intense style on the sidelines might intimidate some players, but Bosher thrived on the pressure.
"He is a player's coach," Bosher said. "He really cares about us. He pushes us really hard in practice. The way he gets us to play so hard is, we know that no matter if he is yelling at us, he is doing it because he cares about us and loves us."
Good thing Bosher and Jennings respect and admire each other — they're both leaving Peaster for Arlington Baptist University. Jennings has accepted the job as head coach, and Bosher signed a letter of intent to shoot hoops and study for the ministry.
"We're looking forward to a new opportunity," Jennings said. "I think it's something we'll both really enjoy doing."
Bosher has a family history at Arlington Baptist. His dad, Clark Bosher, attended classes and played basketball there. He coached the team from 1992 to 2006. Currently, he preaches at Willow Park Baptist Church in Aledo. 
Jennings and Bosher reflected on their time at Peaster with fondness.
"There are great people here in this community," the coach said. "Great kids. It's a reflection of the way the kids were raised. It's a reflection of their parents."
The Greyhound basketball team won 85 games in three years with Jennings at the helm and Bosher as the star shooter. They weren't competing against cupcakes, either. Peaster is a 3A school, but Jennings loaded the schedule with tough games against 4A, 5A and 6A opponents.
The method seems to have worked. Peaster dominated on the court. Bosher was named 3A Player of the Year by Dave Campbell's Texas Basketball, earned all-state the past two years and all-region and all-district for three years in a row. This year, he was the All-Parker County Basketball Team's Offensive Player of the Year, and in 2019 he was the All-Parker County team's MVP.
Bosher has attended Peaster since the sixth grade.
"I couldn't have asked for a better junior high and high school experience," he said, expressing gratitude for "all the people here, the relationships I've made and all the friendships I have with all the kids, parents, adults, teachers and administration."
He plans to graduate from Arlington Baptist and combine his love of basketball with the ministry, perhaps becoming a pastor and basketball coach like his father had been.
"I've always been around that campus, going to practices with my dad and knowing all the players," Bosher said. "I used to dream about playing there."
During his time at Peaster, Bosher endured a pandemic that cut short his junior year. Then, while he was a senior, the Greyhounds lost a district championship after falling to Brock in a best-of-three series that went down to the final buzzer. Peaster struggled in the playoffs afterward.
Bosher, like his coach, maintains an intense nature on the court but a more gentle one off court.
"The thing that keeps me grounded when the world is going crazy is my faith in Jesus Christ," Bosher said. "That keeps me solid and keeps my head straight."