The Weatherford Kangaroos took care of business Thursday night, maintaining a perfect district record at 3-0.
Weatherford answered a Paschal score early, when Ryan Clark's completion to Melvin Polk set up a 5-yard score for Brayden Bork, and the point after kick tied things up at 7-7 with about five minutes left in the first.
Paschal scored again but the Roos punched right back, this time on a 9-yard carry by Clark. The kick after gave Weatherford the 14-13 advantage heading into the second.
The teams managed to tie it up at 20-all, but the Roos offense exploded in the second and third quarters, putting up 34 points while the defense held the Panthers to a mere 7.
Wasting little time, Weatherford opened up the fourth putting more points on the board on a pass from CJ Thornton to Polk, which put the Roos up 48-20.
A few of minutes later, Clark returned to the field, rumbling 40 yards into the end zone to make it 54-20.
With about eight minutes left, Paschal found a little life, and Chris Gee's 5-yard carry cut the deficit to 28, where it remained the rest of the way.
The Roos improve to 4-2 overall and face Boswell Friday night on the road.
Brock rallies back against Whitesboro
The Eagles had a rough first half against Whitesboro, but despite an interception and fumble that led to two Bearcat scores, followed by a missed field goal, the Eagles went into halftime with a 21-21 tie.
Brock turned on the jets in the second half, however, when Tyler Moody completed a pass to Elijah Potts for the go-ahead TD with nine minutes to play in the third.
The Eagles forced a stop of Whitesboro, and drove the ball down into Bearcat territory, where Moody and Potts connected again, putting Brock up 34-21 to begin the fourth.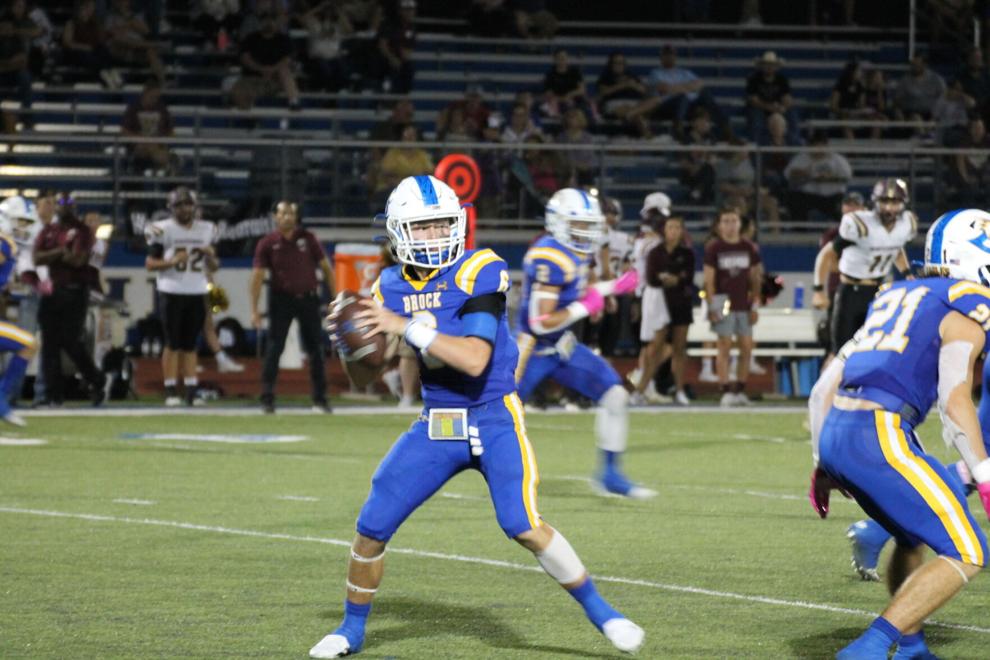 A few minutes later, the Eagles found themselves on the receiving end of a fumble, taking full advantage of the opportunity when Jake Lindberg punched it in from a yard out for a 41-21 lead, which held strong the rest of the night.
Brock improves to 6-0 overall and 3-0 in district, and travels to Ponder for a 7:30 p.m. contest Friday.
Rams fall to Iowa Park
Mineral Wells dropped its district opener in a tough loss to Iowa Park, 40-21.
The Rams are 4-3 overall, and will host Vernon next week at home.
Bearcats flex against Burleson
Aledo trounced Burleson, 55-0, to maintain its perfect record — and a 99-game win streak in district play.
The Bearcats are now 6-0 overall and 2-0 in district, and have a chance to hit triple digits when they host Mansfield Timberview at 7 p.m. Friday.
Peaster rallies back
The Peaster Greyhounds rallied from an early deficit to beat Bowie on the road, 35-20.
The Greyhounds trailed 20-14 at the half, but turned the heat up in the second half, holding the Jackrabbits scoreless while putting up another three TDs.
Peaster is now 5-1 overall and 2-1 in district.
Springtown falls to Lake Worth
The Porcupines dropped their district opener, 48-19, but are sitting at 4-2 overall.
Springtown travels to Hirschi Friday for a 7 p.m. start time.
Millsap falls to Eastland
The Millsap Bulldogs lost their home opener against Eastland, 48-27. Millsap, 2-4 overall, has a chance to rebound hosting Merkel Friday night.
Strawn stays perfect
The Greyhounds won their district match against Bluffdale, 78-6.
Strawn is now 7-0 overall and 2-0 in district.
Perrin-Whitt falls to Leakey
The Pirates dropped their game against Leakey, 77-32, and are now 2-5 overall.
Perrin has a bye this week.
Gordon moves to 5-1
The Longhorns defeated Evant handily, 58-12, to improve to 5-1 overall.
Gordon takes on Bluff Dale on the road Friday, with kickoff at 7:30 p.m. for the district opener.
WCS falls to Lake Country Christian
Weatherford Christian fell to Lake Country last week, 27-0. The Lions (4-3, 1-3) take on rivals Trinity Christian Friday.
TCA fell to a Lubbock team in the battle of the Trinity Christians last week. The Eagles are now 2-4 overall and 2-2 in district play.
CCS puts on a show for Homecoming
The Community Christian Warriors won a thriller last week against Nazarene Christian Academy, 77-73 on Homecoming night.
The Warriors (4-3, 2-2) suit up for battle against Waco's Methodist Home on the road Friday. Kickoff is at 7 p.m.