Teams come gunning for the Aledo Bearcats every week, all year long. The defending 5A state champs are top dog. Leader of the pack. They've won the 5A state title the past two years and are vying for a three-peat on Friday.
If the Bearcats beat Crosby at AT&T Stadium in Arlington, Aledo will become the first high school in Texas to win 10 state titles in 11-man football. That's something to brag about in a state long bewitched by Friday Night Lights. 
"If we make history…we will never be forgotten," Bearcats running back DeMarco Roberts told 92.1 Hank-FM after Friday's 55-28 win over Rider in the semifinals.
Rider was a team motivated by revenge.
This Friday's opponent, the Crosby Cougars, is riding a streak of good fortune.
Aledo makes its own luck, with its special teams and defensive units continuously coming up with timely turnovers in playoff games. Those units will be tested by Crosby.
The Cougars have won three straight games against previously undefeated teams to make it this far. They are hungry. The school hasn't won a state championship in 60 years. And this year's roster might be the best ever at Crosby.
Last week, Crosby won its semifinal match in overtime, 62-61, after Liberty Hill chose to go for a two-point conversion and a victory rather than kick a PAT to tie the game. Liberty Hill's two-point play appeared to be working to perfection, but a muffed handoff hit the ground, and Crosby pounced on the ball. Game over.
The lucky Cougars are talented as well, relying on a duo of running, gunning and catching multi-position players — Demiquez Dunn and Reggie Branch — to keep opposing defenses off balance.
Crosby's defensive line is a stout bunch and could cause trouble for Aledo's own offensive dynamic duo, Roberts and JoJo Earle. "Could" is the key word in the preceding sentence. Many defenses could have done many things against the Bearcats offense. Most crumbled.
The most recent team to collapse was Rider. Aledo had destroyed them in three previous playoff games. This year, however, Rider rode in with confidence and perhaps a bit of vengeance in mind. Perhaps more than a bit. The Raiders relied on athletic senior quarterback Jacob Rodriguez, who will be playing Division I college ball soon.
Aledo's ability to make it to this week's state title contest would be determined on whether they could slow down the talented Rodriguez.
They could and did.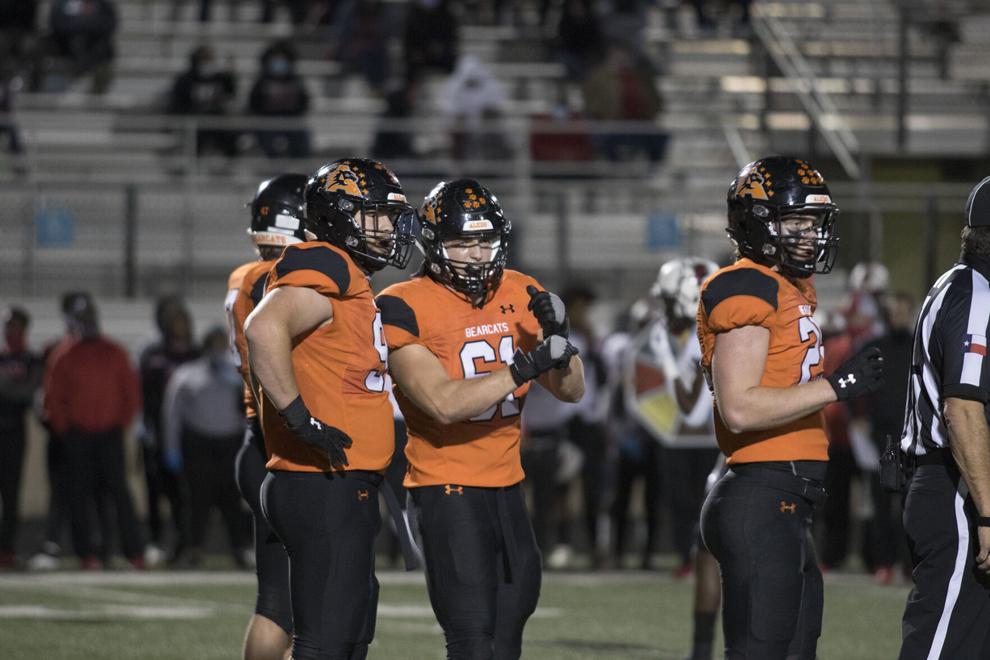 Aledo's defense proved to be the waistband on everyone's favorite pair of Sunday sweat pants – stretched thinly at times but never breaking. That unit has come up with timely turnovers and stops time and again.
"They've matured," Head Coach Tim Buchanan told 92.1 after the game. "They understand where each other is on the football field. Everybody is doing their job. When everybody does their job, you do create more opportunity for turnovers."
When asked about the prospect of setting Texas football history with a 10th title, Buchanan looked backward rather than forward.  
"That makes me start thinking back to, not just when I got here in 1993, but the 1974 team that played for a state championship," he said. "There are a lot of people and a lot of coaches and a lot of parents that have put a lot into this program throughout its history to make it what it is today."
Roberts, the team's biggest offensive threat in the playoffs, has topped 2,000 yards this season and been a TD machine. Against Crosby, his plan is to make the first defender miss and to "not be an easy tackle."
Aledo (12-1) will battle Crosby (13-3) at 1 p.m. Friday at AT&T Stadium in Arlington.