Weatherford to take on district-leading Trinity
Trinity and Haltom are undefeated in District 3. Directly behind those two teams in the standings is Weatherford. The Roos could solidify a playoff perch by knocking off Trinity on Friday.
"We are in charge of our own destiny, which is a good thing," said Weatherford Head Coach Billy Mathis.
A win won't come easily. On paper, the Trojans show why they top the district — they are 5-1 overall compared to the Kangaroos at 4-3. The Trojans have scored 222 points, while the Roos have posted 166. The Trojans have allowed 70 points to opposing teams, while the Roos have given up 184.
"They are Trinity — they are giant, and they're good," Mathis said.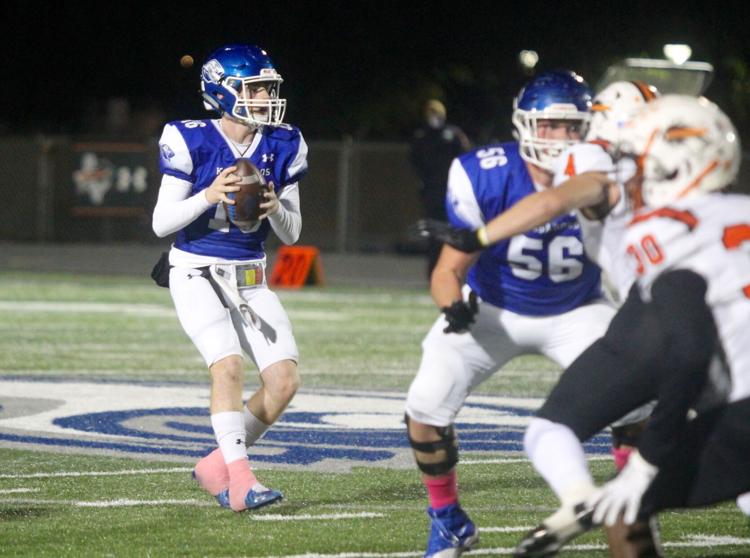 The Roos, though, have played with heart and passion all season. Last week, they overcame injuries to beat Boswell. Roos defensive back Kaden Kerbow stepped in at quarterback last-minute after Major Youngblood was injured in practice earlier in the week. Kerbow led the Roos to a 30-7 win.
"He's a smart kid, that's why we put him back there," Mathis said. "We knew he could go in and handle the offense. The kids rallied around him. The kids love him. He's a great leader. It was an easy decision for us."
Youngblood is expected to return to action this week, the coach said. If the starter can't play, however, Kerbow has proven he can be counted upon.
Weatherford (4-3) plays at 7:30 p.m. Friday against Trinity (5-1) at Pennington Field. 
Rams relish blessings after playoff run ends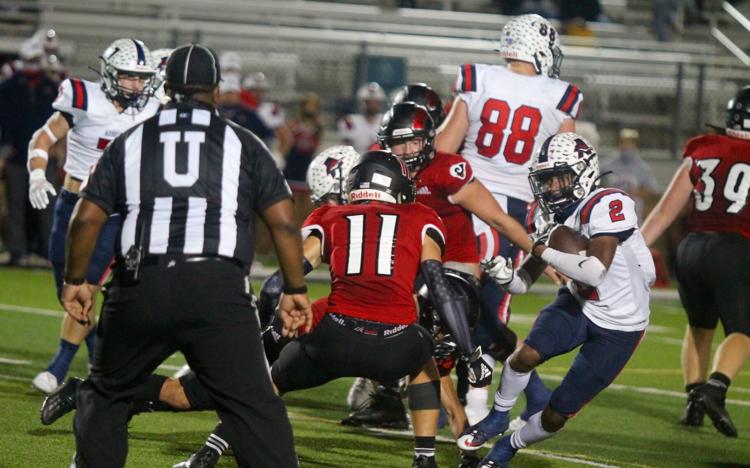 There was plenty to be happy about on the football field at Mineral Wells on Thursday despite the Rams losing to Aubrey 14-62 in the opening round of the playoffs.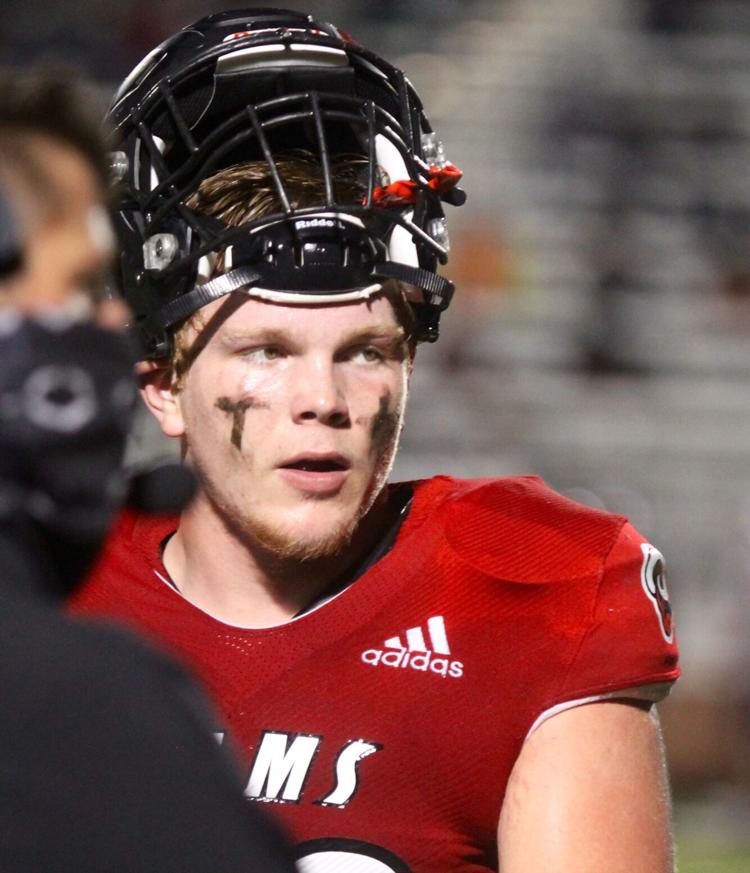 The Rams had made the playoffs for the first time in three years. After the loss, Rams Head Coach Gerald Perry told his team how proud he was. Sweat-covered and exhausted players, some on their knees, some crying, had played the last game of this craziest year of their young lives. A litany of setbacks related to COVID-19 quarantines, last-minute schedule changes, injuries and other issues had dogged Mineral Wells all year, but the Rams clawed back to beat Bridgeport in the final regular-season game to sneak into the postseason. Unfortunately for them, they snuck face first into the raw-boned Aubrey Chaparrals, who were undefeated in district play and 10-1 overall.
A Chaps running back took the first handoff of the game and dashed 71 yards for a touchdown before 18 seconds had ticked off the clock.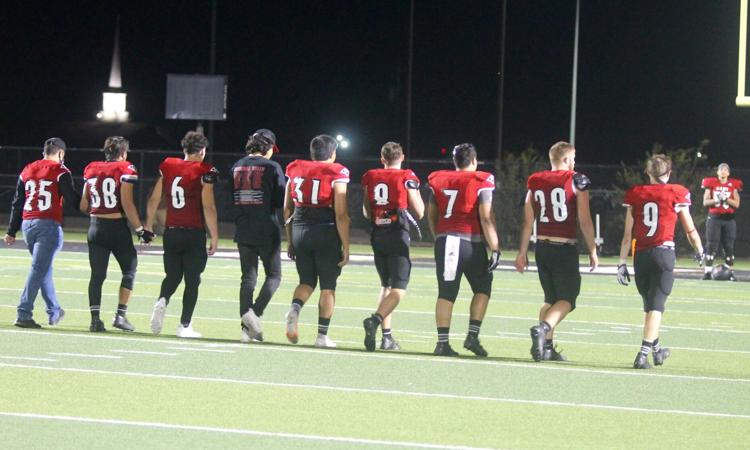 Then, the Rams offense took the field and were penalized on the first two plays of the game. By then they were pinned up against their own end zone, facing third and forever against a brutal Chaps defense.
A lesser team might have folded right then. Rams quarterback Mason Facteau faded back, stayed cool amid a rush of defenders and found receiver Tristan Gray for a long gain.
Facteau is a sophomore. Gray is a junior. Both should return next season.
Those are positives.
Rams defensive lineman Bryce Fellows, who was bruised, scraped and covered in sweat after the game, couldn't hold back tears as he hugged Perry and told his coach he loved him. Fellows, a junior, is a warrior who will be returning.
"We're young," Perry said. "We've got a lot of young players on this field, and we look forward to getting better and better and getting on a roll. The future is bright."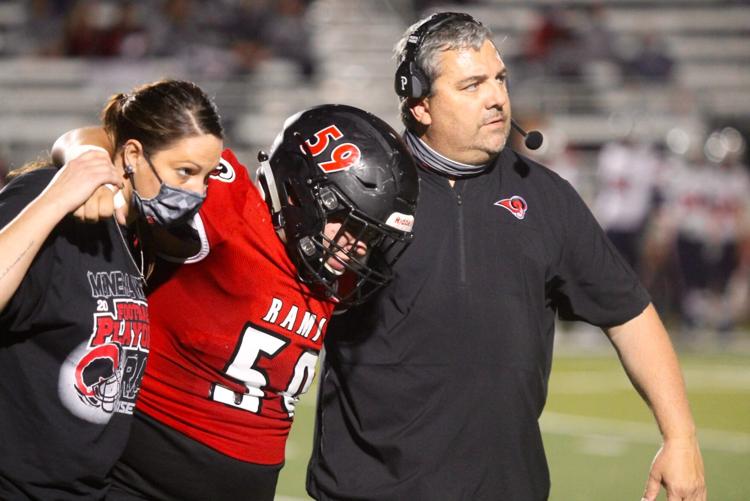 Seeing his players fight until the final buzzer while being blown out on the scoreboard during a season beset by COVID-19 quarantines, juggled schedules and disappointments makes Perry excited about the future.
"Our players overcame all the adversity that we had to deal with," he said. "We're glad to be here. The seniors definitely deserved this opportunity. We played a very good Aubrey team. Our kids fought tooth and nail. "
Brock eyes Denver City as next victim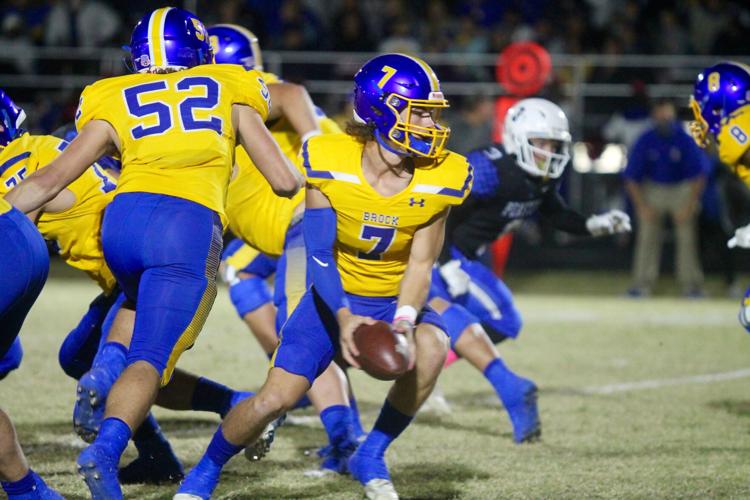 The Brock Eagles are on a mission to reclaim a state title and go into each game ready to roll over their opponents. At 11-0, the Eagles have done a great job so far. 
Will they keep flying toward a title? They'll need to knock off Denver City first. The Mustangs are 7-4 overall. Two of those losses came in close games, but twice this season Denver City has been blown out. The Eagles hope to make it three blowouts and have the offense to make it happen.
Brock (11-0) plays at 7 p.m. Thursday against Denver City (7-4) at Mustang Bowl in Sweetwater.
Springtown anticipates big game with Big Spring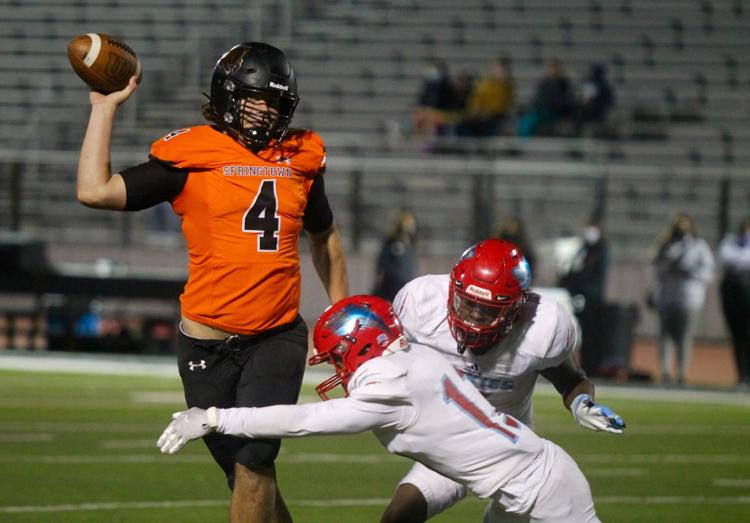 The Porcupines are enjoying a stellar season, winning their playoff opener against Hereford with ease last week. Now, they face the Steers of Hereford, a team that has struggled at times — they lost three consecutive games between Sept. 24 and Oct. 23.
Springtown has thrived with senior Camden Chesney taking snaps and leading the offense. His 113.5 quarterback rating attests to his strong play. The Pines put up 59 points against Hereford, and Chesney threw five touchdown passes, two of them to rangy receiver Andy Behle, who is always a threat.
Springtown (9-2) plays at 4 p.m. Friday against Big Spring (5-3) at Abilene Christian University.
Aledo returns to play after COVID-19 cancellation
Last week, the Bearcats saw their game cancelled after their opponent was dealing with coronavirus exposures. Aledo tried but was unable to find a last-minute replacement and took the week off. This week, the Bearcats are schedule to play the Timberview Wolves — barring any 2020 craziness.
"We are staying positive that we will have a normal week of practice and games," Aledo Head Coach Tim Buchanan said.
How important is this game? Both teams are undefeated in district play, meaning the winner will take sole possession of first place with one game remaining in the regular season. 
Aledo (4-1) plays at 7 p.m. Friday against Timberview (6-0) at Vernon Newsome Stadium in Mansfield.
Trinity Christian faces Shelton in regular season finale
The Eagles finish the regular season with a non-conference matchup against Shelton. The Chargers have struggled in their shortened season, losing four of five games, including last week's 11-45 thumping by Reicher Catholic.
Trinity Christian (3-3) plays at 7 p.m. Friday at Shelton (1-4).
Weatherford Christian rides streak into final game 
Talk about a turnaround. The Lions have won games in the last two weeks after beginning the year with five straight losses. The Lions hope their winning ways continue this Friday for the regular season finale.
This week's opponent, Central Texas Christian, won't make it easy. Central Tex has won its last four games, three of them by large point spreads.
Weatherford Christian (2-5) plays at noon Saturday against Central Texas Christian (5-1) in Dublin.
Strawn hopes to throttle Throckmorton
The Greyhounds beat rival Gordon in the final game of the regular season to win a district championship. Last week, the Hounds won their first playoff game after trouncing Walnuts Springs 46-0.
Now, they're preparing to test their mettle against Throckmorton, a team that went undefeated in district play and won its first playoff game easily, just like Strawn.
After Friday, one of these teams will keep moving forward in the six-man 1A state championship tournament. One team will go home.
Strawn (9-2) plays at 7 p.m. Friday against Throckmorton (8-1 Lake Worth.
Gordon to fight Fannindel in second playoff game
After winning their playoff opener against Morgan by a hair — 30-28 — the Longhorns are feeling frisky for Friday's game against Fannindel. Gordon would love to get past the Falcons, which could set the Longhorns up for a rematch against Strawn. But the Falcons might be tough to beat. They are undefeated this season and won their first playoff game by 50 points.
Gordon (8-3) plays at 6:30 p.m. Friday against Fannindel (10-0) in Bowie.