Spirits continue to soar in Mineral Wells, where the Rams are savoring their first victory on the football field after a long drought.
Winning a second game won't be easy this week. The Rams face an undefeated Sanger on the Indians' home turf. Sanger has already knocked off Clifton (25-14), Lake Worth (49-35) and Howe (35-8).
Rams coach Gerald Perry hopes to end the Indians' winning streak and start one of his own. 
"We're ready to play them," he said.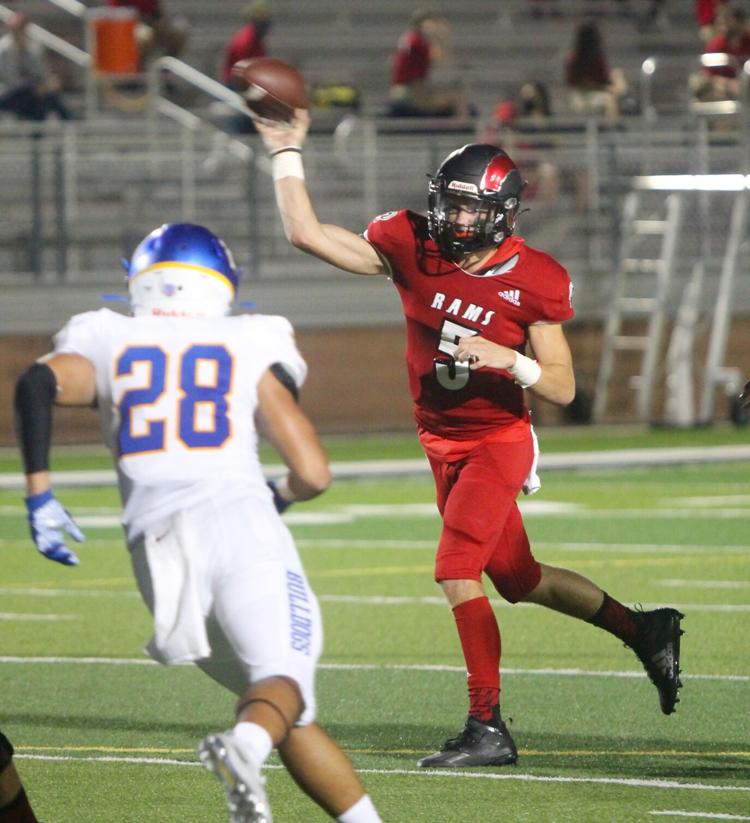 Mineral Wells went 0-9 last season and began this year with two losses before beating Venus on Friday 45-22. Any win is welcome, and the Rams were happy to nab theirs.
Sanger is ranked 429th in the state. Mineral Wells comes in at 793.
"They have a good football team," Perry said of Sanger. "A big running back. The quarterback is a coach's kid — a big tall kid who can throw it. They've got some weapons."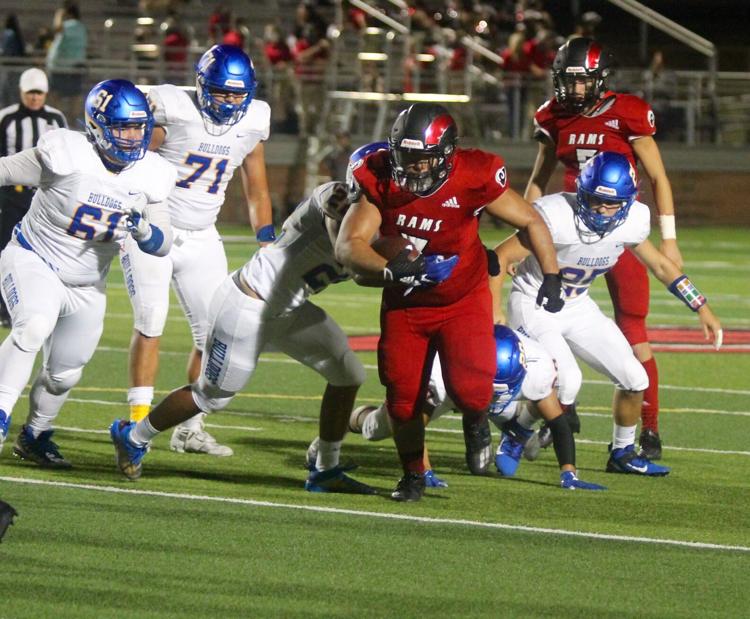 Mineral Wells possesses a psychic ace in the hole that might come in handy against Sanger. 
"We were up on them pretty big last year when we played them and kind of fell apart in the second half," Perry said. "That's one our kids remember and felt like we gave up last year. That's one we circled on the calendar."
That circled date looms.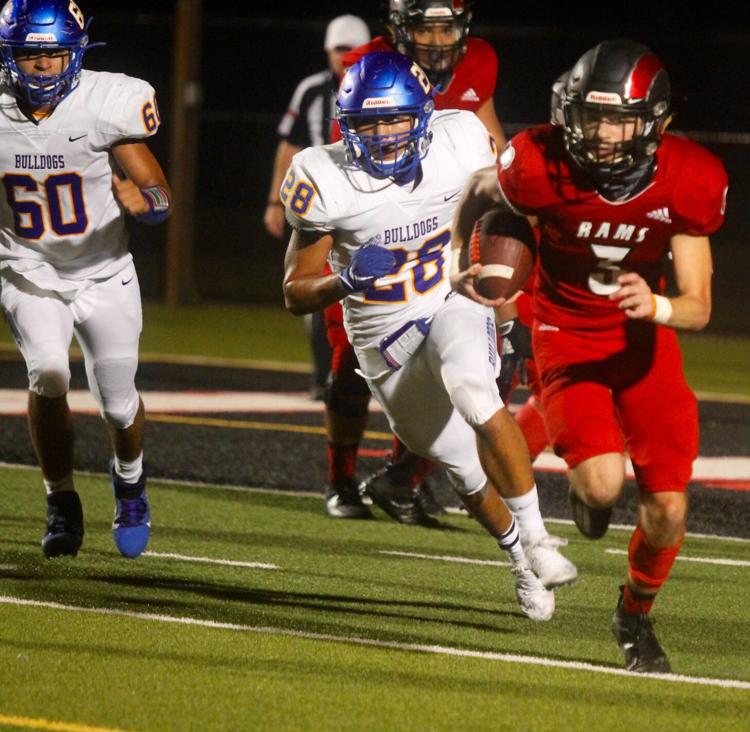 The Rams' recent victory was extra special since it came on the 19th anniversary of 9/11 and during homecoming ceremonies in front of alumni, friends and family. No player on Mineral Wells remembers where they were on 9/11 — they weren't born yet. But Perry told his athletes about that powerful moment in history during a pregame speech and shared some of his memories and thoughts about the Twin Towers falling. He described the following day, as well — September 12, 2001 — and recalled how people across the country united in our collective shock and pain.
Then, Perry told his players that September 11, 2020, could be a memorable day for them.
It was.
"That was a big win for us," he said after the game. "It was good to get this one and get on a roll."
Last season, a dearth of seniors meant Perry was playing mostly juniors, sophomores and freshmen. This year, 17 seniors are on the team, including quarterback Jacey Holland and wideout Devon Little, who combined for three touchdowns. Little caught a fourth TD pass from quarterback Ethan Oliver late in the game and logged 130 receiving yards in five catches.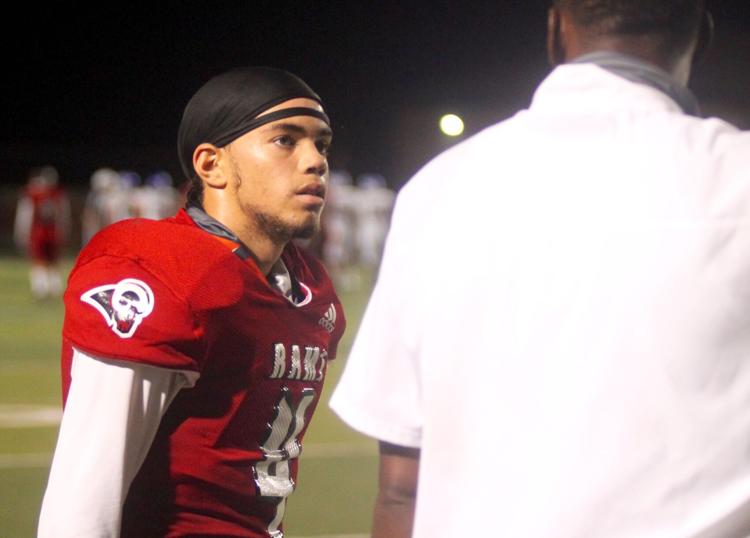 "Devon Little is a special kid, a great talent," Perry said. "He has matured a lot, not just as a player on the field but as a person. I'm very proud of him."
Junior receiver Nick Rios hauled in an eight-yard touchdown pass, and sophomore running back Kequan Cyphers rushed for a touchdown and averaged almost seven yards a carry.
"We're going to keep getting better and better," Perry said.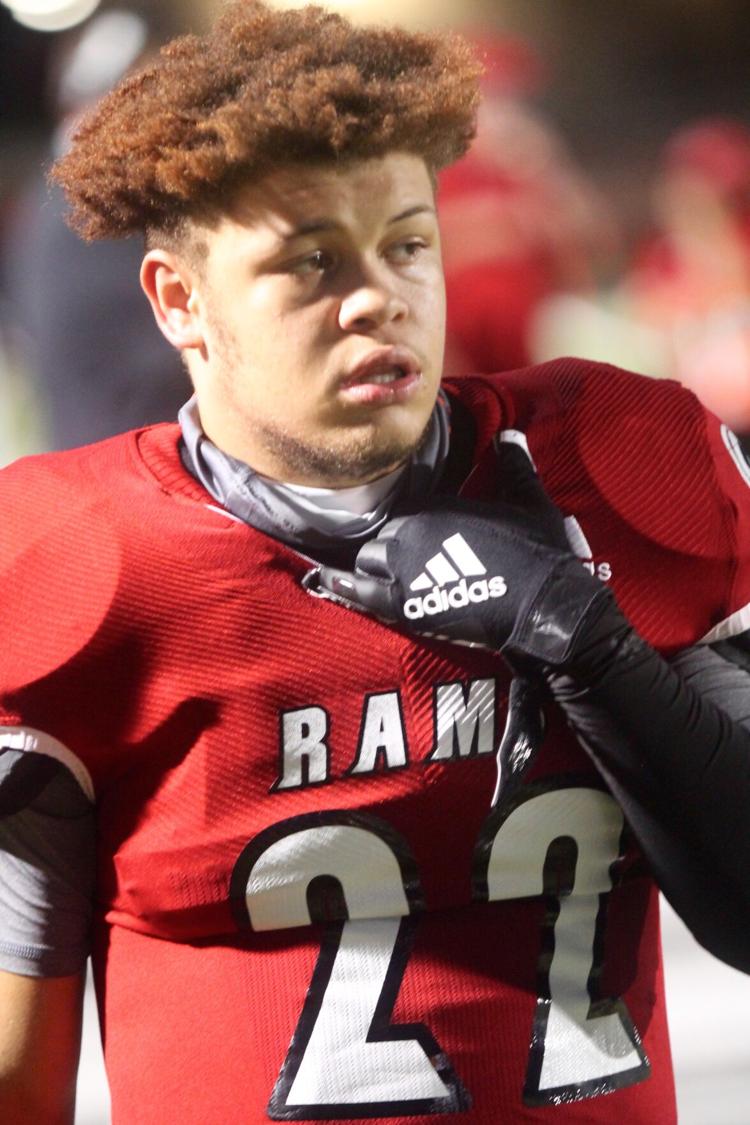 The coach was quick to credit his defense for stuffing the Venus offense early and often. Most of the Bulldogs' points were scored during mop-up time in the fourth quarter with the Rams playing substitutes.
"We're going in the right direction," Perry said. "We need to get some wins and get ready for district coming up soon."
The Rams (1-2) play at 7:30 p.m. Friday at Sanger (3-0).
Brock vs Iowa Park
Brock should be rested and ready after enjoying a bye week. The Eagles are undefeated and winning by large margins but have seen their state ranking slip a bit each week. Currently, the Eagles are ranked 56th in Texas. Their offense is averaging 60 points a game but has been prone to turnovers and penalties. Brock's defense has been stout, giving up a mere seven points a game against Bushland and Community. Neither of those teams are as powerful as this week's adversary. Iowa Park is ranked 66th in the state and coming off a big win against Burkburnett.
Brock coach Chad Worrell spent the bye week putting his team through drills and practices designed to cut down on turnovers and penalties.
"I'm happy to be 2-0, happy the way things have gone, but we still have a lot of early season mistakes we need to clean up as we get toward district," Worrell said.
The Eagles (2-0) take on Iowa Park (3-0) at 7:30 p.m. Friday at Hawk Stadium. 
Springtown vs Godley
The Porcupines have a winning record again after besting Waco Connally in a low-scoring, defensively dominated battle: 17-7. Godley started the season with strength, beating Life Waxahachie 50-27 in Week One and toppling Mineral Wells 61-20 in Week Two. Godley, though, was blown away by Grandview last Friday and appears to be on a downward trend.
The Porcupines are moving in the right direction, shrugging off a Week One loss at Glen Rose to win its next two games against Graham and Connally.
Springtown is ranked 84th in the state compared to 246 for Godley.
Springtown coach Brian Hulett said his team has begun the season slowly, perhaps from a combination of last year's success and time away from practice due to COVID-19.
Still, the coach likes how his team has played the past two weeks.
"We haven't even come close to playing well yet but have played hard and physical," he said.
Springtown coach Brian Hulett considers Godley a quality opponent.
The Pines (2-1) hit the road to challenge Godley (2-1) at 7:30 p.m. Friday at Wildcat Stadium.
Perrin-Whitt vs Covington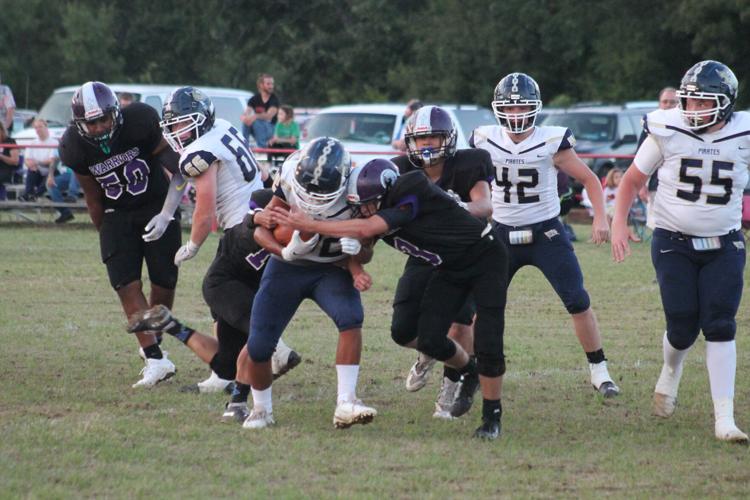 All signs indicate Perrin-Whitt will steamroll the Owls. The Pirates are good and keep improving, and Covington is experiencing a dismal season. The Owls were shut out in their first game against Johnson County Sports Association and were beaten 6-51 by Abbott last Friday. 
The Pirates are trending the other way, coming off a 73-27 win over Community Christian last Friday night and currently ranked 44th in the state in six-man football. Covington isn't ranked.
Perrin-Whitt (2-1) plays at 7:30 p.m. Friday at Covington (0-2).
Community Christian vs Heritage Christian Academy
The winless Warriors will have their hands full on Friday against a streaking Heritage Christian that is currently ranked 31st in the state and 88th nationwide in six-man football. The Heritage Christian offense has scored 169 points in three games, while its defense has allowed only 52.
The Warriors, as their name implies, are unafraid to go to war and will undoubtedly show up to play. Community Christian quarterback Jackson Horton is a one-man wrecking crew and threw a touchdown and ran for three more last Friday. The Warriors are ranked 113th in Texas and 493rd nationwide.
Community Christian plays at 7 p.m. Friday at Heritage Christian Academy.
Strawn vs Bishop Gorman
Strawn looks strong, overcoming a hard-fought Week One loss to White Deer to win its next two games at Brookesmith and Bryson in convincing fashion, and is looking poised to manhandle Bishop Gorman. Strawn's offense is capable of putting up high numbers, including 64 points against Brookesmith, while its defense has been  improving each week and resembled a brick wall last Friday against Bryson.
The forecast for Friday is murky — opponent Bishop Gorman has yet to play a game this season. Clarifying the situation is this factoid: The Crusaders are ranked 1,166th statewide in six-man football, while the Greyhounds are ranked 19th.
Strawn (2-1) plays Bishop Gorman (0-0) at 7:30 p.m. Friday at home.
Millsap vs Paradise
This game will be a battle of the undefeated — neither the Bulldogs or Panthers have lost a game this season. Paradise is coming off a 57-6 dismantling of Nocona last Friday, while Millsap is breathing easy after drubbing De Leon 27-10. The Bulldogs and Panthers appear evenly matched, with Paradise ranked 426th in Texas, and Millsap following close behind at 456.
Millsap (3-0) plays at 7:30 p.m. Friday against Paradise (2-0) at home.
Gordon vs Sidney
Gordon is enjoying a two-game winning streak but will face a solid foe this week. The Sidney Eagles are ranked 62nd in the state in six-man football. Still, the Eagles showed their vulnerability by losing to Cherokee last Friday.
Gordon is coming off consecutive wins at Newcastle and Baird and is currently ranked 27th in Texas.
The Longhorns (2-1) plays Sidney (2-1) at 7:30 p.m. Friday at home.
Peaster has a bye this week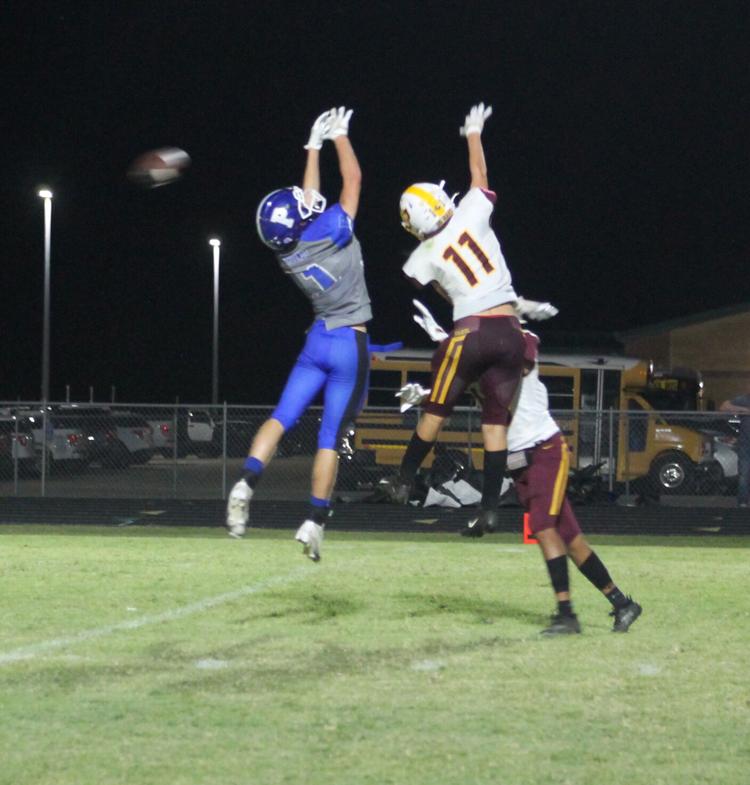 Beating Collinsville last Friday continued the magical season for the Peaster. The Greyhounds are playing their first year of UIL-sanctioned 11-man football and are undefeated after three games. Quarterback Gunner McElroy is a threat with his arm or his legs, and running back Tramar Gilbert displays a nose for the end zone. Sophomore wideout Hank Morris logged 125 receiving yards and was among five different players who hauled in passes from McElroy against Collinsville, proving the quarterback can spread the pigskin around and keep defenses guessing.
Peaster plays next at 7:30 p.m. Friday, Sept. 25, at Pilot Point (2-1).