This week, four girls at Weatherford High School signed letters of intent to attend colleges on scholarship. Two of the students — Abbie Lane and Logan Loran — sat side-by-side to jot down their signatures in the high school library, where the ceremonies were held. Lane and Loran are co-cogs in the Lady Roo volleyball machine that is churning, about to clinch a district championship and embark on a playoff run. The team is ranked sixth best in the state currently.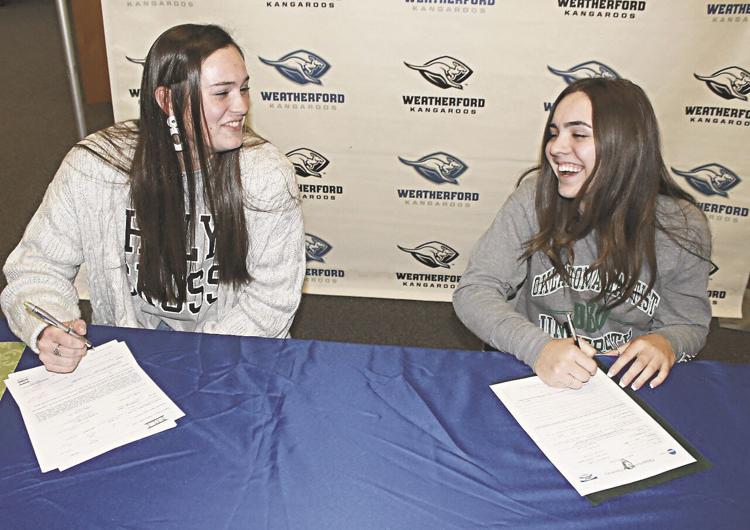 Loran leads the Roos in assists and is among the best in the state at putting balls in just the right place for teammates to slam across the net. Hardly a one-trick pony, Loran is among the team leaders in digs and aces, too.
She plans to attend Oklahoma Baptist University in Shawnee after graduating from Weatherford in May.
"Going to Oklahoma was a really big decision for me," Loran said. "I thought about it really hard. Oklahoma won their conference last year, and that really had a big affect on my decision. I want a lot of competition, and they have a really good program there."
For now, though, she is focused on this season.
"We're a really good team this year, and we may go far," she said.
A major reason for the volleyball team's success has been the dominant play around the net by Lane, who received All-Region honors from the American Volleyball Coaches Association. There are few things more exciting in volleyball than watching someone leap high into the air and slam a ball across a net with such force and accuracy that the other team can't make a return. Nobody does this better than Lane, who leads her team in kills.
Holy Cross University will be the beneficiary of those slams beginning next year.
"It's a prestigious university with a great volleyball program," Lane said. "I am nervous going so far away, but I know that God's got me, and it will be really fun."
Fewer than 4% of high school volleyball players wind up playing college ball, according to the National Collegiate Athletics Association.
Weatherford's volleyball coach, Nicholas Gay, praised both girls' competitive natures and "their will and their drive and their ability to be great teammates."
Addison Tidwell has been a catcher on Weatherford's varsity softball team since her freshman year. Next year, though, she will be guarding home plate at Henderson State University in Arkadelphia, Arkansas.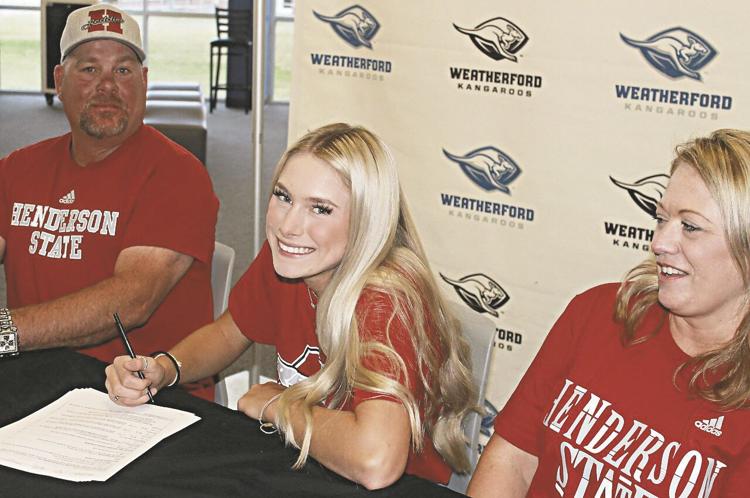 "I've always wanted to play in college, and I'm really excited that I get the chance to further my career," she said. "It's a really pretty campus."
Tidwell will think back fondly on her years at Weatherford, where she earned all-district honors in athletics and academics and was named to the All Parker County Team.
"It's been great," she said. "I love playing with the same teammates every day and getting to see everybody all the time."
She has never been far from home and admits to being a little nervous.
"It will be new," she said of moving to a new city in a new state. "I will be fine. It's only four hours, so it's not too bad. It won't take too long to get home if I need to."
Less than 6% of high school softball players end up competing in college, NCAA figures show.
Jeff Lemons, her softball coach at Weatherford, described Tidwell as "phenomenal" and said she was the first player he met when hr was hired at the school in 2019.
"It's a neat deal to get to watch her do this," he said. "It's a special time for her."
Savannah Harvey was about to sign her letter of intent to play soccer at Rogers State University in Claremore, Oklahoma, when she learned that her high school head coach, Laura Bailey, would be unable to attend. Bailey had been exposed to COVID-19 and was quarantining for two weeks.
A laptop and overhead screen allowed Bailey to phone in her message to Harvey and the crowd of relatives, friends and teammates who had gathered.
"I am missing being there, but I just want you to know how proud I am of you and how much you meant to this program," Bailey said to Harvey. "You are an excellent senior leader. You show up every day willing to go, and this has been a long time coming."
Harvey thanked her coaches, family and teachers and said she viewed her teammates like sisters.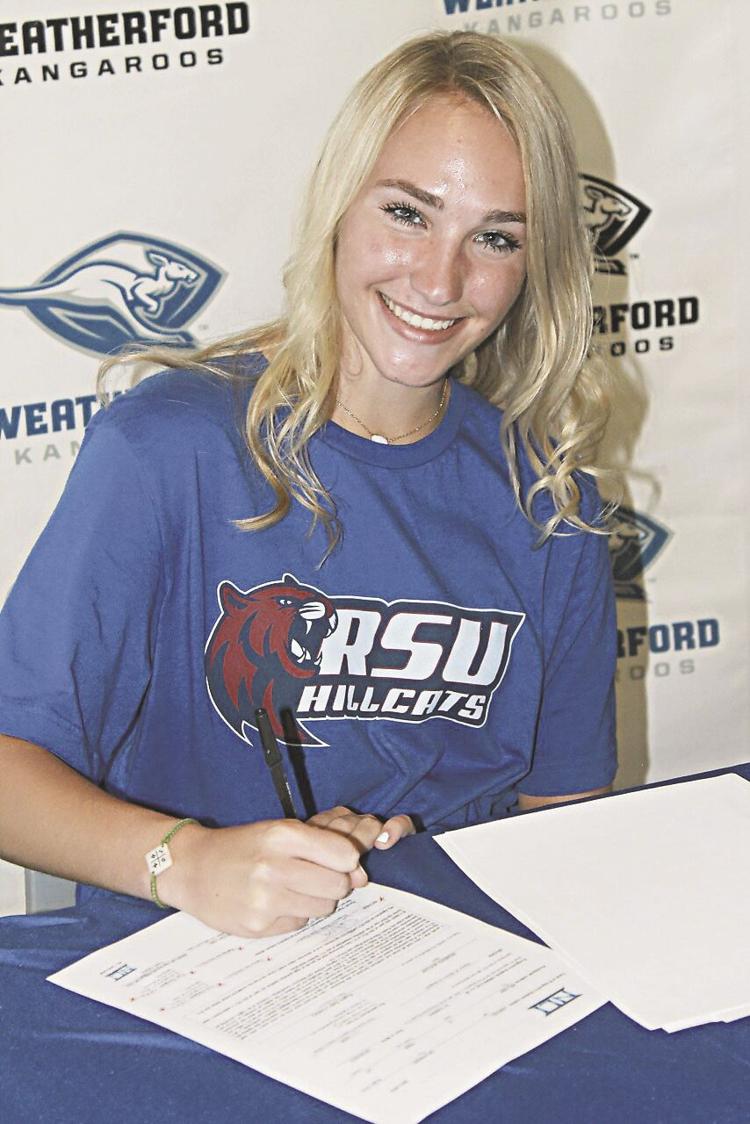 "I have loved every single team I've ever been on," she said.