Brock and Millsap scored points o'plenty while shutting out their opponents, and Springtown won a teeth-grinder in the first overtime game ever played at Porcupine Stadium.
Those were the spectacular highlights from Friday night football, and a big game is waiting to be played.
The 6A Weatherford Kangaroos face the defending 5A state champion Aledo Bearcats this afternoon in their first game of the season at Globe Life Park.
Brock 79, Bowie 0
The Brock Eagles hit the road for its district opener on Friday evening, traveling to Bowie to challenge a respectable Jackrabbits squad. Talk about making a statement. Penalties and turnovers had dogged the high-flying Eagles in a couple of early games, but the powerhouse 3A team appears to have worked out those kinks. After giving up 35 points against Iowa Park last week, the Brock defense clamped down on Friday.
The game began quietly, with the only scoring in the first quarter coming from a 50-yard dash by Eagles sensation Cash Jones.
The Eagles offense flapped its wings in the second quarter, scoring four touchdowns and adding a two-point conversion for 29 points. (Chris Palfreeman peeled off a 79-yard sprint and caught a 36-yard pass from Jaxon Gleaton for two of the scores, while a Tyler Riddle 33-yard sprint and a Nathan Jones 24-yard catch accounted for the other two.)
Taking a 36-0 lead into halftime in an undefeated season could have prompted an Eagles letdown, but Coach Chad Worrell knows how to keep his team grinding for four quarter.
The third quarter opening kickoff was caught by Luke Dillingham at the 13-yard line, and he traversed 87 yards to the paint. Later in the third, Jones scored on a 79-yard run to make it 51-zip, and the Bowie Jackrabbits were all but stewed and served on a platter. 
With Jones taking a rest, junior running back Kutter Wilson scored two TDs of his own, and sophomore running backs Tyler Moody and Caden McGhan added one each before the game ended.
The Eagles offense gobbled up 651 yards of total offense compared to Bowie's 111. Most of the damage came on the ground, with the near-unstoppable Jones tallying 190 yards in a short night. Wilson ran for 181, followed by Palfreeman with 90.
Gleaton threw for 78 yards and two TDs but also had two interceptions. One of those turnovers was offset when Eagles cornerback Eli Potts intercepted a Bowie pass.
Millsap 52, Santo 0
The Millsap Bulldogs could have sulked after their heartbreaking one-point loss to Paradise last week. Instead, they came out angry and squashed Santo in a strong team effort backed by solid coaching.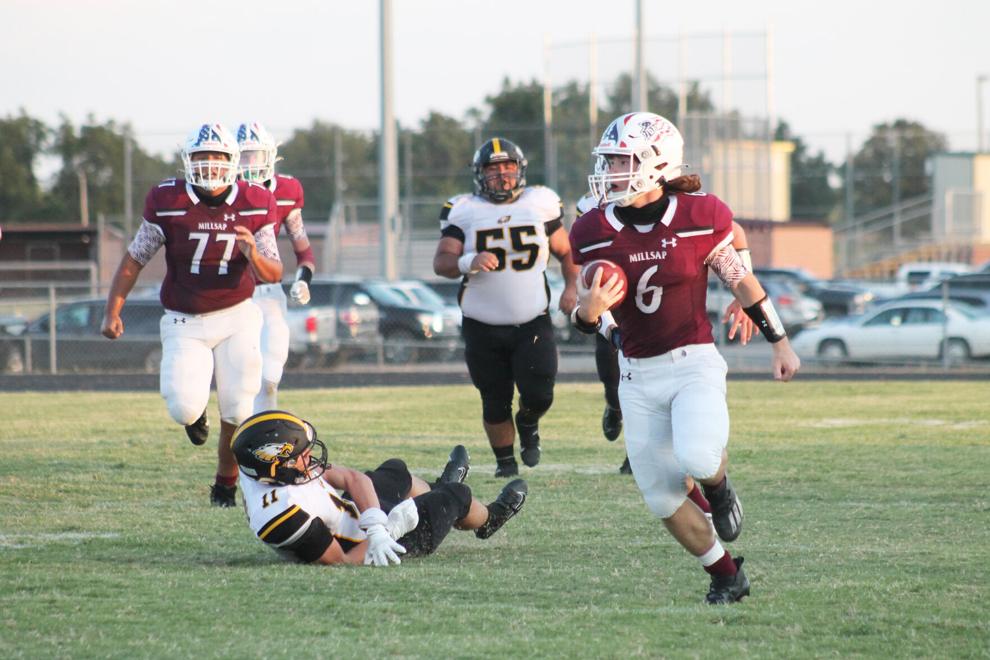 Running back Basey Mitchell scrambled for 130 yards and two touchdowns. Junior quarterback Lawson Nairn tossed for 100 yards and two scores. Sophomore wideout Carter Nairn added a 76-yard rushing TD and 63-yard scoring reception. Nathan Sykes caught a 27-yard TD, and Levi Haas added a scoring run.
Dishing out a shutout requires strong defensive play, and the Bulldogs bit down hard. Linebacker Waylon Dunn made a scoop and score touchdown, and secondary members Aldo Calvillo and Weston Moore added an interception each. Four different Bulldogs — Parker McKendree, Juble Stevens, Cade Herbel and Austin Gonzales — recovered fumbles.
Kicker Wyatt Birdwell was a perfect seven for seven on point after attempts and sweetened his night with a 37-yard field goal.
Nice rebound by the Bulldogs!
Springtown 24, Midlothian Heritage 17
A 30-plus-yard throw into the end zone in overtime ended with the ball in the hands of a Porcupines receiver, meaning Springtown had come from behind to win its first overtime victory at its home stadium Thursday.
The Fighting Pines were down by 10 points when the fourth quarter began but evened the score before the clock ran out. That set up the overtime heroics, and the Pines are 4-1 and feeling groovy heading into next Friday's district opener at home against Lake Worth.
Peaster 30, Pilot Point 53
Peaster's Cinderella season hit a bump on the gridiron on Friday, giving the Greyhounds their first loss of the season in their district opener. This is Peaster's first year of UIL-sanctioned 11-man football after being a six-man team for years, and the Greyhounds had surprised more than a few people by winning its first three games.
The winning margins, however, kept shrinking from Week One to Week Three: 34-0, 42-23 and 18-12. The scales finally dropped in the other direction against Pilot Point. 
Peaster, led by the strong play of new quarterback Gunner McElroy, took a 21-20 lead into halftime, but the defense relinquished two touchdowns in the third, and the offense was outgunned in do-or-die time in the fourth quarter.
Peaster was five for 15 on third down conversions and tallied 196 total yards compared to Pilot Point's 505. Gunner McElroy threw for 87 yards and rushed for 78 yards and three touchdowns. Running back Tramar Gilbert scored another TD.
Perrin-Whitt 66, Throckmorton 96
It was anybody's game going into the fourth quarter. And then it became Throckmorton's game.
The Perrin-Whitt Pirates were down 28-34 at halftime but tied the game quickly once the third quarter began. Throckmorton, however, began pulling away, aided by a defensive pick-six. The Pirates were losing 46-58 when the third quarter ended and needed a two-score swing in the final 12 minutes of the game to secure a come-from-behind victory. Instead, the Greyhounds outscored them 38-20 in the final quarter in front of a Pirates home crowd. Perrin-Whitt plays one more non-conference game before starting district play on Oct. 16 against Bryson.
Community Christian 57, Legacy Classical Christian 62
Quarterback Jackson Horton enjoyed another fine individual performance for the Community Christian Warriors but couldn't secure the win despite coming so close.
The Warriors were down 26-32 heading into the final quarter, when both teams erupted. The Warriors put an impressive 31 points on the board and outscored their opponent in the crucial fourth quarter, but Legacy Classical countered with 30 points of their own and hung on its lead.
Horton's quarterback rating for the game was 122.3, and he threw for 360 yards and six touchdowns against one interception. Horton ran for another 237 yards and scored three touchdowns on the ground.
Warriors receiver Joshua Guzman hauled in four touchdown catches for 188 yards, and Donovan Diviney caught two TD passes of his own.
Horton made his presence felt on defense as well, tying for the team lead in tackles with nine. Riggin Parker added nine tackles of his own, and Decklan Murphy contributed another eight. Parker recovered a fumble as well.
Strawn 22, Westbrook 77
Trinity Christian 8, Lake Country Christian 42
Weatherford Christian 0, Central Texas Christian 45
Mineral Wells game cancelled due to COVID-19 cases