POOLVILLE — When Allen Howell first began playing basketball, the dribbling of the ball scared him.
The physical coordination and play prediction of the sport are skills often deficient in youth with autism spectrum disorders, as is social interaction.
It's one of the reasons the parents of Howell, now a senior at Poolville High School and a member of the JV Monarchs basketball team, wanted to get him involved.
Fast forward to last Tuesday, when the Poolville athletes were warming up prior to putting a thumping on DeLeon. Howell took practice shots with his teammates, then walked along the bleachers, giving hugs and knuckles to seemingly everyone in attendance.
"Everybody knows Allen now, and if they don't, they get to know him," his mom Erica said.
Basketball has helped opened doors to Howell's inclusion within the community at Poolville, including a special bond with athletic director Steven Stegall and encouragement from his teachers.
"They have really helped push him out of his shell," Erica Howell said of the educators working the concession stand at last week's home game. During the varsity game, Allen joins them in serving snacks and beverages, and sells the remaining hot dogs to those in the stands during the final minutes of the game.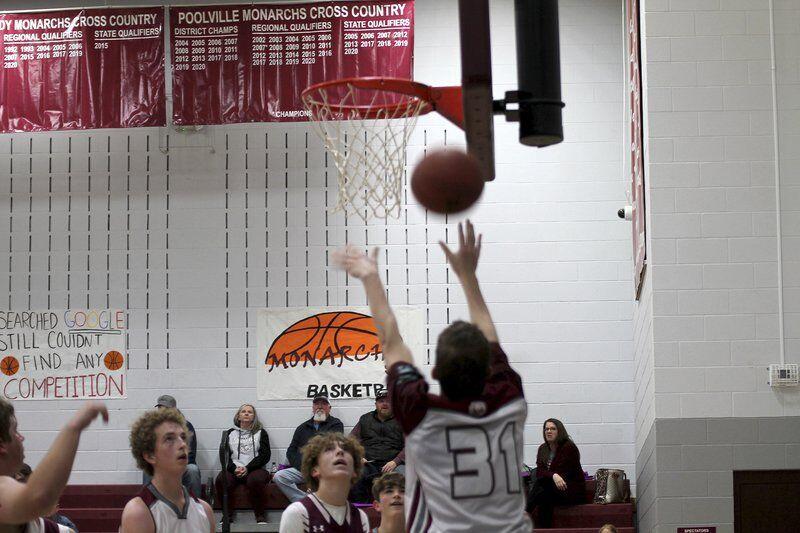 A highlight of the JV game is Allen's appearance, this time coming about two minutes before halftime. A teammate passes the ball to Allen, who lines his shot up while his teammates and opposing players crowd around cheering him on. After three attempts, the ball goes in, garnering applause from players and those in the stands.
The Howells moved Allen to Poolville two years ago, meeting with Stegall who promised them Allen would be apart of the team.
"Every kid deserves a chance to play," Stegall said in a previous interview. "Allen deserves the same opportunity as every other kid."
Seeing Allen's success on the court, Erica and Ricky Howell sent him to the Down Home Ranch summer camp in Elgin, which offers social, educational, residential and vocational opportunities for people with disabilities.
Last year, the Howells formed the AUsome Allen Foundation, part of which raises money to send more kids to the ranch each summer. This year, they are hoping to send 10 kids to Down Home Ranch this summer.
"They provide hiking, fishing, kayaking, gardening and house these special needs kids for a week," Erica Howell said. 
The foundation, thanks to the tremendous support of the community, is also looking to donate five electric wheelchairs to families in need.
"Four of them are in perfect condition," Howell said, noting the generosity of the businesses and individuals who helped secure the items. A fifth used wheelchair was also donated, with Brilliant Medical Boutique agreeing to make repairs to bring it up to snuff.
"The foundation has just really exploded — we weren't ready for all of this support," Howell said with a smile on her face.
One of the foundation's main fundraisers is an annual softball tournament, which has nearly doubled in size, prompting the Howells to organize the event twice a year. Last year, they added a car show, concert and other entertainment.
"Something for everybody," Howell said.
The next tournament is scheduled for April, but the week prior, the AUsome Allen Foundation will be taking part in Weatherford ISD's version of the Special Olympics — Roo Fest — April 22.
Howell said they're on the lookout for a dunking booth for the event, and they plan to use it at the upcoming tournament as well.
Anyone interested in obtaining an electric wheelchair, camp sponsorship or learning more about the AUsome Allen Foundation can contact Howell at ehowell1619@gmail.com or 817-901-8273.
As for now, the Howells are enjoying watching their oldest complete his senior year — Allen just received his class ring and wore it during warm-ups — as both he and his namesake nonprofit continue to blossom.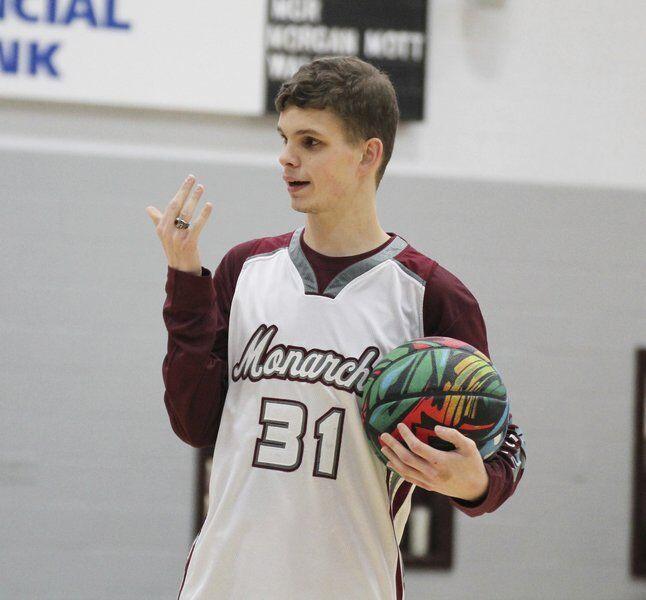 "Eventually, our big goal is to be able to have our own ranch for special needs kids to come and stay for weeks-long periods ... the AUsome Allen Ranch," Howell said.