Few freshman athletes are skilled and confident enough to not only start but become major contributors on varsity teams. Only a handful of ninth graders in Parker and Palo Pinto counties surmount the improbable odds and become key players at such early ages.
Some youngsters are too talented to sit. Others could use more seasoning but are thrust into starting roles after injuries to older teammates. Community Christian School's Jesse Rodriguez is a combination of the two.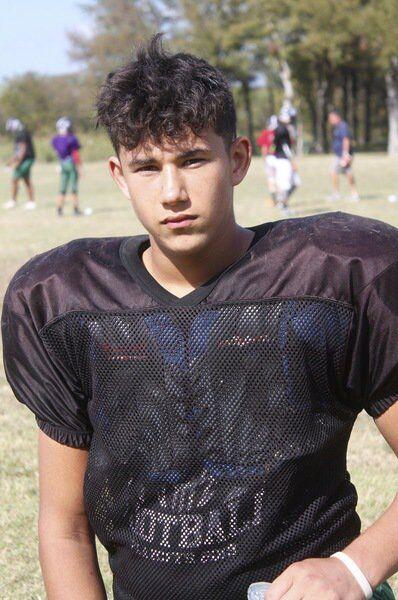 Big and athletic, Rodriguez had been starting already at center for the Warriors football team. Only 14, he was promoted to varsity quarterback earlier this month after junior Jackson Horton — the coach's son — went down with a broken collarbone.
Head Coach Bryan Horton feels lucky having Rodriguez in the wings.
"I don't know about all freshmen, but this one in particular has a real closer's mentality," he said. "He doesn't kill himself about mistakes, just gets back out there and tries to do it right the next time."
Community Christian is a small private school with fewer than 15 players on its roster. Freshmen are more likely to excel at small schools, where competition is less fierce.
"At our level, it's not all that unusual," Horton said. "Being limited in numbers, we sort of look at who wants it the most and who gets the results, and then we encourage the kids behind them to make those guys earn it every day in practice."
The Warriors lost several key seniors after last season, and the team's youth made it clear that Rodriguez would be a leader soon. At a recent practice, he was the biggest person on the field, even dwarfing the coach. A couple of kids appeared to weigh about 100 pounds each in full pads. Rodriguez is 6 feet tall and 210.
He has been the quarterback in waiting, figuring to spend this year and next as a center with Jackson Horton at the helm. Then, Rodriguez would assume play calling responsibilities as a junior in 2022.
The injury sped up Rodriguez's timeline temporarily.
"It was a pretty smooth transition," the coach said, noting that his son is faster with more experience and technique while Rodriguez is bigger and tougher for tacklers to bring down.
The Warriors have lost each of their eight games in 2020, including the last two with Rodriguez at quarterback. The losses hurt but provided valuable learning experiences for Rodriguez, the coach said.
Horton coaches his young players the same way he does the older ones. A kid's age doesn't impact his on-field success as much as his maturity level, family situation and personality, Horton said.
"I've had the pleasure of coaching a lot of freshmen and eighth graders on varsity squads," he said. "Other than being aware that they miss plays because they're just not as fast, I don't really have to handle them differently because of age."
Rodriguez is sensible and "responds real well to truth with encouragement," Horton said.
I asked Rodriguez whether he will be disappointed at returning to center after the starting quarterback returns.
No, he said. The team is in better hands with the more experienced junior at quarterback, and Rodriguez prefers to continue developing his skills and waiting to take over after Jackson Horton graduates.
Coach Horton chuckled at Rodriguez's response.
"Not only is he a good kid, he is pretty humble, too," the coach said. "He might end up being the best politician of the bunch with that answer. He might be running for governor one day."
Not far away at the larger 3A Millsap High School, fans are being treated to amazing play from another freshman phenomenon — Jolee Van Dyke. Millsap's volleyball team is talented and playoff bound, and Van Dyke has played a large role in the success. Her strong play earned her the nickname "Fab Fresh" in the Weatherford Democrat's Volleyball Roundup articles this year.
Millsap Head Coach Kylie Serrato began training Van Dyke as a seventh grader and has watched her skills improve steadily.
"She's always been a hard worker and just a natural at the game," Serrato said. "She told me from day one that her goal was to make varsity as a freshman. I would tell her how rare it was and that she would have to work really hard for it. She knew how big of a challenge it would be, but she accepted it and sought after it."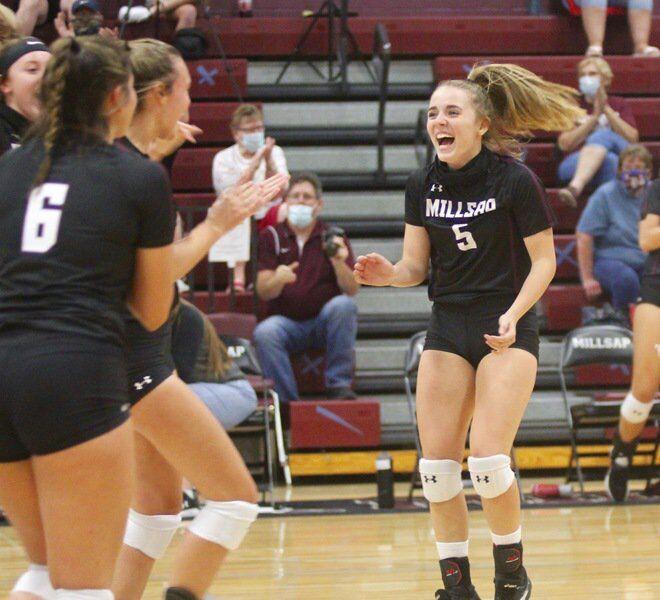 Currently, Van Dyke leads the team in aces with 41 and is among the leaders in digs and assists. She plays club ball in the off season and displays "a passion and knowledge for the game unlike any kid I've seen at her age," the coach continued. "For most freshmen, being such a major contributor on your varsity team is pretty rare, but I don't consider her 'most freshmen.'"
Van Dyke's youth has shown itself at times, particularly early in the season. She tended to put the team's losses on herself since she was still learning and adapting to varsity-level play. Serrato and Van Dyke talked about it a couple of times.
"I think as a freshman on varsity and being one of the two setters on our team, she carries a pretty big weight on her shoulders," Serrato said. "But I would always tell her that it takes more than one person to lose a game and that she will just need to keep working to improve and get better."
Serrato doesn't treat Van Dyke any differently than older players.
"If you expect them to perform at the highest level, you can't coddle or baby them," she said. "You have to keep pushing them and be honest with them about what they can improve on and, most importantly, help them get there."
If you think a freshman's success would inspire jealousy among older teammates, think again. This isn't the case in Mineral Wells with Rodriguez or in Millsap with Van Dyke.
"The team chemistry with this group is fantastic," Serrato said. "They know what a rarity it is to have a freshman playing at the level she does, and they all root for her just like she roots for them."