The Poolville boys cross country team did something no other team has accomplished at the school — finished second at the state meet.
"The team was trying to cap off a spectacular season in which they won all seven of their regular season meets and also the district and regional championship," said Coach Steven Stegall. "The Monarchs came up just short of perfection."
Finishing as runner-ups is the farthest any Poolville cross country squad has finished at the state meet.
Individually, the star of the day was Henry Fierro, who won the state title in the 5K race. Fourth time was charmed for Fierro, who had competed in the same race as a freshman, sophomore and junior. He finished 59th, eighth and fourth in those years.
This year, he was determined to win the gold and worked out with near-obsessive focus.
"I depended a lot on my coaches, that's for sure, whether it was my summer track coach or my high school coach making sure I did what I had to do eating-wise and making sure I always pushed hard on my workouts."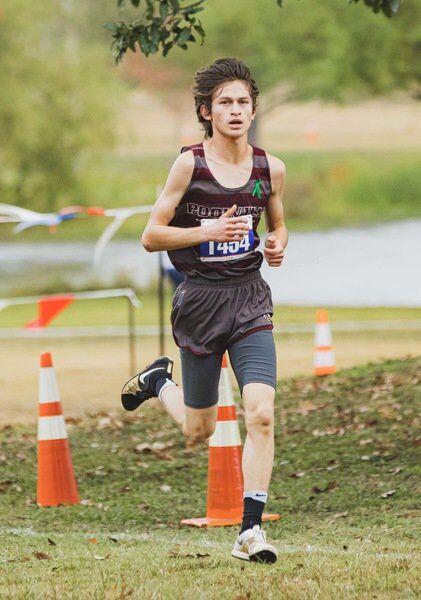 Running several miles at a time for days at a time might sound difficult, but that was nothing compared to giving up his beloved Dr Peppers for — gasp! — water.
"Less junk food, less sodas, more milk, more water," he said. "I struggle with drinking water. I can't bring myself to drink a bunch of water like everybody else, and I had to constantly remind myself to do that."
His diet centered around red meat, fruits, vegetables, peanuts and trail mix.
During the race, Fierro trailed Bracketville's Abraham Morales with 400 meters to go. All that protein must have come in handy, because Fierro was able to find a second gear, pass Morales and win the race by an impressive 14 seconds. Official time: 15 minutes and 57 seconds.
After running through the banner at the finish line, he picked it up and slammed it on the ground. It wasn't a cocky move. It was borne of four years of waiting.
"I told myself, 'It's about time,'" he said. "The four years in high school working up to it felt like it took forever."
His teammates enjoyed decent showings as well. Freshman Dylan Tovar showed what he will be capable of in the next four years by finishing 16th overall. Sophomore Levi Ramirez was 38th, junior Hunter Gober was 44th, freshman Eli Lang was 66th, senior Evan Lang was 93rd and junior Austin Woods finished 99th.
After finishing the state meet, which was held in Round Rock, the kids loaded up on a school bus and headed back to Poolville. Along the way, they stopped at a Buc-ee's for snacks.
"I still had the mindset of, 'I need to eat healthy, so I'm going to get me a Powerade or Body Armor or just water,'" he recalled. "I walked past the fountain drinks and thought, 'Oh my gosh, I get to have a soda!'"
He described his first sip of Dr Pepper in five months as "like Christmas."
The next day, he went to McDonald's for lunch.
DP and Mickey D's will have to be shelved again, however, as track and field season is about to begin, and Fierro plans to run the 1-mile and 2-mile races.
"Eventually, I'm going to have to resume the healthy diet because next week my training for track season will start," he said. "I've been letting myself get a little spoiled, and I have to stop."
When he isn't winning state titles, Fierro works at Walmart in Weatherford. Earlier this week, he signed a letter of intent to attend East Central University in Oklahoma and continue running track. Afterward, he is considering a career in law enforcement or marketing.
The girls cross country team enjoyed some success as well. Senior Lucy Ramirez competed in her third consecutive state meet and finished 29th overall.
"She has had an outstanding cross country career representing the Lady Monarchs," Stegall said.
Sophomore Makaylee Ray was running her second state meet and finished 65th overall.