It's August in Texas, which means one thing — a new gang of high school athletes have arrived.
The "oomphs" as players hit foam props, the shrillness of the coaches' whistles (and yells), the slap of a spike on the volleyball court, and even a couple of drums and horns thrown in brought out participants in band, volleyball and football this week.
In Mineral Wells, Seth Hobbs, beginning his first year as head football coach, helpfully let his players know their left from their right through push-ups, his voice booming throughout Rams Stadium on a Tuesday morning. In the nearby parking lot, band and color guard members practiced their timing and steps.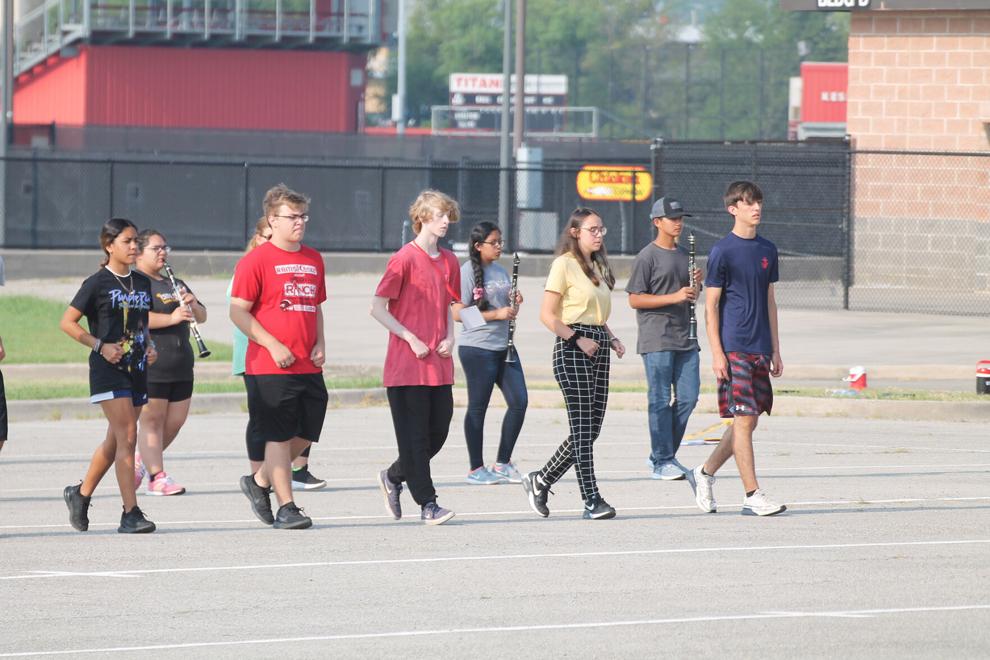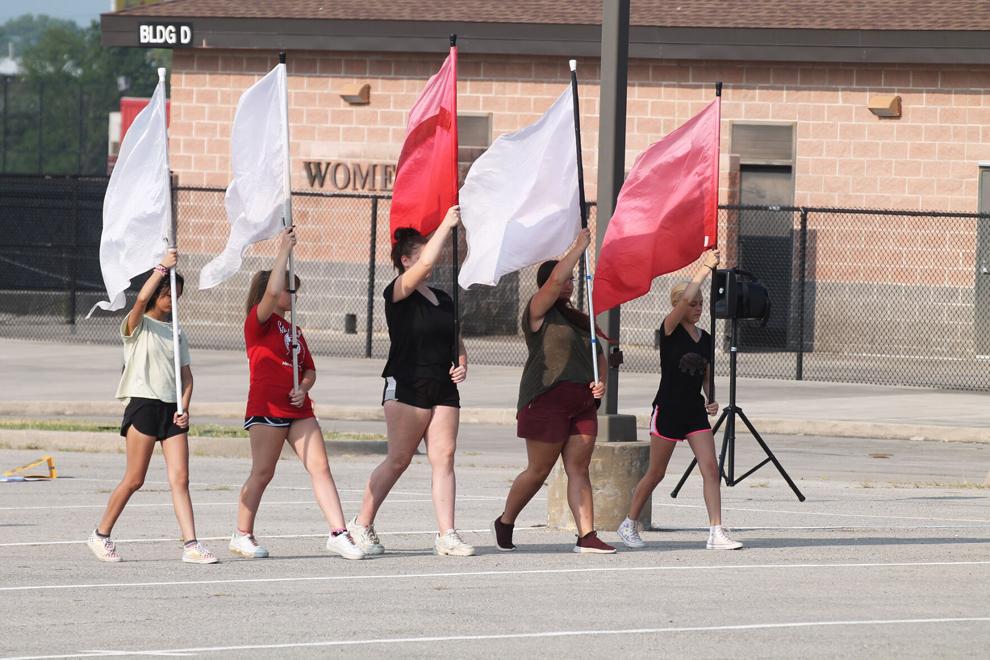 In Weatherford, the freshmen swarmed Kangaroo Stadium, spreading out into small groups to practice different drills. 
"First team, all-district safety right here," one Kangaroo boldly proclaimed on his way off the field for a water break.
Next week, Weatherford's "big boys" are expected to take the field. And a few weeks after that, the stadium lights will shine down as teams kick off their season debuts.
Several local teams are expected to maintain high expectations, while others may relish the underdog role. Here's where the teams stack up in this season's predictions, as noted in Dave Campbell's Texas Football magazine:
Weatherford Kangaroos, District 3-6A
Last year, the Roos finished 4-3 in district, coming up short in the bi-district playoff against Eaton. They're predicted to finish fifth in their district, behind Euless Trinity, North Crowley, Saginaw Boswell and Haltom, and will need to surpass those expectations to get into the top four to qualify for a postseason run.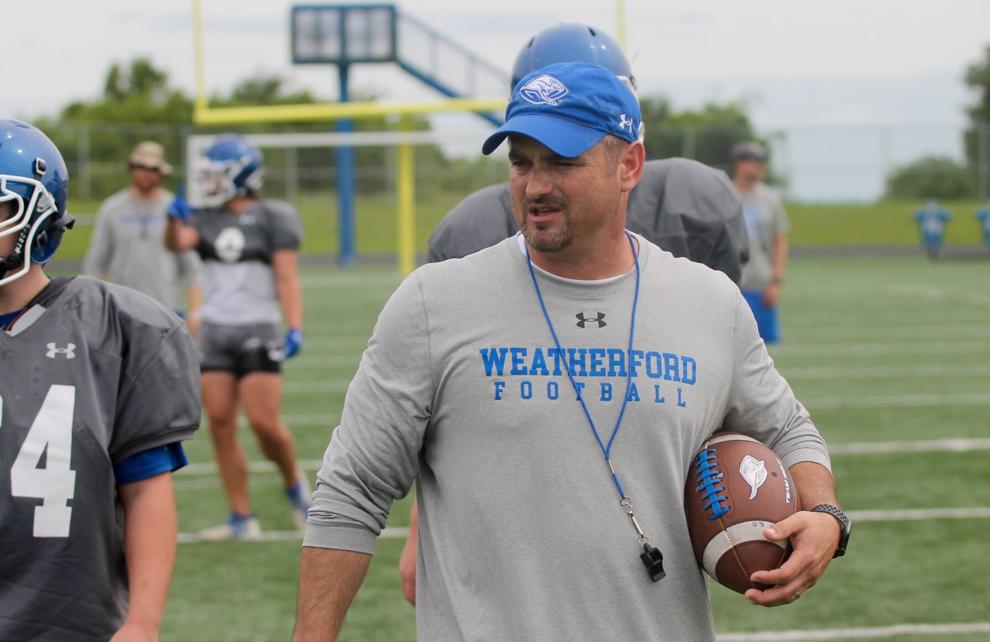 New head Coach Aubrey Sims is welcoming four returning starters on offense, including a pair of juniors in running back Brayden Bork and wide receiver Melvin Polk. The key will be breaking in a new quarterback for the second straight season.
On the defensive side, Weatherford can look to linebacker Kobe Kidd, the team's leading tackler (137) from last year, and multi-talented lineman Gary Bannon.
Aledo Bearcats, District 5-5A
Perhaps the least surprising, the defending state champion Aledo Bearcats are predicted to top their district, which includes Mansfield Timberview, Burleson, Arlington Seguin, Everman, Cleburne, Waco University and Joshua.
The Bearcats rolled to a third straight state trophy last season, with their only loss coming to Cedar Hill, another state finalist.
One of the ones to watch on offense is tight end Jason Lewellen who, at 6 feet 5 inches is a big — and quick — target. Quarterback Brayden Fowler-Nicolosi entered the game as a start mid-season, but still put up big numbers in with 1,372 yards and 12 touchdowns passing.
Youngster Cap Mooney, a linebacker, earned MVP honors in last year's title game as a sophomore, and is sure to be a leader for the Bearcat defense this season.
Mineral Wells Rams, District 3-4A
The Rams ended last season 2-7, though they won their first game since 2018 and ended up nabbing a playoff spot. And they have some familiar faces coming back to try and do that again.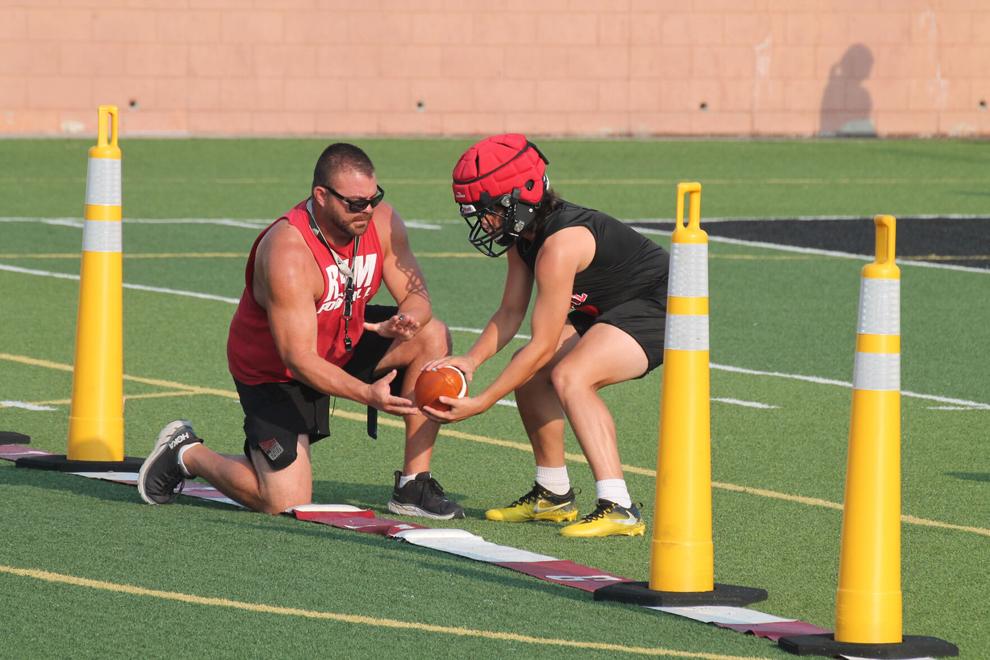 Head Coach Hobbs is one of those, serving as defensive coordinator in 2020, and he'll have seven of his starters with him, including linemen Bryce Fellows (58 tackles) and Tyson Reeves (four sacks).
On the offensive side, the Rams have quarterback Mason Facteau, who began last year on the junior varsity squad, but worked his way up to varsity starter midway through the year, completing more than half of his passing attempts.
Texas Football has the Rams predicted to finish fourth in district, behind Graham, Iowa Park and Vernon.
Springtown Porcupines, District 4-4A
It's high hopes for the Porcupines this season, who finished as regional finalists last year.
Springtown is predicted to finish atop its district, which includes Decatur, Wichita Falls Hirschi, Lake Worth, Gainesville and Burkburnett.
Four starters are returning on offense, including standout wide receiver Matt Lockard, who had 654 yards and 10 touchdowns receiving last year. He'll be aided by tight end Brodee Trejo and lineman Cody Brackeen.
Brock Eagles, District 4-3A
A familiar face in Parker County will lead this season's Eagles squad in former Weatherford Head Coach Billy Mathis.
Always a powerhouse, Brock is predicted to finish atop its district, with running back Kutter Wilson named Texas Football's preseason offensive MVP.
Wilson (1,522 yards and 20 TDs rushing), is one of six offensive starters returning. The Eagles lost their starting quarterback, Jaxon Gleaton, to graduation, but have some good prospects in Tyler Moody and Zach Brewster.
Millsap Bulldogs, District 5-3A
Last season was special for Millsap Head Coach Jake Johnson — it was the first group he had coached from seventh grade to graduation.
Some of those Bulldogs may be gone, but plenty are back and hungry for more, including starting quarterback Lawson Nairn, who threw for more than 2,000 yards last season.
Other players to watch include running back Waylan Dunn, who rushed for more than 600 yards, and two wideouts now juniors Carter Nairn and Isaac Bourdelais.
Millsap will need to fill some holes along the offensive line and secondary, but looks to be in good contention to meet — if not surpass — its preseason prediction of finishing third in district.
Peaster Greyhounds, District 4-3A
Peaster had its initial introduction to UIL competition last year, and will look to learn from its rookie season.
Though predicted to finish seventh in a district that includes county rival Brock, Pilot Point, Whitesboro, Boyd, Paradise, Bowie and Ponder, the Greyhounds have plenty of firepower returning this year.
At the offensive helm is quarterback Gunner McElroy, son of head Coach Gary McElroy. The junior had a monster season, with 1,640 yards and 14 TDs passing, 377 yards and seven TDs rushing and — as if that weren't enough — 35 tackles and two interceptions on the defensive end.
McElroy will be flanked by fellow returners Tramar Gilbert at running back/linebacker and Caden Duer at wide receiver/defensive back.
Santo Wildcats, District 8-2A
The Wildcats may have surpassed expectations last year by finishing as bi-district finalists, but with a whole heap of returning players this year, there may not be any surprises.
Head Coach Devon Mann has quarterback Case Proctor returning, as well as running back Billy Sandoval and fullback Elijah Pennington. 
A dual threat, Pennington was also picked as the preseason defensive MVP by Texas Football.
The Wildcats are predicted to finish second in their district of Albany, Cross Plains, Hico and Meridian.
Gordon Longhorns, District 11-1A
After finishing as area finalists last season, the Gordon Longhorns are ready for more.
They'll have a lot of firepower to do that in some of their returning athletes, including stud running backs Morgan Mahan and Hoss Rouse.
The two will be key leaders on both the offense and defense, with Mahan named preseason defensive MVP. The Longhorns are projected to finish second in district behind Strawn.
Strawn Greyhounds, District 11-1A
Strawn's Dewaine Lee is heading into his 19th year as head of the Greyhounds, and his team is poised for another successful campaign after finishing as state finalists in 2020.
Offensive players to watch include running backs Lorenzo Garcia (Texas Football's preseason offensive MVP), Jesse Corona and Kyler Tunnell, as well as quarterback Evan Williams.
On the defensive side, look for lineman Jett Millsop, defensive back Leo Delatorre and linemen Jose Estrada, Payton Harris, Trenton Sizemore and Justin Patton to make an impact.
Trinity Christian Eagles, TAPPS DIII-District 2
The Eagles will have a lot of experience on the line this season, with two-time all-state senior Braydon Smalley, a force on either side of the ball. He'll have some help on the offensive line with Caleb Gabbert (6-foot-4, 270 lbs.)
Defensive backs Kennan Dowling (45 tackles) and Reeve Hargrove (32 tackles, 4 interceptions) will help solidify TCA's secondary.
The Eagles are projected to finish fifth in their district, but will look to piggy-back off of last year's area final performance.
Weatherford Christian Lions, TAPPS DIII-District 2
Head Coach Stephen Cox and his team took their lumps during their first 11-man season, but return all the wiser.
Lineman Boston Cox, now a junior, returns to provide experience on both sides of the ball after gaining all-state honors last year. Running backs Blake Heide and Rand Green are ones to look for on offense, but can provide help on the defensive side as well.
Community Christian Warriors, TCAF Division II-1
The Warriors have some young yet grizzled veterans returning to the field this year as they look to rebound from a winless season last year.
Running back Jackson Horton only played six games last season, but still managed 676 yards and 11 TDs rushing and 1,296 yards and 18 touchdowns passing. 
Offensive all-around sophomore Jesse Rodriguez filled in at the quarterback position when needed, and can pass, run and catch as well. 
CCS is predicted to finish sixth in their division that includes Haslet Heritage, Waco Parkview, Waco Methodist Children's Home, Haslet Legacy, Fort Worth Hill and Nazarene Christian.
Azle Christian Crusaders, TCAF Division II-2
The Crusaders quietly finished as state finalists last season, but are sure to be targets for opposing teams this year.
Providing a big presence — literally — on the field for Azle Christian is returning running back Camden Logan, who weighs in at 6-foot-3, 225 lbs. He had 1,200 yards rushing with 16 touchdowns and has shown he can catch as well, most likely from quarterback Chandler Boling.
Tight end Jake Skartvedt is sure to be a physical presence on the defensive end.
The Crusaders are projected to finish third among Wylie Prep, Lantana Harvest, Arlington St. Paul, Dallas Academy, Decatur Victory, Irving Universal and Mesquite Founders.