POOLVILLE — Members of this year's Poolville boys' cross country team began the season on a mission — to win a state title for the town of Poolville.
"It's a great little place that a lot of people don't know about — a great town with great people," Poolville Head Coach Steven Stegall said. "That's something we had talked about for a long time, we wanted to win a state championship for the town of Poolville so that everybody could have a little bit of pride."
That motivation drove the team, ranked No. 2 for most of the season behind Hamilton, into regionals and into the state finals Nov. 6 in Round Rock.
Last year, the Monarchs finished as state runners-up, the farthest any Poolville cross country squad had finished. This year, they shattered that, finishing 12 points ahead of Hamilton to claim the 2A title, the first for any Monarch boys' team and only the second state championship for all Poolville programs. 
As a measuring stick, Poolville ISD was created in 1911. The last state title came from the girls' basketball team 47 years prior.
"This is a group where six of them were on the team last year that finished second in state," Stegall said of the squad made up of senior Hunter Gober; juniors Levi Ramirez and Cash Morales; sophomores Dylan Tovar, Eli Lang and Jacob Back; and freshmen Aiden Mansell and Bobby Elliott. "We knew we had a good chance to win so we started practicing in the middle of June, getting up at 6 a.m. in the summer and running as much as seven miles in a workout.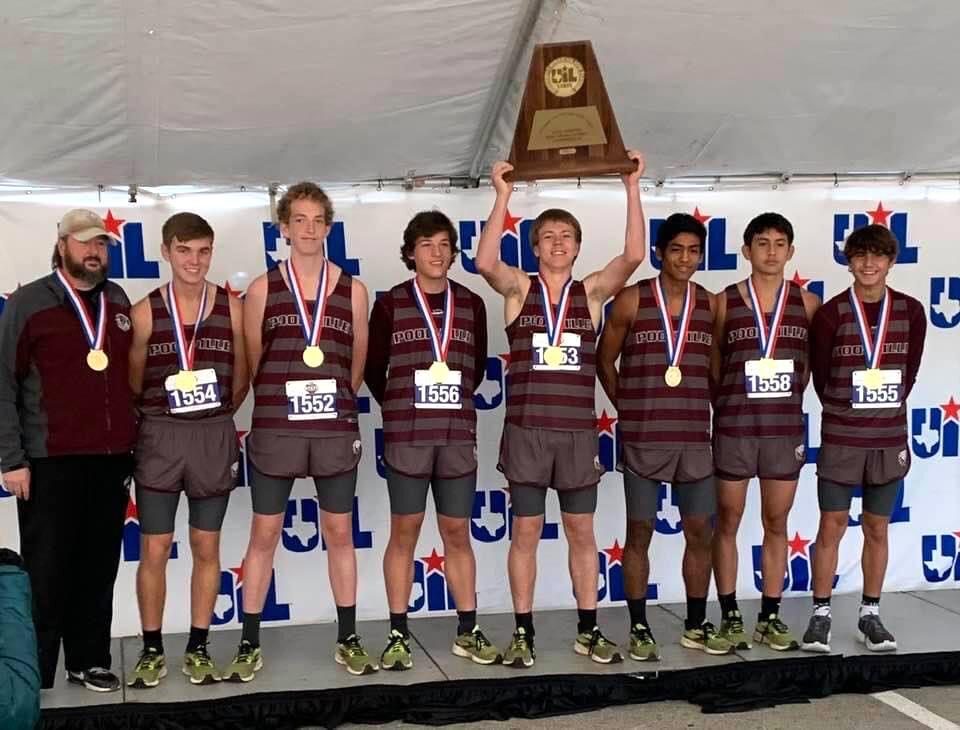 "They were really committed and that's what makes it so special is that they wanted it and they were able to go out and get it. It was a great race, and the kids did exactly what we talked about — eating right, going to bed and doing everything right. We were really well-prepared for it."
During the offseason, the runners also put in effort, participating in the Mineral Wells Crazy 5K and other events to improve their times. And during the regular season, Poolville had its share of difficulties  — its top runner came down with COVID and was sidelined for several weeks, and another runner fought his way through shin splints. Still, the Monarchs pushed on through.
Runners may qualify for the state meet either as a team or as individuals. Poolville also has a girls' cross country team, which didn't qualify, but junior Makaylee Ray and freshman Emery Bryan did, finishing 24th and 69th, respectively.
For the team meets, teams can be made up of seven runners, but the scores only come from the top five. The sixth runner is the tiebreaker, and the seventh is an alternate in case of an injury or illness.
Scoring of the 5K course, which consists of grass, gravel or concrete sidewalks (with a few hills thrown in for good measure) is similar to that of golf — the lower the score, the better.
The total points are accumulated based on the places the runners finish, i.e. a fifth place runner would give his team five points, 10th place, 10 points.
"The more guys you have that finish closer to the top, the better it is," Stegall said. "This year, our highest runner (Tovar) was 11th, but all the other guys were right there behind him, so we had a low score, even though we didn't have anybody as fast as he was."
The win was also special for Stegall, who in his 13th year at Poolville, has watched some of those athletes from kindergarten. And with only one senior graduating, the future is bright for the Monarchs.
"It's one of those deals where everything falls into place at the same time, a little bit of luck and a little bit of skill," he said. "But we hope we might keep it going."
For now though, those athletes will have to aim for a basketball title, as the runners changed out their running shorts that Saturday for basketball shorts the following Tuesday. Some of the skills gained through cross country should help.
"The best thing you gain from cross country is mental toughness, pushing yourself when you're tired and you don't want to do it," Stegall said. "For these athletes, it's neat that they all do a little bit of everything — change gears, change your shoes and do a different sport."