The chum salmon is depicted fertilizing eggs on a river bottom in Alaska, a ritual that occurs every year and keeps that state's rivers teeming with fish. Taxidermist Gary Robertson tapped into his creative streak to create the reproduction mount of the fish, using a reclaimed green-tinted stained-glass window from an old Fort Worth church to double as the river bottom. Adorning the glass are the real jawbones of dead fish to symbolize how chum salmon die after they spawn.
To make the fish — a molded piece of fiberglass, really — appear realistic, Robertson spent more than 250 hours of painstaking brush work and used more than 40 different shades of paint to recreate the fish's vivid colors that come alive during spawning season.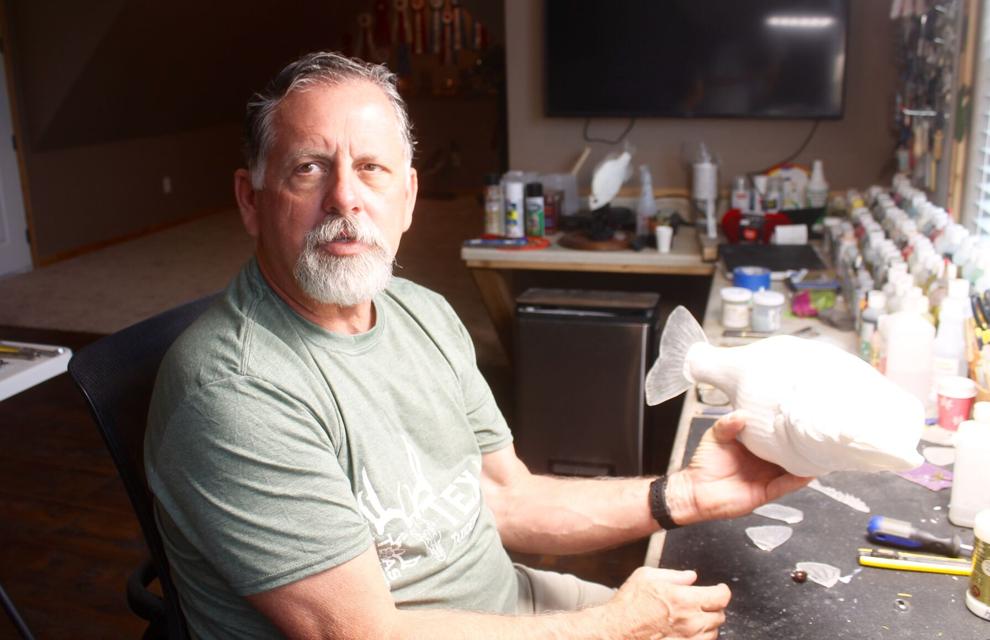 Few chum salmon can make it through the spawning process without scratching up their face a bit, and Robertson added a few scars for realism's sake.
All the effort paid off.
So far this summer, the mount has won state championship titles in Texas and Louisiana, and Robertson hopes to nab more ribbons and hardware before year's end.
"It's been a real winning fish," he said.
In August, Robertson plans to enter his creation at the national championship in South Dakota.
Robertson competes in the top category — the master class, reserved for taxidermists who have won titles previously. The other classes are novice and professional.
Robertson is considered among the the top taxidermists around despite being relatively new to the scene. He didn't create his first mount until six years ago after a lifetime spent fishing and hunting. He had paid for numerous mounts over the years before deciding to learn the trade.
"I said this is crazy paying for something I think I would enjoy doing," he said.
Taxidermy is a hobby, and Robertson's real job is working for a manufacturer of motorcycle sidecars. He creates reproductions for himself, friends and a few customers as time allows.
For his fish mounts, he began by painting reproductions rather than making real mounts. In time, he learned how to make actual mounts from real animals, although most customers these days, including himself, prefer reproductions based on photos.
"If your kid caught his first fish, and he was adamant on having that exact fish, then we could do it as an actual skin mount," Robertson said. "But, if he released that fish, I can find one in a catalogue that is that exact same size. There are hundreds [of models] in every weight class and every species."
Robertson relies on his painting skills, first learned when he was a fledgling artist as a child, to make the fish resemble the one in the photo.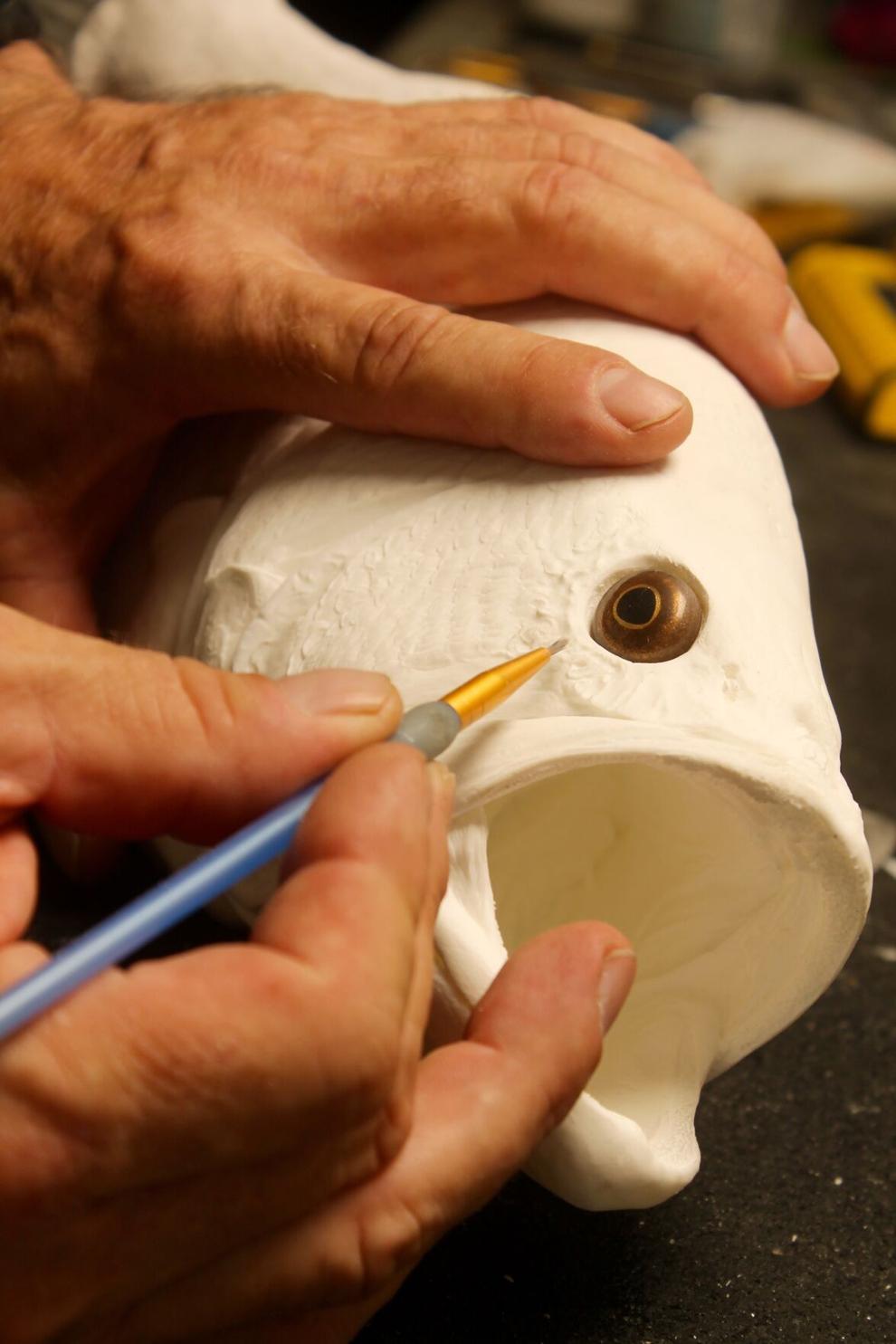 "A lot of people now will say, 'Hey, I would like a reproduction of a fish my grandma caught or my son caught,' " Robertson said. "That's what I specialize in, but I will sure do a skin mount no problem."
Repros have become more popular in the last 15 years, a trend in Texas that Robertson attributes to the popular bass fishing reservoir in East Texas, Lake Fork. The catch-and-release lake was established in 1980 and helped push the movement to rely on reproductions for those watery memories.
Many taxidermists prefer making repros because it means the actual fish is still swimming, ready to be caught and released another day.
"If every 10-pound bass in Lake Fork was kept and mounted on the wall, there is not going to be a lot of 10-pound basses left in Lake Fork," Robertson said.
A repro costs more to make than a skin mount but lasts much longer.
"Done properly, a skin mount will last many, many years," Robertson said. "A fiberglass reproduction will last virtually forever. You can pass it down from generation to generation, and they are much more durable in respect to moving them around from home to home."
The key is to make the repros so lifelike that few people notice the difference.  That requires skill with paints and brushes and a vast knowledge of fish.
"As in a lot of things of this nature, there are a lot of secrets to what people do," Robertson said. "Techniques. How you paint the scale pattern. Which colors you use."
The problem is finding a successful taxidermist willing to pass along those tricks of the trade.
"Most of the guys keep it pretty tight," Robertson said. "I convinced a guy who is a national champion and a multiple state champion in Oklahoma to teach me the basics. He was kind enough to do that."
Robertson is a member of the nonprofit Texas Taxidermy Association. The group holds an annual show that is considered the biggest state competition in the country. The only taxidermy event that's bigger is the national show held every other year, Robertson said. 
"To win the state of Texas, to me, that's like God himself came down and blessed me," Robertson said with a smile. "To win state champion in any category, much less the masters category, is a gigantic win. That's why I'm so overwhelmed that I was able to do it after six years. Some guys have done this their whole lives — 40 or 50 years — and never got that."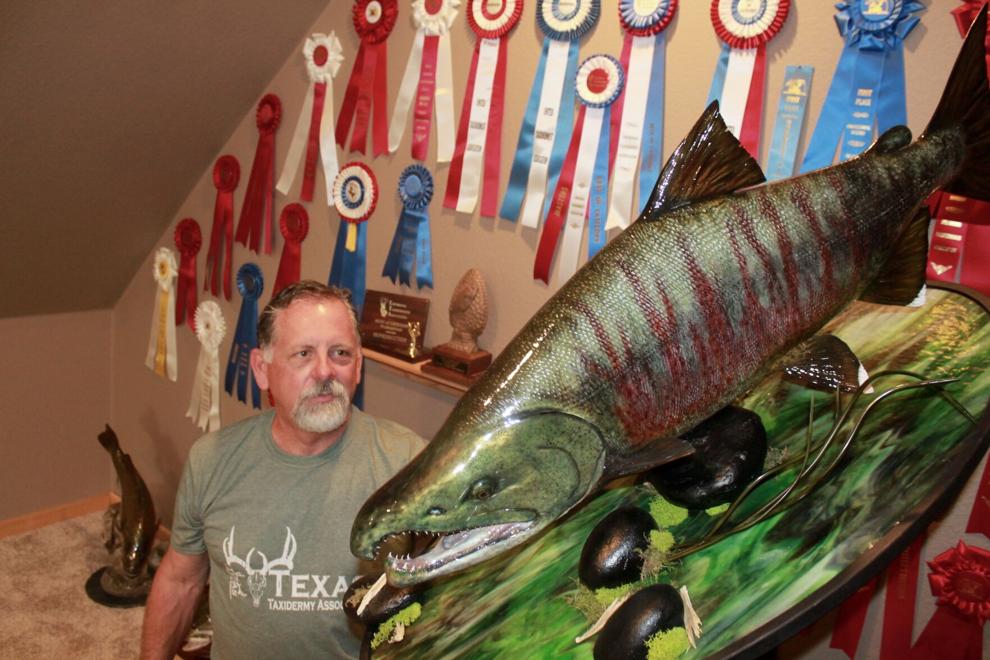 Even better than awards are the relationships he has forged.
"I've met some of my best friends that I've got," he said. "It's a really tight-knit, fun industry."
Robertson lives in a gated community near Cresson and works in a tidy studio on the second floor of his house, where he lives with girlfriend Missy Karnes. He works while sitting at a long table with a nice view looking out a window. About 100 neatly organized bottles of acrylic paint are within arm's reach. Robertson dipped his brush into many of those bottles while creating his championship chum salmon mount.
Judges scrutinize the mounts with flashlights and magnifying glasses while determining the winners.
"They look for any little flaw," Robertson said.
Several scratches on the fish's nose — what appeared to be flaws in the paint — were put there by design. 
"You might see these scratch marks here and think that's just me messing up," Robertson said, pointing to the fish's nose. "I actually put those in. When these fish are making their way back to the river where they were born, they go through all these commercial fishing nets. They always have these scratch marks on their nose where they wiggle through the nets. It's little details like that a judge will pick up on."
He crafted the salmon's gnarly little teeth using epoxy.
The chum salmon are born in freshwater rivers and tributaries and then head out to the ocean for several years. Afterward, they journey like homing pigeons back to the place they were born, where the females lay eggs and the males fertilize them, and then both die as the babies continue the life cycle.
The mount's unique concept and originality helped it win the championship.
Many competitors enter the old standby — bass mounts in various shapes and sizes. The first fish Robertson ever mounted was a bass. He's never been to Alaska or fished for chum salmon, but he fell in love with the species and the story of how they return to their homes to spawn and die.
Robertson named his mount "Final Journey" as homage to the fish's amazing travels.
"You'll go to a show and see a dozen bass," Robertson said. "Largemouth bass are almost a household name. A chum salmon in the spawning phase is a unique. I wanted something different."
Now, Robertson has something new to add to his bucket list — going to Alaska to fish for chum salmon. That can take the place of another item on his bucket list that was crossed out recently — winning a Texas championship in the masters category.