The first thing someone notices about Steve Trover's backyard is the barren look. Not a single tree. Trover raises pigeons, and trees provide an ideal perch for hawks and other predators. He convinced a neighbor to cut down a tree in his backyard, too.
"A pigeon can outfly a predator," Trover said while sitting on his back porch on a recent Saturday doing what he enjoys this time of year — waiting for his pigeons to fly home from faraway places. "If they're in the air, a hawk cannot catch them."
Pigeons slow down to land, and a smart predator will wait discreetly from a nearby tree limb to make its move.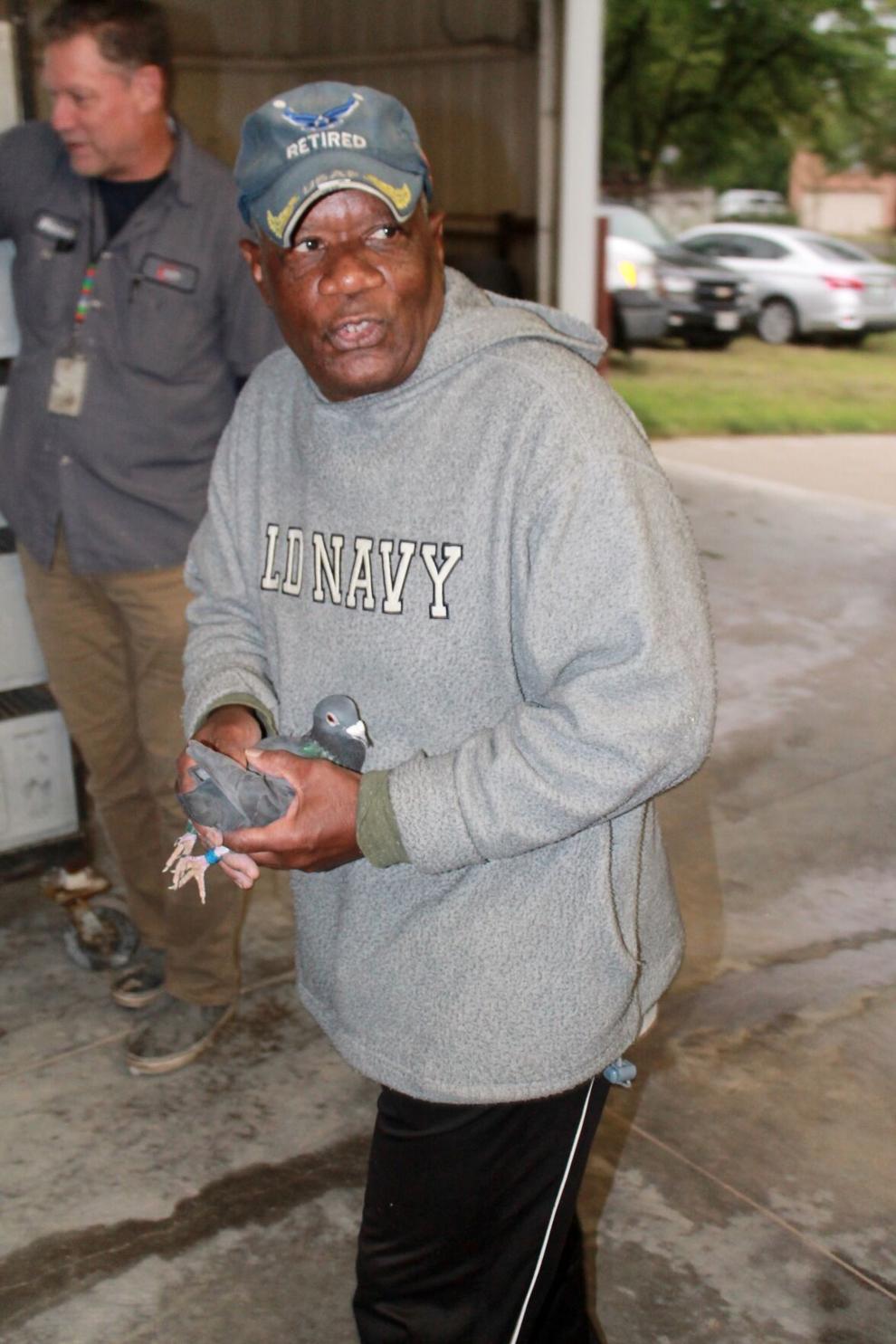 Trover is a member of the nonprofit West Wing Racing Pigeon Club that meets regularly in northwestern Fort Worth. The active members — about a dozen currently —  enter their birds in races that begin on Saturday mornings and finish whenever the birds return to their coops. Each bird has a computerized band attached to its leg that records its time of arrival. 
A recent race began at 7:30 a.m. on Saturday in Arkansas City, Kansas. The club members had met the night before at the clubhouse to register their birds for the race. Local clubs pitch in money to pay a driver to go around to all the pigeon clubs to fetch cages and haul dozens of pigeons overnight to a starting location hundreds of miles away.
Weatherford resident Brenda Robbins became interested in raising and racing pigeons two years ago and joined the West Wing club in 2020. For the recent race, she entered four of her best birds. She pulled one from its cage and held it. The birds are accustomed to being handled and don't seem to mind.
"Who's your bird there?" I asked.
"This is…," she said, flipping the creature over to look at the tag secured around it's spindly leg. "…MTZ One Nine Six Four."
"What a beautiful name," I said.
Robbins laughed.
"They don't have names," she said. "Seem like every time I name one, it disappears."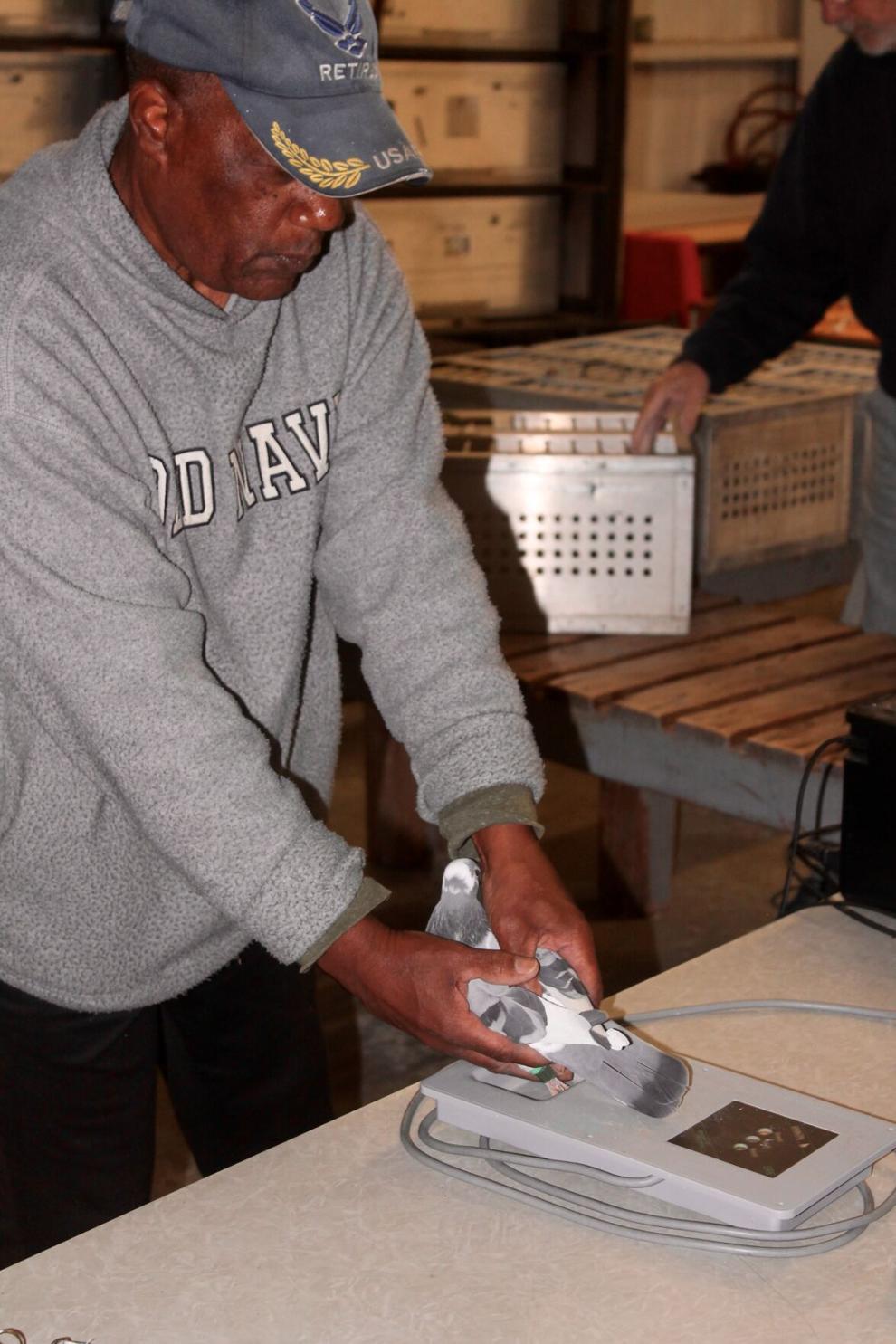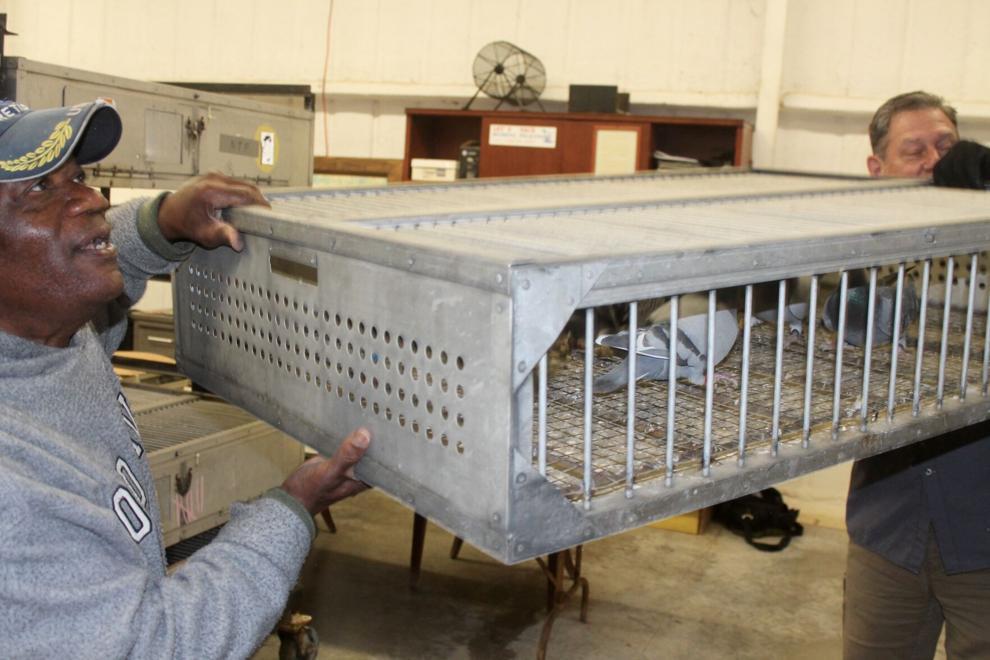 Racing pigeons have a remarkable return rate considering the long distances they travel, but it's not unusual for a bird to never be seen again after a race. Hawks and other predators take some. More likely, a bird will hit a high wire and go down. Some make it home with feathers missing, indicating they had smacked into something but recovered. They tend to fly in groups, with the lead birds dodging obstacles, and the followers behind them sometimes not reacting in time.
Most club members breed and raise their pigeons and don't have much money invested in them but feel sad when a bird doesn't arrive home safe and sound.
Five local pigeon clubs participated in the Arkansas City race with members stretching from Weatherford to Denton to Dallas to Wichita Falls. Races begin at the same starting place but end at numerous finish lines since birds fly to their individual coops in different cities. Winners are determined by the highest average rate of speed on their journey home.
Most of the races are for bragging rights only, although the club holds an annual futurity race that pays money to the winners. Some races around the globe offer prizes of $100,000 or more.
Wind velocity and direction are big topics of conversation at these pre-race meetings, as weather impacts a bird's senses and ability to fly. Pigeons fly about 40 mph but can average 60 mph or better with a tailwind and, conversely, struggle against headwinds.
A strong breeze from the north meant the birds would be racing with a tailwind and most likely topping 60 mph the next day. Covering 300 miles at an estimated 60 mph meant the birds would begin arriving at their coops about five hours later. So, at noon the next day, I was sitting beside Trover on his back porch with a camera at my side scanning the sky for winged creatures. Trover had entered pigeons in the race. He has raised pigeons for years and has about 150 currently.
As we chatted, a bird flew past, and I reached for my camera instinctively. The bird, though, was small and darted about in a manner far different from a pigeon.
"That's a sparrow," Trover said.
I checked the time. It was 15 past noon.
"It's just a waiting game," he said.
I was still holding my camera a few minutes later, when a plump pigeon flew over the roof and touched down on the large flat piece of plywood — the landing area — next to the coop entrance.
"When he goes through the door, there is an antennae that registers my computer clocks and collects all the information," Trover said.
The bird waddled through the coop door and disappeared.
Another couple of pigeons circled overhead but hesitated to land. Trover fetched a white pigeon, referred to as a dropper, from a crate and tossed it onto the landing. The white bird catches the attention of the racers and draws them to the coop entrance.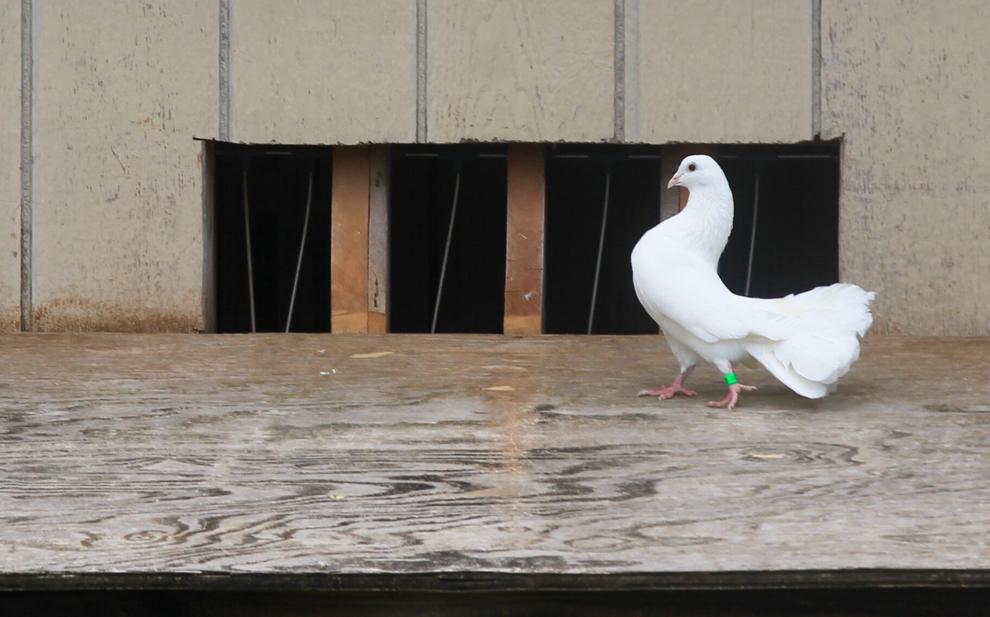 "When a bird sees another bird on the landing, it will come in quicker," Trover said.
Pigeons approach a landing similar to the way an airplane approaches a runway. They circle, use the wind to slow down and make their approach at the desired speed and angle.
"This is the best part of pigeon racing — the birds coming in," Trover said. "If you couldn't see that, it wouldn't be worth it. It's just a thrill to know the birds were released five hours ago and they went 300 miles and here they are."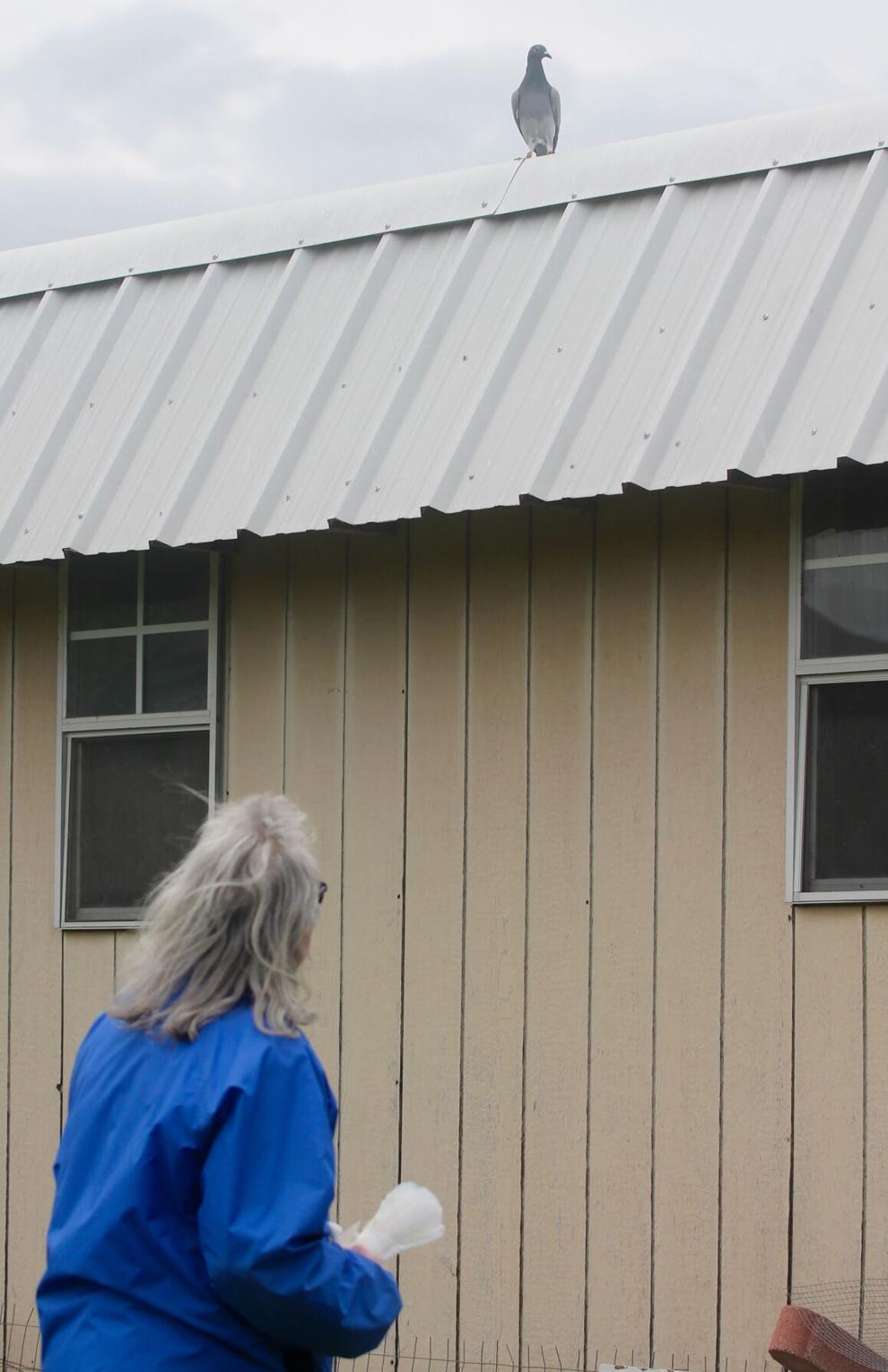 One bird landed on the roof of the coop and remained a full minute, ignoring the landing board and dropper bird and looking around, content to chill after a long voyage rather than head straight for water, food or pigeon love. 
Two more pigeons land on the neighbor's roof and stood there staring into space.
I wondered out loud why they didn't head to their coop.
"They're goofy pigeons," Trover said with a chuckle. "They've flown 300 miles. You'd think they'd like to come into their house."
They have tiny brains, I said, and asked whether the birds are hard to train.
"I like to say they are just like people," Trover said. "You've got some smart ones and some dumb ones."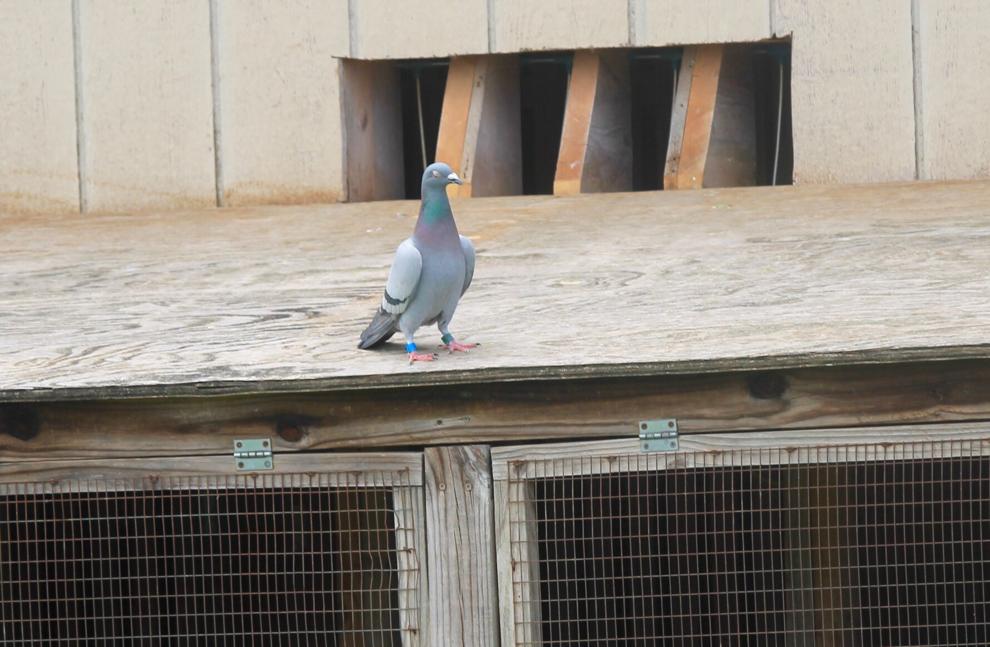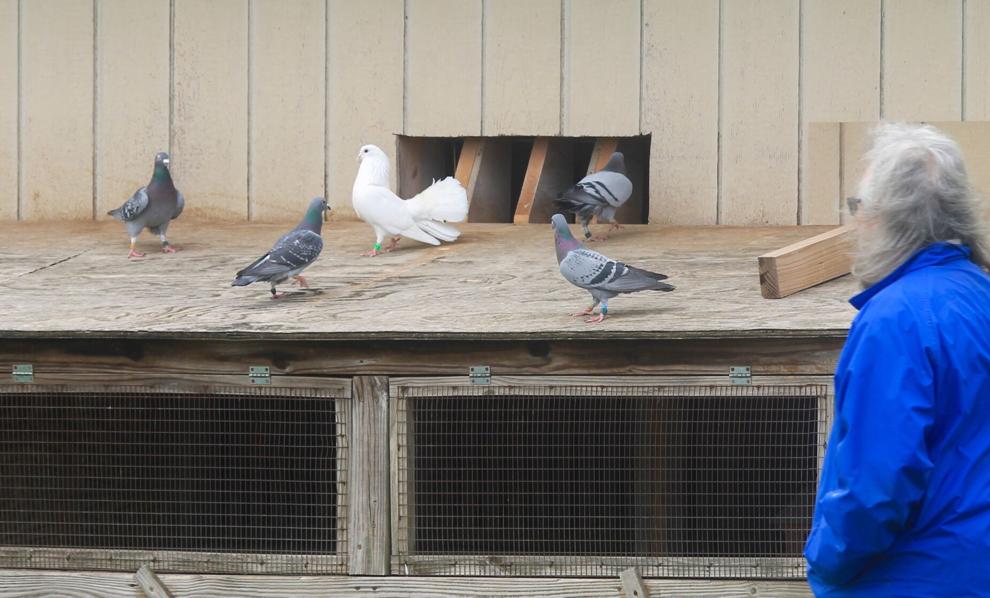 Trover relied on analytical thinking to prepare his birds for the Arkansas City race. He figured his pigeons would follow the flock south through Oklahoma and into North Texas toward Sherman. Twice before the race, he drove his racers up to Gainesville and released them to familiarize them with the area.
"If they can break [from the flock] at that point, then they don't have to follow them all the way to Sherman," he said. "The key to it is when they break."
Pigeon racers enjoy delving into the world of birds. Most West Wing members say they raised and bred birds in captivity long before they began racing them. Azle resident Darrell Miller has raised birds since he was a kid, catching pigeons in barns and breeding those with interesting color patterns to create vivid offspring.
"I like to look at them," he said.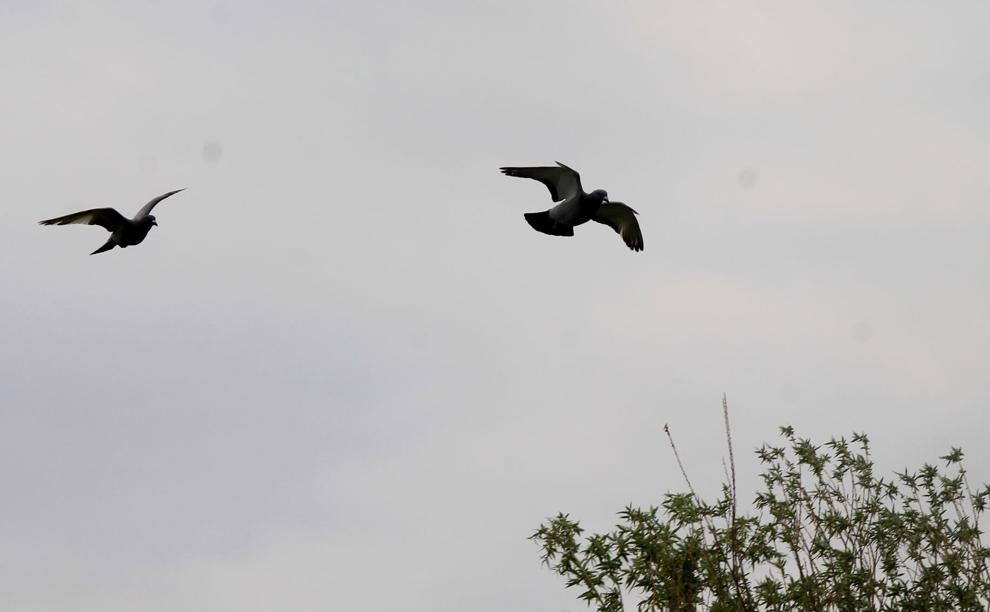 He began racing pigeons as an adult, and bought a couple of breeding birds from Belgium. Pigeon racing originated in Belgium, and breeders from around the world rely on that country's birds to create powerful teams of racers. A Belgium breeding bird can be purchased online for about $200 or $300 depending on lineage.
"I'm like Jerry Jones, building a team, trying to get that special team," Miller said. "You put them in the races and see how they do."
It doesn't take long to fill a coop with birds. Females can have two babies a month, every month for their lifetimes. 
Monthly costs to maintain pigeons aren't excessive. A 50-pound bag of food costs about $20, and a bird eats a few ounces a day. 
"If you had a small team of birds — 50 or less — you could get by with maybe $75 a month" in overhead, Trover said.
All the birds are born with the homing instinct, although nobody is exactly sure how it works. What's certain is pigeons are among the oldest domesticated birds and have been used for centuries to carry messages.
The trick to racing them is determining which birds are the most serious about returning home. Miller compared pigeons in a race to people getting off work. Some people clock out and want to go straight home. Others like to stop at the bar for a drink. He looks for birds that tend to go straight home and breeds them together, hoping the offspring will pick up those traits.
Sometimes friends razz him for spending money on Belgium breeders, bird feed and race fees, but Miller says he spends less money on birds than some of his detractors spend on beer and cigarettes.
Trover raised pigeons long before he raced them and will have them long after his racing done, he said.
"They are just fun to watch," he said. "There is a certain amount of therapy. It's peaceful. Something you can do in your backyard."
Trover encourages anyone interested in raising or flying pigeons to contact him at 817-707-8268. The members are good about helping newbies become acquainted with the art of pigeon racing.
"The more people you have, the more fun it is," Trover said. "You've got more competition."
Retired military medic Johnnie Haggerty is a founding member at West Wing, established in 1988. He began raising and racing pigeons with friends in Spokane, WA, in 1982 before moving to Fort Worth in 1985.
He had a favorite breeding pigeon, Brutus, but had to leave him behind in Spokane. Had he carried the bird to Cowtown, Brutus might have tried to escape and find his way back home to Spokane.
Haggerty started a new team of fliers and, three decades later, owns a solid team of about 25 experienced racers. He keeps his number of birds low to satisfy code enforcement. City ordinances vary regarding birds.
Haggerty begins training the birds at five miles from home. Then, 10. Then, 20.
"All the way up to about 30 miles," he said.
After that, he enters them in short races of about 100 miles to see how they fare. The fastest birds continue flying races, while the dawdlers tend to lose their places in the rotation.
Back at Trover's house, the pigeons continue to show up overhead and circle for a moment before heading in for a landing. 
"Great day in the morning!" Trover said, jumping up from his chair. "There's five."
The birds' gray bodies were pretty silhouetted against an overcast sky. Trover recognized every bird in the sky before it landed. They have distinctive markings, mannerisms and habits, he said. As we talked, his cellphone repeatedly made a beeping noise alerting him to text messages. The club members communicate with each other constantly, keeping everyone informed on bird times.
"For 23 years I've been doing this, and it's still fun," Trover said. "You do it for the love of the birds and the fun. I don't fish or hunt. This is my activity, taking care of my birds. You've got to spend your time doing something."