The strangest football season of forever came to a close tonight with a familiar ending.
The Aledo Bearcats defended their state championship and took home the trophy. The 52-21 victory over Crosby makes Aledo the first school in Texas history to win 10 UIL football titles.
The game began like most do whenever Aledo loses the coin flip. Sophomore kicker Clay Murador sends the ball sailing deep into the enemy end zone for a touchback. The Bearcats don't need punters and field goal kickers much since their offense is so potent, but it's nice to know a powerful leg like Murador's will be on Aledo's sidelines for two more years.
The Bearcats defense can be slow to stir sometimes, and this game was no different. The Cougars drove the length of the field on a mixture of passing and running plays and scored a touchdown to take a quick lead.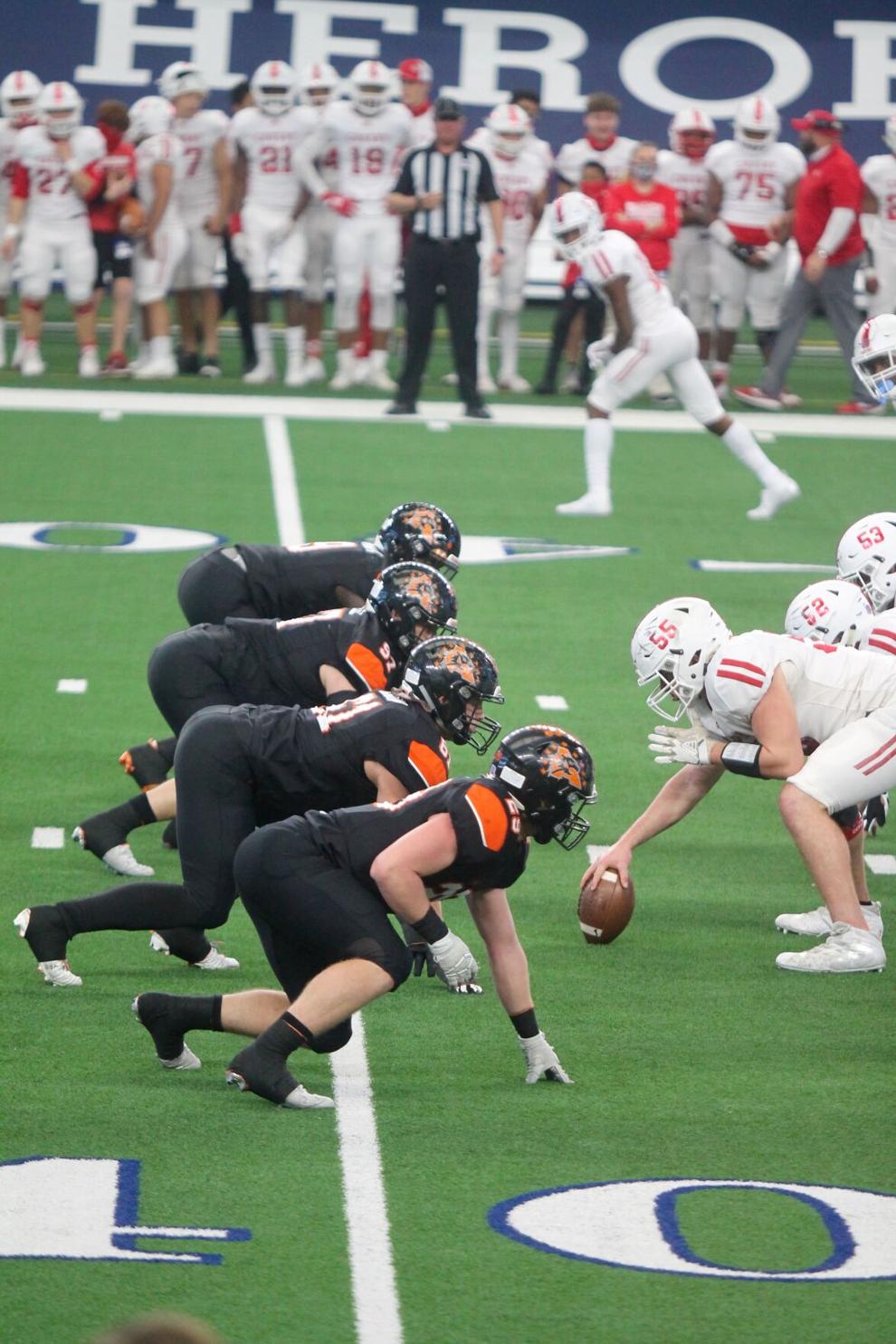 Aledo has counted on its offense to take control of games, and the big boys up front did what they do — create space for DeMarco Roberts and JoJo Earle to make magic.
Magic was, indeed, made but not without a struggle, if ever so slight.
The Cougars defense was fired up and ready to take on the state champs, and Crosby stuffed Aledo for the first two plays and forced them into third and long from their own 25.
Quarterback Brayden Fowler-Nicolosi flipped a pass out wide to Earle, who rounded the corner, broke a tackle, stiff-armed another defender and ran down the sidelines to the paint. Earle will be skirting the sidelines with the national champion University of Alabama Crimson Tide soon.
Crosby still looked fired up after that defensive breakdown, but a little steam had escaped them.
With the game tied 7-7, Crosby's offense found itself facing third and long from their own 16. Aledo's defense dug in, and the Cougars were soon facing fourth and long.
The Cougars punt went short, giving Aledo a first down and good field position to take the lead — except a roughing-the-kicker penalty gave the Cougars the ball with fresh life.
Crosby pounced, throwing a deep ball that drew a pass interference penalty against Bearcats defensive back Logan Flinta. Two plays later, Crosby was back in the lead, 7-14.
Aledo bounced back, force-feeding the Cougars a heartburn-inducing diet of Roberts and Earle to tie the game with 2:43 remaining in the first quarter.
The Cougars offense struggled to respond and was soon facing fourth and long again and punted.
Aledo didn't do much better on their next possession and were looking at fourth and 11 while still entrenched deep in their own territory. Murador, the guy with the golden leg that isn't used much, jogged onto the field to punt.
Aledo Head Coach Tim Buchanan doesn't win state titles as easy as checkers games by being timid. Aledo attempted a fake punt, and Murador took the snap and scrambled for a first down.
A little more steam could be seen escaping from the Crosby sidelines.
The Bearcats moved downfield in a hurry after the fake punt and were soon leading 21-14.
The Cougars tried to claw their way back into the game, but Aledo linebacker Grant Mooney intercepted a pass, and the voice of former Dallas Cowboys quarterback Don Meredith could almost be heard inside AT&T Stadium, singing the Willie Nelson song that says it all.
"Turn out the lights / The party's over..."
Aledo's lead continued to grow, with Roberts scoring his usual handful of TDs. 
At halftime, young Bearcats fan Darren Loftin, 11, sat at AT&T Stadium with his family. His face beamed. He'd come to watch his brother Jurrien Loftin, a junior linebacker, play in a historic game.
"It's really fun and exciting," Darren said. "I'm pretty confident we're going to win, but anything can happen. It's only the first half."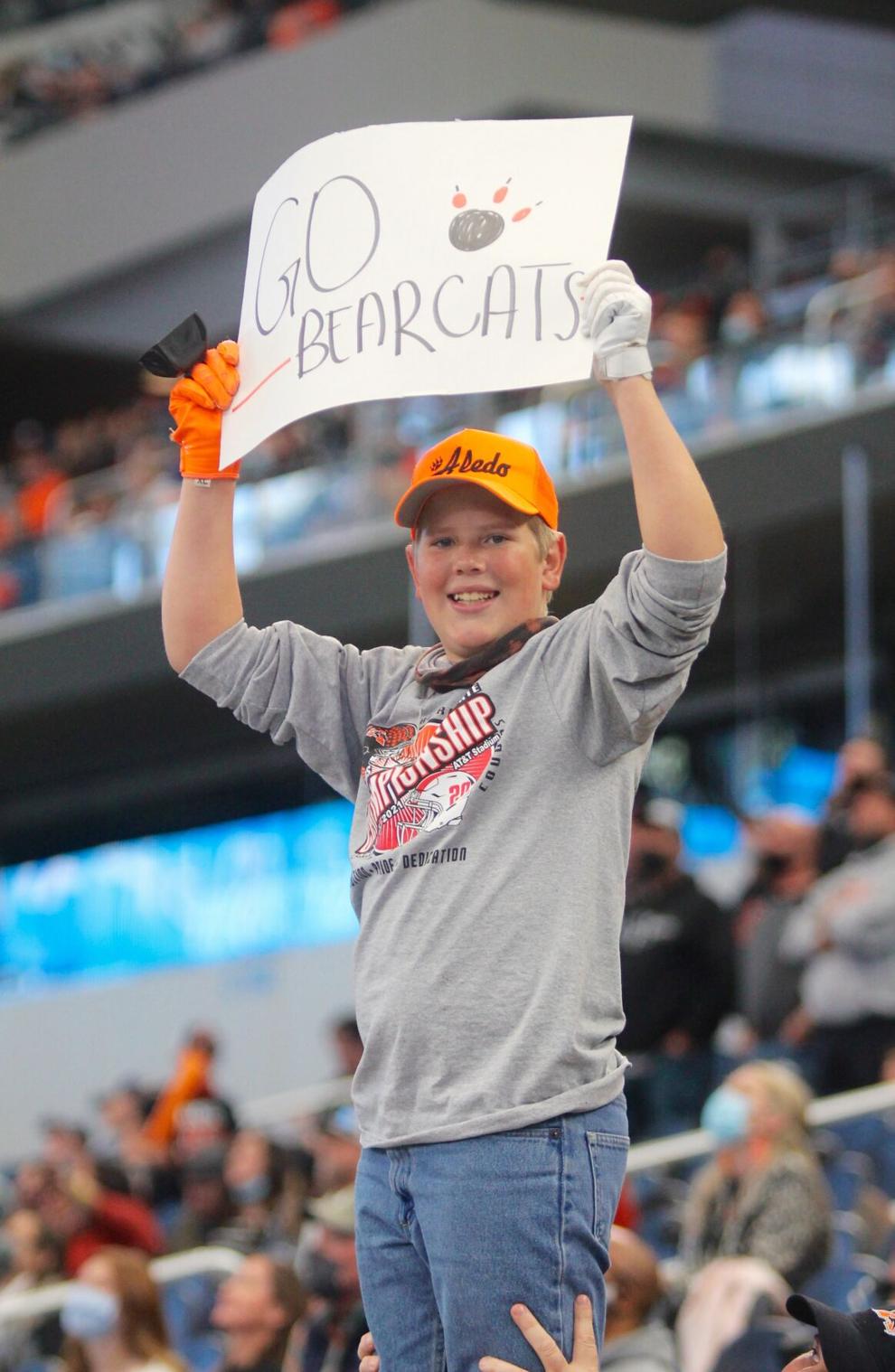 The second half looked much like the first, and Aledo senior lineman Rocco O'Keefe was soon hoisting the title trophy over his head amid a crowd of comrades who had climbed the highest peak to be found underneath Friday Night Lights.